Giải trí
Spend 12 days and nights in paradise resort Bali-Tourism
In the summer of May, with blogger Vinh Bear, set foot on the island of Bali that thousands of people love. You will be free to soar with the Swing swing, refresh your soul by the blue bays, or visit the sacred Hindu temples…
Indonesia is known as the land of ten thousand islands and Bali is the most famous and attractive destination for tourists. As soon as I heard that the direct flight from Ho Chi Minh City – Bali was open, I did not hesitate to book a pair of return tickets. My trip to Bali this time lasted 12 days. Since rekindling intentions travel, booking tickets, planning and flying to Bali only took me about 10 days. If you like it, you have to jump right away!
After a flight of more than 3 hours, I set foot on the paradise island of Bali. Voted as the world's best resort island, Bali appears in front of my eyes as blue beaches on white sand, unspoiled and beautiful natural scenery.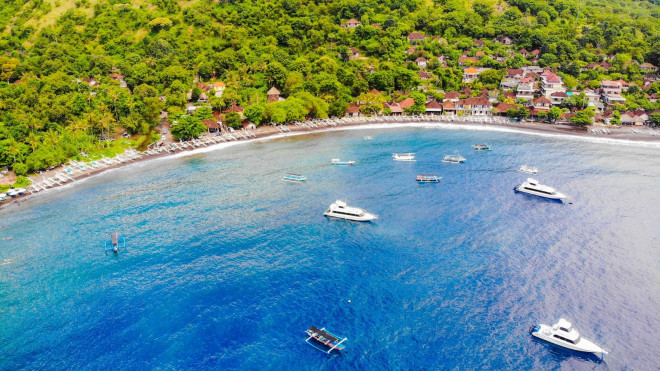 In Bali, there are many types of tourism for you to experience such as camping, climbing, bathing in streams, scuba diving, watching waterfalls, etc. Among them, there are places that are often in the top things to do when coming to Bali. . Therefore, the days in Bali I had many discoveries and unforgettable experiences.
Sacred Temples in Bali
What you easily notice when traveling around Bali is the different large and small ancient temples. Balinese people are mainly Hindu, they worship the gods and spend a lot of time in rituals. Looking at a house of indigenous people, based on the grandeur of the temple complex, you can tell whether they are rich or poor.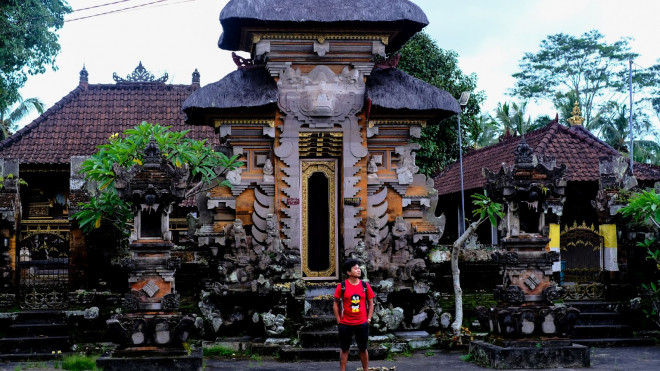 Bali is known as the land of temples, in addition to home temples, there are many great temples. Among them is the ancient and sacred temple of Besakih, located about 45km from the center of Ubud. The road to Besakih temple is very beautiful, on both sides are rows of green and straight trees. Sometimes I even see monkeys on the edge of the road looking for food.
Besakih Temple is known by the Balinese as the Mother Temple or the Mother of the Temples in Bali. It is interesting that most of the temples in Bali are oriented towards the Mother Temple. Therefore, for the Balinese, they usually make a pilgrimage to Besakih to pray at least once a year.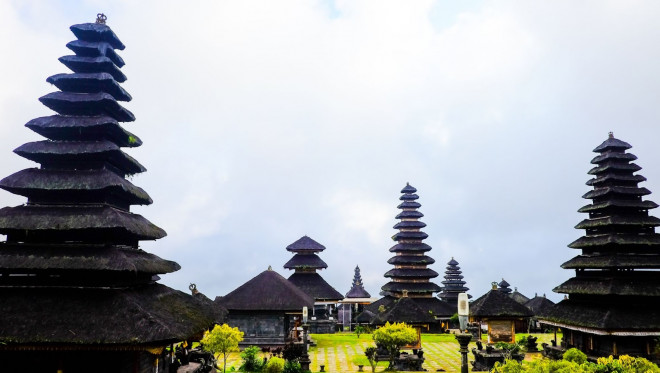 In general, Besakih Temple has more than 20 small temples spread along the southern slopes of Gunung Agung. The temple is roofed with thick palm, over the years, the roof layer becomes dark brown, increasing the ancient and mysterious look. Experiencing many volcanoes, natural disasters, objects changing stars… but the temple is still there, bringing a strong spiritual belief to the indigenous people.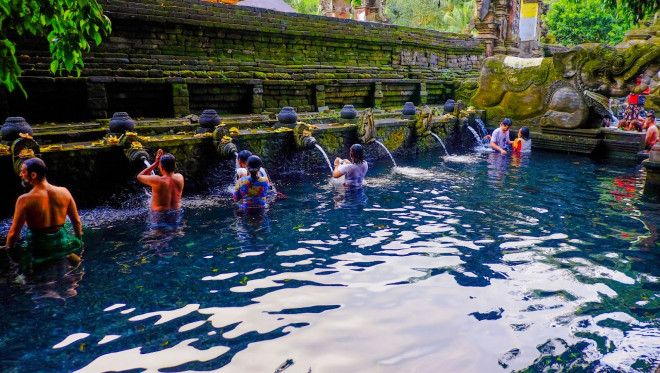 In addition, there is Pura Tirta Empul temple in Tampaksiring region, about 20km from central Ubud. This temple attracts a large number of tourists to visit because of its antiquity and holy water bathing.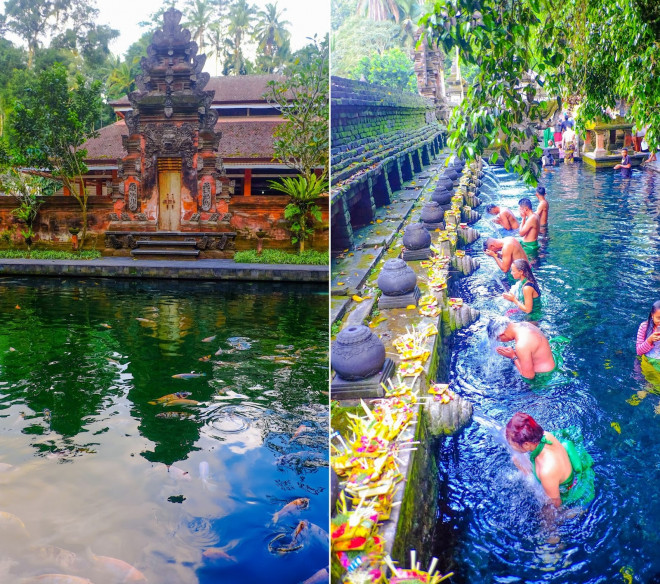 According to legend, the Hindu temple Tirta Empul was built around the 10th century and is surrounded by a stream that flows all year round. This spring flows into a holy pond of bubbling sediment and from there into two large lakes before gushing out from beautifully carved dragon heads. For the Balinese, this is a way for them to wash away bad luck, purify the body and soul.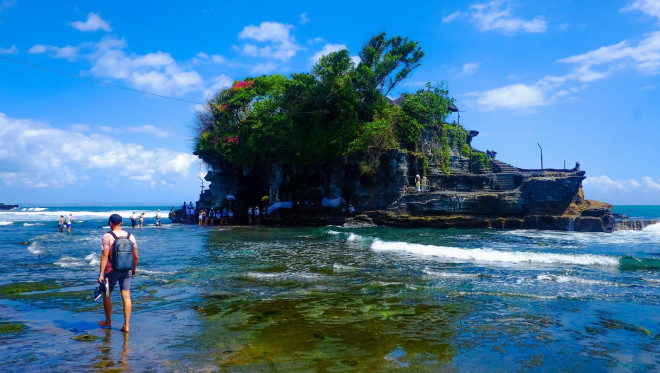 Another famous temple in Bali is Tannah Lot temple, about 20km from the center of Kuta. The interesting point is that this temple was built on top of a giant rock with sea on all sides. To get to the temple, one has to wade across a stretch of the sea, but only those who are Hindus are allowed to go up to the temple, the rest will only stop at the foot of the rocky mountain.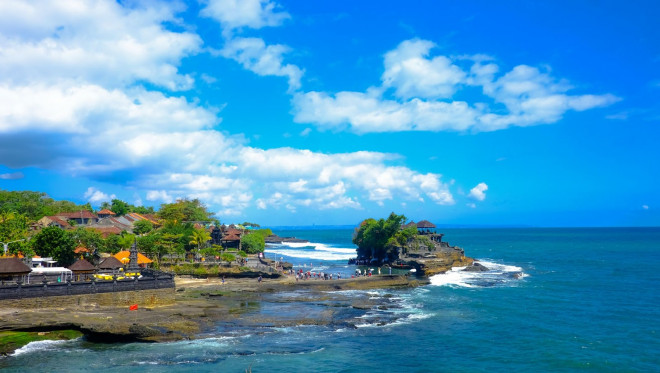 According to locals, this place is protected by the son of the snake god Basuki, preventing evil spirits from entering the temple. This is not to say that there are many snakes and dangers here. I came but didn't see any snake. Only heard people say that these snakes hide in the rock alleys and are properly looked after. When the tide goes out, they crawl out and head towards the temple to eat what Hindus worship. I don't know how much of the story is true, but it's a belief anyway, believe it or not you should respect it. In addition, Tanah Lot Temple is also a beautiful spot to watch the sunset in Bali.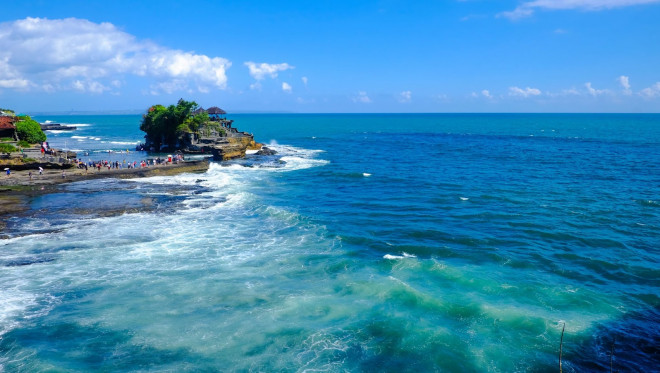 Bali is a tourist island, open to welcome visitors from all over the world, so it is not too strict in dress. However, when entering sacred temples and places of worship, you are required to wear a sarong. Sarongs can be rented or purchased from shops just outside the temple, or loaned out for free with the purchase of an entrance ticket.
Strolling around the Tegalalang rice fields
When talking about Ubud, people will immediately think of the famous Tegalalang terraced rice fields, which is recognized by UNESCO as a World Heritage Site. True to the name Tegalalang, this place consists of layered rice fields like terraced fields in Northwest Vietnam. Coming here, you can go around the fields to take pictures, check-in, and watch the people grow crops.
Play Swing
Another fun experience in Bali is Swing. Swing is the type of swing that we and I used to play when we were young, but in Ubud, it is raised to a new level, you will be swinging the big swing out into the distance. Swing game is quite risky but very attractive. Thanks to that, the pictures taken with this game often attract "drop hearts, like" on social networking platforms.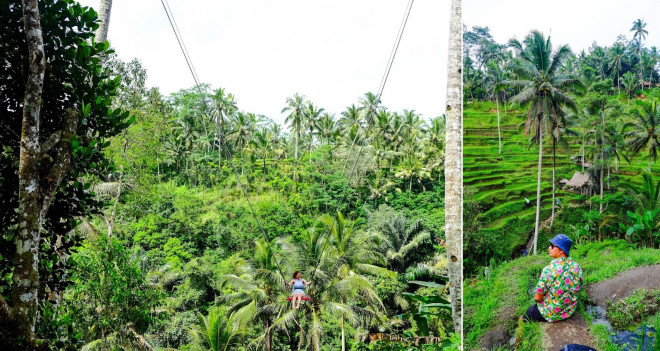 There are many types of Swing in Ubud: Ubud Swing, Jungle Swing… To be able to play this game you will have to spend a lot of time waiting in line for your turn to play and take pictures. Price ranges from 300,000 to 400,000 VND.
Nusa Penida Island
Talking about Bali without mentioning Nusa Penida would be an omission, this is the largest of the three islands around Bali. If you look for pictures of Bali, the check-in rate in Nusa Penida will be very large, this is also a paradise for virtual living.
Although it is a tourist island, the landscape here is still very wild. Walking around the island, you will meet a lot of locals driving on small roads through the forest, sometimes seeing a resort or villa for visitors to stay on the island.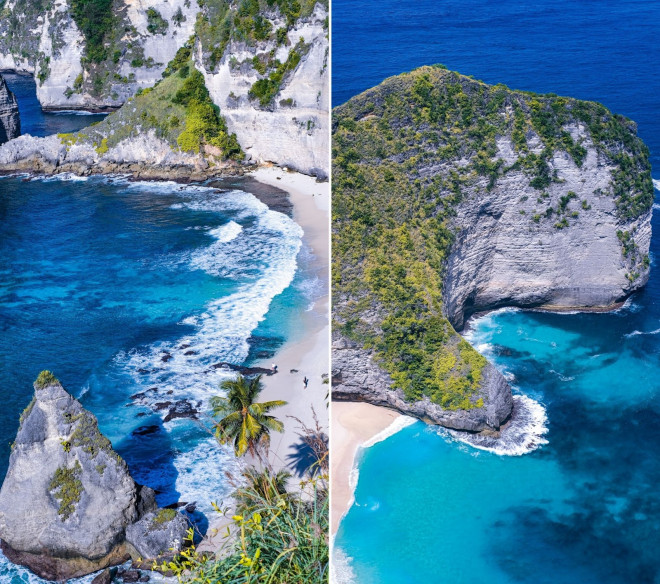 If possible, you should spend 2 days and 1 night to explore Nusa Penida more comfortably, to have time to trek the cliffside roads, down to the enchanting beach when coming to Diamond Beach, or the back of the dinosaur T. -rex in Klingling Beach… And most of all, have a lot of time to admire, live freely with the beauties that nature bestows on Bali in Broken Beach, Angel Bilabong, Crystal Bay… Only then will you find it worthwhile. with the effort you put in to get to Nusa Penida.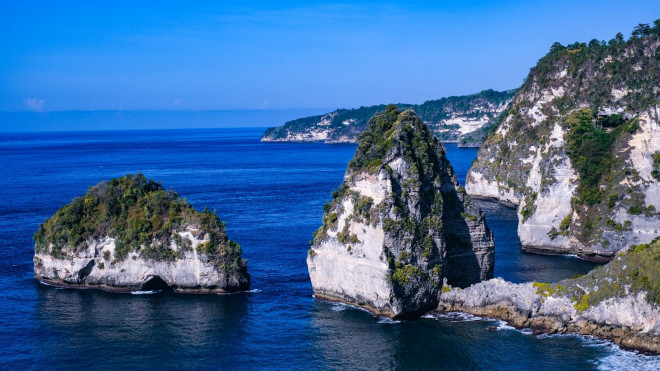 Watch dolphins having breakfast in Lovina
"Every morning there are dolphins for breakfast!" – bold words of a Balinese man in Lovina when I asked about the dolphin watching experience. To participate, I had to get up very early to get on the boat to go out to sea in time for the dolphins to eat at around 7am every day.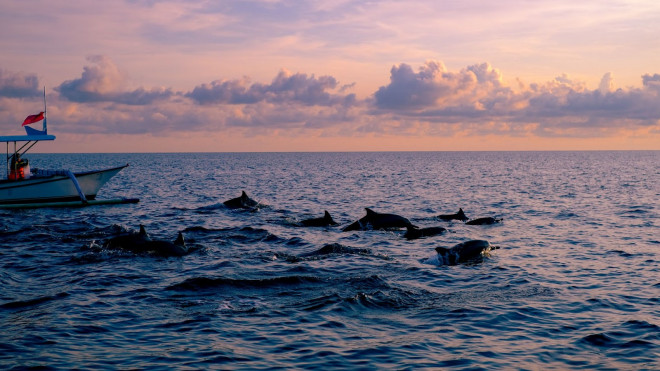 When seeing the silhouettes of dolphins swimming, the boat speeds up to run parallel so that visitors can witness the dolphins eating breakfast. In Bali, dolphins go to feed themselves, not because people release food to attract. During that journey, playful dolphins will jump and play on the sea water, and visitors will enjoy cheering and cheering.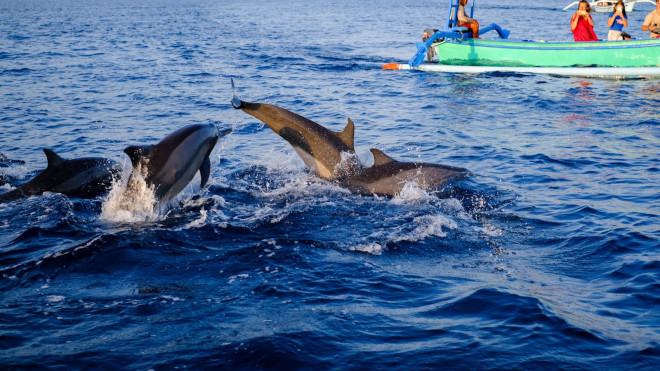 Culinary
Compared to Vietnam, Balinese cuisine does not have as many options and unique features, but there is always an attraction in each dish. What impressed me most was the freshness of the ingredients used for processing. Organic vegetables should be eaten with a very interesting aroma, fresh fish, so it is easy to feel the sweetness and "success" of each piece of fish…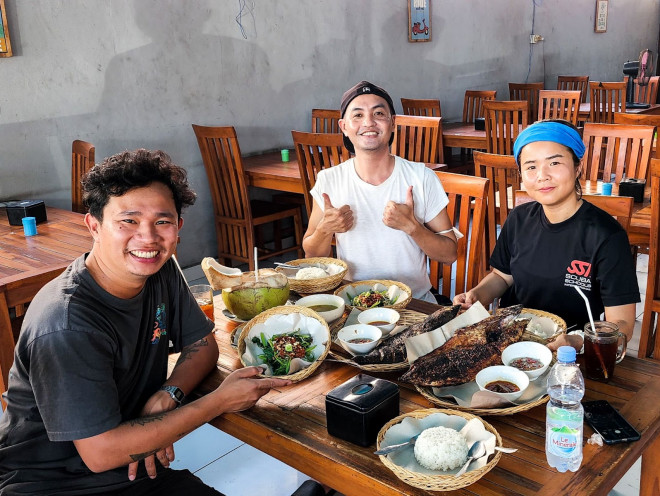 In addition, most Balinese food is spicy. I have to be careful, the spicy taste makes the dish more delicious and richer. If you are a spicy person, this is heaven for you. If you are not familiar with the food, you can ask the cook to reduce it to suit your taste. What I don't like most about Balinese cuisine is that it is too greasy, easy to eat.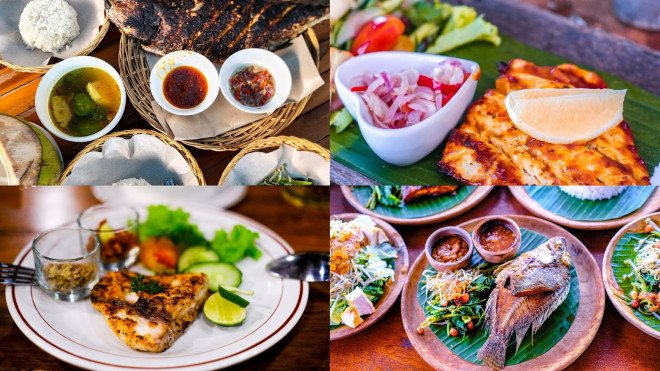 Balinese also eat rice, fried noodles, mixed vegetables, etc., but they eat more with a spoon than with a fork. Partly because of eating habits, such a way of eating to feel the full taste of the dish. There are also people who think that it is because of the influence of religion, when they want to show their respect to the food bestowed by the supreme deities.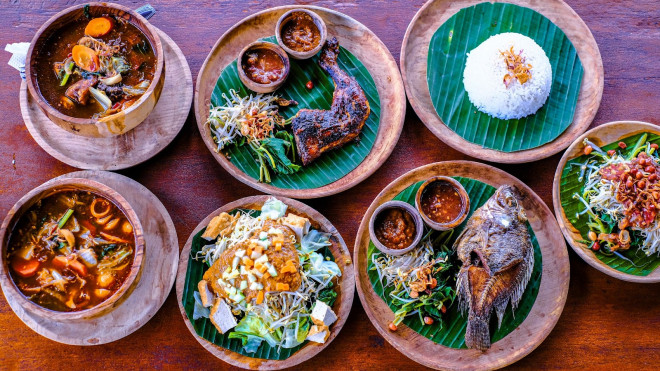 Walking around in Bali, you will easily come across popular dishes such as Nasi Goreng (fried rice), Mie Goreng (fried noodles), Ikan Bakar (grilled or fried fish served with steamed rice), Babi guling ( dishes made from roasted pork),… and a popular side sauce is Sambal made from red chili peppers or Sambal matah mixed with thinly sliced ​​purple onions, chili peppers, lemongrass and coconut oil.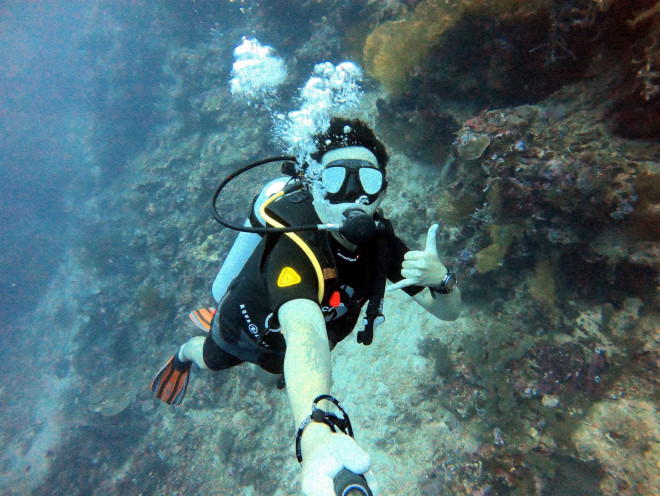 Stay
Bali is a rare tourist destination where the cost of accommodation is quite low compared to the quality of the room. You can easily find a villa with a private pool, beautiful view, 2-3 spacious rooms for only 1.5-2 million VND/night – which can cost you 4-5 times more to get this type of villa. so in many other places. And to get the best price, you should book earlier or you can call directly to negotiate the price.
Bali is about 5,700km2 wide, so depending on your needs and preferences, you can choose the area for you to stay accordingly. For example, if you prefer the scenery of rice fields and chill, choose in Ubud; If you like the hustle and bustle of the night, choose Canggu; If you like peace and enjoy the beautiful beaches, choose to stay with Nusa Penida,…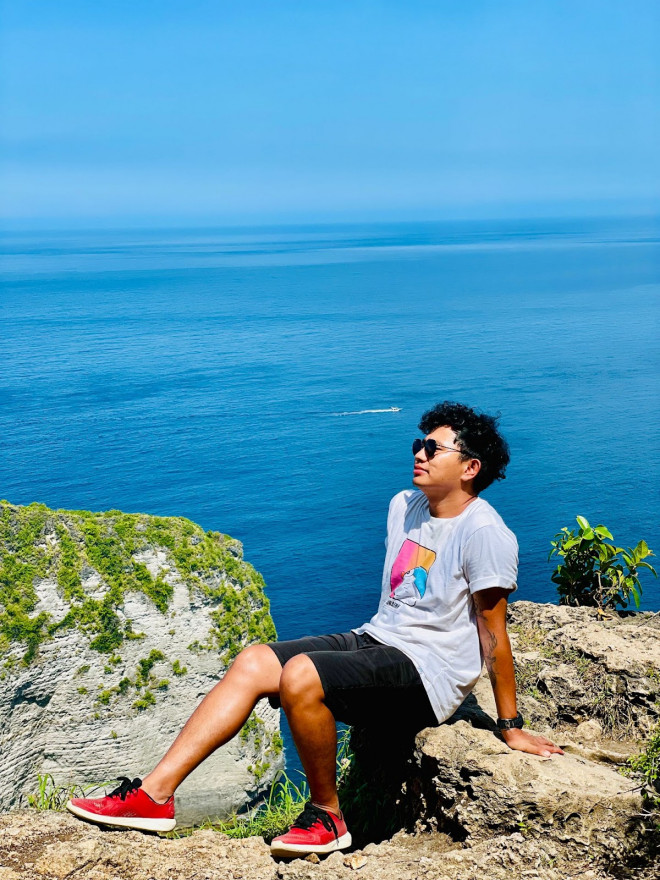 Farewell to Bali, I bring both joy and nostalgia, hoping to have the opportunity to return to Bali again, to see the peaceful blue bays in the sunny summer days.
Tips for discovering Bali
– If you intend to rent a motorbike, please note, Bali drives to the left. And don't forget to wear a helmet, otherwise you will spend a lot of money for violating traffic laws.
– Bali tourism after the epidemic is not too crowded, from May 18, visitors no longer have to do PCR tests but still need to buy travel insurance with the cost of Covid treatment with a minimum value of 25,000 USD. At this time in Bali, few people wear masks, however, for your own safety, you should wear a mask when going to crowded places.
– You should take USD through Bali to exchange money. Changing in the center will have a better price than at the airport. The exchange rate is about 14,000 IDR/USD.
– Phone SIM and wifi rental services are not available at the international airport. It is recommended that you pre-order from Klook and you will have your sims delivered upon arrival. By the way, you should book a hotel shuttle.
– When entering the restaurant, you should take advantage of ordering food in advance because the food is usually prepared for a long time, about 30-45 minutes.
You are reading the article
Spend 12 days and nights in paradise resort Bali-Tourism

at
Blogtuan.info
– Source:
24h.com.vn
– Read the original article
here