Cư dân mạng
World
The man who won the 4 billion dong jackpot asked to commit suicide when he was appropriated by an acquaintance
Returning to Thanh Hoa (Long An) asked Mr. Ho Van Be Ba (SN 1975), everyone knew. Because he not only impressed with the unique name but also associated with the story of reclaiming 2 lottery winning tickets that shook the village once.
Almost committed suicide because he won the 4 billion jackpot that was appropriated by an acquaintance
"Mr. Ba was originally a genuine farmer but was unlucky when he had a traffic accident with a head injury. Therefore, he was absent-minded, sometimes remembered and sometimes forgot. He had two children: a son and a daughter. The eldest son. died in a traffic accident nearly ten years ago.
His son suddenly died, he fell into drinking all day to forget the pain. His wife and daughter advised him not to leave his hometown to go to another country to do business. Since then, he lived alone in the old house, sometimes his wife and children came to visit.Mr. Ngoc Huynh – a neighbor of Mr. Ba said.
One afternoon in 2018, Mr. Ba, after being intoxicated with alcohol, rode his bicycle to Mrs. Suong's familiar cafe near home to drink water. Here he bought to support Ms. Suong 2 lottery tickets… for fun. The next day he went to the bar to drink water and because his eyesight was blurry, he asked the owner to help him.
The happy smile of Mr and Mrs Ba and their only daughter after receiving the jackpot winnings back.
"She just searched and said that the special prize had 3 5's and then confirmed that 2 of my lottery tickets had slipped and dropped to the ground. At that time, I remembered bringing my 2 lottery tickets with 3 5's, so I picked them up again. One sheet was given to Mr. Du, who works as a fishmonger, sat in the shop to compare. He was searching when the customer called to buy fish, so he left.
Then I also got up to go back, along the way I met Boat. He quickly boasted that he had won a consolation prize of 50 million dong, and I won a special prize with the number 555689."Mr. Ba recalled.
Selling trust and doubt with Mr. Boat's words, Mr. Ba cycled back to the shop to ask Mrs. Suong. But this person said he did not keep the ticket, Mr. Du also said he did not know. He had to return home to tell his biological parents about winning the lottery, but no one believed him. Only when Mr. Thuyen and some people confirmed that he had won the 4 billion dong jackpot because he had seen him buy it, the family believed and sent a petition to the authorities.
Mr. Ba's relatives said that after being tricked into taking a lottery ticket, he became very ill, could not eat or drink anything but drink, and then asked to commit suicide. The family was so scared that they took him home to take care of him.
Lucky to receive the winning amount
Receiving the denunciation of Mr. Ba's family and the testimonies of witnesses, the police agency launched an investigation. Mr. Du confessed his behavior, and said that a week after appropriating Mr. Ba's lottery ticket, he and his son went to Tra Vinh to receive the prize to avoid being exposed. Then he continued to ask acquaintances to open an account, transferring all the money to a bank in the Central Highlands. Finally, after 7 months, the 1.8 billion VND that he appropriated was recovered.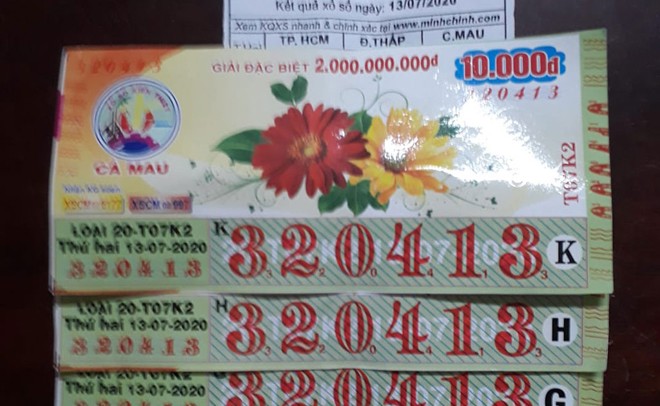 Mr. Du and Ms. Suong confessed to appropriating 2 lottery tickets of Mr. Ba.
Ms. Suong also admitted that after appropriating Mr. Ba's winning ticket, she asked her sister in Saigon to help her. Worth mentioning, she spent most of the money, so the police only recovered more than 800 million VND.
Mr. Ba said that Mr. Du's family and Ms. Suong had come to the house to beg him to dismiss the complaint. He immediately agreed for the sake of the village, just need to pay all the money for him. He didn't want to make it difficult for anyone.
Thanks to the help of the police as well as people around, Mr. Ba was returned nearly 3 billion VND of the jackpot winnings. He said that because he didn't know how to ride a motorbike, he didn't spend any money, so all the money was given to his wife and daughter and deposited in the bank as capital.
You are reading the article
The man who won the 4 billion dong jackpot asked to commit suicide when he was appropriated by an acquaintance

at
Blogtuan.info
– Source:
Soha.vn
– Read the original article
here