Business
The story about the land that owns the world's largest "white gold" mine but is poor
The Potosí Mountains in southern Bolivia were among the wealthiest in the Spanish Empire. In the 16th and 17th centuries, more than half of the world's silver came from a mountain in the region. Potosí's barren landscape has since yielded numerous other precious minerals, including aluminum, lead and zinc.
In the 19th century, a British company built a railroad to transport minerals from Bolivia to the Chilean coast. From there, minerals were shipped to Europe. Potosí, whose railway crossing connects Bolivia's administrative capital La Paz with Chile and Argentina, remains an important transport hub.
However, the wealth created by the Potosí land over the centuries did not stay in Bolivia much. Potosí is the poorest region of Bolivia, and Bolivia is the second poorest country in South America.
More than two-thirds of the population of Potosinos live in houses made of bricks or mud. During the rainy season, when the red clay turns to mud, the unpaved roads in the area become impassable.
People here lack medical care and children do not get enough schooling. A quarter of women still give birth at home. Nearly 40% of adults have only completed primary school and another 20% have never attended school.
Potosí's poverty is all the more remarkable as it has the world's largest lithium deposit. Lithium is a light and soft metal used in batteries in smartphones, computers and electric vehicles.
This mineral was discovered in the Uyuni salt flats in the 1970s. As the world moves towards greener forms of energy, this mineral is increasingly sought after.
To profit from that increased demand, in 2013 the Bolivian government opened a lithium production plant on a corner of a salt flat. The solid white ground that spans 10,000 square kilometers sits atop the Andes and is 1km above the neighboring Peruvian city of Machu Picchu.
The communities living nearby, already the most affluent in Potosí, had not yet benefited from mining. In a way, their life is more difficult than three hours.
Tourism, a source of income for many, has dried up during the pandemic. Climate change leads to extreme droughts. As a result, traditional industries such as quinoa farming and llama farming became precarious.
Some people make a living with a meager income from salt. The salt harvesting is an arduous process with a truck, a tractor and men with shovels, wearing long sleeves to avoid the harsh sun.
However, it doesn't rain as much as it used to. Therefore, the layer of salt crystals that form every year is not as thick as before. Residents worry that lithium production consumes large amounts of water, which will worsen water shortages in the area.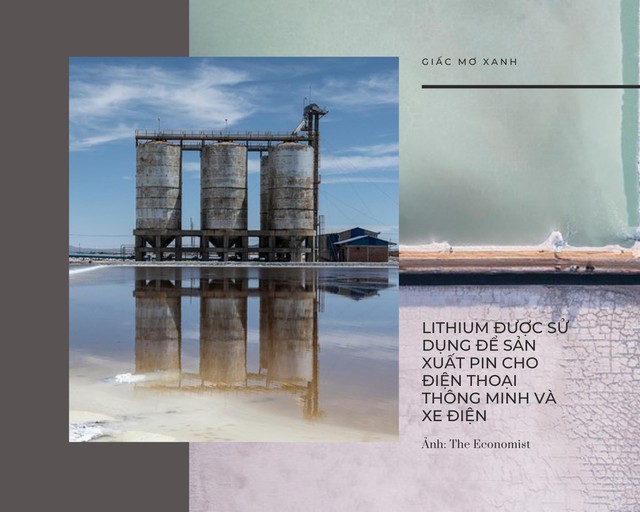 If Potosí is looking for a way out of poverty, the best bet is his nascent lithium industry. But can this place avoid being exploited, as has happened so many times before?
"We want to grow, but we don't want history to repeat itself," said Donny Alí, 34, a lawyer and hotelier in Rio Grande, a town of about 2,000 people on the southern edge of the salt flats. again".
Alí said that as a child, his parents taught him "not to trust any foreigners who talk about his natural resources". The greedy foreign companies allowed by the Bolivian government grew rapidly, keeping Alí's town impoverished for centuries.
In the 1990s, members of his family protested the government's decision to give the Canadian company LitCo exclusive rights to exploit the entire salt area. Again, it looks like the local community will lose everything. Thanks to protesting, the contract was eventually revoked.
Alí and his seven siblings were among the first residents of the Rio Grande to attend college. He said that his brothers were able to go to school because of their mother. She dropped out of school at the age of 7 and made a living selling street food. She convinced her husband, a railway porter, to move the family to Uyuni. This is a larger town on the other side of the salt flats. Unlike the Rio Grande, there is a high school there.
The seven siblings all attended college in the nearby city of Sucre. At one point, six of them were crammed into inns. Each week, they receive a package of quinoa, bread and dried meat from relatives in the Rio Grande, where cheaper staples will be sent.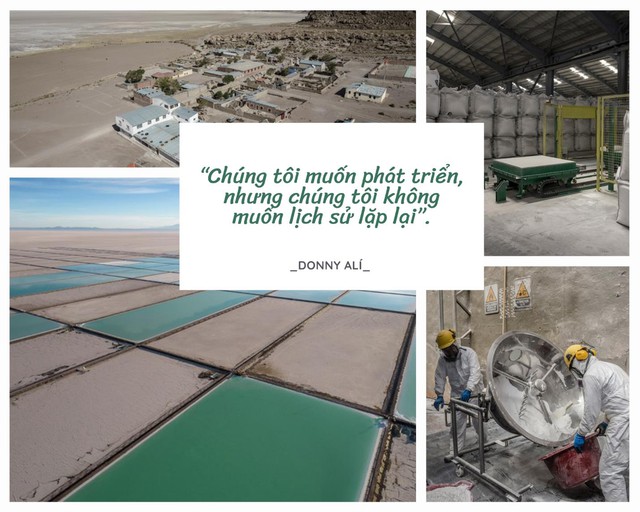 It was a hopeful time in Potosí. Former President Evo Morales, who ran Bolivia from 2006 to 2019, banned foreign companies from controlling stakes in the mining sector. Instead, he promised to help Bolivia create its own lithium industry.
In 2013, when a lithium factory opened on the outskirts of Rio Grande, residents rejoiced that their town had become "the epicenter of the white gold industry".
As a member of the town council at the time, Alí ​​helped negotiate an agreement with the state-owned lithium company Yacimientos de Litio Bolivianos. The plant will gain access to a water supply from the village in exchange for people from the Rio Grande becoming truck drivers transporting lithium carbonate and potassium chloride.
Planta Llipi is described as a huge complex surrounded by a tall metal fence. Factory buildings, warehouses, laboratories, and 160 bluish-white salt deposits are spaced far enough apart for workers to drive trucks.
When the plant opens, optimists believe lithium will help bring Bolivia into the modern world, providing jobs and developing the region.
Many families in the Rio Grande have formed a cooperative, buying trucks with the expectation that lithium is about to explode. They think they are also transporting goods other than lithium, from nearby bauxite and ulexite mines. (Bauxite, basically red mud, is used in industrial chemicals and building materials. Ulexite contains boron, which is used in fertilizers and optical fibers.)
In the Rio Grande, construction boomed as well. New houses sprang up. A modern town hall with large windows. A school and a stadium were also built. Ali built a two-story hotel on a busy street corner and named it Lithium. He also opened a shop where prospective guests could buy snacks.
But turning lithium into gold presents an unprecedented challenge.
Although the truckers' union has helped make the Rio Grande more vibrant than the communities surrounding the salt flats, the contract with the state-owned lithium company is less lucrative than the drivers had hoped. .
Some of them drive trucks carrying lithium carbonate between buildings inside the factory. But drivers from elsewhere are often favored for trips to major cities like La Paz and Santa Cruz, where potassium chloride and lithium carbonate are exported.
The foreign businessmen Ali had hoped for had not yet arrived. The plant will produce 600 tons of lithium carbonate in 2021. Meanwhile, Chile and Argentina will produce 134,000 and 36,000 tons, respectively. Lithium mining is complicated, especially in Bolivia, because of the high magnesium content in the brine, and more importantly, due to the lack of local techniques.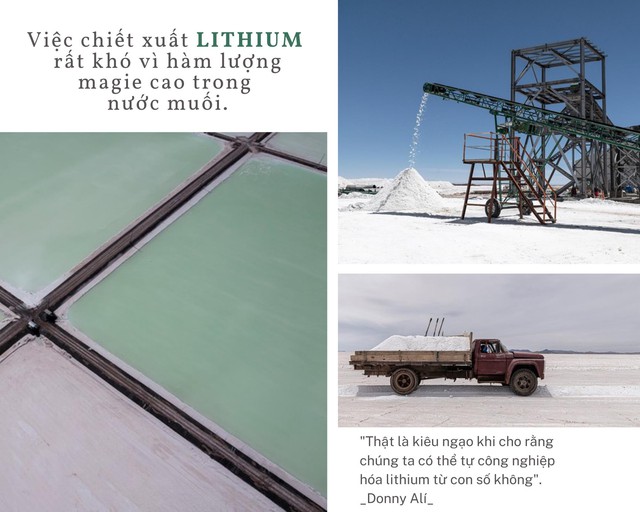 That is one of the reasons why the work that the locals had hoped for did not come true. Natalio Cayo, the former mayor of Chuvica, a village near the salt flats, said that in 2020 the government asked him to make a list of villagers suitable for the factory job. However, the people he introduced have yet to be contacted. Cayo says it is naive to assume that lithium will provide jobs for many locals.
In recent years, half of the people in his village have left to look for work. On dusty roads, weeds grow from abandoned carts.
Rio Grande has a plan to build a new high school specializing in chemistry, hoping to train a new generation to work in the lithium industry. Truck driver Jonas, Alí's cousin, said he longed to see his two sons in white coats in the lab. "I never had a chance to study," he said.
But building a workforce with the right skills takes time. This is a reality that Bolivian President Luis Arce has acknowledged since 2020. Unlike his predecessor Morales, Mr. Arce wants to build partnerships with foreign companies that can help develop technology to increase production boost.
Donny Alí, like many others in the Rio Grande, came up with the idea of ​​a foreign investment. "It's arrogant to think we can industrialize lithium from scratch," he said.
In 2021, Alí ​​moved to La Paz to work on lithium policy for the national energy ministry in La Paz, after the government bowed to local demands for a voice in the federal government. But just a year later, he quit his job and moved back to the Rio Grande in frustration with backwardness.
He remains concerned that Bolivia could repeat the mistakes of the past. He believes that local communities must be consulted before any agreement is signed and that they deserve a fair share of royalties. Meanwhile, his Lithium hotel remains empty.
https://cafef.vn/tai-hoa-mang-ten-lithium-chuyen-ve-vung-dat-so-huu-mo-vang-trang-lon-nhat-the-gioi-nhung-ngheo-xac- spring-20220531132042289.chn
You are reading the article
The story about the land that owns the world's largest "white gold" mine but is poor

at
Blogtuan.info
– Source:
cafebiz.vn
– Read the original article
here