Tech
Dubbed the 'Dragon in the Earth', each tank can hold 1 space shuttle
Cecilia Tortajada probably never forgets the feeling when walking down the stairs to visit one of Japan's masterpieces: The giant water tank of the "defense system" that helps the capital Tokyo against storms flood. Reaching the bottom of the tank, Tortajada was overwhelmed by dozens of concrete columns supporting 500 tons. The underground tank then looks like a "Greek temple".
"You'll feel so small," says Tortajada, a water management expert at the National Institute of Policy Singapore. "Tokyo is really well prepared for flooding."
This "flood-proof temple" is located at a depth of 22m underground, full name is Urban Area Underground Drainage Channel (MAOUDC). The 6.3km-long tunnel system was built right into the tank system with a number of towering cylindrical water tanks, enough to keep Tokyo from flooding.
JAPANESE STRATEGY TO ANTI-FOOL
Over the decades, Japan has perfected this monumental work of art, boasting that its sophisticated flood defense system can rival the wonders of the world. However, in the future, nothing is certain because the climate and rainfall patterns are constantly changing.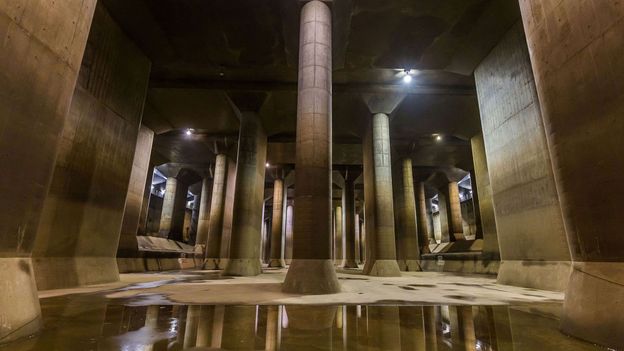 Japan's largest flood-resistant underground construction in the world
It is known that Tokyo city in the delta area is surrounded by 5 main river systems and dozens of small tributaries that continuously swell through each rainy season. Rapid urbanization, industrialization and uncontrolled exploitation of groundwater have caused some areas to subside and gradually lower than sea level.
Although Japan has endured centuries of flooding, the current flood control system was only really formed after the war. Hurricane Kathleen in 1947 destroyed about 31,000 homes and killed 1,100 people. Typhoon Kanogawa then continued to wreak havoc on the city and submerged thousands of homes and production facilities in the sea.
Faced with that situation, the Japanese government is determined to act. "Even in the 1950s and 1960s, when Japan was still recovering from the war, the government still spent 6-7 percent of the national treasury on disaster risk reduction," said Miki Inaoka, an expert on disaster at the Japan International Cooperation Agency (JICA).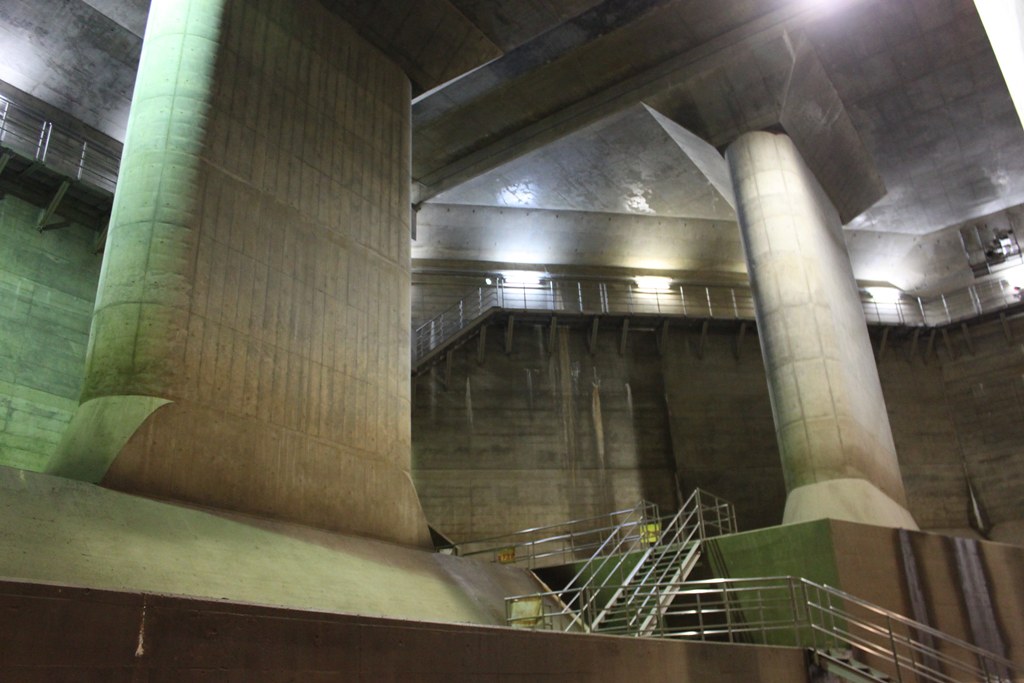 Tokyo now boasts a flood defense system that includes dozens of dams, reservoirs and dikes
Experts and engineers at that time had to solve many difficult problems. If heavy rain falls upstream, the large river flow will flood the central area downstream. Such a downpour can overload drainage systems, while tides and tsunamis can also threaten coastlines. Everything must be carefully calculated in case an earthquake breaks the dam.
After decades of sketching and corresponding construction, Tokyo now boasts a flood defense system that includes dozens of dams, reservoirs and dikes. Deep in the ground, a labyrinth of tunnels was also built next to many subway lines and gas pipes to serve the work of the century.
MAOUDC – 'DRAGON IN THE EARTH'

MAOUDC, valued at $2 billion, is considered one of the most impressive engineering feats in Tokyo. Completed in 2016 after 13 years of construction, MAOUDC is the world's largest flood control project and the result of the Japanese government's continuous improvement efforts.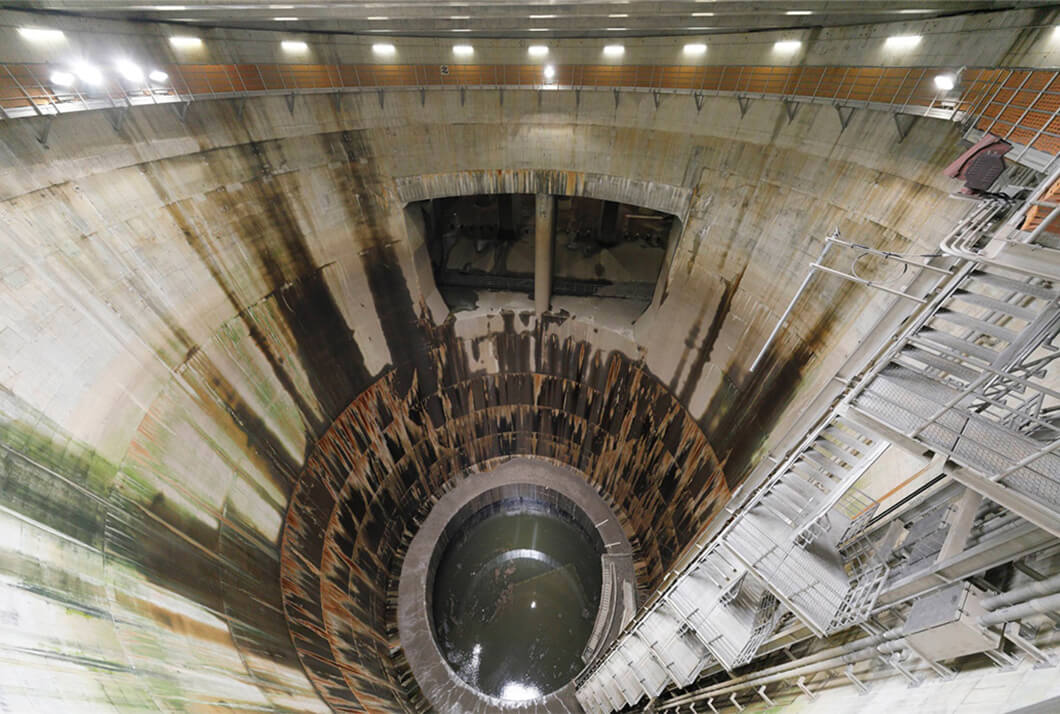 The water tank is 70m high, big enough to hold a space shuttle or the Statue of Liberty
According to the BBC, the underground system will suck water from small rivers in the northern area of ​​Tokyo, then pour it into five giant underground tanks. Each tank is 70m high, big enough to hold a space shuttle or the Statue of Liberty. The water in the underground tank will then flow through a 6.3km-long tunnel system to the Edo Great River at a speed of nearly 200 cubic meters per second. Water flows into the river through a system of 6 outlets. The size of 1 water outlet is enough for a subway train to pass through.
To do this, MAOUDC cannot lack the high-pressure pump system of Showa pumping station – the largest pump system in Japan that can drain a 25m standard swimming pool in 1 second. Considered the heart of Tokyo's emergency drainage system, the system consists of four high-pressure pumps. Each machine within 1 second can discharge 50 cubic meters of water with a capacity of 14 thousand horsepower.
"It's like science fiction," said Inaoka from the JCA.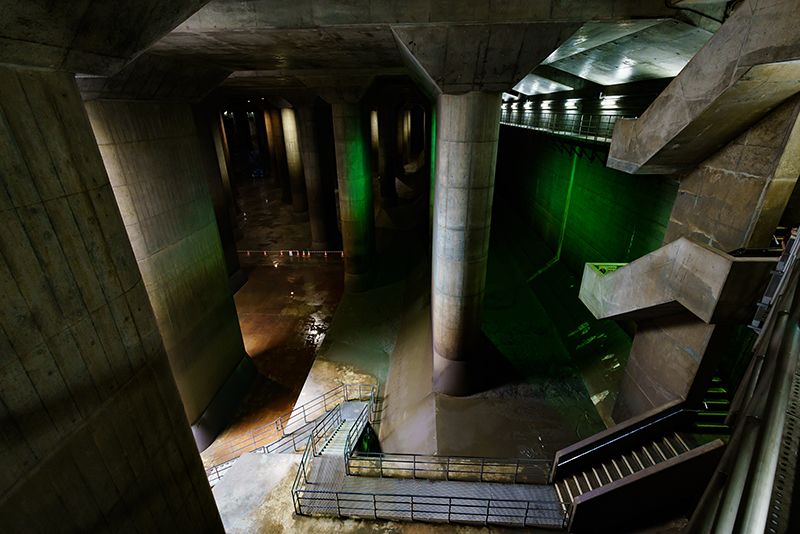 The largest pump system in Japan in 1 second can drain a standard swimming pool of 25m
However, Inaoka must also admit, that the constant change of climate and different rainfall will challenge Tokyo's infrastructure, thereby making disaster planning more difficult.
According to city data, the underground defense system is designed to withstand up to 50 mm of rain per hour, especially in densely populated areas. However, data collected over 30 years shows that rainfall patterns are changing. Some experts estimate that in the 21st century, the number of rains in Japan could increase by 10%-19%.
"Climatic features make Japan often suffer from floods and heavy rains," said Kei Yoshimura, a professor of meteorology at the University of Tokyo.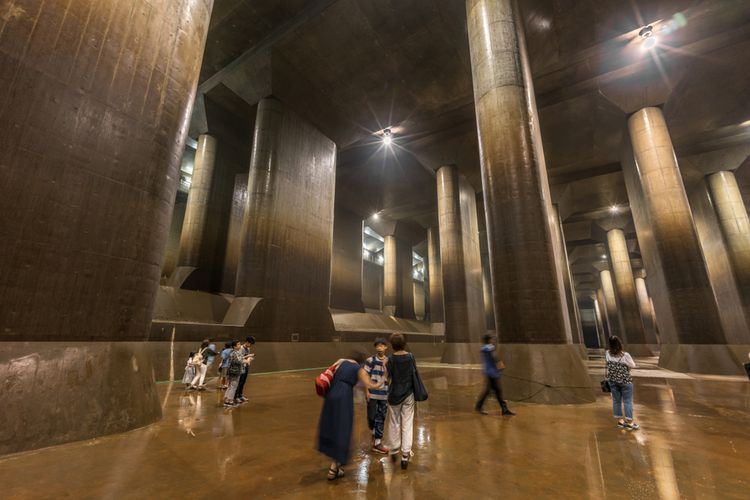 In a book published in 2014, Tsuchiya, director of the Japan Rivers Research Center, warned that Tokyo is not ready for heavy rains due to global warming. Especially in low-lying areas like Tokyo, about 2.5 million people could be affected by sudden high tides.
In early 2018, heavy rains in western Japan killed hundreds of people. If the above situation happened in Tokyo, this city could be greatly damaged.
"If a country as well-prepared as Japan is affected, if a city as prepared as Tokyo is also flooded, we should all be on guard," said Cecilia Tortajada.
It is known that MAOUDC will be open to visitors during the period of non-operation, in order to increase people's awareness of the importance of disaster prevention. Thanks to MAOUDC, Tokyo is said to be able to reduce damage caused by floods in the region by up to 90%.
https://cafebiz.vn/cong-trinh-ngam-chong-lu-vo-dich-the-gioi-cua-nhat-ban-duoc-menh-danh-la-con-rong-trong-long-dat- moi-be-tru-du-suc-chua-1-tau-construction-20220601155213542.chn
You are reading the article
Dubbed the 'Dragon in the Earth', each tank can hold 1 space shuttle

at
Blogtuan.info
– Source:
genk.vn
– Read the original article
here