Life Style
Lifestyle
If you have a headache and don't know where to take the children, try going to the One Piece exhibition right away
ONE PIECE EXHIBITION – CONTACT / Animated Series FAVORITE BY CHILDREN AND PARTS
One Piece is the world's best-selling manga series for teenagers by author Oda Eiichiro, published since 1997, once published in Vietnam under the name Pirate Island. The series was later adapted into an animated film that continues to be loved by the public of all ages.
Art Toys exhibition (models of characters coming out of comics, cartoons…) has been held in our country many times, but the exhibition about characters in the animated movie One Piece has not yet, and recently at To Hien Thanh Street, District 10, Ho Chi Minh City, there is a complex that organizes exhibitions about these characters. This is an opportunity for fans of this series/cartoon as well as those who are interested to see firsthand the works and limited editions of the collection.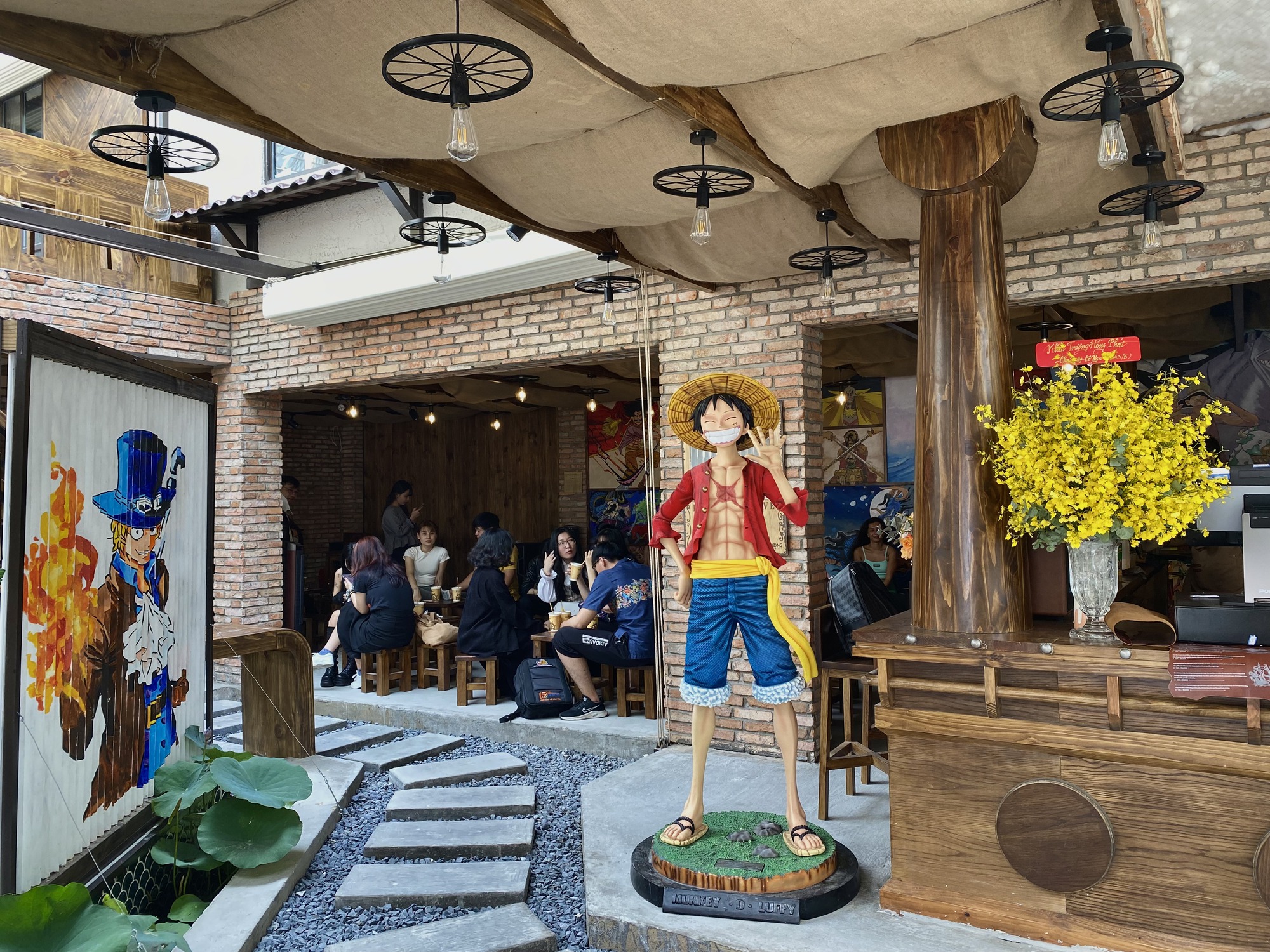 Currently, perhaps this will be the number one useful suggestion for parents to take their children out on International Children's Day. There are quite a few familiar characters displayed here that children from children to teenagers memorize by heart, not only that, the main characters in the cartoon One Piece are also collected with extremely large model sizes. , as tall as a person. Standing next to taking pictures or watching, the feeling of excitement like watching the character you love come to life will make those who are fans of the movie satisfied.
The works on display at the exhibition include products collected and shipped from abroad, limited story products/issues… Notably, exclusive works are made 100% from Vietnamese people. For example, a 4-dimensional acrylic painting on wood called Brotherhood, about the legendary brotherhood of Ace – Sabo – Luffy by Artist Viet My; 5 meter acrylic mural One Piece – Time slices by painters Nguyen Di Linh and Le Vo Thanh Nha; Gol D. Roger wooden statue 2 meters high – monolithic wood sculpture The Origin of the artist Tran Duy (Duy Au Lac).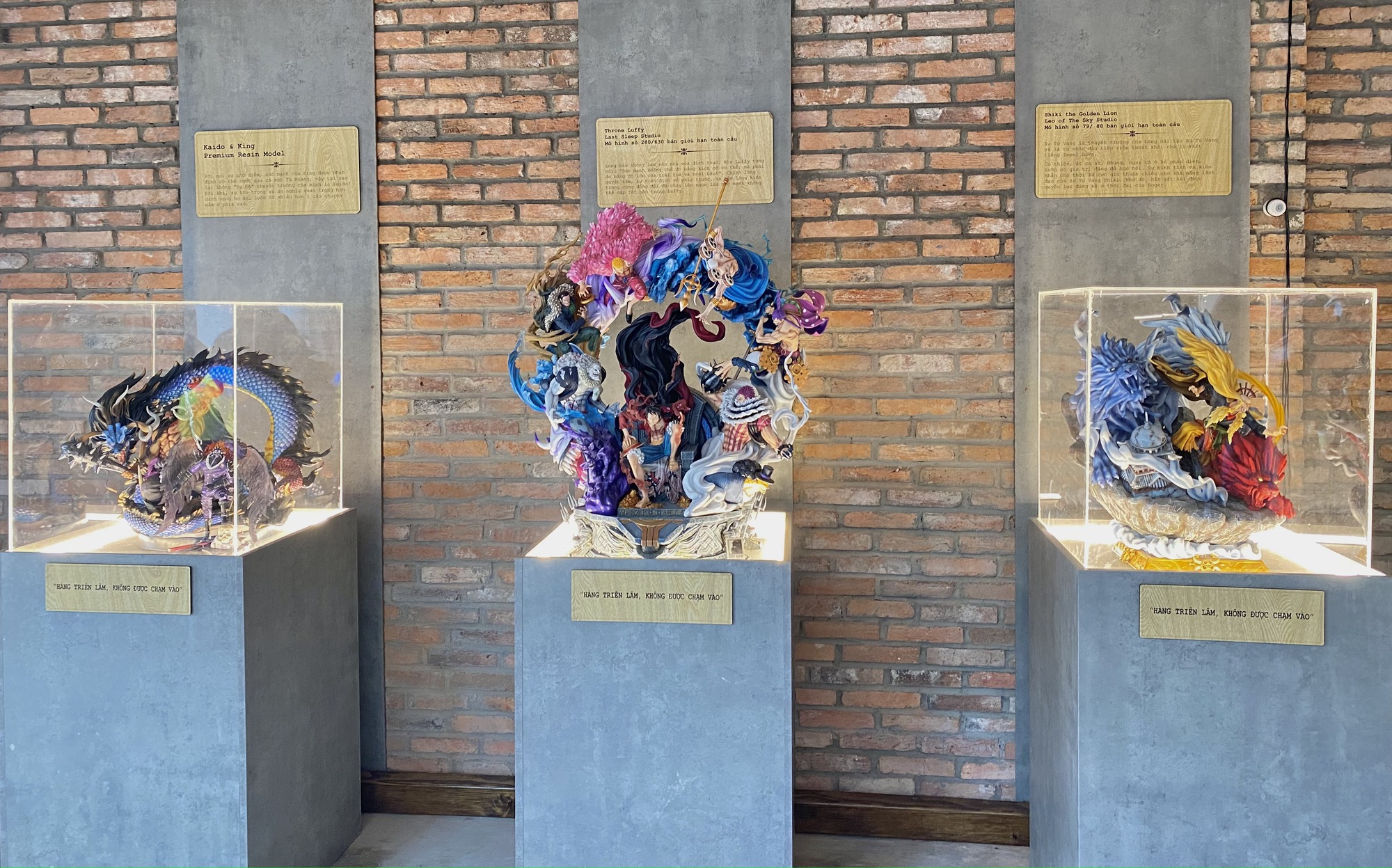 Lots of collectibles about the One Piece "universe" for everyone to visit
Each exhibition brings a different spiritual value, if you are a fan of the One Piece series or are interested in the exhibition of collectibles, Art Toys, … everyone can come here to visit for free.
FROM A PLACE FOR THE FAMILY TO BE A COMPLEX FOR THE ALL FAMILY
This place is ideal when integrating the exhibition into a complex that includes both the cafe and the PUB. It will be quite convenient if parents bring their children to visit or those who come with friends visit. In addition to admiring the items, people can sit back and chat in a cool open space, try changing the atmosphere of play in a place with a new sound.
Mr. P. shared: "I think this is a new ideal place for families in Saigon, I will often visit with my small family, parents have a place to drink water to chat and date, children have a place to visit things. that they're interested in, a weekend where time isn't "for whom" is pretty cool."
About the story of the idea for a complex place that displays the One Piece exhibition, is a coffee shop and also a place where the lights are lit up and playfully clinking glasses of wine. Ms. Bui Bao Uyen – Co Founder of On Deck Concept shared: "My boyfriend and I have liked the pirate spirit for a long time. Just at the beginning of March of this year, we thought of a small-scale, small-scale rest stop on the sidewalk, sitting on a stool, Somewhere around 30 square meters, there are a few fake models borrowed as the backdrop for the story of the association with that same spirit, so that everyone can sit and play comfortably and then return.
But then I want to do an exhibition because I want this spirit to not only be nurtured in the way I speak, but it's actually visual, inspirational, and it's through art to reach people. So an exhibition with artistic value and collectible value was born."
CONNECTING POINTS WITHOUT AGES OF PEOPLE who share the HAI TOC spirit
This complex is perhaps the rare place to find one particular thing in common among its customers – all of them are lovers of the One Piece series/anime. That's why people come to visit at many different ages, all sharing the same pirate spirit in the One Piece story: "We believe: every person in this life, deep down, has a Treasure, or an analogy about their own Life Purpose/Dream. There is a 10-year-old child who knows where he has to go to get his life back. excavate this Treasure; but there are also people who take 60 years of life to grasp the map in their hands.And better than the destination, the flow of that journey pushes us to interesting people, leaving memories. concept, life values ​​and the flame of inspiration to go to the end.
We decided to create the first pirate ship on land to create an intersection like the one above. When we go to the deck, we are friends before and after we know each other, make friends regardless of age, do not need to be strict, don't care about background, just talk freely, enjoy the moment together or alone."
It seems that the goal of the complex seems to be quite successful at first when people come here of all ages, are open and comfortable to talk and exchange with each other about a passion, the common theme is One Piece. irrespective of age.
The exhibition attracts not only young people but also teenagers – Photo: @banhcanhcua, @Quoc Duoc, Fanpage Trenboong Concept
Because One Piece – a popular series adapted into a movie that attracts a lot of young fans, when asked if you are worried when many children come to be hyperactive and naughty, Ms. Uyen shared: "Like the pirate spirit, when I was 6 years old, I could still be friends with 60-year-olds, so I like the openness to welcome people of all ages. Right on the first day of opening and right around the occasion. Children's International, there have been a lot of young people coming to visit.You go with your parents and point to this character and say this is your favorite uncle, or another child, when you come back, tell your mother to bring you there next time. keep playing…
Since it's the first days, I will leave the space open, but since there are also children visitors, I will carry out parallel preservation activities such as making barriers to preserve items for a long time. ".
On International Children's Day, the children who come to see the exhibition here are given candy and receive gifts. Perhaps this will be a new connection place in Ho Chi Minh City in the near future. Come to experience the space whether you've seen the One Piece manga/cartoon or not.
https://afamily.vn/dau-dau-khong-biet-dan-cac-be-di-dau-cho-moi-la-thu-den-ngay-trien-lam-one-piece-noi-trung- fly-in-the-face-vat-da-qua-acquaintance-elephant-animal-lua-years-old-20220530235939334.chn
You are reading the article
If you have a headache and don't know where to take the children, try going to the One Piece exhibition right away

at
Blogtuan.info
– Source:
Afamily.vn
– Read the original article
here