Business
India buys 9 times more than last year, refines and then exports to the US
According to Refinitiv estimates, Russian crude oil flows to India are forecast to reach 3.36 million tons in May, nearly nine times higher than the monthly average of 382,500 tons in 2021. In total, India has imported 4.8 million tons of oil from Russia since the outbreak of the Russo-Ukrainian war.
Russia's Urals crude oil is currently trading at around $95 per barrel, while London's Brent oil futures price – the reference price of the global crude oil market – is more than $115 per barrel.
The more Europe bans, the more "open door" is for India to buy oil
Part of the reason for the "great price drop" of Russian crude is the turning away of Western customers. On Monday (May 30), the European Union (EU) agreed to reduce oil imports from Russia by 90% by the end of the year. The region is already the largest export market for Russian energy. This measure is part of Europe's sixth package of sanctions against Russia and is still awaiting formal ratification by 27 member states. Before the EU, countries including the US, Canada, UK and Australia have all embargoed Russian oil.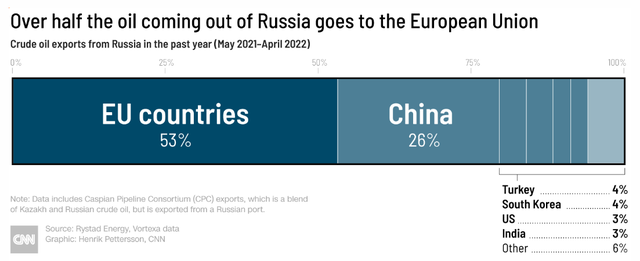 Most of Russian oil flows to Europe and China.
The Russian oil embargo imposed by Europe is expected to put great pressure on the Russian economy. However, Moscow has also found other customers in the Asian region to make up for it.
India, which has to import 80% of the total oil consumed in the country, usually only imports 2-3% from Russia. However, with the high world oil price this year, the Indian Government has stepped up to buy Russian oil, taking advantage of the fact that Russian oil is much cheaper than the price level of the international market.
Also according to Refinitiv data, Russian oil exports to India could increase sharply to 1.01 million tons in April, from 430,000 tons in March.
Cheap Russian crude is so attractive to India's price-sensitive buyers that Russia became the fourth-biggest supplier of oil to India in April, up from 10th in March, according to a new report. shipment tracking data compiled by Reuters.
At the beginning of May, India made statements that downplayed the importance of the country's massive increase in oil imports from Russia. In a statement, India's Ministry of Petroleum and Gas said that the country imports oil from all over the world, including large volumes from the US.
"Despite efforts to paint a different picture, energy imports from Russia still represent a very small fraction of India's total energy consumption. India's legal energy transactions should not be politicized," the statement read.
To date, India has avoided taking a tough stance against Russia regarding the Russo-Ukrainian war. Russia and India are two countries with long-standing friendly relations dating back to the former Soviet Union, when the Soviet Union sided with India in the Indo-Pakistan war in 1971, according to CNN.
India is not the only major economy in Asia that is increasing its purchases of Russian oil. China, which is already the largest buyer of Russian oil, is expected to try to collect Russian oil at a discount.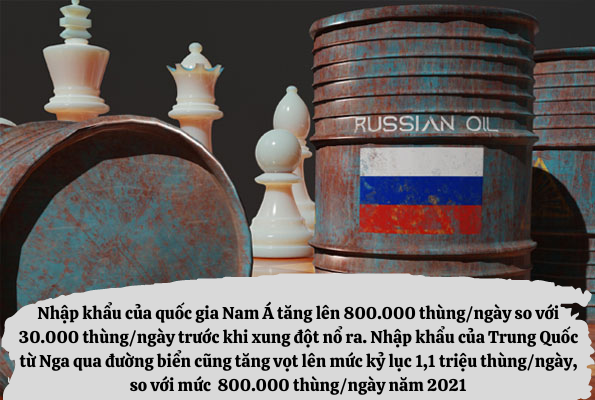 OilX, an oil industry data company, found that imports of Russian oil into China via pipelines and tankers increased by 175,000 bpd in April, or 11% year-on-year. last year. Preliminary data also shows that seaborne Russian oil imports into China increased even more strongly in May.
Oil demand in China, the world's second-largest economy, is expected to accelerate sharply again as the country begins to relax anti-Covid regulations in major cities. From June 1, the financial center of Shanghai began to reopen.
Analysts say that once the Russian oil embargo is officially implemented by the EU, Russia will find new customers aggressively, but it will not be an easy task.
A large part of Russian oil exports to Europe is transported via pipelines. Redirecting this oil to Asia will require new infrastructure that is expensive and will take years to build.
Russian oil actually flows everywhere, even to the US
Russian oil products are still reaching the US market because traders are hiding their provenance by blending crude and refining it elsewhere.
The Wall Street Journal reported on Wednesday (June 1) that supplies are believed to be at least partly composed of Russian oil that arrived in New York and New Jersey last month. These products are likely coming from India, which has been buying a lot of discount Russian oil over the past several months.
The United States banned imports of Russian energy in March, including oil and some petroleum products, shortly after Moscow launched a military attack on Ukraine. And on Tuesday (May 31), the European Union agreed to ban most Russian oil as well as insurance for Russian goods.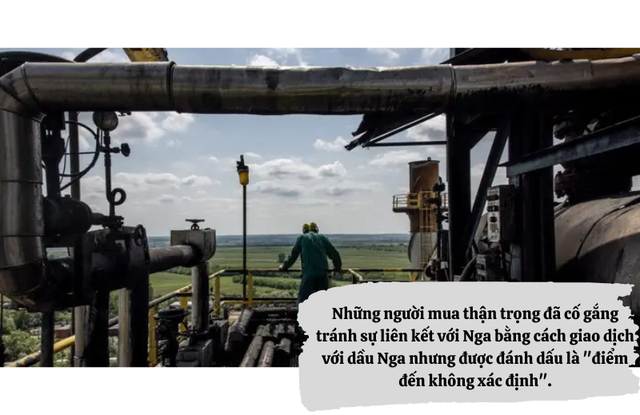 However, traders seem to continue to keep Russian crude on the market, mixing it with other fuels and then refining it. At the same time, cautious buyers have tried to avoid association with Russia by trading with Russian oil but marked as "unknown destination".
Matt Smith, lead oil analyst at Kpler, told Insider: "It is not possible to completely remove Russian energy from the global market. If India imports Russian crude and mixes it with other crude grades, then refined into gasoline or diesel, there is no way to distinguish what is a Russian crude oil and what is not.On this basis, any product refined in India sends "It's very likely that it's coming to the US from Russian crude. It's impossible to pinpoint."
Reference: CNN
You are reading the article
India buys 9 times more than last year, refines and then exports to the US

at
Blogtuan.info
– Source:
cafebiz.vn
– Read the original article
here