On the evening of June 1, female student HTTH, a second-year student, Vinh University (Nghe An), officially gave an explanation after being accused of falsifying the results of the IELTS international English certification exam with a score of 9.0. Accordingly, in a public post on social networks, H. shared that she wanted to send a sincere apology to the online community and everyone for her wrong behavior for providing false information. truth.
At the same time, H. also spoke up about this, saying that she got the scoreboard wrong. H. said that she had taken the IELTS test before but had not yet received the results. Then, on the afternoon of May 29, H. received a text message from an acquaintance online, who sent her test results and said that there was an acquaintance at the British Council, so she See the exam results soon for her.
The female student confided: "Because I was so happy and trusted my friends, I immediately sent this result to Mr. D., the center's manager to report the good news because I had taken an exam preparation course at the center before. When Mr. . asked me if I would let you post the news online, I agreed."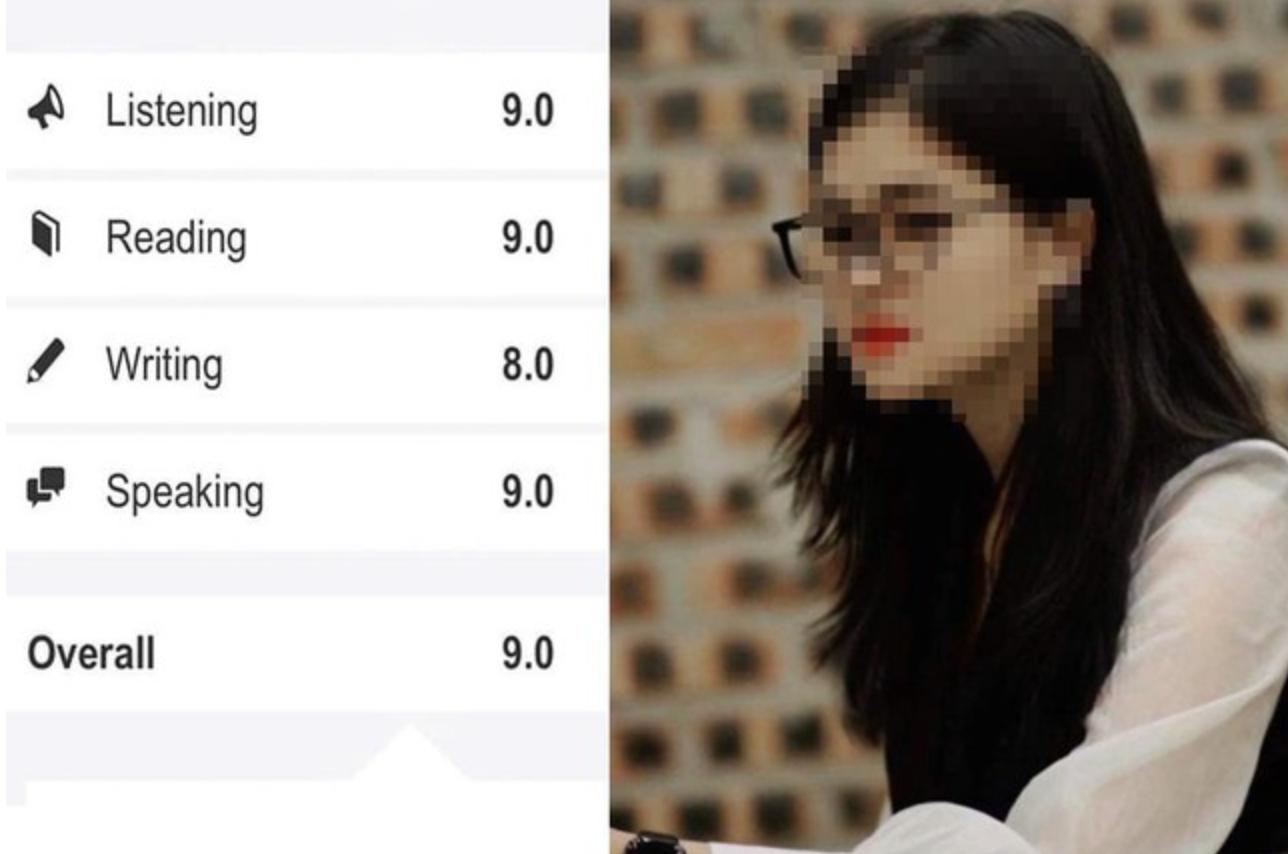 HTTH female student accused of falsifying IELTS 9.0 score. Photo: Tien Phong
Then, late at night on May 31, after being accused by Mr. K.'s Facebook account of falsifying IELTS scores and saying that the 9.0 scoreboard that H. used was his, H. said she had asked again. you, this person said he was mistaken. The female student added: "I immediately asked, and my friend said it was just a mistake. But more and more people on FB, Mr. K. discovered many unreasonable points with my transcript. At this time, I I just found out that I don't have an official score yet, but I used someone else's score to publish it everywhere.
I was too scared and didn't realize the consequences, so I asked my friend to photoshop to correct some details on the transcript and then argue and argue with everyone. Because of this, things go too far and make me lose control. I was so scared that I couldn't sleep last night, and I didn't know what to do next. When people flooded into my FB to attack and question me, I was so scared that I locked Facebook and hid in my room, cutting off all contact."
Accordingly, in the post, H. emphasized: "So now I would like to confirm that the IELTS score of 9.0 that I sent to VSPACE as well as the interview with the newspapers on May 29 was a mistake and not a mistake. mine but someone else's. And since then, VSPACE and the newspapers published this false information, making everything even more false then as everyone knows now."
At the same time, the Nghe An female student also apologized to everyone. She wrote: "I bow my head to admit my mistake and take responsibility for the consequences that I have caused. I hope for everyone's generosity to forgive so that I have the opportunity to correct my mistakes and live a better life."
At the end of the post, H. wishes to receive the generosity of everyone's forgiveness to have a chance to correct mistakes and live a better life. The female student said: "Finally, I realize that this is the biggest fall in my life. I have learned great lessons for myself to not make the same mistake in the future. For that, I ask for everyone's forgiveness to give me the opportunity to correct my mistakes and live a better life. I hereby certify that all of my above statements are true and I ask take full responsibility for the whole thing that happened".
In the morning of the same day, the representative of the English center where the female student of HTTH also apologized for not thoroughly verifying the information related to the IELTS score that had been posted on the center's personal page. The Center shared: "The center is waiting for confirmation from students and families to correct the information in the most accurate way, and will update it as soon as possible".
You are reading the article
Nghe An female student accused of falsifying IELTS 9.0 scores apologizes

at
Blogtuan.info
– Source:
Eva.vn
– Read the original article
here