After a period of fear, not knowing what to do before the "incident" IELTS reached 9.0, on the night of June 1, TH was calm enough to appear and face the truth.
TH's apology post was published on her personal page and she wishes to send a sincere apology to the social network community, everyone for serious misconduct when providing false information. real.
To explain this confusion, TH claims to have taken the IELTS test recently and has not yet received the test results. "However, at noon on May 29, a friend I met online sent me a photo of my exam results and said that I have an acquaintance in BC, so I can see my scores soon.
Because I was so happy and trusted in you, I immediately sent this result to Mr. D., the center's manager to give the good news because I had taken an exam preparation course at the center before. When Mr. D. asked me if I would let you post the news online, I agreed," TH said.
"Late night on May 31, when teacher K's facebook page claimed that the transcript that I had was his score, I immediately asked, and my friend said it was just a mistake. But more and more and more someone on facebook, Mr. K. discovered many unreasonable points with my transcript.At this point, I realized that I did not have an official score but used other people's points to publish it everywhere.
I was too scared and didn't realize the consequences, so I asked my friend to photoshop to correct some details on the transcript and then argue and argue with everyone. Because of this, things go too far and make me lose control.
I was so scared that I couldn't sleep last night, and I didn't know what to do next. When people flooded into my facebook to attack and question me, I was so scared that I locked FB and hid in my room, cutting off all contact," the female student confessed.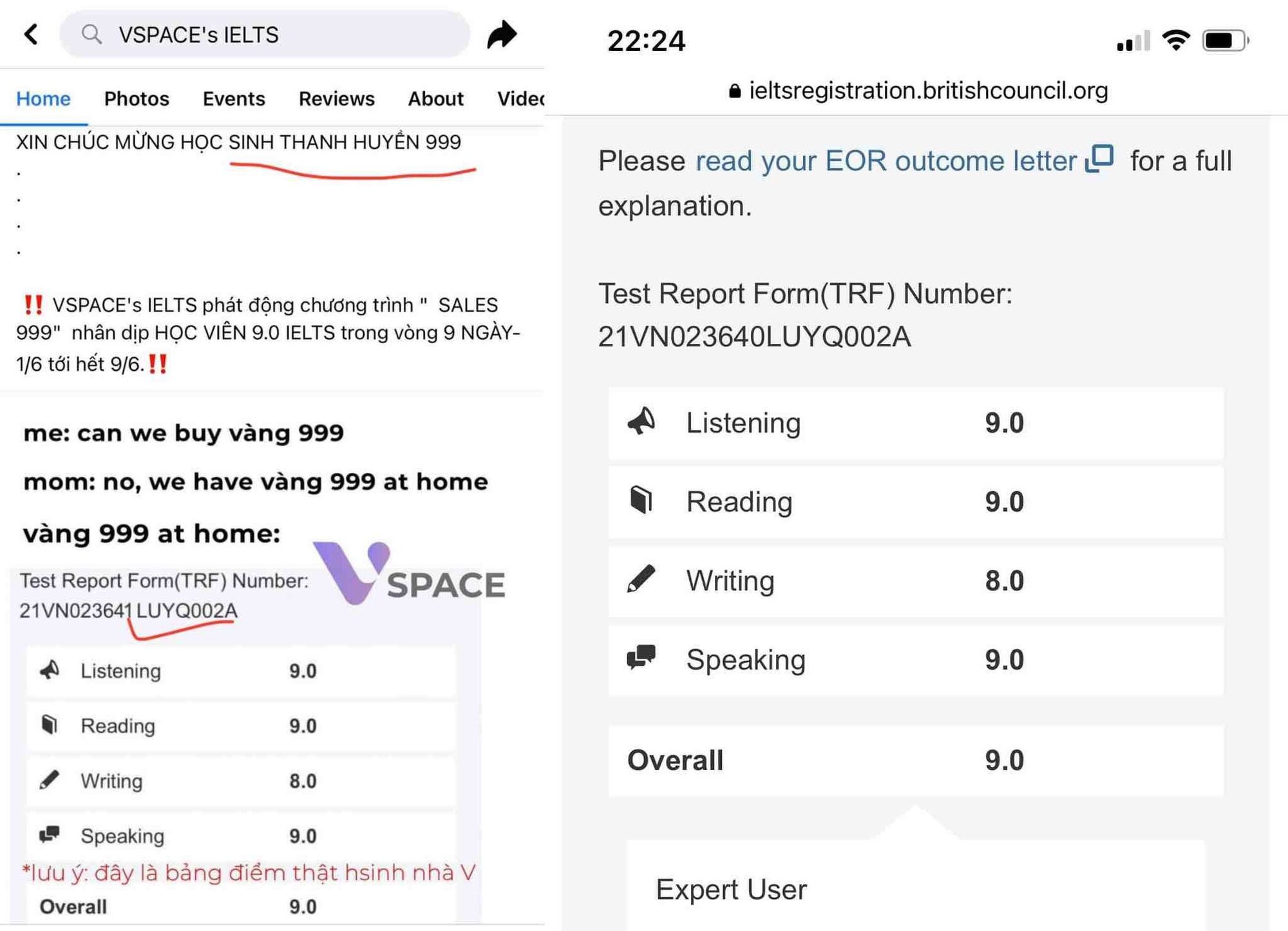 TH admits fault and apologizes for all the consequences that she has caused. At the same time, the female student also apologized to her teachers and friends for disappointing everyone.
The 10x female student also asked her parents for forgiveness: "Just because of my haste, ignorance and poor perception, now my parents are facing heavy gossip."
Currently, there are still many young people who keep a harsh attitude towards the Nghe An girl and ask to clarify some related issues that this girl has made public.
The article that admitted it was wrong and begged for forgiveness about the 9.0 IELTS scandal received a lot of attention. On a personal page with more than 25,000 followers, this article is set to restrict comments. At the same time, TH also hides all information, all of her previous posts.
It is true that more and more people are caught up in the IELTS vortex because they think that the higher the score, the better they are at English and the admiration of the society.
According to psychologist Ha Thai Huong – Hanoi National University of Pedagogy 2, fake IELTS test results is not a new phenomenon. The cases of cheating in exams in general and cheating on IELTS test results are sad stories and deserve condemnation.
"When a female student publishes her transcript on social media, it may be because she also wants to be famous. However, when there was a problem, the female student asked her friend again and he said it was a mistake, she should correct the matter instead of photoshop to correct the information on other people's transcripts. This is what has taken things too far.
Maybe they faked their IELTS test results because at that time they were under pressure from the online community to "check" but as a second year student, you should be aware of cheating in the exam, the consequences are terrible. how?
This female student is really too famous in one night but famous in a way no one wants. I believe the incident will be an expensive lesson for TH and others," said expert Ha Thai Huong.
Previously, when the news of a Nghe An 9.0 IELT female student floating on social media, teacher Luyen Quang Kien – a teacher specializing in IELTS preparation in Hanoi, confirmed that this was his transcript, which was obtained by VSPACE center. borrowed to "transform" into the scoreboard of CARD
Sharing with the press, Mr. Kien said: "When a student messaged me about the suspicion that another center took my transcript to post for enrollment purposes, I was also quite curious to see if that was the case. is it correct?
And when I checked the code, I was pretty sure it was my transcript. In the Cambridge regulations, the TRF code has the first three letters of the candidate's last name and the first letter of the middle name. LUYQ: Luyen (my last name), Q -> Quang (my middle name). Her name is Hoang Thi Thanh Huyen, the code must be HOAT.
Later, Mr. Kien confirmed that this photo was also edited because Huyen's scoreboard number ending in 0002, but the British Council exam, only code is 002.
Hoang Thanh
You are reading the article
Photoshop editing has pushed things too far!

at
Blogtuan.info
– Source:
Afamily.vn
– Read the original article
here