Giải trí
Raise your voice when singing karaoke, "singer" bursts blood vessels in the brain-Life Health
While raising her voice to the tune of the song, the female patient was suddenly dizzy and had a severe headache. At the hospital, the doctor diagnosed her with a broken blood vessel in her brain that needed surgery to save her life.
On June 2, information from SIS Can Tho International General Hospital said that it had just received and treated a case of a very severe cerebral vascular rupture. The patient is Mrs. NTV (66 years old, living in Bac Lieu province) who was transferred to the emergency room by her family.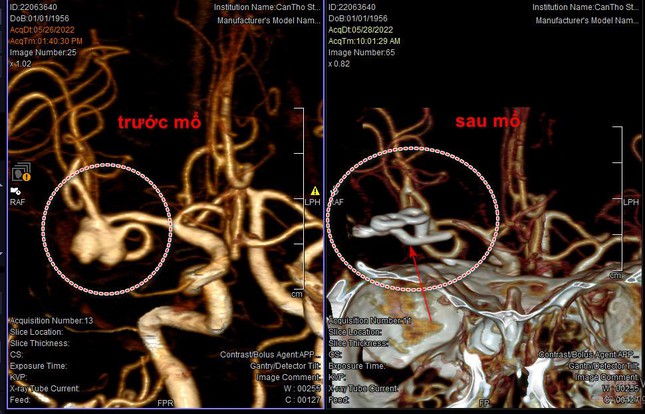 The patient's cerebral aneurysm ruptured when the blood pressure was high (left image).
Exploiting the doctor's medical history from the family's side, Mrs. TV had a history of high blood pressure but did not adhere to treatment. 3 days ago, she was sitting at home singing karaoke when she suddenly had a headache and dizziness when she raised her voice. The family took them to a local hospital for treatment but did not improve, so they continued to transfer to SIS Hospital in a state of headache, vomiting a lot.
The doctors examined and took a CT scan to find the cause, and found that the patient had a subarachnoid hemorrhage due to a ruptured brain aneurysm. After consultation, the team decided to perform emergency surgery for the patient.
Dr. Nguyen Quang Hung, Head of Neurosurgery Unit, directly operated on the patient, shared: "The patient was lucky, when the ruptured blood vessel had too thick atheroma, it temporarily stopped bleeding. prolong life. We performed surgical clamping of the aneurysm to stop the bleeding while removing the hematoma that had drained around the aneurysm and preserving the nearby blood vessels."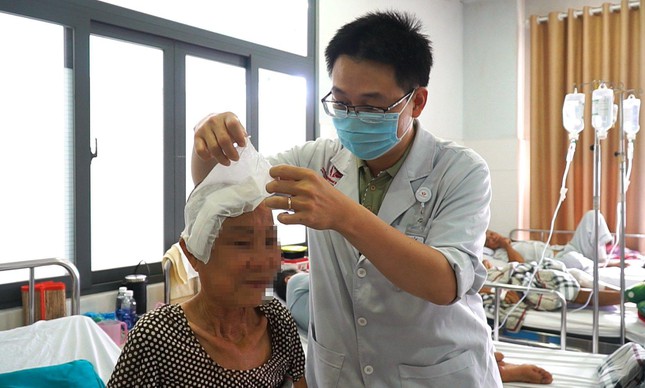 After the surgery, the patient's health is recovering well, fortunately she is not paralyzed
After 5 days of surgery, the patient's health was stable, recovered well, less headache, no weakness. Passing the "death door", she happily confided: "I stay at home to raise my sick husband, my husband also likes to sing, so he asked me to sing to relieve his sadness. I'm passionate about going to any party and I sign up for a musical performance. That day, I was singing old songs, but while I was singing, I heard a popping sound in my head like beating a desiccated coconut, then my face darkened.
According to Dr. Hung, the patient's aneurysm may have appeared about 1 year ago because the size of the aneurysm is very large. When the patient tries to raise his voice when singing at the climax leading to increased blood pressure, blood flow is too much to exceed the limit of the aneurysm, causing the aneurysm to rupture.
Through the above case, the doctor recommends that middle-aged patients with hypertension, headache, drooping eyelids, stiff neck… should be screened for cerebral aneurysms at least once by MRI, which is optimal. is MRI 3 Tesla.
You are reading the article
Raise your voice when singing karaoke, "singer" bursts blood vessels in the brain-Life Health

at
Blogtuan.info
– Source:
24h.com.vn
– Read the original article
here