Thế Giới
This is a powerful weapon that helps Russia break the resistance of the Ukrainian army in Donbass
Video of Russia using the powerful BM-21 Grad multiple rocket launcher system to destroy defense systems and break Ukraine's resistance in the Donbass battlefield. Newsweek source.
The Russian Ministry of Defense (MoD) recently shared a video with an update on "special military operations" in Ukraine in which the powerful BM-21 Grad multiple launch rocket system was used. used to attack Kiev forces.
"During the day, high-precision missiles hit four control points as well as 13 areas of concentration of manpower and military equipment of Ukraine," the ministry said on May 31.
The BM-21 Grad is an extremely effective weapon when firing on "area" targets and is widely used in many countries such as Belarus, China, Czech Republic, Egypt, Ethiopia, Iran, North Korea. , Pakistan, Poland, Romania, Ukraine, Russia…
This type of artillery consists of a heavy truck equipped with a 40-barreled 122mm rocket launcher. Grad – the nickname of this powerful rocket artillery in Russian means "hurricane, rushing". This is a very suitable word to describe the tremendous firepower of this rocket system. In addition, BM-21 Grad is also nicknamed hail.
Thanks to being attached to a heavy truck, the BM-21 is quite maneuverable in pursuing targets and avoiding return fire. The range of the BM-21 depends on the type of rocket used, but the longest range is about 32km. The BM-21 is not too accurate, but has good effectiveness in bombarding targets on a large scale.
A battalion of rocket artillery equipped with all BM-21 can simultaneously fire up to 720 rounds within 20 seconds at targets over a wide area.
Therefore, the BM-21 is very effective against infantry and light armored formations, as well as for destroying semi-permanent trench systems.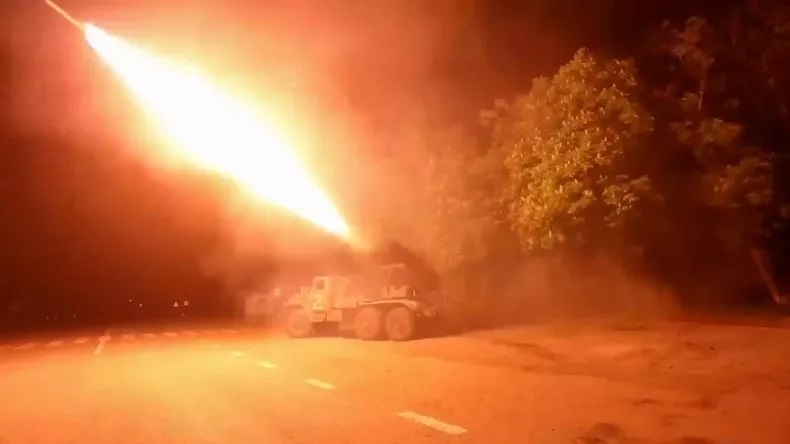 In addition, the Russian Defense Ministry also said that Russia's tactical-tactical forces, army and air force also hit 3 command posts, 69 areas of concentration of manpower and military equipment, one station radar and 2 ammunition depots near Raigorodok and Nikolaevka, Donetsk People's Republic of the Armed Forces of Ukraine (AFU).
Russian attacks have killed more than 290 Ukrainian nationalist fighters and many of their military weapons. A Su-25 of the Ukrainian Air Force was also shot down near Kobzatsy, Nikolaev region.
"Russian air defense units shot down six Ukrainian drones near Donetsk, Makeevka in the self-proclaimed Donetsk People's Republic and in Popasnaya in the self-proclaimed Luhansk People's Republic as well as in Liptsy, Bolshie Prokhody in the region. Kharkov, including a UAV was shot down near Snake Island", the Russian Defense Ministry emphasized.
Meanwhile, the Rocket Force and Artillery of Ukraine hit 38 command posts, 417 areas of concentration of manpower and equipment and 46 artillery positions and mortars of Ukraine.
According to the statement of the Russian Ministry of Defense, from February 24 to May 31, a total of 184 Ukrainian aircraft, 128 helicopters, 1,070 drones, 325 anti-missile systems were destroyed by the Russian military. air, 3,342 tanks and other armored fighting vehicles, 454 multiple launch missile systems, 1,738 field artillery and mortars, and 3,311 other military vehicles.
In addition, the Russian Defense Ministry also added that, during an inspection of the underground facilities of the Azovstal factory in Mariupol, where the Ukrainian Azov Brigade used to hide, Russian servicemen found 152 dead bodies. The bodies of AFU warriors and soldiers were stored in trucks with broken cooling systems.
"Before surrendering, commander Azov publicly called on President Zelensky to bring the bodies of the dead back to their families for burial in the territory controlled by Kiev. However, there was no request from Kiev to receive the bodies of those killed at the Azovstal plant. Moreover, during an inspection of the truck, Russian commandos found four mines hidden under the bodies of Ukrainian soldiers," the Russian Defense Ministry said.
According to the ministry, the purpose of the move is to accuse Russia of deliberately destroying the bodies of AFU service members, preventing the transfer of the bodies to their families in order to save the political "reputation" of the government. authority of Kiev and personally President Zelensky.
"In the near future, the Russian side plans to hand over the bodies of Ukrainian servicemen found in the Azovstal factory to the representatives of Ukraine," the Russian Defense Ministry said in a statement.
You are reading the article
This is a powerful weapon that helps Russia break the resistance of the Ukrainian army in Donbass

at
Blogtuan.info
– Source:
danviet.vn
– Read the original article
here