Business
People "splash money" as they please, rush to buy luxury goods and drink 4 cups of milk tea to "revenge"

After 2 months, almost all business activities were "frozen", people in Shanghai are rushing back to shopping. Stores are preparing for a spike in demand after a long lockdown.
In a post on Weibo, the account Shanghai Hot Information, which has more than 1 million followers, shared images of customers queuing outside Hermès, Céline and Dior stores at its Plaza 66 upscale shopping mall. city. Meanwhile, another user – Yilian Fengyue Xian, said she bought 4 cups of milk tea to "revenge" for her time indoors.
Shanghai began a blockade to prevent the epidemic on March 28 and asked most of the city's 25 million residents to stay at home. Thereby, the government of this country is committed to pursuing a zero Covid strategy that aims to completely eliminate the epidemic through blockade measures, large-scale testing and strict isolation.
Pei, the owner of a coffee shop in Shanghai's Huangpu district, said she has been making coffee non-stop since it reopened at 9 a.m. yesterday. She said that the official announcement to open the door on the evening of May 31 was too sudden and did not have time to get used to this.
In that context, some Chinese social media users vowed to spend "freely" after the blockade period. They share a long list of shops, listed as "must-go places to eat for revenge".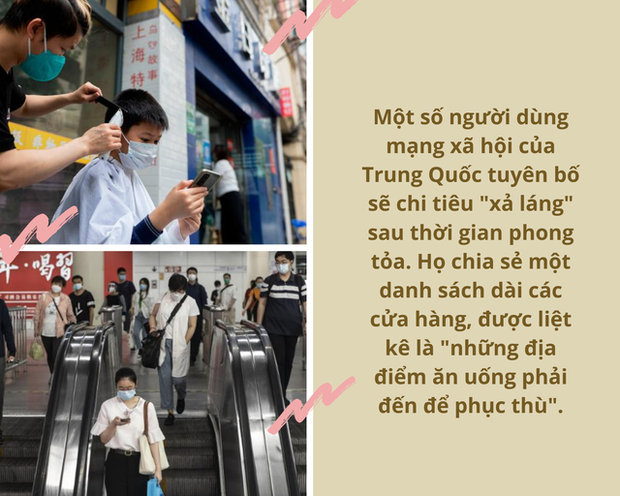 Although many stores have reopened, the trend of online shopping is still popular. China's second largest online shopping festival, called "618", on JD.com also attracts a lot of shoppers. The company said that sales of technology brands including Xiaomi, Lenovo, Apple and Huawei surpassed 100 million yuan ($15 million) in just 10 minutes since the show "aired" on Tuesday.
The mother of two – Yang Zengdong, 40 years old, is very excited to go out with her family. Her whole family waited for a long time when Shanghai "closed". She wants to go to the mall, see which stores are open to buy drinks and toys for her children. This goal seems quite modest but even those simple pleasures cannot be achieved during the 2 months of lockdown.
Jason Yu, managing director of market research firm Kantar Worldpanel, predicts a rebound in initial spending by food and beverage outlets along with delivery (including coffee, milk tea, cakes and other items). categories of goods to satisfy consumers' pleasure) will be quite strong.
The beauty business also benefits from returning consumers. According to Yu, the 618 shopping festival will boost demand. "Pumped demand for skin care and beauty category products, especially high-end brands, will increase as brands lower prices," he said.
As China's largest and wealthiest city, Shanghai has long been a magnet for luxury retail and has 12% of the mainland's high-end boutiques.

Unfortunately for retailers, though, the recovery in spending may not be the same in 2020. Furthermore, consumer excitement is accompanied by anxiety about the future. . Although Shanghai has reopened, the government is still determined to pursue a zero Covid strategy. This makes people quite insecure.
Yang shared: "A lot of my friends, who have families and children, want to buy a bigger refrigerator or buy more food. They are no longer interested in spending money on unnecessary things. ."
Last week, Alibaba CEO Daniel Zhang emphasized that consumers are still focused on finding the products they need. He said: "In different consumer segments, the demand for essential goods has increased and they are not too concerned with price. As for non-essential goods, the sensitivity level prices go up again."
According to Mr. Zhang, Shanghai consumers are preparing themselves for future uncertainties.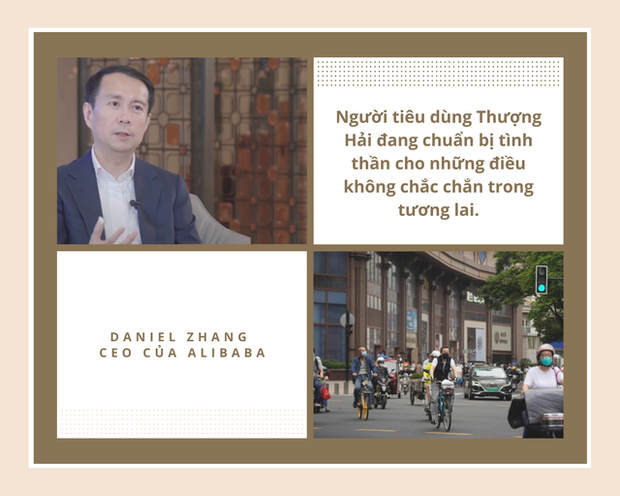 However, the severity of these measures has affected economic growth. Beijing is under pressure as it tackles slumping consumer spending, rising unemployment and small businesses struggling. In addition, the easing of Shanghai's blockade also raised concerns about the possibility that the infection situation will not be over.
Adam Cochrane, an analyst at Deutsche Bank Research, said the recovery in China's consumer spending will not be as strong as in 2020. He said: "The severity of the blockades, along with Uncertainties about future disease prevention policy may cause more consumers to worry."
For now, stores will reopen and operate at 75% capacity. Other businesses – including some restaurants, remain closed. Residents living in areas with high numbers of infections are still required to stay at home and get PCR tested every 3 days to be able to use public transport.
Luca Solca, an analyst at Bernstein, said: "Traffic activity is increasing again, but people are still concerned about the possibility of infection. Therefore, they are still limited to going to public places."

Retail activity rebounded in Shanghai but remained relatively low overall, with retail spending in April plummeting 48.3 percent year-on-year. In other countries, procurement can be boosted by government stimulus. China, on the other hand, is targeting infrastructure and business spending more than thrifty consumers.
Amrita Banta, managing director of luxury brand consulting firm Agility Research and Strategy, said: "Many stores are offering promotions to attract shoppers. Some have tripled the number of points. accumulate points for loyal customers."
Still, she doesn't expect luxury spending in Shanghai to be as robust as it usually is. "I predict that in the first days of opening, customers will be very busy. But this is also a factor that makes many people stay at home, some do not want to go to crowded places," she said.
Ms. Yang shared that life in Shanghai still has many potential risks of disease. She said: "I am not afraid of catching the disease, but I am afraid of getting a positive result and having to be isolated. I think for most people, this is a time to enjoy life outside but also a time to enjoy life outside. need to protect yourself and your wallet. This is not the time to spend it lavishly."
Refer to FT; CNA
https://cafef.vn/thuong-hai-hau-phong-toa-nguoi-dan-vung-tien-thoa-thich-do-xo-mua-hang-xa-xi-va-uong-4-ly- tra-sua-de-phuc-thu-20220602154215488.chn
You are reading the article
People "splash money" as they please, rush to buy luxury goods and drink 4 cups of milk tea to "revenge"

at
Blogtuan.info
– Source:
cafebiz.vn
– Read the original article
here