Giới trẻ
Primary school students talk about their brother who loves to sing, read two sentences, people laugh for 3 days and haven't woken up yet
The words are both honest and combined with a little bit of humor of the younger sister, making the brother described in the article also… freeze.
Grandpa, grandma, father, mother, brother, sister… are often familiar topics for primary school children to study writing. But of course, not everyone who is lucky enough to enter the "literary work" of primary school students also shows up with countless shimmering and fluttering sentences. There are stories that describe the truth when children are asked by teachers to tell about their loved ones. Through their eyes, adults can laugh many times and feel like they are young again.
You probably still remember the lines that "unmasked" her mother who caused a storm: "My mother's full name is A, her figure is thin, her eyes are black, her teeth are white, her hair is long and fragrant. She wears glasses. My mother likes to buy things like dresses and shirts for me and my sister, buy clogs, shoes, cosmetics. She likes to dress up, my mother likes to eat food like imported vegetables and fruits, warm water with honey, grapefruit." or "At home, my father argues with my mother like chopping rice. Dad also cooks for her. After eating, he also likes to wash the dishes. Dad planted a beautiful rose garden to give to my mother. My parents told me that after ten generations of happiness, I could marry a father." …
The same is true of the brother's description below. He has a handsome face, a slightly hoarse voice, quite low but gives others a warm feeling… This student's brother has a bad voice and still likes… sings, sings all the time everywhere, became the terror of the whole family. There was even an uncle who couldn't stand it, writing poetry just to describe this "gifted" voice.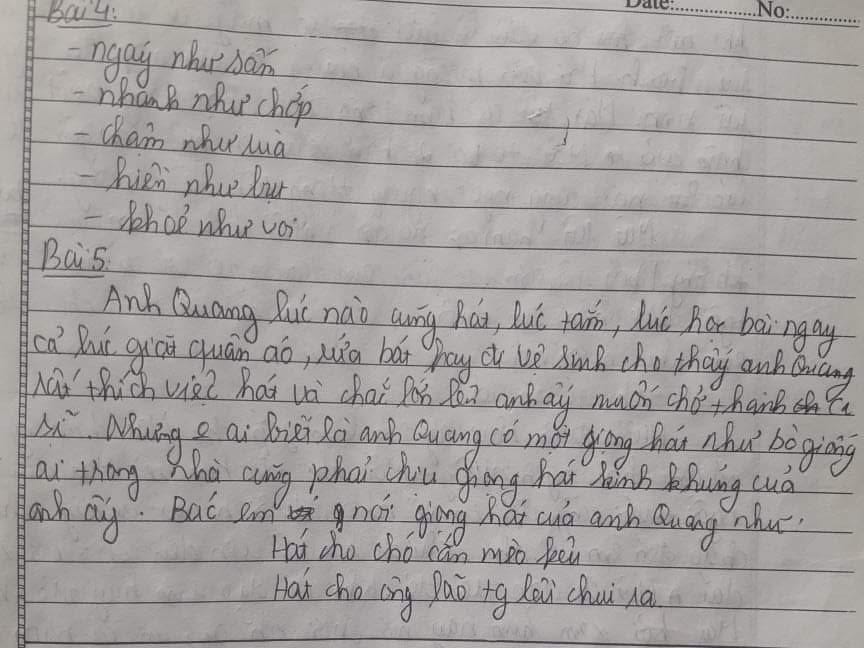 This child wrote: "Brother Quang always sings. When bathing, studying, even washing clothes, washing dishes or going to the toilet, it shows that Quang loves singing, and he probably wants to be when he grows up. But I know that Quang has a voice like a cow roaring, everyone in the house must suffer from his terrible voice.My uncle said Quang's voice was like: Sing for the dog to bite the cat/Sing for him. The old man in the tent came out."
The words are both true and combined with the "flying high and far" imagination, making the brother described in the article also… frozen. There is a younger brother worth the money, "peeling" he does not respect at all. Although the main character "lamented", many other netizens made positive comments:
– The children are very innocent, describe the truth, really, it's a blank page. My child wrote a story about the class, he wrote that there were 25 students in his class, then he listed all the names of 25 students. And in conclusion, I love my class very much.
– Sometimes when I focus on grading a stressful test, I read a child-like answer, I laugh and then I'm tired. Of course, there are knowledge that I have to teach students to understand later, but there are also answers that are inherently not wrong, but I still leave them as is because I respect students' thoughts and creativity.
– My son in 2nd grade is the same, he sees his brother all the time. The children's writing is simple and naive, read it and laugh.
– My son describes his family: My mother is 47 years old (correctly 37 years old), my father is 37 years old (correctly 47 years old). My family is not happy because my mother often yells at me and my father. My mother's family is the big brother, me and my father are the most afraid of her… I want to faint.
In fact, the children thought they were carefree, but everything that happened in the family was absorbed by this "rice-powered camera". Sometimes in the house, there are many stories from funny to embarrassing, children will pull them out and tell them all, without missing a single detail.
Not following the stereotype, this elementary school student writes with his inherent innocence. That makes adults very excited.
According to ttvn.toquoc.vn
You are reading the article
Primary school students talk about their brother who loves to sing, read two sentences, people laugh for 3 days and haven't woken up yet

at
Blogtuan.info
– Source:
infonet.vietnamnet.vn
– Read the original article
here