Thị trường
Revealing the "perfect couple" of commercial real estate at Hon Thom Paradise Island
Fashionable and unique, with a variety of functions and attractive business potential, the Commercial Villas and Boutique Hotels at the Sun Iconic Hub component of Hon Thom Paradise Island own many bright spots that bring promising investment opportunities. appointment.
Boutique hotel – trendy and full of potential
Appearing in the 80s in magnificent capitals such as London, New York or San Francisco…, up to now, Boutique Hotel has always maintained its attraction because of its strength in cozy and private accommodation space with personalized service. optimize the experience for visitors.
These hotels with more than 10 rooms and no more than 100 rooms are also highly rated for business performance in the hotel industry with impressive profit margins. For example, according to CBRE's survey in 2017, the profit rate of Boutique hotels reached 33.8% while this rate of the entire hotel industry was 38.3%. In 2018, this type also contributed more than 20 billion USD to the profit of the hotel industry in the US.
In the near future, this unique type will become a piece to increase the collection of high-class and different accommodation experiences at the super complex of entertainment – resort – investment Hon Thom Paradise Island.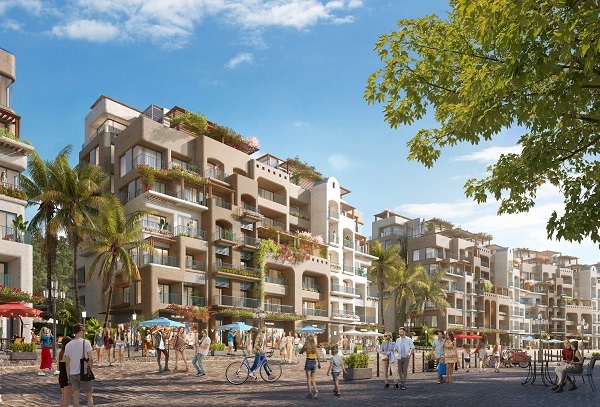 Trendy Boutique Hotel type will be present at Hon Thom Paradise Island. Perspective image illustrates Sun Property.
Spreading along the hillside with the terrain "like the mountain, facing the sea", 45 Boutique Hotel apartments in The Sailing Bay subdivision will have a height of 8 floors, in harmony with the surrounding landscape and Hon Thom nature. Soft tropical architecture with blue – white – yellow tones dotted with flowers and trees along with soft and delicate curved dome details will also contribute to adding a "grace" to attract visitors. This trendy piece at Paradise Island.
In addition, with the characteristic of high terrain, each Boutique Hotel will have its own distinct vision, ranging from embracing the turquoise ocean and beautiful sunset to enjoying the vibrant and prosperous atmosphere of the hotels. The main commercial road on the island leads to the iconic Canh Sail building. The plus points of this view and location are the advantages to increase the number of guests coming to stay as well as experience the service.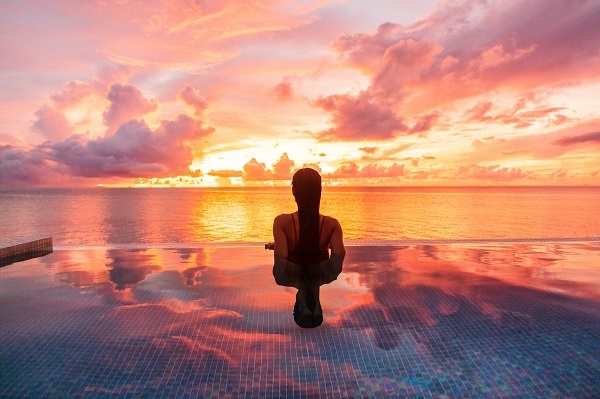 With a high position, the Boutique Hotel will own the view embracing the beautiful sunset at Hon Thom. Shutterstock illustration
Not to mention, at Hon Thom Paradise Island, Boutique Hotel owners can affirm their personality and personal imprint when participating in the interior design process. From there, creating hotels with 1-0-2, the difference is nowhere else.
Thus, being a relatively "young" segment in the market, Boutique Hotel has affirmed its attractiveness not only to tourists but also to investors because of its difference in experience and profitable investment potential. from the accommodation and service business. This model is also predicted to have a global compound annual growth rate of 6.7% by 2030.
At The Sailing Bay – Hon Thom Paradise Island subdivision, this unique product promises to bring a sure-fire business opportunity, becoming a key word to stir up the commercial real estate market in Phu Quoc in the near future.
Commercial Villa – diverse business functions
Located on the terrain gently slopes towards the sea, more than 190 Commercial Villas – commercial villas 3 to 3.5 floors high of The Sailing Bay are the type developed with a variety of functions; thereby creating bright spots in terms of vision and design, bringing investment exploitation value, towards flexibly meeting the profitable business needs of the owners.
Located along the main trade routes of Paradise Island, adjacent to the central Canh Sail Building, according to each separate function, the commercial villas will be designed with a large floor area, possessing 2 facades. , has a garden and an open space, facing the sea, in an architectural complex with tropical colors, elegant, close to nature.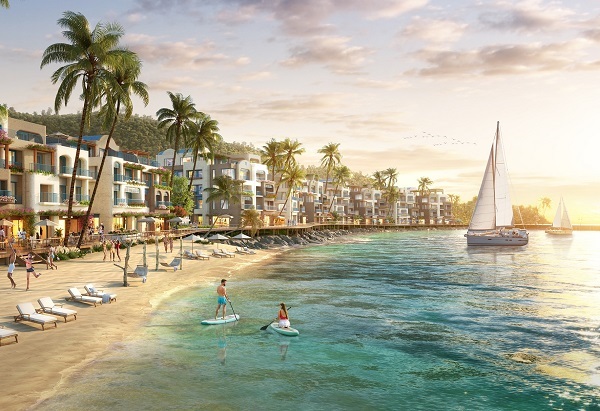 Commercial Villa at Hon Thom Paradise Island will be designed with a variety of functions. Perspective photo illustration of Sun Property
Besides, similar to Boutique Hotels, Commercial Villa owners will also be involved in the design process of each of their own villas to not only create their own colors but also flexibly meet the needs of exploitation. Owner's business from accommodation, F&B to retail, healthcare…
With the advantages of space and design, Commercial Villas can meet the needs of many groups of customers. For example, the demand for space to stay or enjoy real cuisine "chill" towards the sea to attract young tourists; demand for space in harmony with nature that is both luxurious and airy for families… and creative space for unique flagship stores to display products of high-end brands…
Meanwhile, the central location of Sun Iconic Hub gives Commercial Villas and Boutique Hotel the advantage of easy access to the most vibrant internal amenities on Paradise Island such as clubhouse, observatory, square, and parking. Helicopter, coastal promenade, Coral restaurant… At the same time, visitors come to Canh Buom Building from all directions such as Sun World marine entertainment complex, Yacht Bay, The Santo Port subdivision… and Both the Sun Retreat Village and Sun Festival Avenue components must also visit the street with these hotels and commercial villas.
Commercial Villa and Boutique Hotel will be the perfect duo to create vibrant commercial life in Hon Thom. Perspective photo illustration of Sun Property
"Commercial Villa and Boutique Hotel on Paradise Island Hon Thom is a "fertile" land for business exploitation for the owners. This will be a model to solve the problem of finding investment – commercial – resort properties of wise investors, completing the appearance of Hon Thom Paradise Island – where "Paradise is real!". " representative of Sun Property shared.
In short, the Boutique Hotel and Commercial Villa will not only be a "perfect couple" creating the commercial vitality of Hon Thom thanks to the potential for business exploitation, but also an expensive highlight in the high-end utility system. -in-one at the Sun Iconic Hub component.
Therefore, "Buying real estate is receiving a whole ecosystem" of international stature invested methodically by Sun Group is a plus point that many investors agree with when commenting on high-end real estate developed by Sun Group. Sun Property in general as well as Commercial Villas and Boutique Hotel on Paradise Island Hon Thom in particular.
With the added values ​​of "Quality – Class – Difference" fostered by the pillars of Sun Property, Sun Hospitality Group and Sun World, The Sailing Bay subdivision with Commercial Villas and Boutique Hotel offers investment opportunities. attractive profits. Therefore, it is not surprising that these commercial properties are highly sought after by investors, creating an amazing absorption rate of up to 95%.
Pham Trang
You are reading the article
Revealing the "perfect couple" of commercial real estate at Hon Thom Paradise Island

at
Blogtuan.info
– Source:
infonet.vietnamnet.vn
– Read the original article
here