Tech
Super app creates 'miracle' growth from 0 to more than 1 billion users, ready to 'dry blood' with TikTok to dominate the market
Referring to WeChat, perhaps no Chinese people do not know. This is a super app developed by tech giant Tencent 11 years ago. 30-year-old legal expert – Chen Channing (now living and working in Shenzhen) is one of the billions of Chinese who can barely live without WeChat every day.
After waking up, Chen checked the messages on the app. After that, he went to work by subway and used the payment function integrated in WeChat. On the way, he read the news also on it. At the office, he spends most of his workday communicating via the desktop version of WeChat.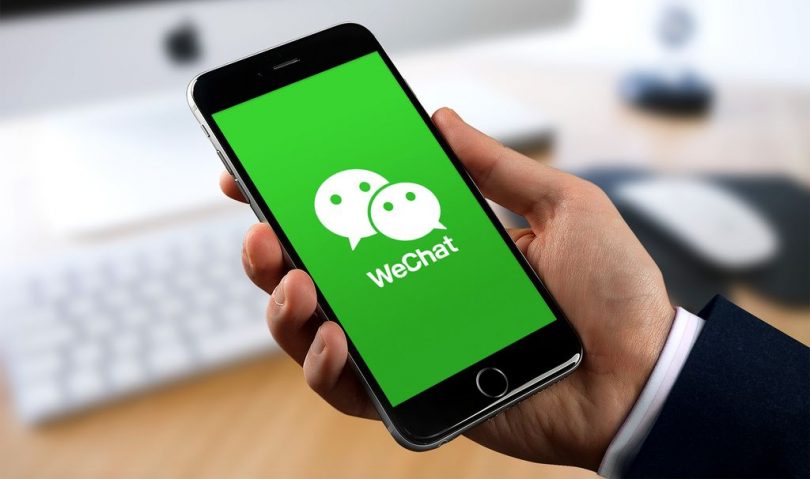 In his free time, Chen listens to music, shares photos or famous online memes with friends. When he is hungry, he uses WeChat to order food and pay. It can be said that WeChat has become an indispensable part of every aspect of Chen's work and life in particular and many Chinese people in general.
According to statistics, as of the fourth quarter of 2021, WeChat has 1.27 billion monthly active users. Every day, more than 120 million users post, 360 million people read newspapers on official accounts, and 500 million people visit WeChat's sub-apps (small applications that run inside another application) on a daily basis. day.
A 2021 study by data provider China Internet Watch found that users spend an average of 77 minutes a day on WeChat. It can be said that this super application provides an efficient service equivalent to WhatsApp, Instagram, Google, Facebook and PayPal. According to QuestMobile, WeChat accounted for 21.5% of all Chinese users' time on the mobile Internet as of September 2020.
It is perhaps not an exaggeration to say that WeChat has profoundly changed the way Chinese people interact with each other and with the online world. WeChat's success has also helped Tencent become the biggest company in Asia. Currently, Tencent has a market capitalization of more than $441 billion (up from 47 billion in 2011).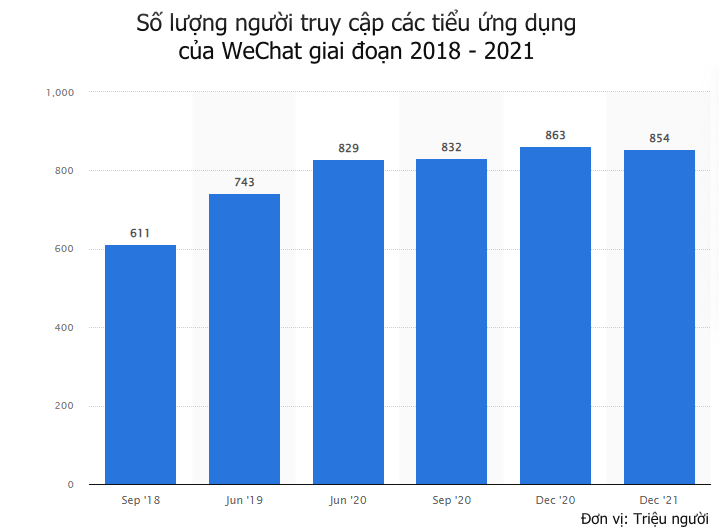 One expert commented: "WeChat is undoubtedly the most successful Internet product in China in the past decade. It has worked miracles as it has grown from zero to more than 1 billion users. WeChat's value has gone beyond that. beyond numbers because this app keeps people connected and provides a range of life-changing services."
In 2011, a small Tencent team developed the first version of WeChat in less than 70 days, beating out two other internal teams trying to achieve the same goal.
The initial version of WeChat only allowed users to send text messages and photos. The turning point for WeChat came in May 2011 when the app was updated to feature voice messaging, allowing the user's phone to act like a walkie-talkie.
After a decade of optimization, the app is still evolving. Tencent has built a huge ecosystem around WeChat. These are apps smaller than 10 megabytes that can run instantly on the main app's interface. The above design has allowed WeChat to become a popular and trending platform.
There are many factors that contribute to WeChat's success, including China's Great Firewall, which blocks foreign social media such as WhatsApp, Instagram, Google and Facebook. For its part, WeChat was on the right track at the right time. The simple, interesting design of the app is also a key factor in its success.
Even so, Tencent and WeChat are facing some challenges. First, censorship of content on the app is having a hard time both at home and abroad as more and more accounts spread inappropriate or illegal content.
Second, despite not having to worry about foreign competition, WeChat is facing a fierce battle from emerging domestic competitors like ByteDance, which owns the short video app Douyin (the Chinese version of TikTok). extremely famous.
According to a QuestMobile report in October 2020, Chinese people are spending 6 hours more per month on mobile phones compared to 2019. However, they are mainly spending that time on short video apps like Douyin and Kuaishou is backed by Tencent.
Meanwhile, WeChat – the same search engine of Baidu or Taobao, Tmall and Alipay of Alibaba, did not grow or even grow negative in the percentage of time spent. In addition, Tencent has also been criticized for its monopoly issue. However, the company says it does fair business.
One analyst said: "One thing is for sure, WeChat will face a challenging future with stricter regulations, stiffer competition, and changes in consumer habits. ".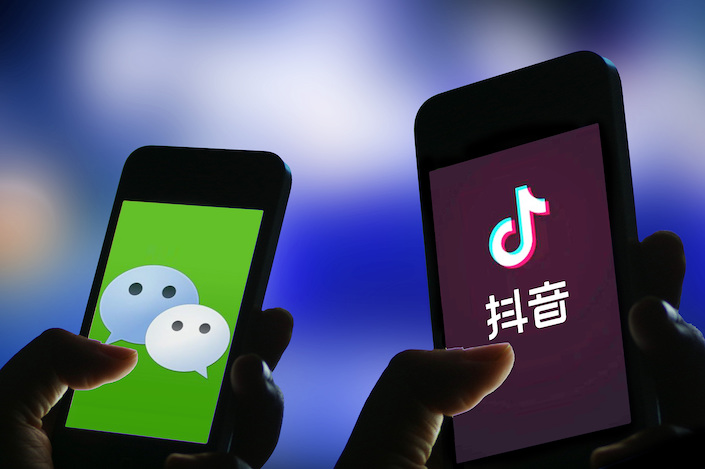 The WeChat – Douyin war is heating up in China (Image: Internet).
Currently, Tencent is trying to attract users to the short video application Channels on the WeChat platform. This is a move to compete with Douyin and Kuaishou.
In its latest business report, Tencent said the total number of video views and watch time on Channels has increased sharply thanks to algorithms and entertainment programs.
In addition to favoring Channels on WeChat, Tencent also organizes online music events with the participation of many popular artists to attract viewers. Tencent's video business has grown rapidly in the past half year, driven by music and entertainment content, an analyst firm said. This strategy helps Tencent close the gap with competitors in the short video market.
Experts say that the growing growth of Channels could upset the short video market in China, which is already dominated by Douyin. The app currently has more than 600 million users in the country.
Tencent's new competitive strategy prompted Douyin to respond. Not long ago, Douyin also held a live performance, which attracted more than 200 million views.
According to Mr. Zhang Yi – CEO of a research company, the two events above are just the beginning of the fierce battle between the two platforms. He noted that Tencent is attacking and Douyin defending. "Based on current data, WeChat is somewhat gaining the upper hand by creating the 'trump card' of performances."
https://cafebiz.vn/hanh-trinh-11-nam-cua-wechat-sieu-ung-dung-tao-ra-phep-mau-tang-truong-tu-0-len-hon-1-ty- people-dung-san-sang-kho-mau-voi-tiktok-de-chiem-linh-thi-truong-20220603105444624.chn
You are reading the article
Super app creates 'miracle' growth from 0 to more than 1 billion users, ready to 'dry blood' with TikTok to dominate the market

at
Blogtuan.info
– Source:
genk.vn
– Read the original article
here