Business
The touching story behind the million-view video of a boy wearing a bachelor's shirt for his mother on college graduation day
Family love is the most precious, the most sacred and also the most abundant thing. Having a family is also a great thing because we have loved ones who are always ready to be by our side in difficult times, ready to sacrifice everything because we are worried about not having enough to eat, enough to wear, to worry about you being sad when we are not equal to you. friends…
Recently, on social networks, a video recorded a scene of a male student wearing a bachelor's shirt for his mother and hugging his mother during the graduation ceremony, this moment has attracted the attention of many fans. Many people expressed their emotions and admiration for the great love this student had for his mother.
The moment when the student wore a hat in his mother's tuxedo on Graduation day made many people emotional
The touching story behind the video of wearing a bachelor's shirt for mom
It is known that the character in the video is Nguyen Canh Luc (SN 1998), a former student of class 17CDT2 majoring in Mechatronic Engineering – Faculty of Mechanical Engineering – Da Nang University of Technology. Sharing about the reason for wearing a bachelor's hat for his mother and posting this meaningful video on MXH, the male student said: "From the moment my mother appeared in front of me under the uniform for new engineers, at that time, I felt both nervous and emotional. Emotions surged as if I wanted to say to my mother: 'I did it, I stand. I'm here with so much pride, Mom'.
She still wears it, and it seems to her to be the best outfit. If the surrounding parents brocade silk fabric, luxurious clothes to attend the graduation ceremony of their children. And my mother is still as simple as her mother every day. Those sandals are my mother's most beautiful shoes, only when she attends the new ceremony, she only wears them. But of course I feel proud and extremely proud. I am proud to be the child of my parents – farmers who are used to getting their feet wet with mud but can still feed themselves and study and are standing here – the graduation ceremony for the new engineer of Bach Khoa University. Department."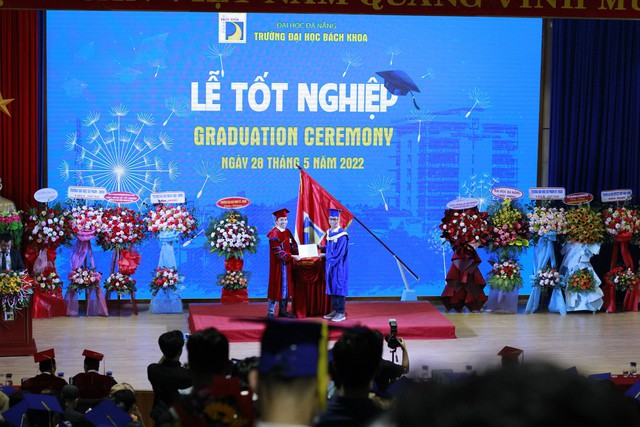 The moment Canh Luc was awarded a diploma after many years of studying hard
Luc's mother herself also experienced a series of emotions at that moment. "When I locked my mother, she told my friends, 'She can't go to school, but she can wear a certificate'. I broke down in emotion and hugged her. Tears welled in the corners of my eyes. Through many ups and downs, family is still the only support. No matter how difficult it is, family is always a place where we can let go of all pressures and difficulties to regain our motivation. If you have a family, you probably won't have the me you are today." male student confided.
Canh Luc was born in a family of 5 siblings, and Luc is the youngest in the family. The family situation is difficult, her parents only work as a farmer, Luc's 4 siblings have to drop out of school since middle school, but Luc's parents always try to save money to feed their children until they are educated. mature.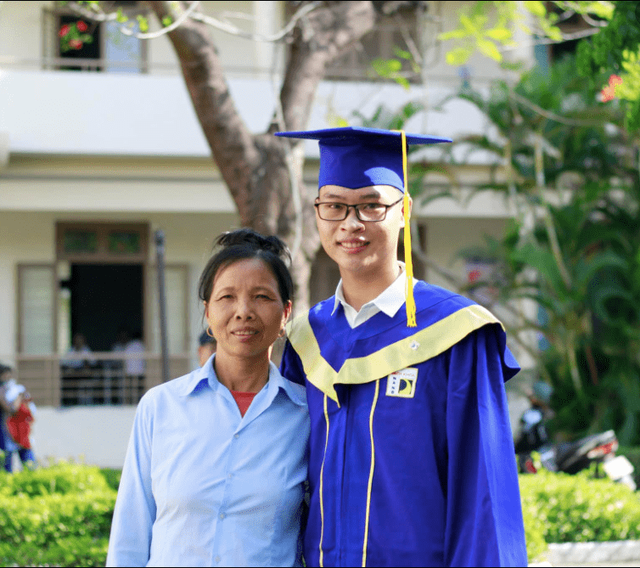 Although his family situation is difficult, his family always creates the best conditions for him to study well.
Although he does not have the opportunity to study in a good environment like many of his peers, thanks to his efforts, hard work and rise, Canh Luc always achieves high achievements in study, many years in a row. is the best student in the class.
In 2016, Canh Luc confidently enrolled in a military school with all the family's expectations. However, luck was not on his side. Although the score still met the second goal of Hanoi University of Civil Engineering, Luc did not go to school but applied to work as a worker at a wood factory in Bac Ninh.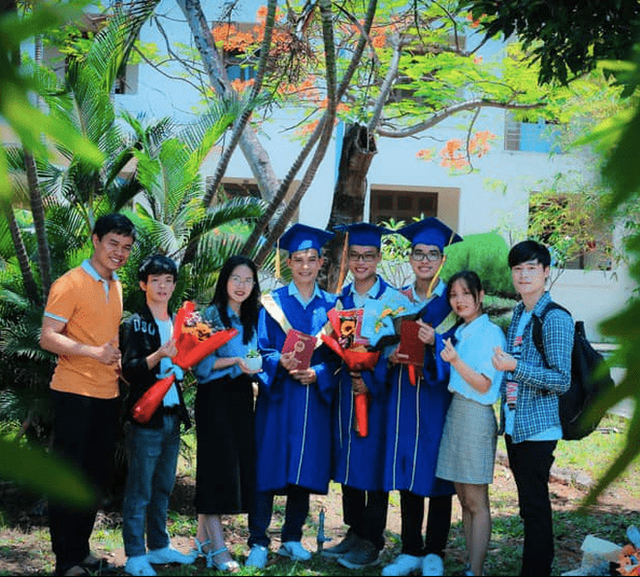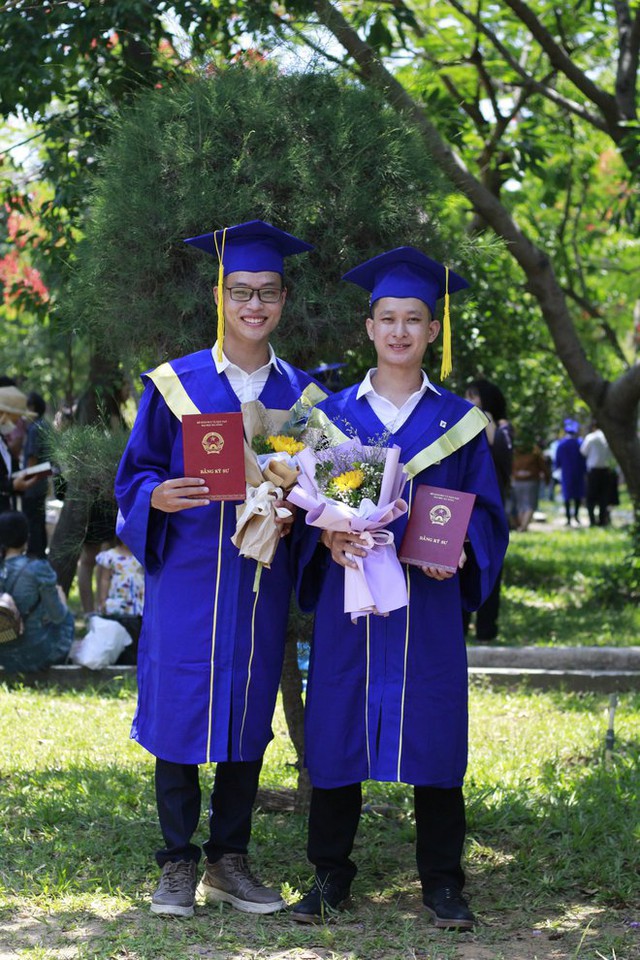 He was congratulated by his friends at his graduation ceremony
"At that time, I thought that studying Civil Engineering University was the right choice? Is my passion in the right place? Well, then just go to work and save money to study for the exam again. So I asked my parents to go. When I worked as a worker, it was very difficult, but I still tried to follow my brothers and sisters. There were many people who heard my story and advised me to try again and become a worker. Life is not good. I was encouraged so much, so I decided to start over." Recall force.
In 2017, Luc re-tested and got a pretty good score, but health problems once again prevented him from getting into the school he wanted. The intention to leave school continued to rekindle when Canh Luc thought about the amount of tuition fees as well as the huge debt that his family could not pay. But with the support of his family, this time Luc is more confident. In the end, the guy chose Mechatronics major – Da Nang University of Science and Technology as a destination for his future.
"My brother said, 'Go to school, you can study anything. I send money home to support you'. Since then, I have chosen for myself the most optimistic way possible, loving life as much as possible." Canh Luc shared.
Canh Luc had a time when he was under pressure and was about to give up his dream of going to university
A series of admirable academic achievements of a student of Polytechnic University
Experiencing many events, it seems that at this time, Canh Luc's real joy comes when during his study at Danang University of Science and Technology, Luc continuously achieved a series of admirable achievements in his studies. practice. Some typical achievements of Canh Luc can be mentioned as: 3 times winning the school's scholarships; awarded 15 certificates of merit for youth union and movement activities; Consolation prize in Youth with traffic culture contest at Central Youth Union level; the title of Student of 5 good grades at the University of Science and Technology; The title of Good 5th Student at the University of Danang,…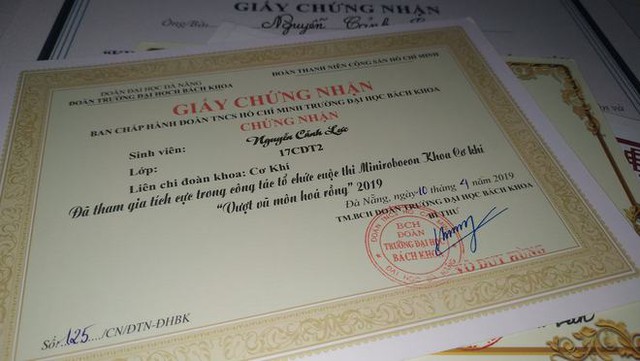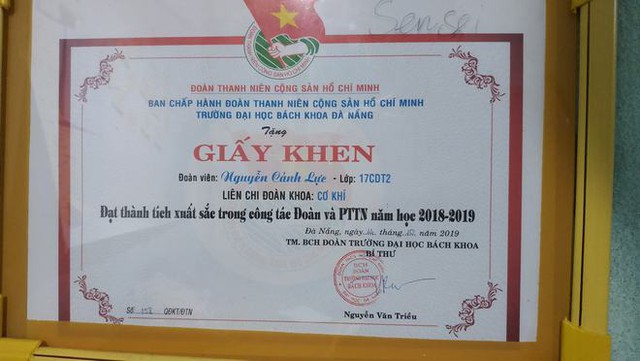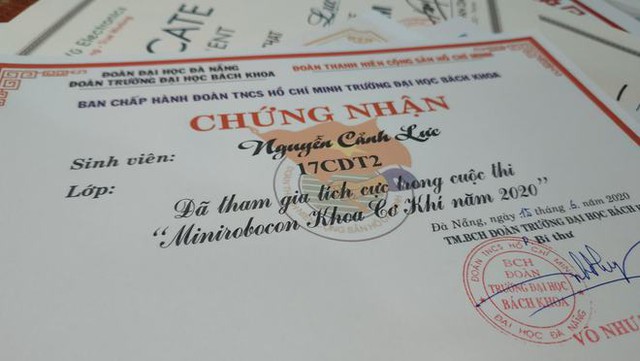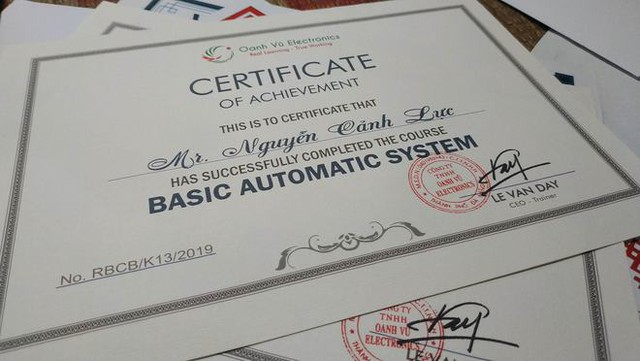 Some outstanding achievements in extracurricular activities were shared by him on his personal page
In addition to studying on the wall, Canh Luc also does many part-time jobs to earn extra income to cover student life, to help the family such as handing out leaflets, tutoring, cleaning staff… Especially , Canh Luc also arranges time to be able to participate in extra-curricular activities of the school and improve himself.
"Since the first year, my roommate and I have joked to each other 'This semester must definitely get a scholarship'. Even though it was just a joke, I tried to be real. In the last days of the term, I was there in the morning. at the library, the library's working hours are over in the evening. Then on the weekends, I look up student job groups to get a part-time job. I work so much that every time I have a job, they automatically called me to help them.
In addition, I know that my soft skills are still weak, so right from the moment I entered school, I actively joined the club. Thanks to that, I have been exposed to many brothers and sisters, who have always guided and helped me throughout my student life. Away from home, the club is like my second family. This is where I really feel more mature and mature. With everyone's support, I became an cadre of the Youth Union, and more specifically the Deputy Secretary of the Faculty Union."
Currently, Canh Luc is working at a large company in Nghe An, this is also his wish when he can both contribute and advance in his career and stay close to his family so that he can serve his family. parenting and care.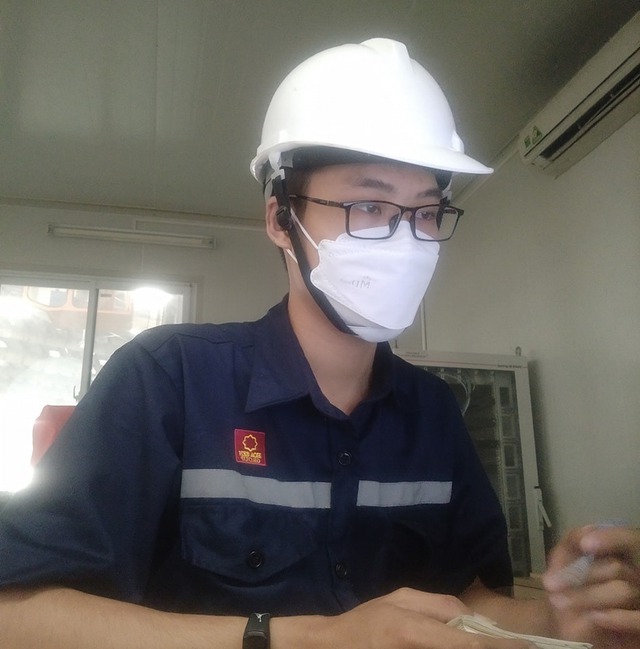 The guy shared that he will try to learn to have more opportunities for promotion and arrange more time with his family and loved ones.
Photo: NVCC
You are reading the article
The touching story behind the million-view video of a boy wearing a bachelor's shirt for his mother on college graduation day

at
Blogtuan.info
– Source:
cafebiz.vn
– Read the original article
here