Fire dancer: When the body is calloused with scars and temptations behind the stage
Holding an iron rod wrapped in a towel, Thanh Xuan began to dip it into the gas bottle he brought with him. The fire burned, Xuan stepped onto the stage and started his performance. Many guests sitting below doubted the fire that Xuan was performing, they asked to see it and then startled to let go for fear of being burned.
Burns the oral cavity from practicing swallowing fire
Ta Thi Thanh Xuan (born in 1992, Hanoi), has been in love with Fire dance for 6 years. Not everyone is brave enough to step out of the predetermined "rails" to discover something new like this 9x girl.
She graduated with a high-quality business administration degree from the Vietnam Academy of Agriculture, but her career later on is… dancing, a profession that requires both talent and perseverance to practice.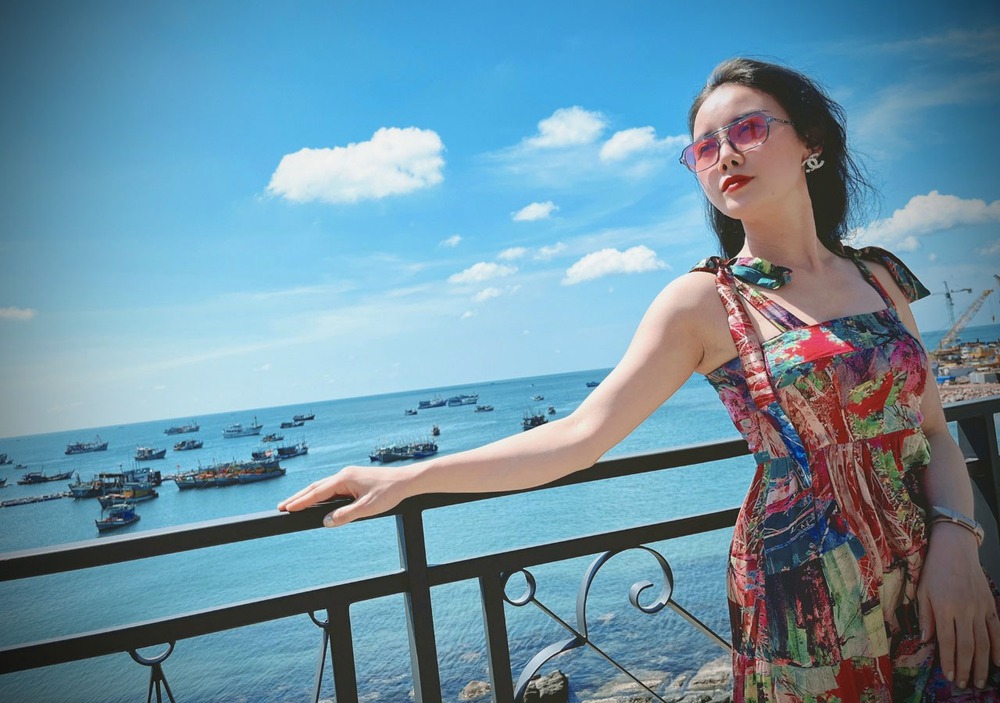 Thanh Xuan has been practicing Fire dance for more than 6 years.
After graduating from school, Thanh Xuan was accepted to work for a technology transfer company with a high salary. For other young people, this is considered a lucky start, but not for Thanh Xuan.
When she received her first salary, she immediately enrolled in a dance class in the inner city to fulfill her passion since childhood. She chose Belly dance – a genre that requires flexibility of the body and good music perception.
The chance from Belly dance to Xuan's fire dance career was very coincidental, it was from a meeting with fire circus artist Bao Long. Passion has followed Xuan from that time until now.
With Xuan, she always remembers the old saying "don't play with fire". Xuan is always careful because fire is easy to hurt people around, especially fire dancers.
Xuan said from the beginning of her practice until now, she also did not understand why, what motivated her to overcome and pursue fire dance, sometimes it could be because of her extravagance and arrogance. youth.
"At that time, when I was learning to swallow fire and taste fire, my tongue… the upper oral cavity was also white… whenever I got blisters, I ate porridge, didn't eat rice. On my hands and under my body. To this day, there are still burns left."
In 2019, Thanh Xuan plans to retire from the fire dance career, only working in art as a teacher and dancer. Because at that time, she found that the frequency of working with fire was too dense, and the danger level was also pushed higher.
However, after a while, her passion for the profession arose and Xuan aspired and wanted to return to the stage.
"I was opposed by my parents a lot, everyone was worried that my daughter's career would be hard and not sustainable. Until later, when I directly watched myself perform in Taiwan, the audience enthusiastically cheered me on. chanting for a re-enactment, the parents understood that it was a daughter's passion and wholeheartedly supported it."Thanh Xuan shared.
Xuan said, her job usually moves out of the house at 5am and ends at home usually around 9-10pm. However, there are times, there are days when she receives shows in provinces far from Hanoi, when she finishes performing, she moves back to Hanoi, it may be midnight or dawn the next day.
Temptations and hidden corners in the profession
Thanh Xuan confided that she also personally received many attractive words of temptation, such as: "Well, I don't have to go to work early in the morning. I don't have to work so hard at home at 1-2 am at night."
Or many very late nights, Xuan received calls to the show from strange numbers. When she asked again "are you sure?", she only did the literal fire dance, and she didn't figuratively, they immediately turned off the phone.
Xuan said that during the performance at the clubs, there were also many guests who used rude actions or words.
"They're drunk, from shaking hands, then switching to a shoulder or a hug. In such a case, I have to keep a spirit of self-control and keep a cool head, because when I perform on stage, there is fire and gasoline, so how can I keep my actions from going too far? , not being too extreme and the second thing to keep is a distance to ensure the safety of guests when on stage".
Personally, if she was a pragmatic person, someone who was swept away by those temptations, she would certainly not be sitting here right now to follow a dangerous and hard job, but to enjoy it. luxury.
The nature of her job is quite busy, as well as many temptations coming to her, so it is difficult to find someone who can sympathize with her work. Regarding the private life behind the stage, personally Thanh Xuan and many other female artists and dancers, after building a family, not everyone can sympathize, creating conditions to pursue their passions. "There have been a lot of artists who have had to pause their performing careers."
Thanh Xuan always wants to find a man who understands her, creates conditions and trusts her. For her, fire dance is made from the heart, sweat, tears, and even blood to be performed on stage. That is the trade-off, the love of the job and the passion for the profession is a genuine artistic activity.
"I hope and look forward to finding someone who truly appreciates my artistic values, my passions, my brain, my enthusiasm and can sympathize, share, and accompany me on my journey. Upcoming art activities. Up to now, maybe my predestined relationship has not been met. I'm still waiting for the man of my life to appear in the near future."
https://soha.vn/nu-vu-cong-mua-lua-khi-co-the-chai-san-vet-seo-va-nhung-cam-do-phia-sau-san-khau-20220601162109368. htm
You are reading the article
When the body is calloused with scars and temptations behind the stage

at
Blogtuan.info
– Source:
Kenh14.Vn
– Read the original article
here