Thị trường
When the Vietnamese showbiz world goes to work as a "stork" of the land
Using the names and images of famous Vietnamese showbiz people to polish real estate projects and attract the attention of customers. This is the blooming method of this time of the investor in combination with a number of singers, actors, and models.
Borrowing celebrities to "blow up" land prices
During the past many years, the real estate market in Vietnam has developed rapidly and strongly and real estate is the first priority investment channel of customers because of safety and profit. Investors only need to buy a piece of land and leave it there for a few years to be profitable and profit from real estate is much more attractive than other industries.
Profits from real estate are very high, this is the main reason why people rush to invest in real estate. And the Vietnamese showbiz world is no exception, they even work as "triggers" of the land.
With their popularity and large number of "fans", each time these people appear at a certain location or project, they attract the attention of a large number of public and public opinion. Since then, the real estate market in that area has also become more attractive and hot.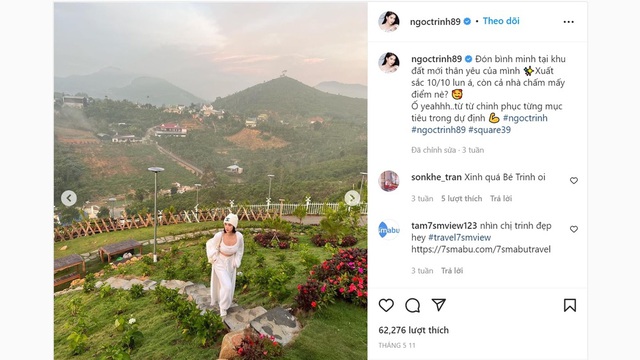 On social networks, Ngoc Trinh shows off her purchase of land in Ho Chi Minh City. Bao Loc. Screenshots
For example, the recent story of model Ngoc Trinh about buying 11 hectares of land in Ho Chi Minh City. Bao Loc, Lam Dong.
On May 11, "underwear queen" posted a series of photos of how she had just "bought" an 11-hectare piece of land to make a homestay with the status line "Welcome the dawn at my dear new land, excellent 10″. /10… slowly conquer each goal in the plan".
After that, the model from Tra Vinh also promised to make a vlog to introduce the newly purchased land. With its popularity, just one status line with a picture has attracted more than 62,200 likes.
Immediately after, information to the press, manager Ngoc Trinh said that Ngoc Trinh's purchase of land in Bao Loc was real. But, the land area is 1.1 ha, not 11 ha as before. This confusion was caused by Ngoc Trinh during a livestream when he accidentally said 11 ha, but later corrected her.
Through information and capture, the City People's Committee. Bao Loc and functional departments identified the land where Ngoc Trinh took pictures in alley 61 B'Lao Sre (Dai Lao commune, Bao Loc city) but it was not the land to build this model's homestay.
In the documents and procedures related to land in Dai Lao commune, there is no owner named Tran Thi Ngoc Trinh. Even in projects waiting for the approval of the City People's Committee. Bao Loc also does not have the name Ngoc Trinh.
City authorities. Bao Loc said, this may be a trick of some objects to get likes or attract public attention to "blow up" land prices.
In addition, Lam Dong Department of Information and Communications also recorded a number of websites and Facebook social networks that posted false information related to the above case.
Some electronic information sites and facebook social networks also posted with the content that Ngoc Trinh camped in the newly purchased 11-hectare land in Bao Loc with tents, lovely flowers and grass hills; nice view to watch sunrise and sunset…
In this regard, the Department of Natural Resources and Environment of Lam Dong province also said that recently, there have appeared a number of groups of objects that intentionally create "fever" of virtual land in districts and cities of Lam Dong province in order to profiteering purpose.
The trick used by this group is to create a hot spot to post inaccurate information about the need for people to rush to submit documents, causing overload at the reception and return of land transaction results, celebrities to the public. land to buy…
"This group of people put on social networks pictures of the demand, the number of people buying and selling land to create virtual "fever". They make prices by buying and selling together, with tricks. the price of the next day increased more than the previous day, in order to push the land price up for profit," warned the Department of Natural Resources and Environment.
The trend is not new
Since 2015, the trend of "borrowing" celebrities to promote high-end real estate projects has been used by many investors. Their effects and pervasiveness are undisputed. However, in return, these investors also "hook" their wallets with costs that can be up to hundreds of millions of dong for each time they appear at project events.
Around the end of 2015, there was a stir about the fact that actress Ly Nha Ky signed a contract to buy 20 apartments in Riva Park, District 4, Ho Chi Minh City with the value of about 100 billion VND.
Initially, public opinion thought that this was a PR program of the investor to sell. But, answering the press at that time, Ly Nha Ky said that it was a personal business project that had nothing to do with a PR campaign for any company. After 3 years, the project was completed, people have moved in but there is no apartment owned by Ly Nha Ky?!
Similarly, a high-end apartment project in District 2 has also appeared many familiar faces in the Vietnamese showbiz world such as: Minh Hang, Duc Tuan, Binh Minh… The project distribution unit said that the The appearance of these "stars" on the day of the sale is part of a promotional strategy and some people put down a deposit to buy a house, some just come and see.
Or like in November 2020, the launch event of the million-dollar villa project Angel Island in District 1 attracted a lot of attention from successful business people and famous artists in Vietnam such as singer Cam Ly. , My Le, Giang Hong Ngoc, supermodel Phuong Mai, MC Thanh Bach…
It is known that Angel Island is a luxury real estate project, built on Nhon Phuoc island (Nhon Trach district, Dong Nai), with a scale of up to 204 hectares, a total investment of about 4,700 billion VND.
Some "big guys" in the real estate market in Ho Chi Minh City have attracted the attention of famous customers through a campaign to announce singers Dam Vinh Hung, Cam Ly, Lam Truong, Hong Nhung, Pham Quynh Anh, and Truong. Quynh Anh, overseas MC Nguyen Cao Ky Duyen… bought a luxury apartment, became a partner to promote the brand.
Sharing with Nhadautu.vn, the director of a real estate business in Ho Chi Minh City, said that the trend of using stars and celebrities has appeared for a long time and in the world they have gone ahead.
The positive side of this story is creating an effect and quickly attracting the attention of the public and potential customers. But the cost of hiring this star cast is at least from a few tens of millions of dong, to hundreds of millions of dong depending on the 'hot' level of the 'actor'. As a result, real estate developers are forced to raise the value of products to make a profit, and so real estate buyers have to buy at a more expensive price.
Not only working as a "stork" of the land, many artists also "encroached on the yard" to open a real estate company.
For example, Hung Thuan – actor "Southern Forest Land" has his own real estate brokerage company and is about to open a new branch.
Or like in mid-May, "sense music king" Ngoc Son surprised the online community when he established Ngoc Son Group – trading in real estate, agriculture and tourism.
Singer Khac Viet also established Khac Viet Land company – specializing in investment, development and distribution of real estate signed directly from the investor.
According to Investor
You are reading the article
When the Vietnamese showbiz world goes to work as a "stork" of the land

at
Blogtuan.info
– Source:
infonet.vietnamnet.vn
– Read the original article
here