Business
Construction engineer makes clean food, ambitious to connect 6,000 startups
The reason why Mr. Le Trong Kha (born 1982, born in Cai Be, Tien Giang) decided to start a business with clean food was because he had witnessed so many people around him suffering from cancer. In the hope of doing something to change, in 2016, he established LeKha Distributor Co., Ltd (LeKhaMart).
LeKhaMart is headquartered in District 11, Ho Chi Minh City with a loyal customer file of up to thousands of people, mainly serving customers at home. Mr. Kha said that his more than 6 years in the clean food business gave him the opportunity to visit many countries in the region and Asia, from which he realized the difference in the consumer market and the agricultural sector. Vietnam's industry compared to other countries.
Graduated from Ho Chi Minh City University of Technology with a major in construction, after more than 10 years of working with the profession, Mr. Le Trong Kha decided to quit his job and start a business in the agricultural field.
With many questions and concerns, Kha wants to build a fair ecosystem, how to make consumers feel more secure when choosing products, so that producers can focus on production. well and to optimize the cost of using social resources effectively.
Not only selling clean food, LeKhaMart has connected with hundreds of partners to provide thousands of customers, carry out trade promotion, domestic and foreign fair booths to help manufacturers introduce branded products. fruit,…
Not stopping there, Kha recently announced the implementation of an ambitious project called "189 days starting a business with you" and will officially launch in September 2022. This is a project implemented in all 63 provinces and cities for those who want to start a business, each province will be given 3 days by Mr. Kha to share about corporate culture, business ethics, and lean start-up. , branding and solidarity to start a business together, promoting internal strength and national spirit, etc.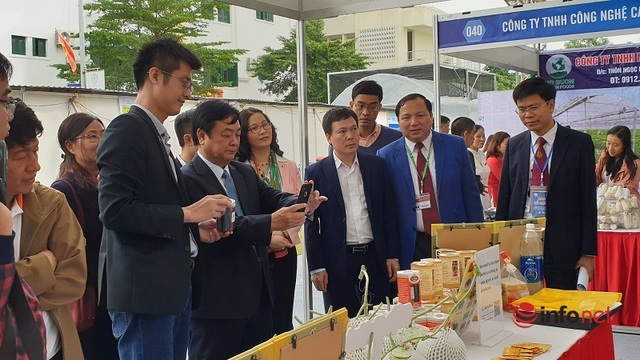 Le Trong Kha (left) and Minister of Agriculture and Rural Development Le Minh Hoan at an agricultural exhibition in Hanoi.
Entrepreneur 8X shared with PV Infonet about the reason for this project: "After more than 6 years of starting a business, with many profound experiences about the market and products. Seeing many of you fail not only lose money, but lose more enthusiasm and motivation to restart your business. Vietnam has launched the agricultural startup movement for many years, but farmers are still ignorant about market information and product transparency. Farmers do not know how to create value for products and protect the results they create.
When participating in the project, participants not only receive the value of sharing knowledge from successful businessmen, but also support trade connections through product demonstrations and introductions. In particular, these classes are completely free, participants only have to pay for their own travel and living expenses.
Funding for the project implementation will be sponsored by LeKhaMart, and at the same time calling on donors for support. In addition, startups who find the project feasible can support and contribute a part so that the project can serve everyone better.
"In case of not being able to call for any donations, the project will run with the funding LeKhaMart can support. For example, instead of having a team to work in the market for startups, they will guide people to do it themselves, design their own brand identity images… or do trade promotion themselves. But this is a very practical project, so Kha believes everyone will support after participating for 3 days, they will see the benefits of working together between startups, "said Mr. Kha.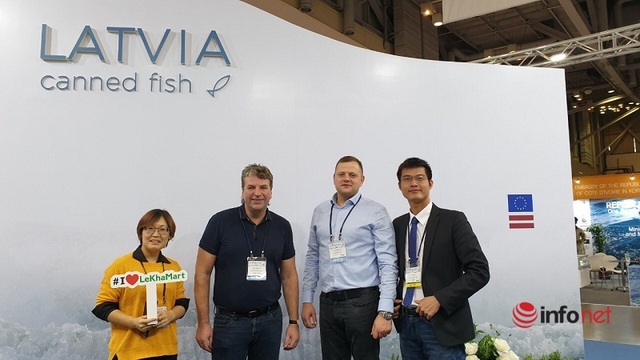 Mr. Le Trong Kha during a trade promotion trip abroad.
According to him, with 63 provinces and cities, each locality will do it in 3 days which is the most optimal time, not short for little information to share, not too long for attendees to arrange time. However, the project will accompany the entrepreneur for the next 5 years.
"The project has been supported for 5 years, so this is just the approach phase. I hope to connect 6,000 startups to choose 1,000 startups to go with," Mr. Kha shared.
Sharing about the problems startups face, Mr. Kha said that Vietnamese startups are having to compete with multinational enterprises or large domestic corporations. We should not compete with each other, but jointly develop the market, develop products to serve the domestic market and export according to our own values.
Vietnamese consumers really want to use quality Vietnamese goods, they are willing to pay the right value of the product. But in order to make quality and well-received products, each startup needs a lot of resources from capital, people, continuous improvement thinking, sustainable cooperation thinking, lean start-up,… Will go faster if startups do it together, eliminating the "bad" competitive spirit and replacing it with a spirit of cooperation for sustainable development.
"In the project, I will go in-depth, share the reality of thinking out of the box, how to build a corporate culture, lean start-up, develop difference in products and how to cooperate with distributors. distribute products at home and abroad for sustainable development. In addition, there are other programs that will support you to start a business during the duration of the project.
These are all practical experiences in the process of building my business and LeKhaMart brand, and at the same time promoting trade across the country and traveling to many countries as a brand, looking for partners for Vietnamese products. will help start-ups have a more general view of the market," added Mr. Kha.
You are reading the article
Construction engineer makes clean food, ambitious to connect 6,000 startups

at
Blogtuan.info
– Source:
cafebiz.vn
– Read the original article
here