Not willing to negotiate with Russia could make Ukraine lose its sovereignty, Deputy Chairman of the Security Council of the Russian Federation Dmitry Medvedev warned. Medvedev also called on Ukraine to pursue a policy of neutrality, implement partial demilitarization and other important steps to restore peace and stability.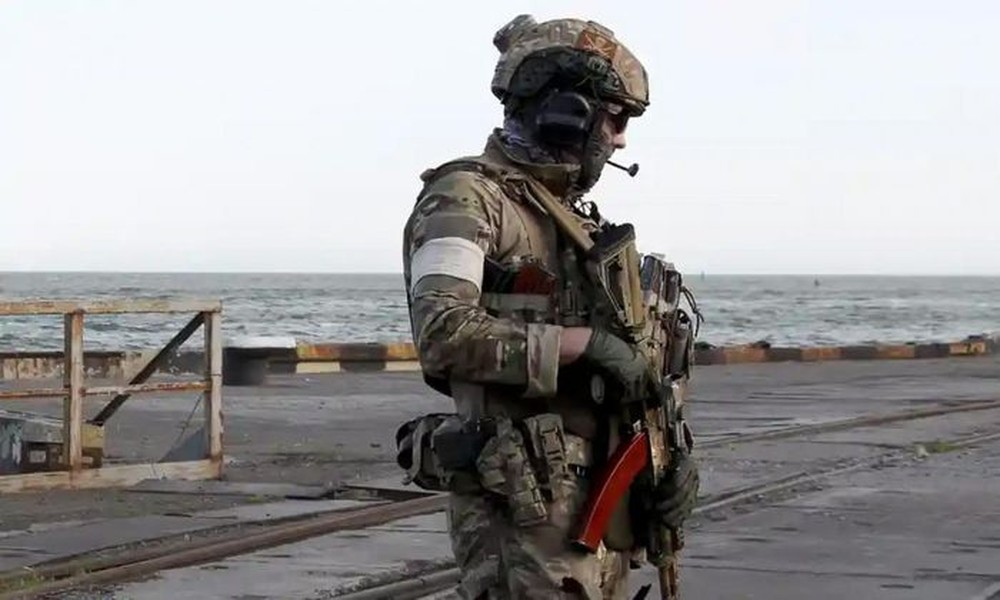 Russian soldiers in Mariupol, Ukraine. Photo: AP
Russia accuses the West of committing war crimes by supplying Ukraine with weapons. Speaking at the United Nations Security Council meeting on the issue of ensuring accountability for criminals in conflicts, Russian Ambassador to the United Nations Vasily Nebenzia stated, "by overwhelmingly providing weapons gas for Ukraine is supposed to strengthen its potential and capabilities against Russia, the West is committing another war crime.
After all, Ukrainian soldiers with their help continue shelling the peaceful areas of Donbass, as they have been doing for eight years, killing women, the elderly and children."
Interpol warned that weapons sent to Ukraine could fall into the hands of criminals. Interpol Secretary General Juergen Stock said that the weapons sent by the US and its allies in Europe to Ukraine have the potential to turn Kiev into a global black market. Many criminal groups have been keeping an eye on these weapons, Mr. Stock said.
Mr. Stock has called on Interpol member states to actively cooperate in tracking down weapons delivered to Ukraine. He added that arms suppliers to Ukraine must play an important role in this effort.
Ukraine will not attack Russia with US missilessaid Mr. Mykhailo Podolyak, an adviser to the President of Ukraine.
"Ukraine is waging a defensive war and has no plans to use the long-range multi-role missile system (MLRS) to attack facilities in Russia. Our partners know their weapons are used. where to use," Podolyak said in a Twitter post
President Zelensky said Ukraine won several victories in Severodonetsk, but the general situation in Donbass remained unchanged.
"The situation in Donbass has not changed significantly in the last 24 hours. We have had several victories on the battlefield in Severodonetsk," Zelensky said, adding that it was still too early to give details. .
President Zelensky said that Russia is controlling 20% ​​of Ukraine's territory. In a video address to lawmakers in Luxembourg, Zelensky added that the frontline area had stretched for more than 1,000 kilometers. "All combat-ready forces of the Russian army took part in this attack," Zelensky stressed.
Russia claims to have achieved some results in its military operation in Ukraine. Kremlin spokesman Dmitry Peskov said that Russia has achieved certain results in the special military operation in Ukraine and will continue until all of its objectives are achieved.
"Many areas have been liberated from neo-Nazi Ukrainian forces and now the people there can begin to return to normal life. These efforts will continue until we have achieved all of them. targets in the special military operation," Peskov said on June 3.
Britain believes that Russia can gain control of all of Lugansk in two weeks. The British Ministry of Defense said that Russia is likely to take control of all of Lugansk in the next two weeks, adding that Moscow already controls 90% of the area.
In its latest press conference, the British Ministry of Defense said that, although Russia currently holds the initiative against Ukraine in the Donbass region, Moscow's "tactical successes" come with "significant losses". "To achieve any success, Russia will have to invest a lot in manpower and equipment, and it will probably take much longer," the British Ministry of Defense said.
The US announced a black list of 71 legal entities from Russia and Belarus. The document was published in the Federal Register, the official collection of US government documents.
The list includes, SVIlyushin Aviation Complex, ASYakovlev Experimental Design Bureau, Central Design Bureau for Marine Engineering "Rubin", Marine Engineering Department "Malachite", Marine Design Bureau "Diamond". The list also includes the "Gazprom Neft Shelf", the Deep Sea Research Department of the Russian Defense Ministry, and several structures of the Russian Academy of Sciences.
Russia warned the EU to "self-destruct" when imposing the 6th package of sanctions. "Clearly, the key elements of unilateral measures against Russia, united in the name of anti-Russian dependence, will be self-destructive for the EU. It is not surprising that it took the EU close to that. one month to ask member states to accept the 'decisive' sanctions on solidarity," the ministry said in a statement.
The Russian Foreign Ministry noted that a ban on imports of most oil from Russia, as well as a ban on insurance for Russian merchant ships, would likely push prices higher, destabilize energy markets and disrupt energy markets. supply chain.
You are reading the article
Main developments of the war situation in Russia

at
Blogtuan.info
– Source:
Soha.vn
– Read the original article
here