Thế Giới
OPEC+ increases oil production: More political signal than substance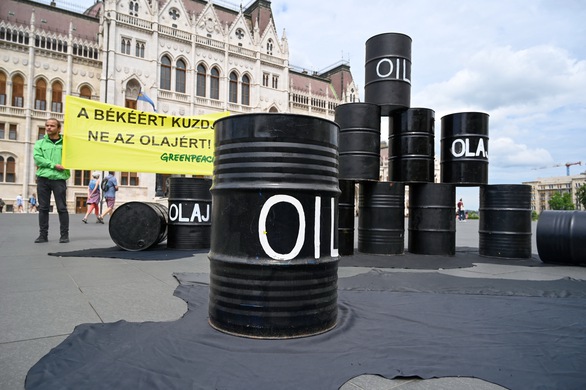 Protesters demand that the Hungarian government not oppose the European Union's embargo on Russian oil in Budapest on May 30 – Photo: AFP
OPEC+ will increase production to 648,000 bpd in July and August, higher than the previous monthly increase of 432,000 bpd, amid rising "black gold" prices and the European Union (EU). agreed to a partial embargo on Russian oil.
Pressure from the US
Oil prices have skyrocketed since Russia attacked Ukraine on February 24. U.S. crude oil prices are now up 54% since the start of the year, and international crude prices are up nearly 40% in the same period.
Gasoline prices also increased and reached an all-time high in the US on June 2 of 4.76 USD/gallon (3,785 liters) of gasoline. This will be a potential risk for US President Joe Biden in the midterm elections this fall.
Saudi Arabia, the leader of OPEC, has resisted pressure to increase oil supply for months. Riyadh's stance along with the EU's agreement to stop importing oil from Russia has pushed up energy prices higher.
Just last week, Saudi Foreign Minister Faisal bin Farhan Al Saud said the kingdom could do nothing more to control the oil market and even insisted there was no shortage of crude.
According to Bloomberg News, the change on June 2 shows that political pressure from the White House is bearing fruit. President Biden is expected to travel to the Middle East to meet Crown Prince Mohammed bin Salman later this month.
News of the trip shows that the US president is looking to work with Saudi Arabia on several fronts, including curbing soaring fuel prices as inflation has become a major issue for the current US administration. .
"The ice between US-Saudi diplomacy is melting, but more progress will be needed before full normalization," said Bill Farren-Price, research director at Enverus Energy Consulting.
But it's not clear how far Saudi Arabia is willing to go to help Biden on oil prices. The additional amount of oil that OPEC + committed on June 2 is unlikely to cause fuel prices to drop.
Modest increase
Before OPEC + decided to increase oil production in July and August, the US and members of the International Energy Agency (IEA) had to "discharge" millions of barrels of crude oil from emergency reserves to stabilize market.
OPEC+'s production increase of 648,000 bpd is considered modest, accounting for only 0.4% of global demand in July and August. Analysts say that only a slight increase in additional supply may be possible. not enough to appease the oil market, which has surged to a decade-high since Russia invaded Ukraine, stoking inflationary pressures around the globe.
OPEC+ production increases will be distributed proportionally among members. However, some member states of this bloc are not able to increase production including Angola, Nigeria and most recently Russia. This means that the actual number of barrels of oil pumped to the market may be less than the amount committed.
Giovanni Staunovo, strategist at UBS Bank (Switzerland), estimates that the actual increase in output could be as little as half of the target.
Only Saudi Arabia and the United Arab Emirates (UAE) have the spare capacity to cover a significant portion of the supply shortfall caused by sanctions on Russia. Much of it will remain untapped even after production increases for the month 7 and august.
Influenced by Western sanctions, Russia's output has fallen by about 1 million bpd since February 24, and could fall further if the EU strengthens sanctions.
"This development should be viewed as a political signal rather than additional barrels. Saudi Arabia is probably ready to pump more oil into the market," the New York Times quoted Bill Farren-Price, director of research Enverus Energy Consulting Group.
In fact, oil prices rose after the OPEC+ decision was announced. The price of US crude oil, which fell to 3 USD/barrel at the beginning of June 2, then reversed and increased by nearly 2%, reaching 117.15 USD. Brent crude oil prices rose 0.7 percent to $117.02.
"Although OPEC+ increased oil production a little more than the market expected, in reality, they were unable to increase supply as production is currently 2 million bpd below target," the firm said. Reuters news quoted Mr. Andrew Lipow, president of Lipow Oil Association in Houston (Texas, USA), said.
"We think an overwhelming burden is being placed on OPEC to offset the economic damage caused by the war," said Helima Croft, an analyst at RBC Capital Markets.
Reuters news agency, citing a pro-Russian source from OPEC+, said that Moscow may agree to let other producers increase output to offset Russia's "contribution", but not necessarily all of it.
10.54
According to the Interfax news agency, Russia's crude oil production fell to 10.05 million bpd in April, down about 4% year-on-year.
But in the first few days of May, that was up 2% from April, to an average of 10.28 million bpd.
However, this increase is still low compared to the quota set by OPEC + for Russia of 10.54 million bpd.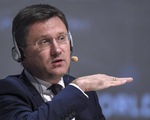 Russia: EU bans Russian oil is to press the 'self-destruct' button
You are reading the article
OPEC+ increases oil production: More political signal than substance

at
Blogtuan.info
– Source:
tuoitre.vn
– Read the original article
here