Life Style
The feat of marinating tea encapsulates the quintessence of thousands of West Lake lotus flowers
Since ancient times, the West Lake area (Quang An) has grown a lot of lotuses, people have known how to take Tan Cuong green tea from Thai Nguyen tea land and marinate it with Bach Diep lotus flowers grown in West Lake to give off a fragrant aroma. The tea taste is very special.
The lotus flower has a distinctive flavor because this flower is grown in the very fertile mud of the vast West Lake, absorbing many essential nutrients from nature.
West Lake lotus flower has a special flavor than other lotus regions. The lotus grown here is mainly a hundred-petaled Bach Diep lotus with a fragrant aroma that is suitable for marinating tea.
To get good Tay Ho lotus tea also depends on the tea variety, lotus variety, which type of tea is marinated, artisans and tea marinating techniques to produce the best tea.
Traditional Tay Ho lotus tea is usually tea marinated with lotus rice, lotus tea marinated fresh or dried.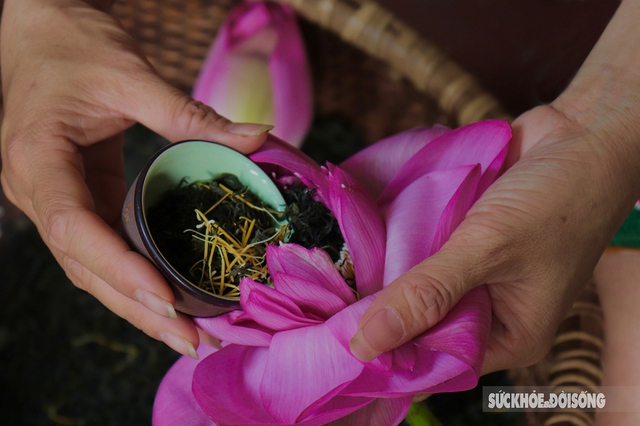 The appropriate type of tea to marinate Tay Ho lotus rice is Tan Cuong tea (Thai Nguyen), which can be either hook tea or Thai Nguyen shrimp stem, which is harvested 1 shrimp 1 leaf or 2 adjacent young leaves. In addition, Shan Tuyet tea marinated with lotus rice is also quite delicious.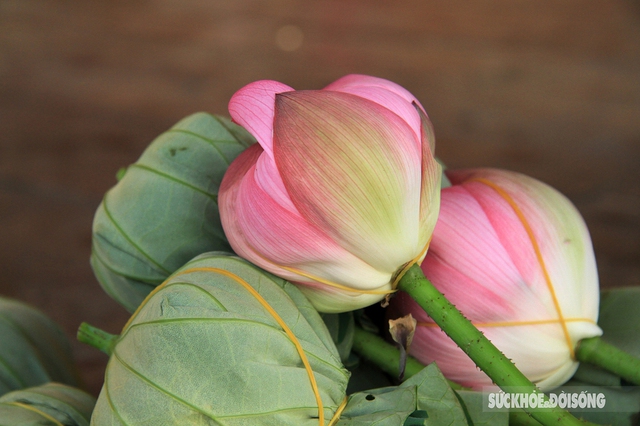 Marinated Lotus Tea is fragrant and fragrant: Marinate in a lotus flower to incubate overnight for the tea to absorb all the fragrance of the lotus and then enjoy. This tea is easy to make but difficult to maintain. When enjoying, tea connoisseurs can feel the fishy taste of lotus flowers. However, the appearance of the marinated tea line is very beautiful.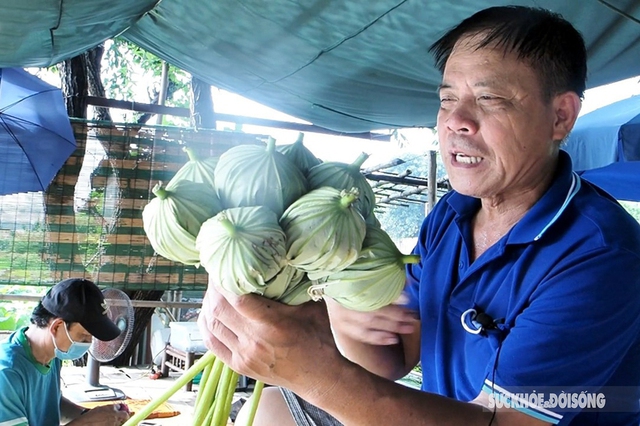 Mr. Chu Duc Trong (Quang An ward, Tay Ho) shared: "To get 100g of lotus rice, it will take about 900-1000 flowers. Separating lotus rice is the most difficult stage that requires quick hands and ingenuity so that the lotus rice is white, not crushed and retains its scent. Lotus rice and lotus pistil, after being incubated long enough and dried, will be put in a lotus flower with Tan Cuong tea with small wings, scented just right, then wrapped tightly with lotus leaves. After the tea is wrapped, the lotus flower will be plugged in for a night so that the lotus fragrance permeates the tea evenly, each cup of tea smells like the lotus. This type of lotus tea is made a lot in the lotus season, the price fluctuates at 40,000 VND/flower.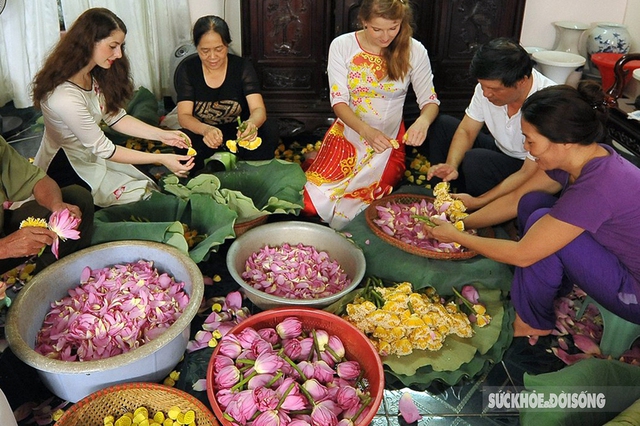 Talking about the secret to creating lotus tea cups with a special flavor of the people of Quang An – Tay Ho, Mr. Trong confided: "To make this drink is not too difficult but requires meticulousness and perseverance. The quintessential taste of lotus tea is actually 7 times of rice incubation and drying, the more times it is marinated, the more the lotus flavor blends and the longer the tea smells. For a standard batch of lotus tea, the tea must be green. The first drink has a bitter taste, then it has a sweet taste and a gentle, faint scent of lotus in the mouth.
How to marinate Tay Ho Lotus Tea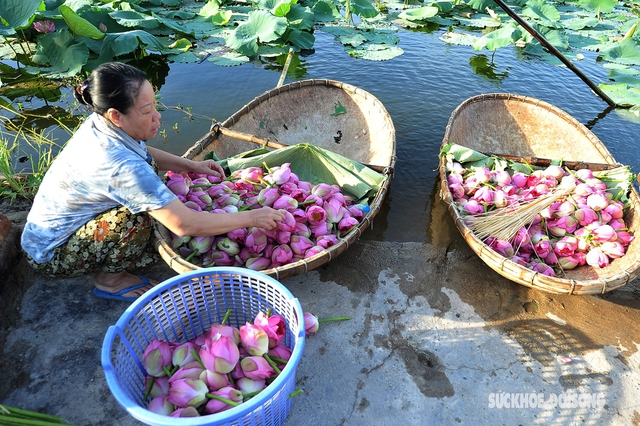 Lotus flowers are picked from early morning to noon, the flower is both pure and elegant, so when it comes back, it must be washed. After that, the lotus rice will be separated to get the ingredients for the tea. Marinating lotus tea is an extremely meticulous and elaborate process, requiring the tea maker to have enough love and a heart to make tea that will produce a delicious batch of tea.
How to make a good pot of Tay Ho tea the right way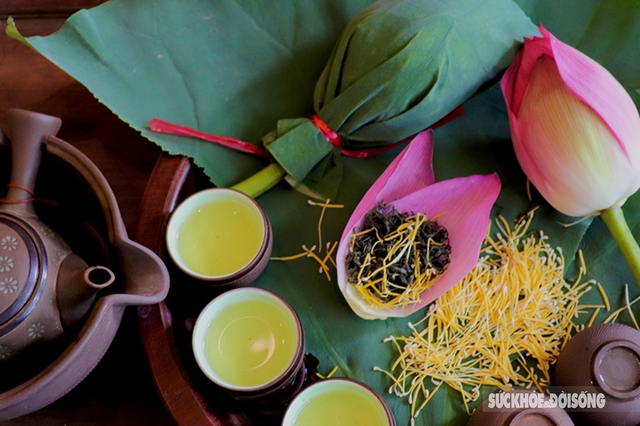 Step 1: Take boiling water to rinse the teapot and cup, the purpose is to remove impurities left in the teapot
Step 2: Add a moderate amount of tea, depending on whether you want to drink it dark or light
Step 3: Pour boiling water with a temperature of about 80 – 90 degrees, shake well and pour out the water
Step 4: Pour 80 degrees boiling water into the kettle, steep the tea for 15-20 seconds to infuse the tea. Then pour into a cup and enjoy.
Sip tea, close your eyes and enjoy the bitter taste on the tip of your tongue, and finally the endless sweetness with the wonderful aroma of lotus tea.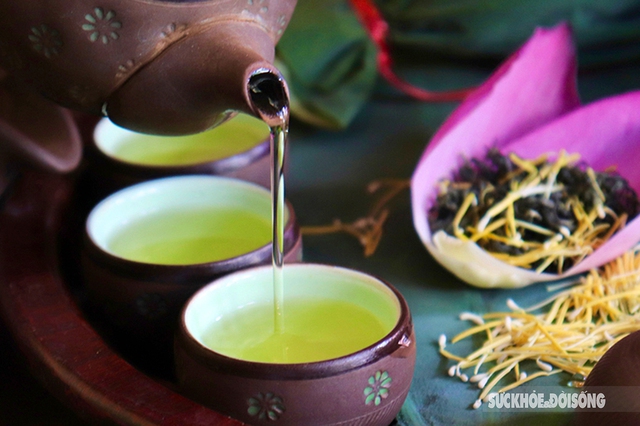 A good teapot will have clear blue water mixed with golden nuggets. The fresh scent of lotus combines with the gentle scent of young nuggets. Newly drank tea will have a mild acrid taste, followed by a sweet aroma spreading on the tip of the tongue and throat.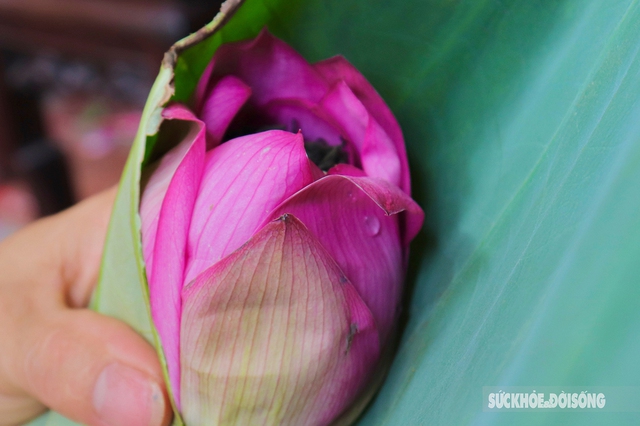 To keep lotus tea always delicious, it is necessary to note the following preservation methods:
– Tay Ho lotus tea is marinated according to the traditional method, need to vacuum the tea package, store it in a cool and dry place, avoid sunlight;
– Tea that has been cut to drink, pour up to 100g into a glass jar, if still in the bag, tie the bag tightly or use a dedicated clip for tea.
– As for lotus tea marinated in fresh lotus, it should be stored in the freezer or refrigerator for preservation. This tea should be consumed as soon as possible.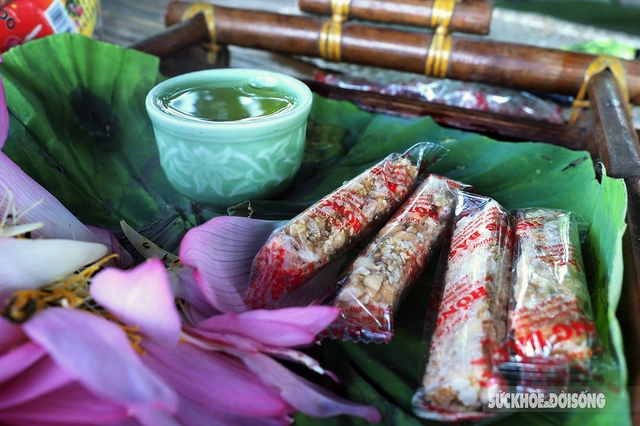 Take a sip of tea, close your eyes and enjoy the bitter taste on the tip of your tongue, and finally the endless sweetness with the wonderful aroma of lotus tea…
You are reading the article
The feat of marinating tea encapsulates the quintessence of thousands of West Lake lotus flowers

at
Blogtuan.info
– Source:
Kenh14.Vn
– Read the original article
here