Life Style
Unique "sickening" spring rolls made from whole pork in Thai Binh
In Thai Binh, there is a specialty dish with unique processing but famously delicious taste. It's this ham.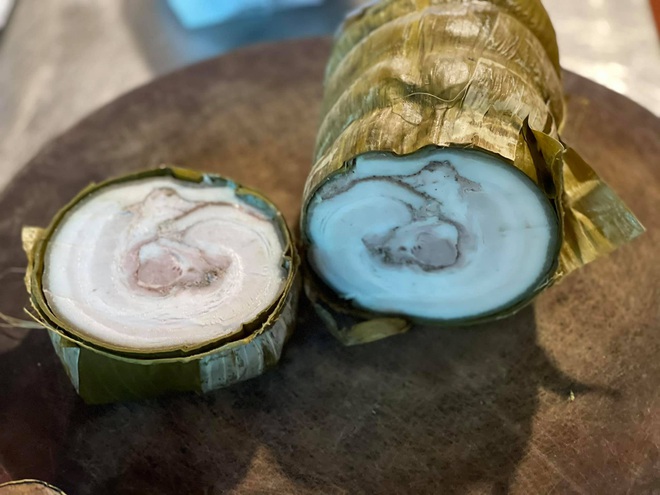 This spring roll is a specialty of Thai Binh (Photo: Nghia Rau/Dan Tri)
This spring roll (also known by many other names such as spread rolls, spring rolls or fat rolls, spring rolls) is a traditional dish imbued with cultural identity, containing the culinary quintessence of the people of the "rice countryside" ".
Like other traditional spring rolls, spring rolls are also made from pork but have a more special processing method.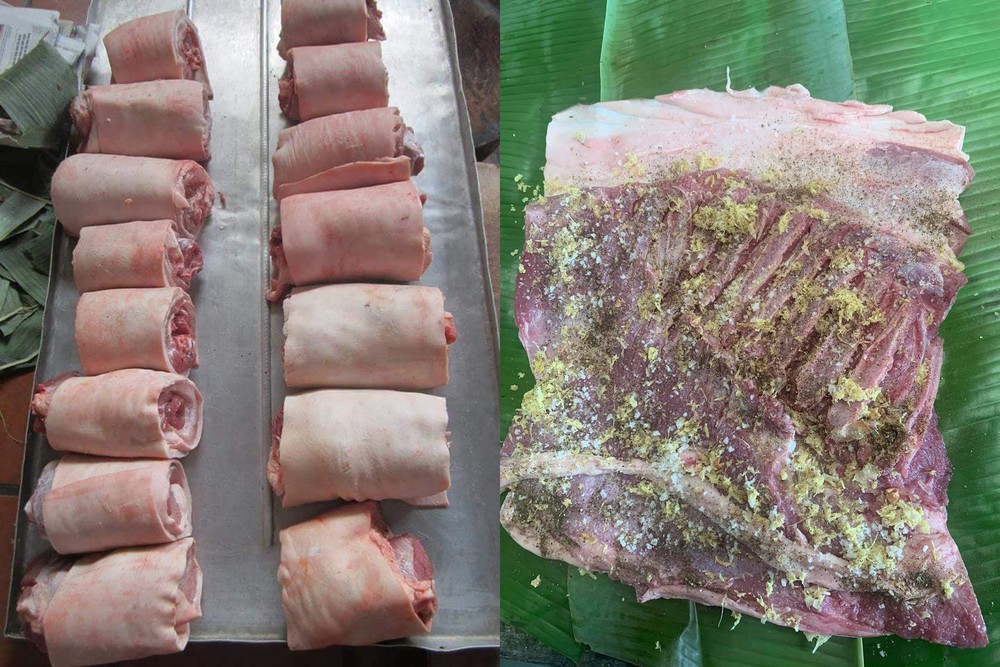 Although this dish is not picky about ingredients, it requires a meticulous and careful processing process (Photo: Oanh Luong/VietNamNet)
Share with VietNamNetMr. Nguyen Van Nghia, owner of a business that specializes in providing this pork specialty in Thai Binh for many years, said that although this dish is not picky about ingredients, it requires a meticulous and meticulous processing process.
"The pork belly must only be selected from clean, delicious pigs and ensure that the fresh produce can be processed with quality pork chops. The purchased meat is preliminarily cleaned, kept intact, then marinated with common spices such as salt, main noodles, pepper… Wait for the meat to absorb evenly, then roll it tightly, wrap it in banana leaves to help the finished product have color characteristic color and flavor", Mr. Nghia said.
If you want more crispy pork rolls, depending on the place, people can marinate the meat with minced onion and garlic and add chopped wood ear. Bacon only keeps the fat skin, put the lean part on top, not mixed with anything, and then wrapped tightly with banana leaves. This step is very important, requiring the ingenuity and care of the doer. The spring rolls must be tightly wrapped by hand so that the meat fibers stick together and do not separate the ingredients.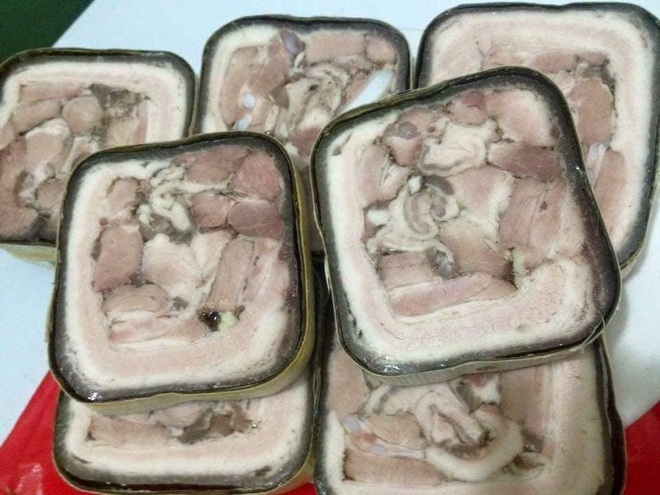 Cold spring rolls are stored in the refrigerator to cool, can be preserved within 10 days (Photo: Khanh Van/Dan Tri)
Next, pork rolls are boiled for about 4-5 hours at medium heat to keep heat. Boiled spring rolls just enough time to ensure even cooking, crispy, fragrant with meat and banana leaves.
After being removed from the pot, when it cools down, it will be pressed tightly like banh chung to drain, helping the meat inside to stick together even more. Thanks to that, the sausage has a beautiful color, delicious taste and fragrant nose. Once cooled, store in the refrigerator for up to 10 days.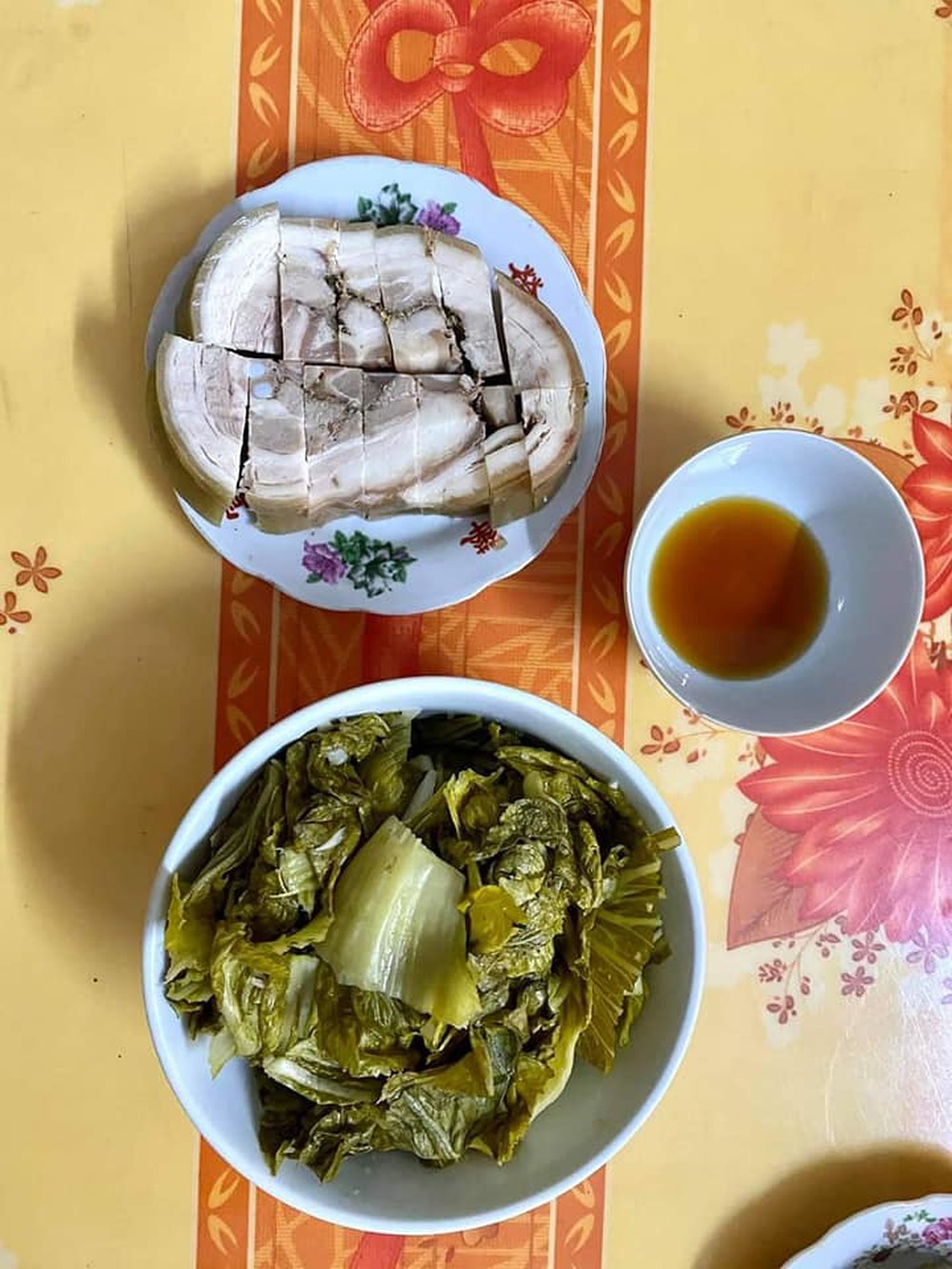 This spring roll is usually served with pickled onions or pickles (Photo: Pham Thi Lua/VietNamNet)
At first glance, this sausage may make diners feel sick, but when eaten, it is soft and melts, and the taste is quite strange like jelly, not boring. Each rectangular piece of pork belly, served with pickled onions or pickles, is extremely "consuming".
Especially on the occasion of the new year, this spring rolls become an indispensable "sickening" dish in the Tet tray of Thai Binh families. This spring roll has a rich, greasy, tender taste of bacon, mixed with the pungent taste of pepper, and the aroma of banana leaves makes diners remember once and for all.
From the traditional dish of Thai Binh people, this spring roll gradually appears on the rice tray of 3 regions and is loved by diners from all over the world. This dish is also included in the menu of the death anniversary and weddings in many provinces and cities.
Ms. Le Huong (in Ha Dong district, Hanoi) specializes in receiving orders from Thai Binh to Hanoi to serve the needs of enjoying specialties of the capital's people for 4 years now. Particularly at the end of the year, close to Tet, the amount of these rolls she can sell can be up to 100kg/day. According to Ms. Huong, this spring roll can be kept in the refrigerator for a long time, so people often buy a lot to eat it gradually or bring it as a gift.
"Usually, including the transportation, the price of this spring rolls is about 180,000 – 220,000 VND/kg. But on Tet holiday alone, the supply is not enough, the price increases, ranging from 300,000 to 350,000 VND, customers have to order. If we only sell about 15-20kg/day on weekdays, at the end of the year, the quantity will increase many times because of the high demand from customers", Ms. Huong said.
You are reading the article
Unique "sickening" spring rolls made from whole pork in Thai Binh

at
Blogtuan.info
– Source:
Kenh14.Vn
– Read the original article
here