Business
2-year-old boy has been traveling in Vanlife car with his parents for 2 years
Nguyen Ha My (28 years old, living in Dak Lak) and her husband Doan Nguyen Duy Tan (29 years old) are famous throughout the online community for being a family that loves mobihome. The couple decided to buy an old car and convert it into a mobile home, so the whole family got on the car and started the journey without worrying about booking a room or booking air tickets, cars like other families. .
Just like that, little boy Kin (more than 2 years old) has been accompanied by his parents on every road, and most recently, a small family's 75-day journey of living on the road. "Life on Vanlife of his small family around the Northwest. What's so interesting about living on the road 75 days? – Ha My's story below has made anyone who loves to experience travel extremely excited.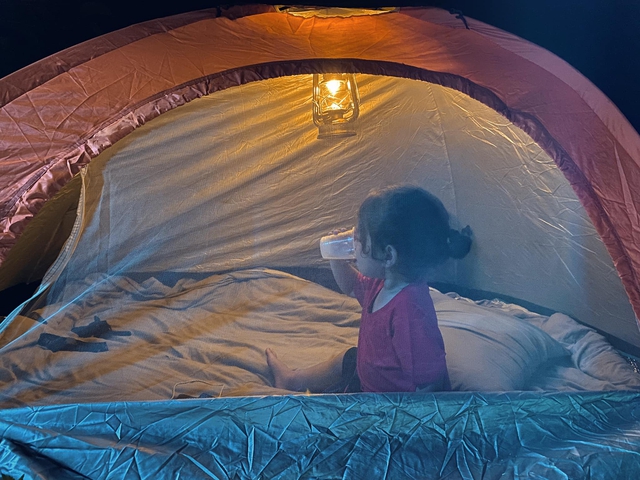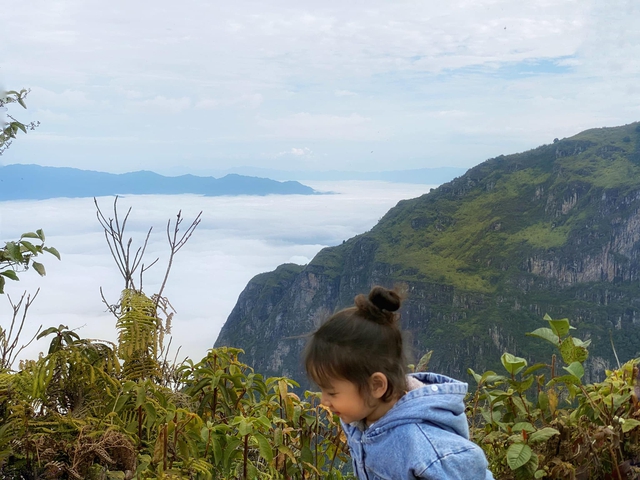 The boy's childhood was filled with beautiful memories like this.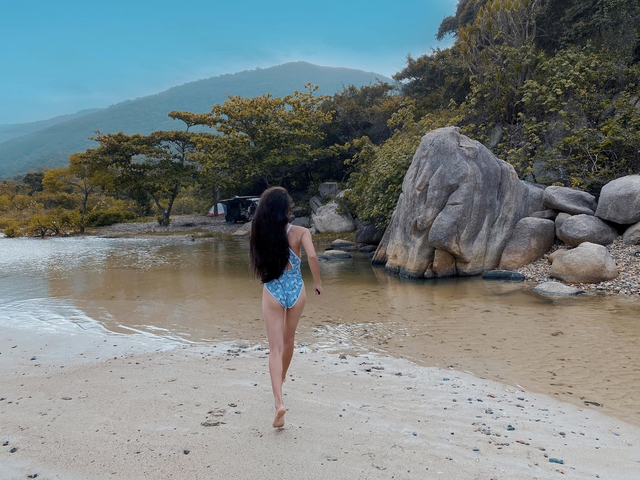 Especially if you have chosen to travel by Vanlife, you must shower with cold water outside, in case someone opens the tent. And the deserted places don't need tents at all. For traveling by Vanlife, if your health is not good, you will definitely not be able to go.
Nearly 2 years with the mobile home, we have explored almost every place in Vietnam. Before the departure day, I had prepared all the necessary medicines, medical equipment, and the most necessary clothes. Because at this time, we only live and travel by car, so we will limit going to the city and crowded places to avoid getting sick for the family.
Our family's plan was to explore the Northwest in September-October to see the ripe rice season, but because we didn't have enough vaccines, we had to stay at home until the end of November before we left. That rice season has also ended! Because we went later than planned, we were able to experience what winter in the Northwest has and how interesting it is, this trip is planned to last 6 months of traveling, and we will have Tet in the country. People.
It's too cold, the little guy's nose is red. Even though I've been here for a few months, I still haven't taken a single pill. The body will adapt itself. Here you can only eat but dishes like river fish – pork. And to have chicken to eat is very rare, but only frozen chicken brought from elsewhere.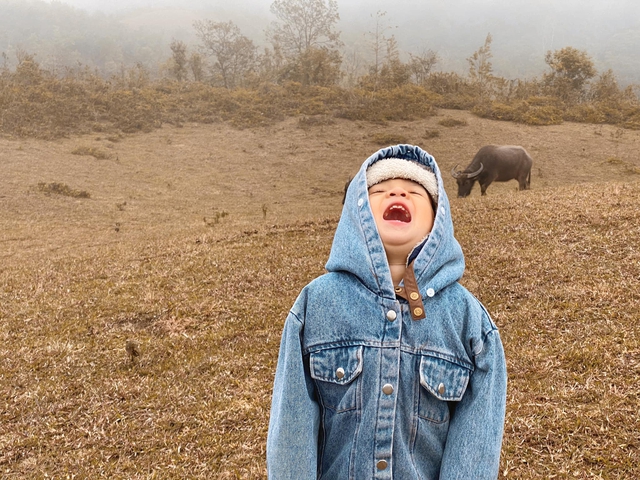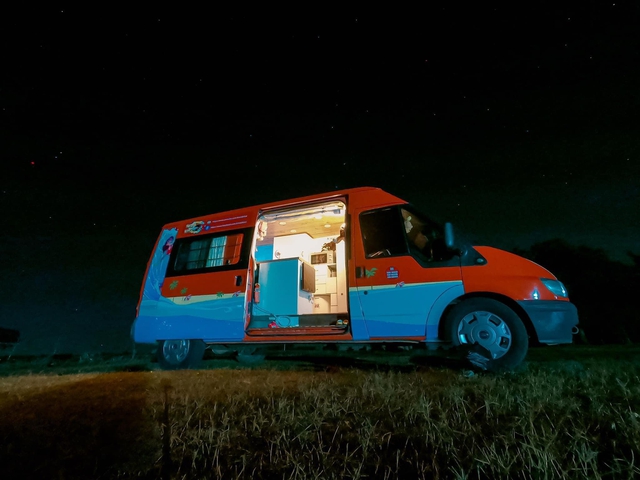 Rainy evening family in small car. The most special and convenient feature of Vanlife is that whether it's rain or shine, day or night, you don't mind thinking about where to stay. That's what I've been through for 2 years, no complaints about it at all. I said: Life from now on, without this Vanlife, there must be another Vanlife, but living without moving, I can't stand it.
Many people ask us, life goes on like that, is it lonely or not! Then I just want to say that we are not alone at all, I like to live like that, like to roam everywhere without having to think too much about things. Meeting many friends, which I think without this trip, I would never have been able to meet in real life, that's what I feel quite fortunate.
Instead of making a car from time to time to travel and then return, I choose to live in the car and up to this point, it has been almost 2 years. This car has a meaning to me: Leaving the stuffy city, leaving the boring job, going to the places you want, a happy journey, a life worth living.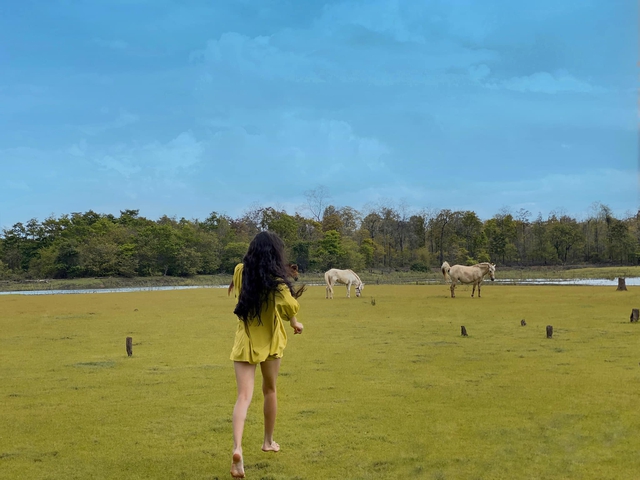 Believe me. In grasslands like these, go barefoot and feel every step on the grass. It feels great. At that moment, my body seemed extremely comfortable.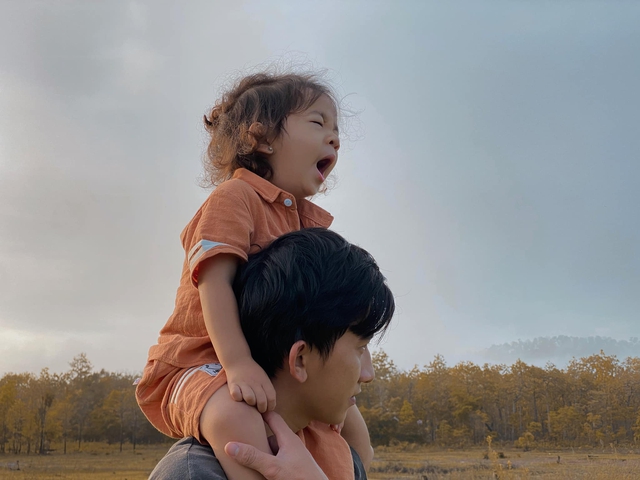 The boy in the morning called to greet the dawn but was still sleepy.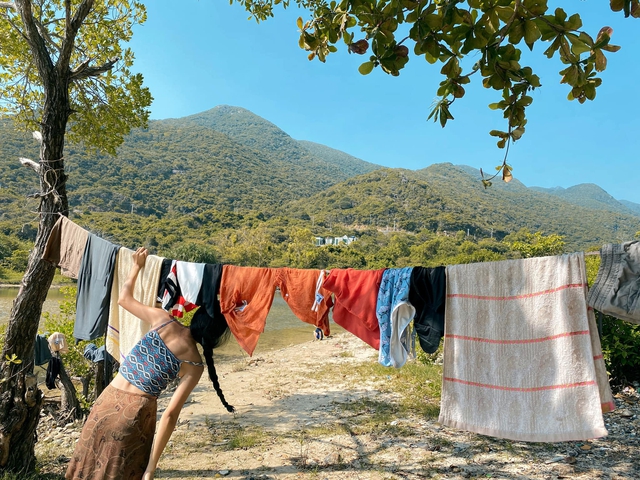 I told my husband, I'm not suitable to live in the city, there I can't breathe. Just taking me to wild places with forests and streams is already an interesting trip.
But if you look at it from another perspective, life in the car is not always a fairy tale. To be more precise, it is a real life with many difficulties. This lifestyle of mine, first of all, I have to learn how to make money along the way, such as taking photos, receiving ads, taking some of the garden's products with me, and having to learn to adapt to a nomadic life, lacking a little. to prolong the trip.
For me, experience is far from enjoyment. Your life is an experience, so it is imperative to adapt well, the important thing is do you want it or not? Can it withstand the sweltering heat of summer and the cold of winter?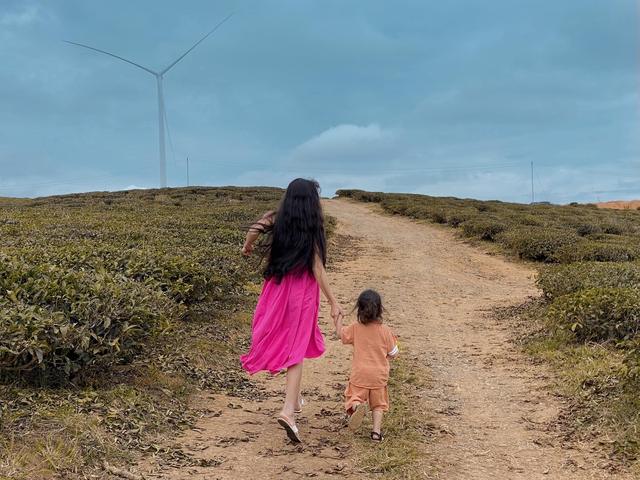 On hot sunny days, my father took mother and daughter to avoid the heat in Da Lat. Each trip is at least 1 week, and the longest stay is 3 months. Therefore, Da Lat is a very familiar place for families.
People often wonder where travel is enough money. To be honest, we live by Vanlife, so it costs very little, only costs money for gas, and mostly stops in one place. And I also emphasize that traveling by Vanlife is not possible for everyone, subject to many factors. It's important to have passion, anything can be accepted.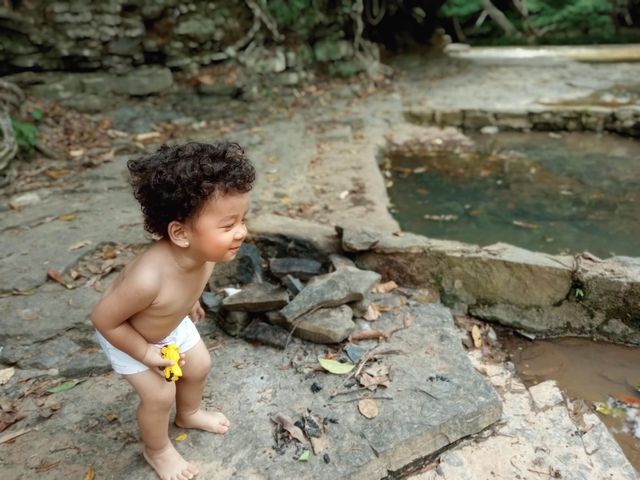 This is my son, he is more than 2 years old this year and has traveled most of Vietnam in a Vanlife car with his parents since he was 8 months old.
Life Vanlife usually takes a bath every 2 or 3 days in rivers / streams, on non-bathing days, you can wipe your body with a bowl of warm water, and choose clothes that keep warm but must be neat. The simpler things are, the better.
I remember many nights in Sa Pa, in the evening the weather outside fell to about 3 degrees Celsius, my family had to stick a thermal pad to keep the body from losing heat, wear a lot of clothes, drink hot ginger water often. often. Then at night, they hugged each other and shivered because of the cold. At this time of night there was no one or anything outside but a thick white fog.
However, there are many difficulties with the shifting lifestyle, and even if there are more difficulties, we, or those who have chosen this Vanlife way of life, will never feel regret."Ha My confided.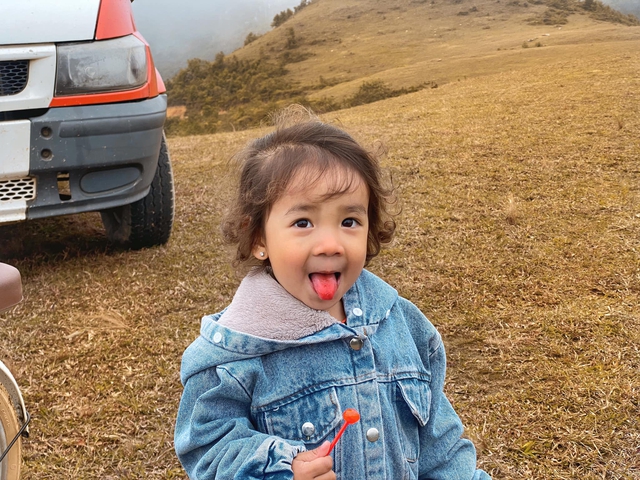 Babies adapt to cold climates very well, and can tolerate cold better than their mothers.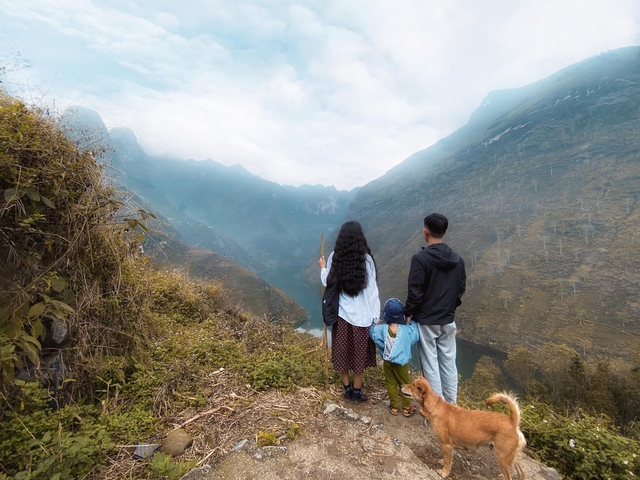 We wandered around again, and each other was enough.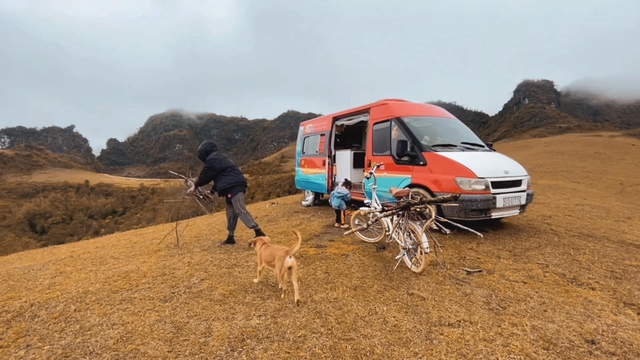 I find it very interesting and full of memories when I'm on the road, meeting friends that I've only seen and looked at on social media before, didn't think I'd have a chance to meet outside, camp together for a few days. After meeting each other, when leaving each person in one direction. Some go home, others continue the nomadic journey ahead.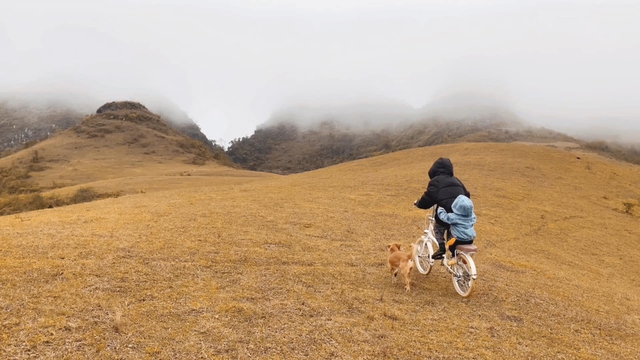 Mother and daughter together ride bicycles on the vast land.
Sharing more about her son, the young mother said: "She is now more than 2 years old and taking her on a trip to experience Vanlife is no problem for my family. Depending on the health of each child, I do not advocate that parents let their children live and experience this type of tourism because everything has two sides. As for studying, the child will still go to school at the right age with friends. But now she's still young, so I will spend that time with her to be with her parents.
She has traveled most of Vietnam on a Vanlife car with her parents since she was 8 months old. I don't expect her to remember all the childhood memories that her parents created. But it will bring the best for the present. According to the plan, when I am 6 years old, I will send my baby to school, and under 6 years old, I will let my child freely play with life outside, explore experiences with parents, stay in their parents' arms.
Photo: NVCC
You are reading the article
2-year-old boy has been traveling in Vanlife car with his parents for 2 years

at
Blogtuan.info
– Source:
cafebiz.vn
– Read the original article
here