Giới trẻ
A special card and a message from the headmistress
Thank you for choosing Trung Vuong school. You have been a small brick making a solid Trung Vuong over time. I let Trung Vuong become a place to keep my youth…
Grade 12 students, Trung Vuong High School (District 1, Ho Chi Minh City) had an emotional and meaningful ceremony of gratitude and maturity at the end of the school year, preparing to leave school.
With the message "Take off", all 12th graders and parents in attendance were surprised to receive a small, beautiful card in hand, in the card was the principal's advice: "Thank you for your support. I have chosen Trung Vuong school. I have been a small brick that makes a solid Trung Vuong over time. I have let Trung Vuong become a place to store my youth. Wish me and all Trung Vuong 19. -22 a new and happy journey. I will go far, I will fly high and I will return safely to my family, relatives, friends, school".
The new-adult ceremony of students at Trung Vuong High School took a minute to commemorate and offer condolences for the loss and pain caused by the Covid-19 pandemic. Immediately after the MC's voice spoke, below the schoolyard, many students and parents in attendance were moved to tears. "Grateful to the frontline forces, volunteers, condolences with the pain; we take a moment to remember the loss and pain of the past to appreciate more precious moments today.. .".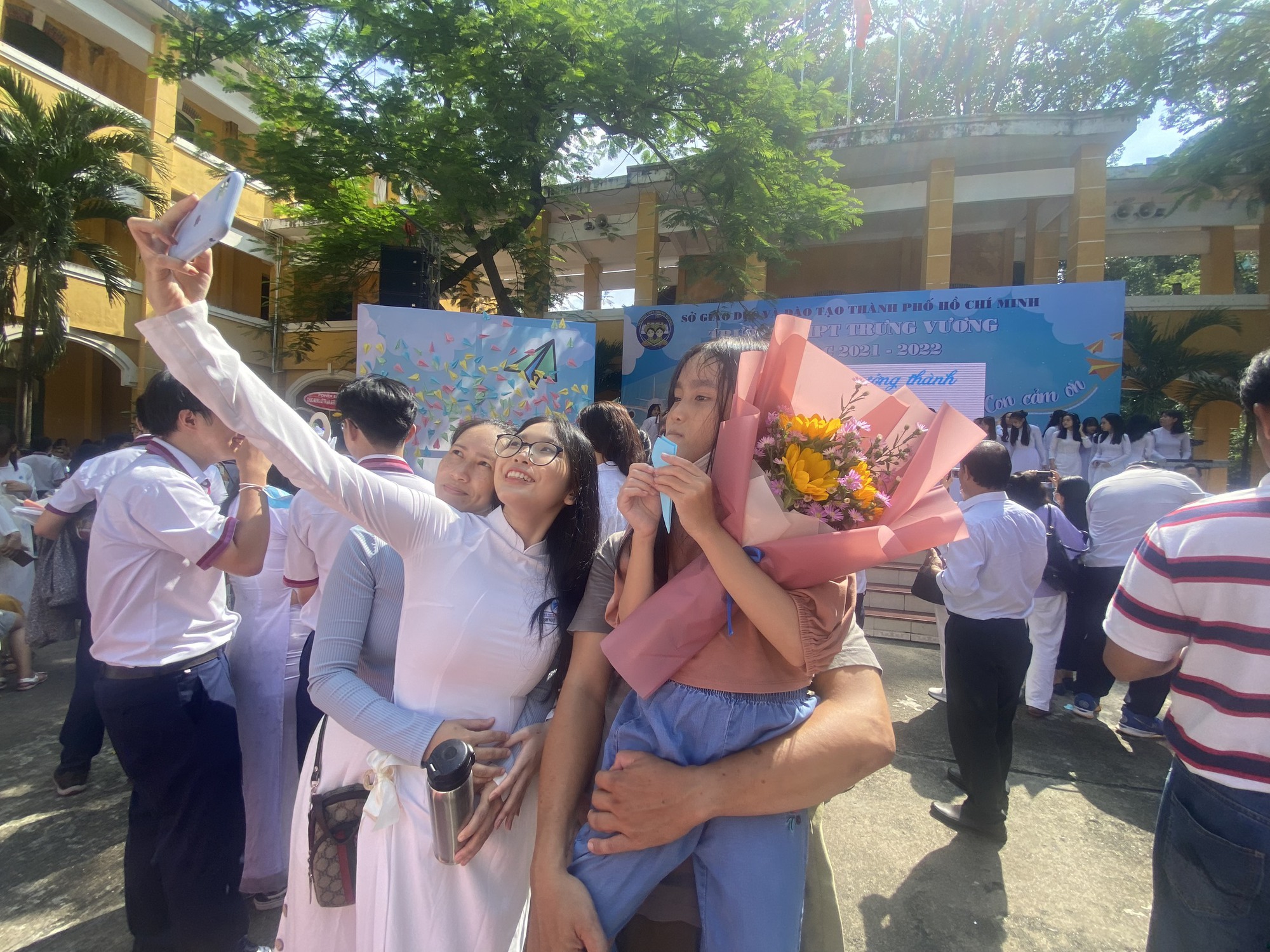 A female student with her family at the coming of age ceremony
The program was really emotional when during the ceremony, many students sang together familiar songs. The proud eyes of parents when they see their children and younger brothers grow up. Many students led their father and mother's hands on stage to express their gratitude. Meanwhile, many children brought flower bouquets to their teachers, who followed and guided them for 3 years.
The whole school yard burst into tears when the MC read the "Last Lesson" to review familiar memories during the years and months under the roof of Trung Vuong school, from the blackboard, white chalk, homework to the alarm bell. familiar hour: "Three years have passed, we who are in these last moments have spent more than 1,000 days under the roof of Trung Vuong school, how many classes have we had, how many bells have rung. can't count, and yet we're spending our last period under this roof, the bell rings for the last time.
Blackboard, white chalk will also stay. This moment, maybe it's time for us to take the homework of our students' lives, the last lesson that teachers and schools have for us today and you know, you have a whole life. forward to do this last lesson.
Dear 12th graders, we have just heard once again the familiar bell, the bell that marks a past journey and a new journey is about to begin. Let's stand together and put our arms around the friend who has been with us for the past three years.
Our growth journey is not only with parents and teachers but also with great friends who are present to witness each other's growing up moments.
Tomorrow, I don't know if we will see each other again, but in the beautiful days of our youth, we were together in the beautiful moments of life. We are in the beautiful days of the age of 18 with so many ambitions for the future. The planes are being given to you from the homeroom teacher as a rite of passage to mark our maturity. No matter how unfamiliar the runways are, as long as we bravely take off, find the sky of our own desire."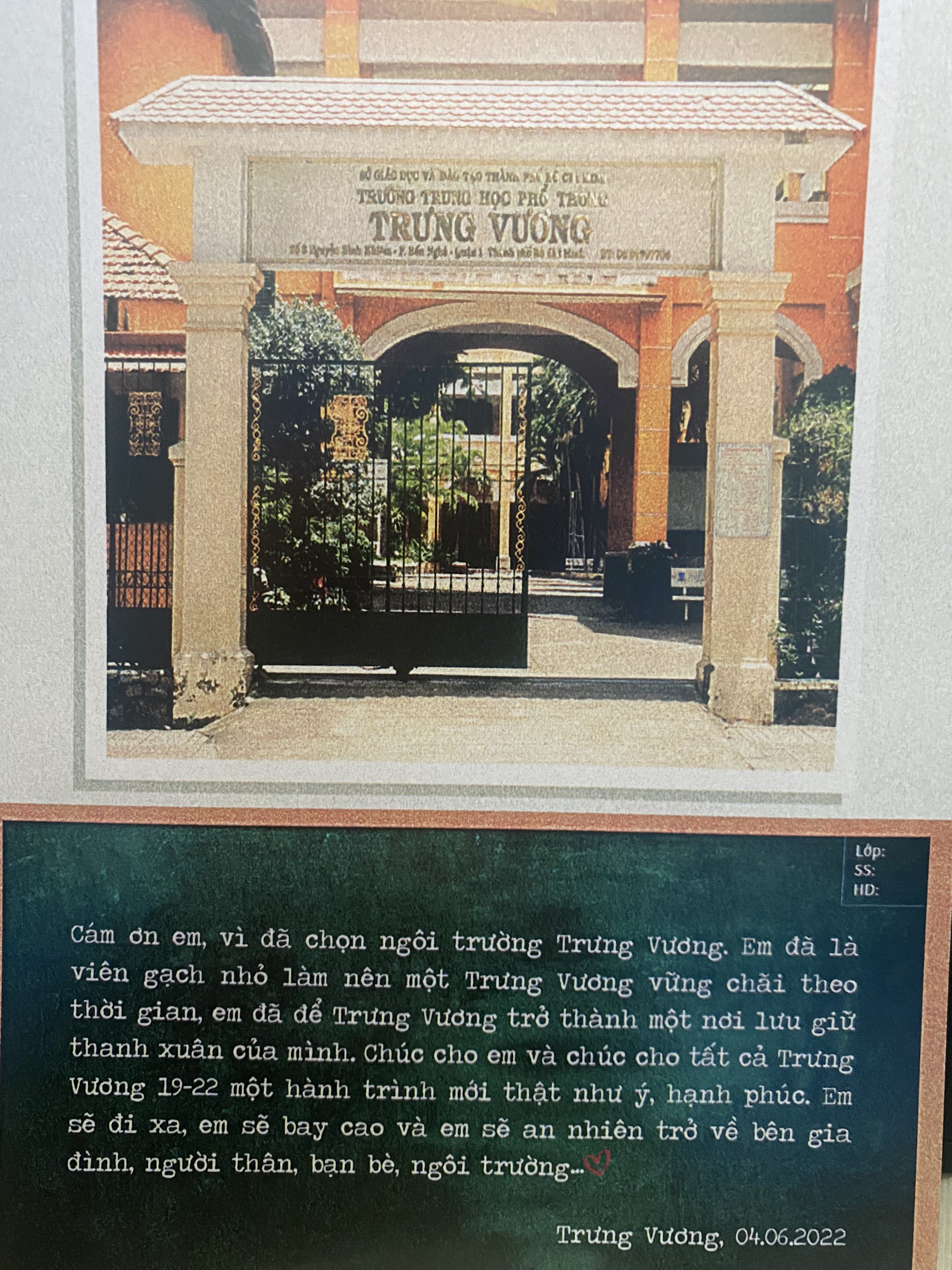 A special card sent to the students when they are about to leave school
Ms. Truong Thi Bich Thuy, Principal of Trung Vuong High School, shared: "Seeing the worries of parents, family, and teachers from the most ordinary little things, children will realize: kites fly. Up there is a rope of people on the ground.
No one is responsible for cooking food for their children, sending them to school, giving them money to spend…if it's not their own flesh and blood, if it's not family love.
You must be mature, from thought to action. That's the order! It is a gift that children give to their parents, relatives and teachers.
Thank you for choosing Trung Vuong school. Thank you for being the bricks that make up a solid Trung Vuong. Thank you for letting Trung Vuong keep his youth. She wishes you always healthy, happy and achieve your dreams. I hope you are steady on the wide runway and in the great sky."
According to nld.com.vn
You are reading the article
A special card and a message from the headmistress

at
Blogtuan.info
– Source:
infonet.vietnamnet.vn
– Read the original article
here