Chuyên đề
Almost died just from smoking a cigarette
People with asthma have chronic inflammation in the airways, if smoked or passively inhaled from smokers, the inflammation will also worsen and lead to an acute asthma attack.
Smoking is dangerous for everyone. If you have a respiratory illness, the effects of smoking are even worse. Secondhand smoke contains many chemicals that irritate the lungs, blocking the airways.
After contracting Covid-19, 9-year-old Nguyen Lan Anh often had difficulty breathing. The family did not know what illness the child had, so they sent him to be checked. The doctor diagnosed him with asthma. Going home for treatment, but once because Lan Anh's father smoked next to his son. Smelling smoke, she suddenly couldn't breathe and had an acute asthma attack. Fortunately, the family brought the baby to the emergency room in time. Doctors say that delay can be life-threatening.
In the case of Mr. Nguyen Manh H. 63 years old, Hung Yen was taken to the emergency room by his family members after smoking a few cigarettes.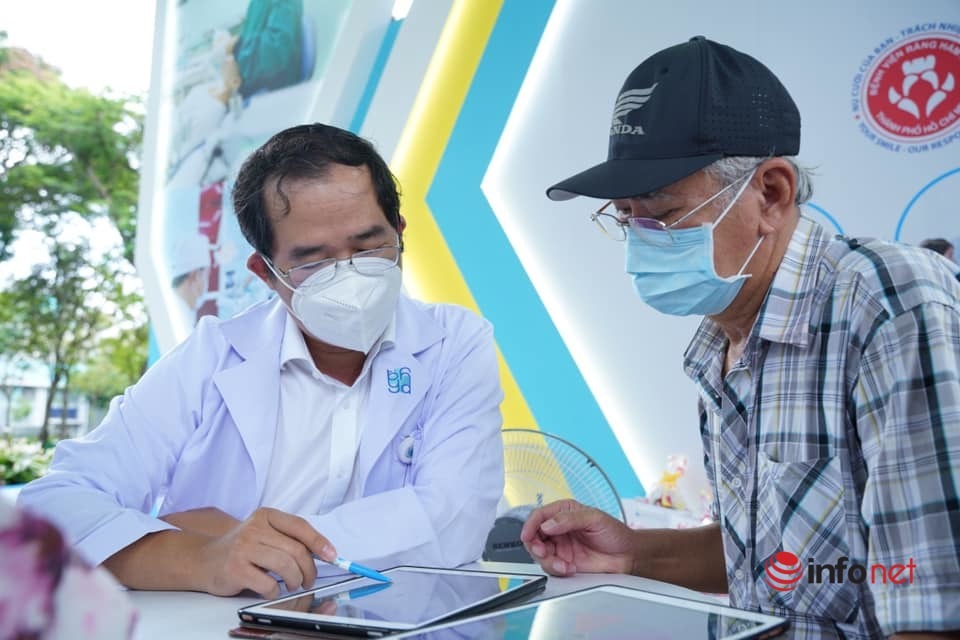 Counseling for patients.
1 year ago, Mr. H. discovered chronic obstructive pulmonary disease, the doctor treated the acute exacerbation, then transferred to the lower level for maintenance treatment. Mr. H. must abstain from smoking completely. After quitting smoking, he once hid his wife and children and stole a few cigarettes. By evening, he immediately had trouble breathing. The family had to be taken to the emergency room.
Doctor – Doctor Thai Thi Thuy Linh, Department of Respiratory Function Exploration, Ho Chi Minh City University of Medicine and Pharmacy Hospital said:
Smoking affects the lungs and lung function such as: lung damage, retardation of lung function development in young children, reduced lung function. Smoking also causes many chronic respiratory symptoms such as chronic cough, wheezing, phlegm, shortness of breath.
Dr. Linh said that there are many patients who come to the respiratory examination because of diseases related to tobacco smoke. In which, a patient with respiratory problems was stabilized by the doctor and stopped smoking. The patient was discharged from the hospital in good health, the disease was under control, but he wanted to smoke, so he smoked a cigarette. Because of a cigarette, he had to go to the emergency room immediately.
There are patients with timely intervention to release the airway, but there are patients far from home who cannot intervene in the airway, which can be life-threatening.
According to Dr. Linh, tobacco currently has 4,000 toxins, of which 50 are carcinogenic. The most common condition is chronic bronchial asthma. Many patients previously had underlying diseases such as bronchial asthma, but did not pay attention to it, so when smoking, it will trigger sudden respiratory attacks, when hospitalized late, the possibility of recovery is very low.
According to doctors, in addition to respiratory complications, long-term smoking will cause chronic atherosclerosis, not only coronary artery but also all blood vessels in the body will form atherosclerotic plaques. gradually narrow. Patients will have exacerbations such as myocardial infarction, cerebral infarction.
Respiratory diseases such as asthma and chronic obstructive pulmonary disease can become dangerous from smoking a cigarette. For patients with these diseases, doctors must advise on smoking cessation and use smoking cessation support drugs because the quitter appears to have a smoking cessation syndrome.
Patient discomfort, irritability, fatigue, abdominal pain. The doctor will contact the whole family to advise them to know the possible withdrawal symptoms to work together. Smokers can increase their exercise to avoid cravings.
Assoc. Prof. Dr. Luong Ngoc Khue, Director of the Medical Examination and Treatment Administration, Director of the Foundation for Prevention and Control of Tobacco Harms, said that according to the World Health Organization, tobacco use is the cause of more than eight million deaths globally each year. Of which, more than 7 million people died from direct tobacco use and about 1.2 million died from passive smoking.
Smoking is also a risk factor for respiratory infections and increases the severity of respiratory illnesses.
According to a review by a panel of public health experts, smokers have a higher risk of serious health complications from Covid-19 than non-smokers.
Khanh Chi
You are reading the article
Almost died just from smoking a cigarette

at
Blogtuan.info
– Source:
infonet.vietnamnet.vn
– Read the original article
here