Business
Cheap refreshments in Vietnam are praised by foreigners as a "silent hero"
Iced tea is a simple drink very familiar to Vietnamese people, but for author Matthew Pike of the theculturetrip.comhere is another "silent hero".
Specifically, in the above article, Mr. Pike analyzed the reasons why iced tea "deserves to be preferred". According to this author, the Vietnamese "ice tea" is very different from the Western concept of "ice tea":
"When Westerners think of iced tea, they imagine hot summer afternoons and a cool, sweet drink with lots of sugar. Iced tea in Vietnam is thinner and more bitter, although it doesn't give us the cravings." like coffee or sugarcane juice, but that doesn't mean it's not the perfect Vietnamese drink."
"Vietnamese iced tea will never go out of style"
As a refreshing drink with a very cheap price – only a few thousand dong – iced tea is present everywhere: from small alleys to big streets, next to big commercial centers or in luxury restaurants and cafes. … According to Mr. Pike, "lots of restaurants and cafes offer free iced tea, but if you need to pay, it's rare for the price to exceed 5,000 dong."
"Even as more and more students switch to drinking pearl milk tea, Vietnamese iced tea will never go out of style, because it's often the cheapest drink." according to Mr. Pike.
However, the cheap price is not the only reason why sidewalk iced tea is popular. Although luxury cafes have sprouted like mushrooms, sidewalk iced tea shops still have loyal customers, because the convenience, comfort and fun can only be found here.
Sidewalk iced tea shops operate from early morning until late at night and have become a part of Vietnamese people's daily lives.
No need for an ideal location or a fancy arrangement, iced tea shops operate right on the sidewalk: just a teapot, a few cups and a few plastic stools. Some shops also sell peanuts, sunflower seeds, chewing gum and some other bottled drinks.
Iced tea is also versatile: It can be a cool after-breakfast drink to start the day, a refreshing drink for a lunch break at the office, or a relaxing drink with friends later. working hours or going out in the evening.
Customers drinking iced tea on the sidewalk are also very diverse: men and women, young and old, and do many different jobs, from office workers to sanitation workers.
A busy worker can always visit the sidewalk iced tea shop to quench his thirst and fatigue. Iced tea is also an ideal choice for those waiting times, or when you have some free time.
In particular, gathering with friends and watching people pass by on the street is also a special hobby of those who like to sip iced tea on the sidewalk. This is also a place where people can talk about everything from gas prices, house fires, terrorism, epidemics, football, to problems at work, neighbor conflicts or love affairs.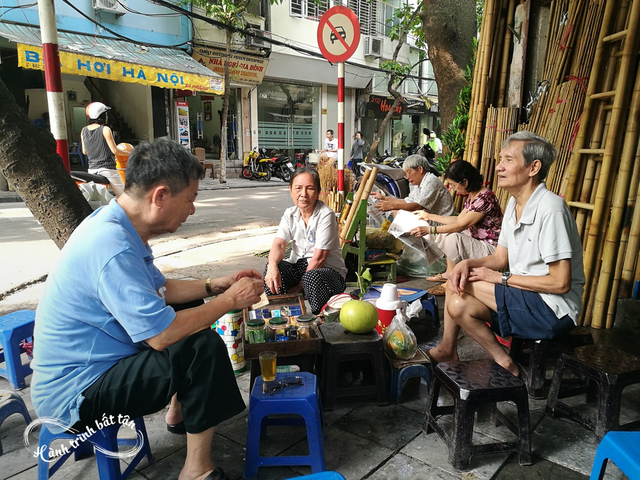 Iced Tea – "Silent Hero"
Mr. Tom Divers, owner of the blog Vietnam Coracle once described Vietnamese iced tea "popular but special, practical but interesting, strange but very simple, simple yet sophisticated."
For Mr. Pike, iced tea is not only the perfect choice to cool off in the hot summer, but it's also a "healthier" option for our bodies, compared to morning coffees. Morning beer or beer in the afternoon.
And one more special reason, according to Mr. Pike's observation, many Vietnamese iced tea shops use glass cups – something that contributes to reducing plastic waste into the environment. Mr. Pike said: "every glass of iced tea has the ability to save the world from another unnecessary plastic bottle. And that can also be considered a superpower."
"Iced tea is always ready to help keep your body hydrated – and always ready to be a hero." Mr. Pike concluded.
https://soha.vn/thu-do-giai-khat-re-heu-o-viet-nam-duoc-nguoi-nuoc-ngoai-ca-ngoi-la-nguoi-hung-tham-lang-20220601162236428. htm
You are reading the article
Cheap refreshments in Vietnam are praised by foreigners as a "silent hero"

at
Blogtuan.info
– Source:
cafebiz.vn
– Read the original article
here