Business
Comparing the "Buffer" of CAR between VietinBank, Vietcombank, BIDV with non-state-owned banks
When evaluating a bank's safety criteria, there are three commonly used indicators: credit balance ratio, bad debt ratio and capital adequacy ratio (ratio). CAR – Capital adequacy ratio).
The size of equity capital is one of the most important criteria to evaluate the safety level in the bank's business activities according to international practices.
Currently, the CAR coefficient is being regulated for a specific standardization in Circular No. 41/2016/TT-NHNN (Circular 41) Regulations on capital adequacy ratio for banks and foreign bank branches.
The introduction of Circular 41 is considered by experts to be close to the risk management regulations of Basel II but is only a part of Basel II, because the regulations and criteria in this Treaty are broad and complex. much more complicated.
At least, Circular 41, when regulating the capital adequacy ratio, which is also the main point of Basel II, provides methods for calculating risky assets with stricter risk coefficients.
Basel II is the second edition of the Basel Accord, which sets forth the general principles and banking laws of the Basel committee on banking supervision. The Basel II Capital Accord is presented as a set of proposed regulations that will likely present a range of compliance challenges for banks around the world.
Circular 41 stipulates: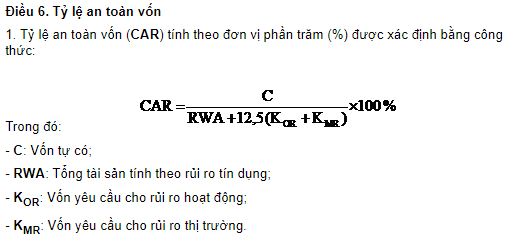 In which, equity capital includes total Tier 1 capital and Tier 2 capital minus deductions specified in Appendix 1 issued together with Circular 41.
Equity targets include charter capital, undistributed profits, share capital surplus, funds… excluding treasury shares, accumulated losses,… on the balance sheet. Equity needs to be calculated in a detailed and specific way, it is different from the equity target on the balance sheet.
For example, BIDV's equity as of December 31, 2021 as announced by the Bank was VND 131,058 billion, completely different from the equity on the balance sheet at the same time of VND 86,329 billion.
Currently, banks have built a program to calculate CAR automatically every month as well as procedures for calculating capital adequacy ratio and disclosing information about CAR every 6 months and investors. , customers, partners, … interested in the bank's safety factor can easily find information in these announcements.
We can consider the following example from Techcombank's data to understand the bank's equity structure as of December 3, 2021.

As for the denominator of the CAR coefficient, although the formula looks complicated, in essence, it will reflect total assets at risk in which there are 4 types of credit risk, counterparty credit risk, operational risk and market risk.
(i) Credit risk is the risk caused by the customer's failure to perform or inability to perform part or all of the debt repayment obligation under the contract or agreement with the bank.

(ii) Counterparty credit risk is the risk that the counterparty fails to perform or is unable to perform part or all of a payment obligation before or when it is due.
(iii) Operational risk is the risk caused by inadequate or erroneous internal processes, human factors, system failures, or external factors that compromise financial loss, negative non-financial impact on banks and foreign bank branches (including legal risks).
(iii) Market risk is the risk caused by adverse fluctuations in interest rates, exchange rates, stock prices and commodity prices in the market. Market risks include: interest rate risk; Foreign exchange risk; Stock price risk; Commodity price risk.
Let's see how to calculate CAR on Techcombank's report as of December 31, 2021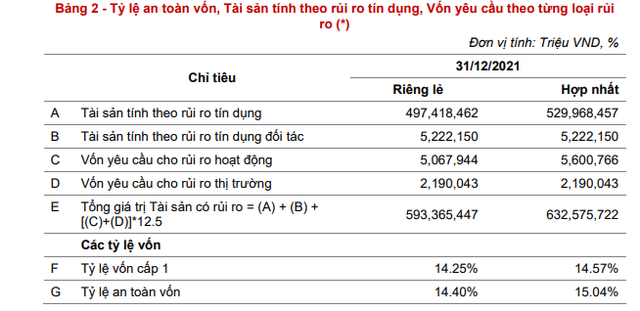 Accordingly, Techcombank's CAR at the end of 2021 is equal to Equity (Table 1)/Total Risky Assets (Table 2) = 15.04%
In terms of significance, the capital adequacy ratio (CAR) indicates the ability of banks to have enough "cushion" to absorb a reasonable amount of damage before defaults lead to loss of depositors' funds. The capital adequacy ratio ensures the efficiency and stability of a country's financial system by reducing the risk of banks becoming insolvent.
During the rollover, the depositor's capital takes precedence over the bank's capital, so the depositor can only lose his savings if the bank records a loss that exceeds the capital it owns. The higher the bank's capital adequacy ratio, the higher the depositor's level of asset protection.
The Basel II standards stipulate a capital cap for risk-weighted assets of 8%. However, under RBI standards, India's scheduled commercial banks are required to maintain a CAR of 9% while Indian public sector banks are emphasized to maintain a CAR of 12%.
In Vietnam, in 2018 – 2019 according to TT36 regulations, the required CAR coefficient is >= 9%; from 2020 according to Basel II required CAR coefficient >= 8%. When asked by Vietnam News Agency reporter why CAR must be 8% but not another number, banking and finance expert Nguyen Tri Hieu shared:I have also asked this question to some experts in banking and finance in the world, they think that the figure of 8% is the actual experience of bad debt and they think that the figure of 8% is reasonable. It is mandatory to have at least 8 dong of assets in 100 dong, and 92 dong to borrow from outside.
However, until now there has not been a scientific survey in the countries and with many types of credit that 8% is the level that science can determine as the safest level. Generally all financiers consider an 8% ratio as a reasonable capital adequacy ratio."
Banks in Vietnam today, depending on risk management, have different CARs, according to regulations, not lower than 8% and normally all higher than 9%. In countries in the region, this coefficient is higher.
In the report "Challenges and opportunities for green trade development in Vietnam" released by the World Bank – World Bank in January 2022, it is stated that "Unfortunately, banks in Vietnam have low provisioning capital, considering the capital adequacy ratio is only about 11.3% (Q1/2021) compared to 16% arrive 24% in ASEAN+5 countries".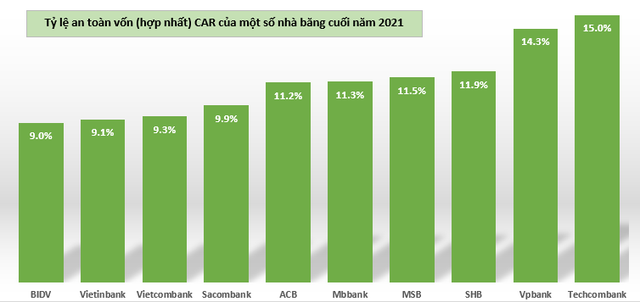 Summary according to published data of banks
According to the statistics of 9/10 joint stock commercial banks with the largest total assets today (except Agribank*) and Vietnam Maritime Commercial Joint Stock Bank, Techcombank is currently the bank with the highest CAR ratio and is quite superior to the group of commercial banks. state-owned banks such as Vietcombank, Vietinbank or BIDV.
VPBank's CAR in 2021 increased sharply in both individual and consolidated numbers, increasing by 3.73% and 2.56% respectively to 14.16% and 14.27% compared to the end of 2020. CAR of VPBank This bank made a big contribution from the successful divestment of 49% stake in FE Credit to SMBC Finance Co., Ltd.
With the group of state-owned banks, despite possessing many advantages in terms of scale and capital, the biggest difficulty of these banks is that the capital adequacy ratio (CAR) is still low compared to many other banks. and is lower than the industry average. The promotion of outstanding loans, debt structure to support customers and the requirements for Basel II and Basel III implementation have increased the pressure on the CAR ratio.
Therefore, many times, representatives of BIDV as well as the remaining 3 commercial banks are very much looking forward to the State's permission to retain annual profits or to share the State's dividend in shares to increase capital and partially solve the problems. current difficulties, obstacles and obstacles.
Statistics ignore Agribank because this bank is 100% owned by the State, so it has its own characteristics. Agribank's capital adequacy ratio (CAR) as of December 31, 2021 if calculated according to Circular 22/2019/TT-NNN is 10.2%, however, if applied according to Basel II, the CAR of Agribank is 10.2%. Agribank will be sharply reduced.
You are reading the article
Comparing the "Buffer" of CAR between VietinBank, Vietcombank, BIDV with non-state-owned banks

at
Blogtuan.info
– Source:
cafebiz.vn
– Read the original article
here