Giải trí
Eat right, enough according to this principle, a lifetime without worrying about illness "ask" – Life Health
Experts emphasize that a healthy and nutritious diet is essential for health, while avoiding chronic diseases such as heart disease, diabetes, cancer…
According to Prof. Dr. Le Danh Tuyen, Director of the National Institute of Nutrition, in humans, the intestinal microbiota has the largest number of bacteria and the largest number of species compared to other areas of the body. The development of a stable and diverse gut microbiota supports immune regulation, disease prevention, and food digestion.
Constantly exposed to a large number of microorganisms, the intestinal mucosal system consists of only one layer of cells to ensure the rapid absorption of nutrients, water and electrolytes to meet the body's needs.
To protect this fragile border, the body adapts by concentrating immune tissues below the intestinal lining to promptly optimize the immune response on a continuous basis.
Illustration
In addition, these tissues also secrete IgA antibodies to protect the intestinal mucosa from damage during digestion. Not only that, intestinal immunity along with the balance of the gut microbiota is also increasingly being confirmed to play an important role in many chronic health problems such as irritable bowel syndrome, metabolic syndrome, etc. aging, obesity, type 2 diabetes, cardiovascular disease, cancer, Parkinson's…
According to the Director of the National Institute of Nutrition, diet plays a very important role in the development and balance of intestinal bacteria. Therefore, it is necessary to have a scientific, healthy diet "eating right and eating enough" according to the reasonable nutritional pyramid of the Institute of Nutrition for all ages.
In addition to providing enough energy, protein also provides enough vitamins and minerals involved in the immune system such as vitamins A, D, K, E, iron, zinc, selenium, flavonoids and probiotics.
A healthy and nutritious diet is essential for health, while avoiding chronic diseases such as heart disease, diabetes, cancer…
On the other hand, a diet with excess protein compared to the recommended amount, low in vegetables and fruits, eating a lot of fast food, unhealthy food such as fried foods with too much fat, soft drinks, confectionery, fast food, etc. affect the balance of the intestinal microbiota.
Principles of healthy eating
Assoc. Prof. Dr. Nguyen Thi Lam, former Deputy Director of the National Institute of Nutrition, said that healthy nutrition to ensure health is recommended to follow the 4:5:1 formula of the Ministry of Health. Balanced and sufficient in the ratio of energy-producing substances; sufficient in vitamins and mineral salts; variety of food groups; balance meals during the day (3 main meals, 1-2 snacks) and ensure clean and safe food.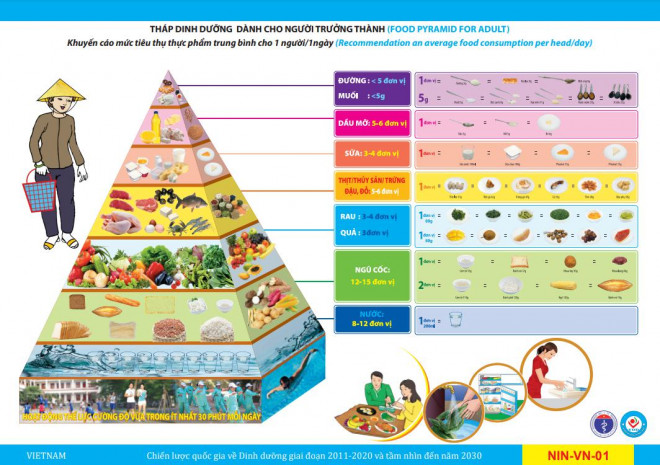 Accordingly, the average person needs to eat about 2,000 calories per day to maintain weight. Daily calorie intake can vary depending on age, gender, and physical activity level. Eat enough, eat a variety and combination of 15-20 foods, change foods frequently during the day.
The diet is balanced between animal and vegetable protein sources (meat, fish, eggs, milk, shrimp, crab, seafood… beans, pulses) as well as animal and vegetable fats. Use fats from fish, legumes, vegetable oils, limit fats from poultry such as chicken, duck, animal meat such as pork, beef…
According to Assoc. Prof. Dr. Nguyen Thi Lam, the diet should follow the nutritional pyramid/person/day for each age group. For example, for an adult, the nutritional pyramid is as follows: Sugar: < 5 units (1 unit = 1 teaspoon of sugar 5 grams); salt: <5g (5gram = 5gram salt spoon, 8gram soup powder); oil, fat: 5-6 units (1 unit = 5g spoon of oil = 5g fat spoon = 6g butter); milk: 3-4 units (1 unit= 100ml cup of milk=100g yogurt=15g cheese); meat/aquatic/eggs/beans: 5-6 units (1 unit=31g pork; 42g chicken = 35g fish = 47g eggs = 30g shrimp = 58g tofu); vegetables: 3-4 units (1 unit=80g cooked vegetables); fruit: 3 units (1 unit=80g edible unit); cereals: 12-15 units (1 unit=55g plain rice (1/2 bowl)=37g bread=95g potato=84g sweet potato); Water: 8-12 units (1 unit=200 ml of water).
In particular, to have a healthy digestive system and improve the immune system, this expert emphasized, people need to change their diet according to the principle: reduce saturated fat (C14, C16); refined flour; saccharine; salt and salty dishes; Ham. At the same time increase green vegetables, ripe fruit; fiber, vitamins, especially vitamin D, minerals iron, zinc, calcium; supplement with beneficial bacteria, probiotics…
You are reading the article
Eat right, enough according to this principle, a lifetime without worrying about illness "ask" – Life Health

at
Blogtuan.info
– Source:
24h.com.vn
– Read the original article
here