Food allergies may be linked to risk of COVID-19
The Human Epidemiology and Response to SARS-CoV-2 (HEROS) Study tracked the health of 4,000 people in 1,400 households from May 2020 to February 2021. This is the time when the vaccine against COVID-19 has not been widely vaccinated for the people.
The study included households with at least one person aged 21 or older, and some people in each of these households will be tested twice a week to screen for COVID-19.
The results showed that people with food allergies had a significantly lower risk of contracting COVID-19 than those without food allergies. While people with asthma and other allergic conditions, including eczema and allergic rhinitis, do not have a lower or higher risk of COVID-19.
In addition, the study results also support some previous studies that have suggested an association between obesity and the risk of COVID-19. Specifically in the study, a 10-point increase in body mass index (BMI) was associated with a 9% increased risk of COVID-19. People who are overweight or obese have a 41 percent higher risk of contracting SARS-CoV-2 than those who are not overweight or obese, the team said.
Children 12 years of age and younger are at risk for COVID-19 as are adolescents or adults. However, 75% of COVID-19 cases in children are asymptomatic.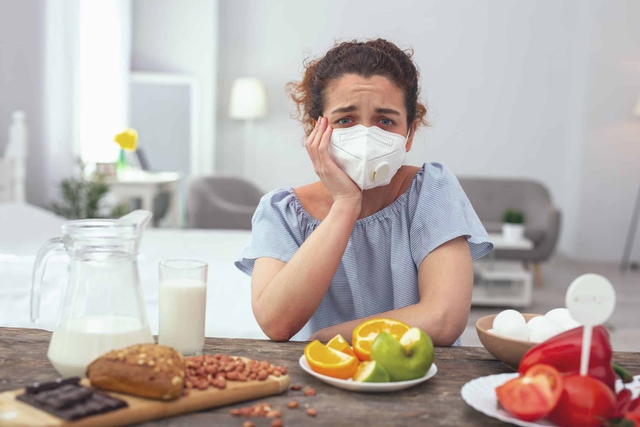 People with food allergies are 50% less likely to get COVID-19 than people without allergies
Looking for the mechanism of the relationship
It is not clear to the team why people with food allergies are at a lower risk of COVID-19. According to them, it is possible that type 2 inflammation, often caused by an allergic reaction, reduces the concentration of ACE2 receptors on the surface of respiratory cells. Meanwhile, ACE2 receptors are the entry site for SARS-CoV-2, so fewer ACE2 receptors means less risk of SARS-CoV-2 entering the body.
Another reason also mentioned is that people with food allergies are less likely to go to restaurants and are less likely to be exposed to SARS-CoV-2. However, the team did find that people with food allergies had only slightly lower levels of community exposure than the general population.
Anthony Fauci, White House medical adviser, said: "The results of this new study underscore the importance of vaccinating children and taking other public health measures to prevent infection with SARS-CoV. -2, which helps protect both children and vulnerable family members from contracting COVID-19."
"Besides, the relationship between food allergy and the risk of SARS-CoV-2 infection, as well as between body mass index (BMI) and risk of COVID-19 needs to be studied further" – Fauci emphasized. strong.
You are reading the article
Lower risk of COVID-19 in people with food allergies

at
Blogtuan.info
– Source:
Soha.vn
– Read the original article
here