Life Style
Son loves cars, young mother turns his room into a garage
Pham Linh Trang's son (32 years old, Hoa Binh) has been very fond of cars since childhood. In the afternoon, the young mother "bought" a lot of car toys for her baby. He is also very well taken care of. If I lose my car, I will find it again. However, each time the child finished playing, the room was like a "battlefield", the toys were large and the children were scattered and confused.
I want to train my children to be clean and tidy from a young age, besides, I also want to turn an ordinary room into a ideal place to have fun for the baby, Ms. Trang decided to "play big". Young mother manually renews her child's room, turning it into a colorful garage. Recently, Ms. Trang shared a picture of her son's room after it was redecorated. The current room space looks more shimmering and colorful.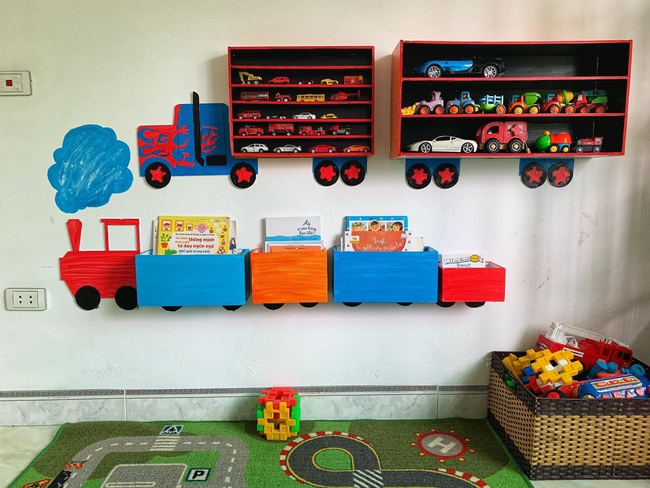 Mother Hoa Binh shared: "At first, after the baby plays, I usually put everything in the basket. But then I noticed that every time he wanted to find something, he had to pour it all out and choose. This is very laborious and the toy that is hit is not durable. So I decided to redo the baby's room.
Decorating the child's room is both a place for him to have his own space and a place to display a collection of toys from small to large. Not only that, I want this new room to be a place to store my son's affection and at the same time satisfy my mother's creative passion. I have a hobby of taking care of the house. Every time I sit meticulously to beautify the house, all stress disappears.
Before decorating my child's room, I consulted the prices of the wooden shelves, and the places that received the wooden shelves… However, those places were all too expensive, so I tinkered with them to save money. Besides, making it yourself will be more satisfying, the right size for your house, as colorful as you like…".
Ms. Trang spent 3 sessions to redo the baby's room and the results were quite satisfactory.
Trang's decor ideas are based on her children's interests and refer to more on social networks. Because her house is quite far from the center, the young mother ordered materials to redecorate the room through the e-commerce platform.
"The main materials are Formica sheets that art students often use to build models, acrylic colors and titebond glue. Prices are very cheap. All the items I bought are less than 500,000 VND.
I tried to do it in 3 sessions and it was done. When I was doing it, she was hanging around next to me, looking forward to it, because acrylic coloring is easy, so I mixed colors for her to fill in some details. The most difficult process is cutting the Formica cover, as it is quite stiff. Women's hands are weak, cut with a paper cutter it will not be smooth and beautiful. For me, I have to calculate the edges so that it fits snugly and supports each other.
The shelf price is based on the size of the car, the size of the children's stories. Then I made 3 shelves for mini cars, small cars and big toy cars. Mother of Peace said.
After finishing, Trang put the toys on the shelf to model for her child once. Then her son will imitate and learn to clean up the toys after each fun.
"She loves her new room. She often invites her friends to play with her and is very proud to show it off to everyone. My son's friends also love the room he decorated. The children often come to my house to play, very excited and do not want to go home.
Our family's parenting perspective is to grow up with them. Children are toddlers in life, parents are also parents for the first time. So I want to experience the joys of life with my children, all of which will be good memories for them in the future. Every holiday, birthday, I buy a toy for my child. I buy little but try to buy good stuff in terms of both quality and meaning. Guide children to appreciate each small toy, so that they know how to love.
So is this room. I want my children to learn to be tidy from a young age. Want your child to appreciate the toys after playing. Appreciate the small, simple things, when you grow up, you will appreciate the bigger things. – Ms. Trang confided.
https://afamily.vn/con-trai-me-o-to-me-tre-ho-bien-can-phong-cua-be-thanh-gara-xe-hoi-nhieu-sac-mau-trong- please-so-ma-chua-den-500k-20220531170706125.chn
You are reading the article
Son loves cars, young mother turns his room into a garage

at
Blogtuan.info
– Source:
Afamily.vn
– Read the original article
here