Business
The conflict is rewriting the story of global trade blocs – Who are the winners and losers?
In particular, the conflict in Ukraine has made countries think about the need for more reliable trading partners.
"If the Covid-19 pandemic highlights the need to shorten supply chains, the war in Ukraine underscores the importance of having the right solutions," said Peter Martin, research director at commodity research firm Wood Mackenzie. reliable trading partner."
Energy prices have skyrocketed this year as the Russia-Ukraine conflict destabilizes markets and Western nations have imposed sanctions on Moscow.
This week, the European Union agreed to ban 90% of Russian oil imports by the end of the year. Moscow also previously threatened to cut off supplies in retaliation. That has prompted a Russian official to say the country will look for other importers as oil purchases from China and India have skyrocketed this year.
Brent Crude Oil Futures Contract (6 months)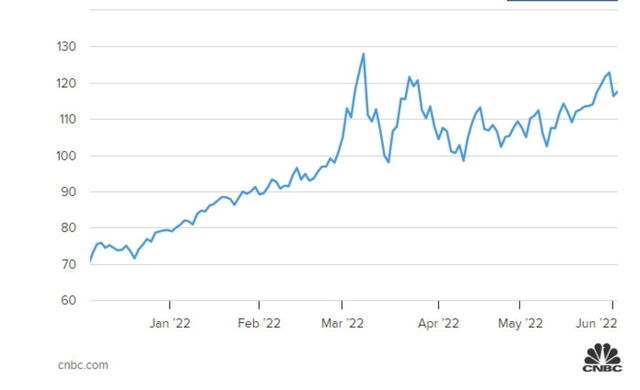 The European Union receives about 40% of its natural gas from Russian pipelines, and about a quarter of that flows through Ukraine.
Exports of important grains such as wheat have been affected. Millions of tons of wheat from Ukraine, one of the world's largest wheat exporters, have been stuck in the country and unable to reach the countries that need it. The reason is because Russian military forces have blockaded the Black Sea, where important Ukrainian ports are located.
Before the conflict, Ukraine's Black Sea ports accounted for about 90% of the country's grain exports, according to Andrius Tursa, Central and Eastern Europe consultant at consulting firm Teneo Intelligence.
Referring to conflicts as well as the pandemic, Martin added: "These can lead to a realignment of global trade in the long term. The global economy needs to become more regionalized, supply chains need to become more regional. shorter responses to "reliable" partners.
Trade block
It is "not the end" of globalization, Martin says, but global trade could reorganize into two or more "distinct blocs".
The first bloc will include the European Union, the United States and their allies, who have imposed sanctions on Russia and have been linked in isolating Russia, according to Martin. Those allies could include the UK and Japan.
Another group could be countries that want to play with both sides.
"There will be a bloc of countries like China and India that maintain trade with both sanctioned allies and Russia. They can get more energy and resources from Russia but need to maintain good relations with them. the major economies in the first bloc account for a significant portion of their export needs," Martin said.
Trade routes
Martin also said: "Trade routes by both land and sea or the volume of trade passing through these routes will be affected."
Since the beginning of the conflict, those in charge of shipping have avoided the Black Sea, where Russian military activity has prevented commercial shipping. That has caused congestion in other ports in Europe as freight forwarders have had to change their routes.
"Russian military activity in the Black Sea, repeated attacks on Ukrainian ports and mining activity in the waters surrounding the ports make commercial shipping impossible," Tursa said. wrote in a note on May 25.
He said that there is no easy way to unblock Ukrainian ports. "Various proposals to unblock Ukraine's access to the Black Sea are being discussed, but none are easy or likely," he said.
Ukraine is currently trying to develop alternative land and river routes to export food products to other countries.
"While the capacity of alternative routes is expected to gradually increase, such exports are likely to be more complex and costly than sea routes. Conflict could take a toll on logistics. becomes more complicated," said Tursa.
Winner and loser
According to Martin, any diversion due to changes to global trade would benefit several economies, such as Southeast Asia, Latin America and Africa.
"Exports will be diverted," he said. That requires finding new markets for goods and services, and bringing in logistics to accommodate new trade flows.
"Russia is likely to be the biggest loser because while it could turn some trade links around, it would be excluded from a large share of the global economy," Martin said.
Blockades in China – the world's manufacturing hub – have also contributed to the chaos of shipping and trade.
Routes are subject to change and may benefit some Southeast Asian countries, where more and more companies are already producing their goods.
On the other hand, he added, places like Singapore – where ships often pass on their way to the US – can be overlooked as freight carriers from Cambodia's emerging manufacturing hubs go directly to Cambodia. West Coast of America.
Jason McMann, Morning Consult's head of geopolitical risk analysis, said: "Some companies are starting to produce closer to themselves to limit delivery delays caused by factory closures, reduced sources of supply. supply of labor and other factors".
They may also switch to maintaining larger inventories rather than having shorter supply chains, he added.
Check out CNBC
https://cafef.vn/cuoc-xung-dot-dang-viet-lai-cau-chuyen-ve-cac-khoi-thuong-mai-toan-cau-ai-la-ke-thang-nguoi-thua- 20220603171904348.chn
You are reading the article
The conflict is rewriting the story of global trade blocs – Who are the winners and losers?

at
Blogtuan.info
– Source:
cafebiz.vn
– Read the original article
here