Thời sự - Xã hội
World
The touching story of a cancer mother and a female student who set a record of mastering 18 sports
18 years old record holder
In March 2022, at the record awarding ceremony held by the Vietnam Record Association, among famous record holders such as Quoc Co-Quoc Nghiep brothers, fisherman Anh Vien, there was an 18-year-old girl. . I am currently attending Le Hong Phong High School for the Gifted, HCMC.
With a small body, Bao Ngan walked quickly to the podium to receive the record "High school students mastered the most sports, achieved achievements in competitions at District and City levels".
Few people know that, more than 10 years ago, Bao Ngan was still a sick, small, or petty girl. And, my recently deceased mother has left me with a great will to live, even on the days when she was weak in the hospital bed.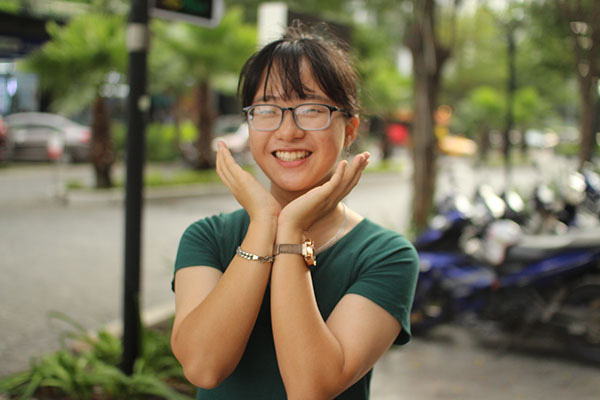 Bao Ngan said: "I am the only child in my family. From a young age, I was short, underweight and constantly went in and out of the hospital because of illnesses. It was my father who led me to the first martial arts class. At that time, I just looked out the window and wanted to go home. But gradually, my father's perseverance made me try harder, I love sports more. , practice martial arts, play badminton…
I think, the best thing in life that I have is my parents. Dad has never pressured to study, score but just want me to become a healthy, happy child. My father encouraged me to learn to surf, play chess… The love for sports was also born from there."
Currently, Bao Ngan has been able to master 18 sports: football, taekwondo, vovinam, swimming, chess, rattan, table tennis, badminton, short distance running, endurance running, military shooting, air gun shooting, wall climbing, rock climbing, rollerblading, ice skating, horseback riding and tennis.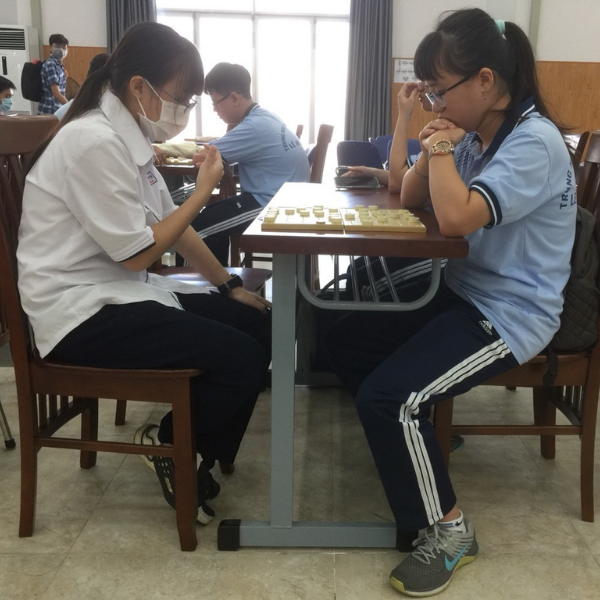 For her, that journey has many stairs to conquer with sweat, time, effort and even perseverance. "Many times when I was injured during practice, I hurt a lot and cried a lot. I was inherently shorter than my peers. There were times when I was so tired that I wanted to give up, but my father was always there to encourage me. .
Dad believes that after-school students don't have to take extra lessons, but only do homework (if any), play sports and practice life skills. Father and son study together and play sports from simple to complex subjects. My father believes that when I know more sports, the better because each sport has its own strengths and is useful for physical and mental health, and also gives me more opportunities to make friends," Ngan confided.
"Mother was strong to the end"
In addition to sports achievements, Bao Ngan has also participated in many Math and English competitions at home and abroad. During that journey, behind the female student was the figure of a gentle mother with great life force.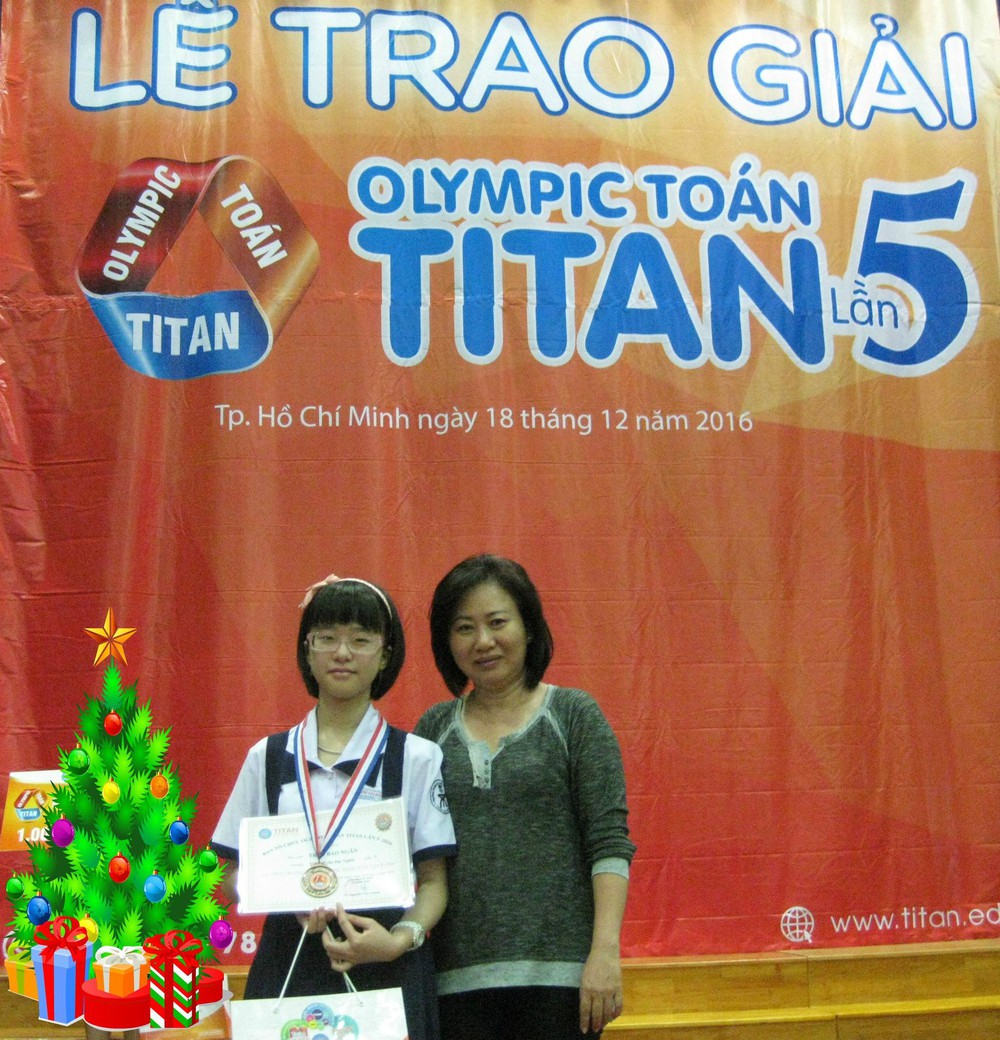 Mother is Ngan's companion in competitions
Bao Ngan's mother was found to have bronchial cancer in April 2019. After 2 years of fighting with illness, my mother passed away.
"I still remember in 2017, my mother and I went to Cambodia to take the first IJMO math exam, to visit Angkor Wat. When I reached the steep, small steps, my mother led me step by step. Mother and daughter once. When I reached the end of the slope, I was afraid to look back.
Every time I take an exam, I can rest assured that my mother will wait outside, I'm sure that when I finish the exam, my mother will greet me with a warm smile whether I do well or not. My mother always encourages and believes in me despite success or failure.
In the days when my mother was fighting cancer, I was by her side. Mother did not cry, did not complain once, and persevered to the end. Before leaving, my mother did not give any advice, meaning that she did not accept to give up and surrender to fate.
That energy made me love my mother so much more. Now, every time I succeed or fail, I always think of my mother, remember her resilient image during illness, that is my motivation to overcome difficulties and challenges", Bao Ngan confided.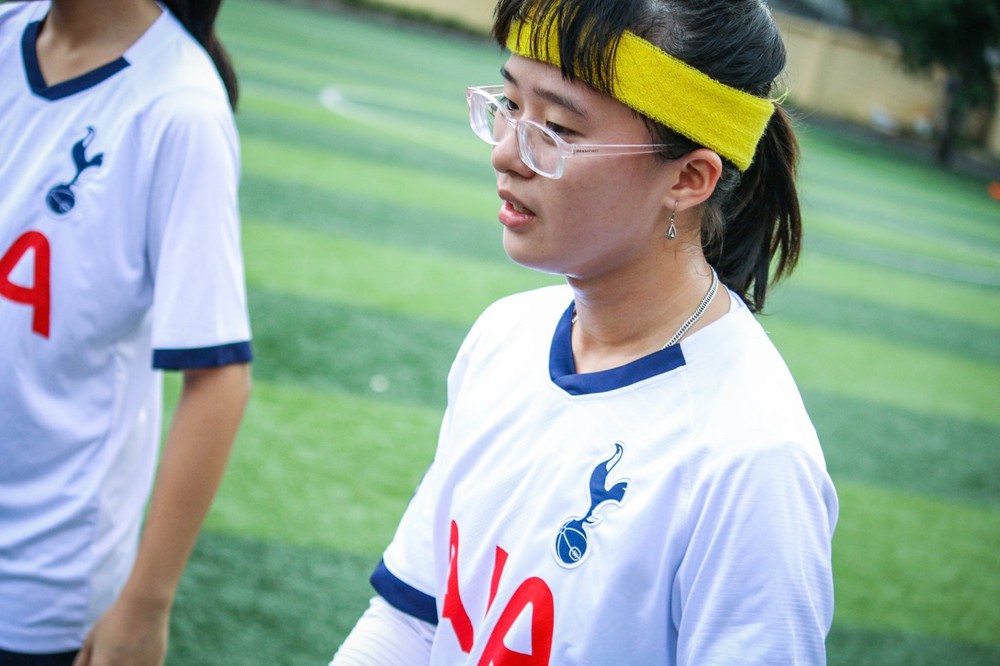 Bao Ngan has achieved many achievements in math and English
At the age of 18, Bao Ngan had his own pride. That's when becoming a student of one of the leading specialized schools in Ho Chi Minh City, a certificate of merit from the record holder association, times surpassing myself….
And in her dreams every long night, Ngan still sees her mother's figure. Surely, the mother is still smiling in the nine streams when she sees her daughter succeed.
https://soha.vn/nu-sinh-lap-ki-luc-choi-thanh-thao-18-mon-the-thao-dong-luc-den-tu-nguoi-me-mac-ung-thu- 202205311354446.htm
You are reading the article
The touching story of a cancer mother and a female student who set a record of mastering 18 sports

at
Blogtuan.info
– Source:
Soha.vn
– Read the original article
here