Sức Khỏe
71% of people with high cholesterol don't know they have the disease
High cholesterol – easy to get but difficult to detect
High blood fat, also known as fatty blood, is a dangerous disease for cardiovascular health. High blood fat can lead to diseases such as high blood pressure, diabetes, atherosclerosis, heart attack, stroke…
According to statistics of the National Institute of Nutrition, our country currently has about 29% of adults with high blood fat. In urban areas, this rate is up to 44.3%. In particular, the most worrying is that 71% of patients do not know they have the disease until they go to the doctor and most of them do not know the complications of the disease.
In addition, a study by the World Health Organization (WHO) showed that the rate of people with fatty blood in Vietnam increased fastest in the 35-44 age group.
Medical experts said that the cause of the disease is due to a sedentary modern lifestyle and improper nutrition. Most young people today are drawn to fast foods that are high in fat and starch. Not to mention, alcohol abuse is also the reason for high blood fat.
In addition, Vietnamese people are also spending more time with electronic devices such as phones and tablets instead of exercising or playing sports. This leads to being overweight, which increases the risk of high cholesterol.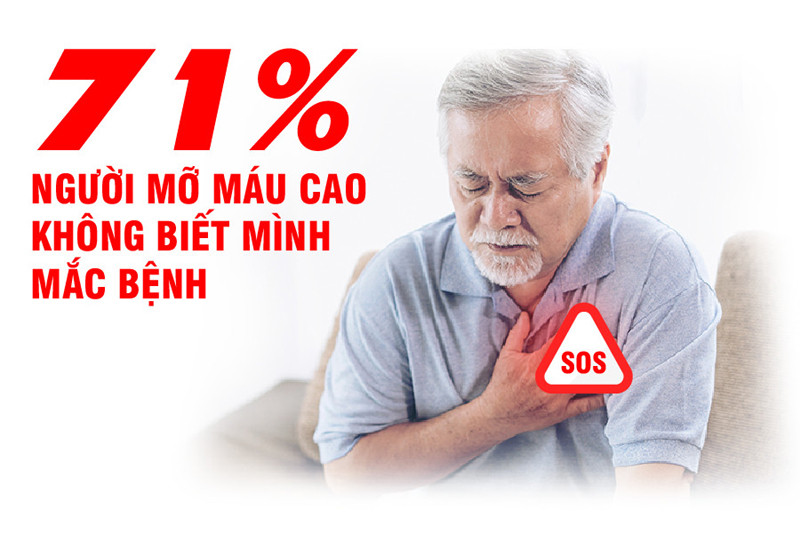 Although easy to get, high cholesterol is difficult to detect. According to experts, high cholesterol often undergoes a long-term impact, only when factors that hinder blood circulation to the organs are formed, causing headaches, numbness in the limbs, dizziness, chest pain, shortness of breath, heart palpitations… These signs are sometimes confused with symptoms of other diseases, making patients subjective, not thinking they have fatty blood.
Many people are startled when they are diagnosed with high blood fat despite always applying a scientific diet, even being a vegetarian. According to many studies, only 20% of cholesterol comes from food intake, the remaining 80% is synthesized by the body. Therefore, even if you do not consume cholesterol by eating, many people are still at risk of excess cholesterol and dyslipidemia.
This is the reason high blood fat can happen to anyone, including thin people, people on a "low-fat" diet.
Solutions to help reduce blood fat
To prevent and protect the body against high cholesterol, medical experts advise each person to rebalance their daily nutritional intake, choosing healthier fats. Specifically, reduce the amount of foods with saturated fat such as animal fat, fried foods (fried), increase foods rich in omega-3 fatty acids found in fish such as salmon, mackerel, herring and fish. nuts like walnuts, almonds… Add soluble fiber found in green vegetables, colorful fruits, beans… Limit alcohol, quit smoking, exercise regularly every day.
In particular, it should be noted that high blood cholesterol often has no symptoms, so people from the age of 20 should have their blood lipid checked once a year and from the age of 50 should have it checked every 6 months.
Along with diet and exercise, it is necessary to focus on nourishing and strengthening liver function, improving the ability to metabolize and eliminate excess fat. Currently, many people tend to look for products that support high blood fat with herbal or natural essences to limit side effects.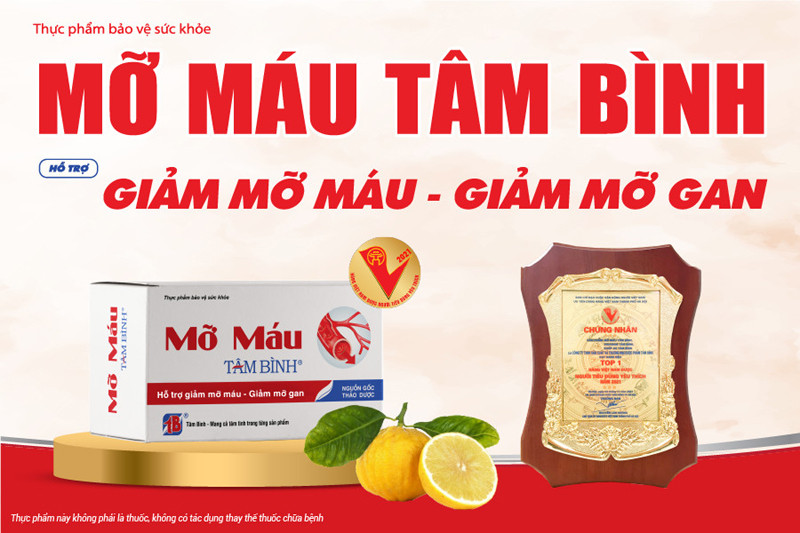 Healthy food Tam Binh blood fat is one of the products that help reduce blood fat, help clear heat, detoxify and protect the liver of natural origin that many people choose. Products are certified as High Quality Vietnamese Goods in 2022 voted by consumers, Top 1 Vietnamese goods loved by consumers in 2021.
Health protection food Tam Binh blood fat combines 7 precious herbs including: Jiaogulan, Golden Pig, Trach Chou, Lotus Leaf, Artichoke, Son Tra, Niu Tat with two Nanocurcumin essences (liquid form – imported. from Germany) and Bergamot extract (Mediterranean Orange). The product has the effect of reducing blood fat, helping to reduce liver fat and reducing the risk of fatty liver; support detoxification and liver protection; suitable for people with high blood fat, atherosclerosis, high blood pressure due to atherosclerosis…
Tam Binh's health food is available at drugstores nationwide.
For more information about the product or to answer questions about high cholesterol, contact the hotline: 0343 44 66 99
This product is not a medicine, it is not a substitute for medicine.
(Source: Tam Binh Pharmaceutical)
You are reading the article
71% of people with high cholesterol don't know they have the disease

at
Blogtuan.info
– Source:
vietnamnet.vn
– Read the original article
here