Life Style
A place to take care of the unfortunate lives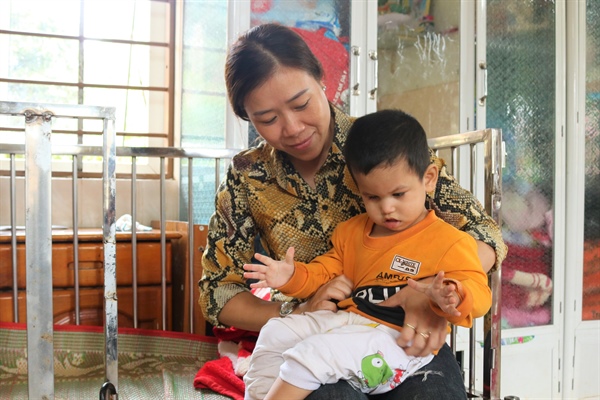 In the mountain town of Gia Lai, there is a special house named Provincial General Social Protection Center. There, currently carrying and nurturing 125 unfortunate lives. They are orphans, disabled people, lonely elderly people, people with mental illness…
The unfortunate lives
Ta Thi Kim Ngan (2 years old) is one of the special cases at the Center. Ngan was abandoned at birth. The girls at the Center discovered Ngan in front of the gate with a bag and a towel in a state that his eyes couldn't open and his body was pale. Immediately, the child was taken into the room by the aunts to monitor and take care of him. After a few months, the child's condition improved, but one eye could not open, his neck was not stable, his condition was not like a normal child. At that time, he was taken care of by the aunts in the Center, regularly practiced physical therapy and now his health is much more stable than before.
Similarly, Kpuih Pap (12 years old) has also been raised by the Center since she was 3 months old until now. I am known to be a slow learner and can't talk much. Ms. Pham Thi Hue, an employee with more than 10 years of experience working at the Social Protection Center of Gia Lai province, said: "Kpuih Pap was sent to grade 1 by the Center, but only for a period of time, she was paid. returned because of slow absorption, did not understand the teacher's teaching. At that time, I was always interested in creating conditions for teachers to tutor at the Center. Up to now, Pap is much more open, sociable and obedient. Especially, Pap can read and write his name, which makes me very happy and happy."
Or like the unfortunate case of 3 sisters Vu Thanh Thao (SN 2008), Vu Thi Thanh Hien (SN 2011) and Vu Vinh Quang (SN 2012) in Chu Se district (Gia Lai) who were abandoned by their parents in the second half of the year. last year. Talking with us, Vu Thanh Thao timidly shared, because her family was too difficult, when she was in 5th grade, her mother went to Binh Duong to work as a worker, she came home to visit them once a year. After a while, in 2020, her father also left, leaving 3 young children at home to wait. Unable to contact their parents, the three sisters, Thao, live off the love of their neighbors, giving them food every day. Almost a month ago, Thao's sisters were helped by Chu Pong commune, Chu Se district, and moved to Gia Lai province's General Social Protection Center to raise them. And then the lives of the 3 sisters have changed since that day, smiles also gradually appeared on their lips. "Here, I am cared for, loved and felt close family affection. I am grateful to the staff, caregivers and everyone in the Center. Fortunately, there is help and sharing, so the 3 children are no longer as sad as before. I want to live here to have fun with everyone," said Vu Thanh Thao.
Need more than kind hearts
Talking to us, Ms. Ta Thi Anh Dao, Director of Gia Lai Provincial General Social Protection Center, said that most of the cases at the Center are children of ethnic minorities like Bana, Ja Rai, Nung… Among them, there are about 60 children from 1-20 years old. They all share special circumstances, or are orphans, have psychological problems, street children, orphans… When entering the Center, it is very difficult for them to integrate and adapt to the collective environment. Therefore, we always give the best so that the children don't feel guilty, always have energy and feel faith in life", Ms. Dao confided. According to Ms. Ta Thi Anh Dao, staff of the Center often close, encourage and encourage the children to be happy and integrate with their friends here as well as when going to school. Here, the children are given the best conditions to study, have fun, be oriented, and help them learn the right job for themselves.
According to regulations, the Provincial Social Protection Center will take care of the children until they reach the age of 22. In this environment, the children are guided and taught by the staff to well observe the rules of the center as well as the rules of the school. Thanks to that, the children learned to unite, love and help each other. Many children after adulthood have stable jobs. "There are many children who study well and pass exams to colleges and universities, so the support for them has also increased. Therefore, we connect with benefactors to find funding to continue to nurture the children until they complete the course and graduate with a stable career," added Ms. Dao.
You are reading the article
A place to take care of the unfortunate lives

at
Blogtuan.info
– Source:
Afamily.vn
– Read the original article
here