Life Style
A thousand-year-old ancient city appeared after a severe drought
After a severe drought has revealed the 3,400-year-old city below the Tigris River in Northern Iraq.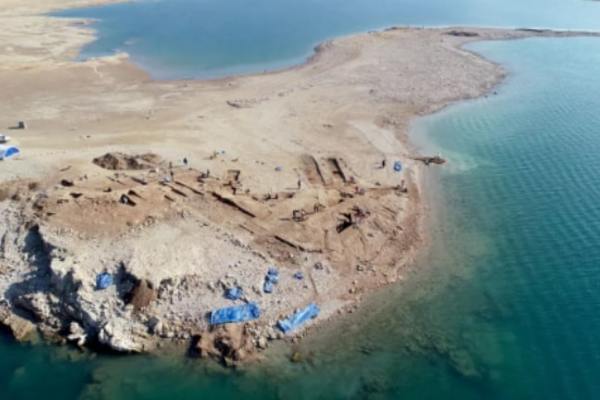 The Bronze Age city, called Kemune, is a relic of the Mittani Empire, the ancient kingdom that ruled the northern regions of Mesopotamia from about 1500 BC to 1350 BC.
Archaeologists excavated part of Kemune in 2018 and discovered a lost palace with 7-meter-high walls decorated with many paintings. This time, the researchers mapped the city to include an industrial complex, a multi-story storage facility that holds goods from around the region.
"The excavation results show that the site was an important center of the Mittani Empire," said Hasan Qasim, archaeologist and chairman of the Archeological Foundation of Kurdistan.
A strong earthquake destroyed much of the city around 1350 BC, but some ruins of the city are still preserved beneath the collapsed walls.
Ivana Puljiz, a professor of archeology at the University of Freiburg in Germany, says that Kemune is the only known urban center from the Mittani Empire located right on the Tigris River. This shows that the city had major waterway intersections, an important connection point for the empire.
The researchers rediscovered Kemune in 2010, but they weren't able to excavate until the lake's water levels dropped following a major drought many years later.
Archaeologists have placed plastic sheets on the walls and buildings, covered with gravel to prevent further degradation.
Among the Mittani ruins, the team discovered more than 100 clay tablets from the mid-Assyrian period, around 1365 BC.
After the end of the Mittani Empire, the Assyrians built a new settlement at Kemune and their archives contain writings about this empire change. "We still don't know what is written in the texts, but we hope that the documents provide information about the beginnings of Assyrian rule in the area," Puljiz said.
You are reading the article
A thousand-year-old ancient city appeared after a severe drought

at
Blogtuan.info
– Source:
Kenh14.Vn
– Read the original article
here