Giải trí
Cat Phuong made a sad comment when netizens advised to remove Kieu Minh Tuan's tattoo
WATCH VIDEO: Cat Phuong took my son to try on a vest to attend the mature gratitude ceremony exclusively for 12th grade students.
Last time, information Cat Phuong – Kieu Minh Tuan "everyone goes their separate ways" It has become a hot topic of discussion on social media. Specifically, on her new birthday, the actress first confirmed that she and her young love 18 years younger had broken up on February 14, 2021. Because to avoid affecting her life and work, she decided to keep it a secret and wait until now to reveal it to the audience.
While Kieu Minh Tuan remained silent and "evaporated" from Facebook, Cat Phuong repeatedly appeared on social networks. The actress often posts new photos, writes status lines to prove that she is fine after the emotional shock. Many viewers also paid attention and encouraged her when she heard the shocking news.
Cat Phuong – Kieu Minh Tuan "went their separate ways" after 12 years of attachment, surprising the audience.
A few hours ago, Cat Phuong continued to show off a series of radiant photos when she arrived in Gia Lai. The actress left her face bare, didn't wear lipstick and was comfortable drinking water on the roadside. Notably, Cat Phuong did not hesitate to reveal the tattoo of the word "Cat Kieu" on her left wrist, even though both have gone their separate ways. Together for 12 years, the couple has a lot of common memories such as houses and tattoos, etc. Currently, the shared house of "Miss Cat" and her boyfriend is for sale and the tattoo is still kept by the female artist.
Remember, the tattoo was born in the situation that Kieu Minh Tuan and Cat Phuong were in trouble because of the "love triangle" scandal with An Nguy many years ago. At that time, Cat Phuong posted a selfie that cleverly showed off her new tattoo with the words "Cat Kieu" on her wrist, as a proof that the relationship between the two is still strong.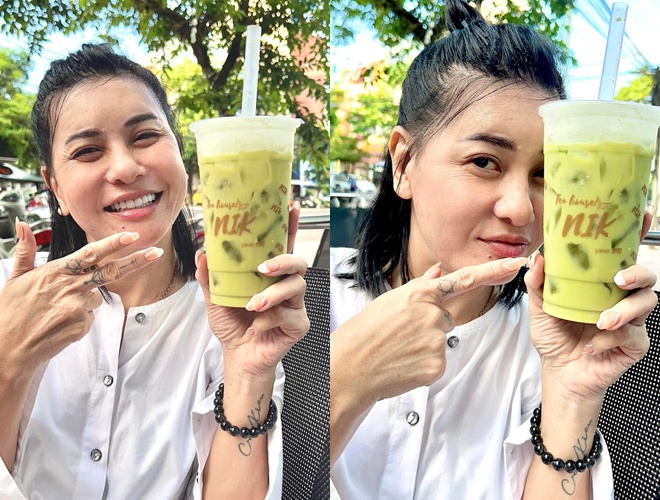 Cat Phuong showed off her radiant look without wearing any makeup, but the "Cat Kieu" tattoo became the focus.
Below in the comments section, a spectator commented: "Remove the word tattoo, sister" or another lamented: "Your hand still has the word Cat Kieu, it's sad to look at it.". Before the interest of netizens, Cat Phuong frankly said: "What needs to be deleted?", "Still a good memory". Through the above two lines of comments, it has been shown that the actress cherishes old memories, even though she broke up with Kieu Minh Tuan, she does not necessarily deny the past, which has received much admiration.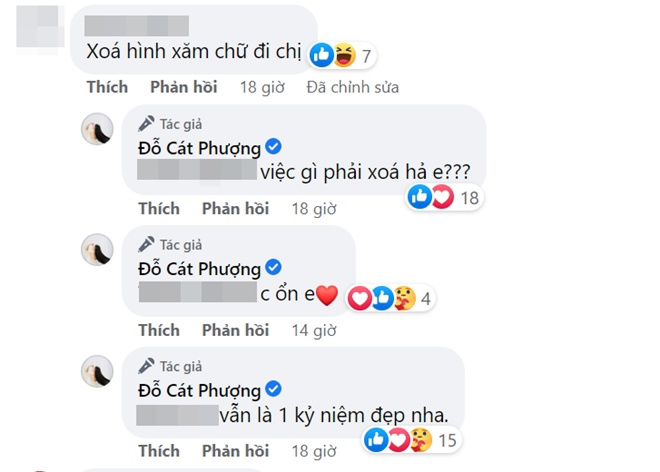 The audience advised to remove the tattoo, but Cat Phuong's reaction surprised netizens.
After breaking up with young love Kieu Minh Tuan, Cat Phuong often appeared with a haggard and haggard appearance. "From time to time, we should also put aside all the chaos of work and worries and go to these places to play with nature. Not listening to the phone ringing, but only listening to the sound of waterfalls. Can't read the anti-fan's comments cursing, but only hear the birds chirping. The heart is strangely calm and peaceful", Cat Phuong tried to show that she was fine after the emotional noise.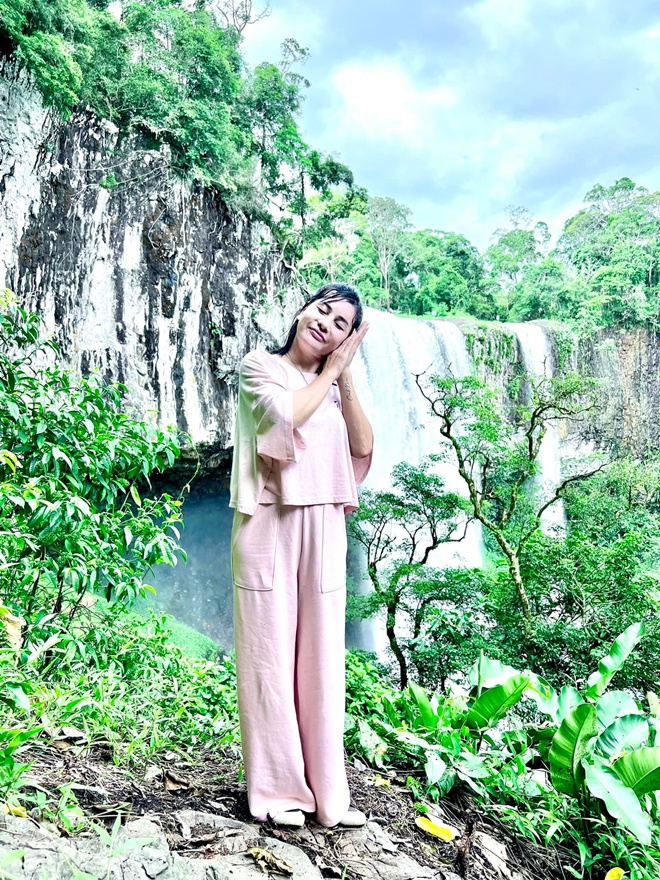 Cat Phuong often posts photos and status while Kieu Minh Tuan disappears from social networks.
Before that, Cat Phuong also confessed on her personal page about the fear of being alone and alone at the age of U60. Experiencing two well-known love affairs, but currently the actress is still "single", without a complete marriage.
"Last night, the mother and daughter scuba diving, it rained and stormed to find a vest for Bom to wear on June 3. Bom attended the adult gratitude ceremony exclusively for students 12. Bom is really big. Then Bom will have a girlfriend, then Bom will get married and have children. Then Bom will have Bom's life.
Bom will gradually leave her mother because Bom has to take care of her small family. Then my mother was left alone in paradise. Tears are running down everyone. And that is the law of creation. I always love you – my little Bom", Cat Phuong was emotional.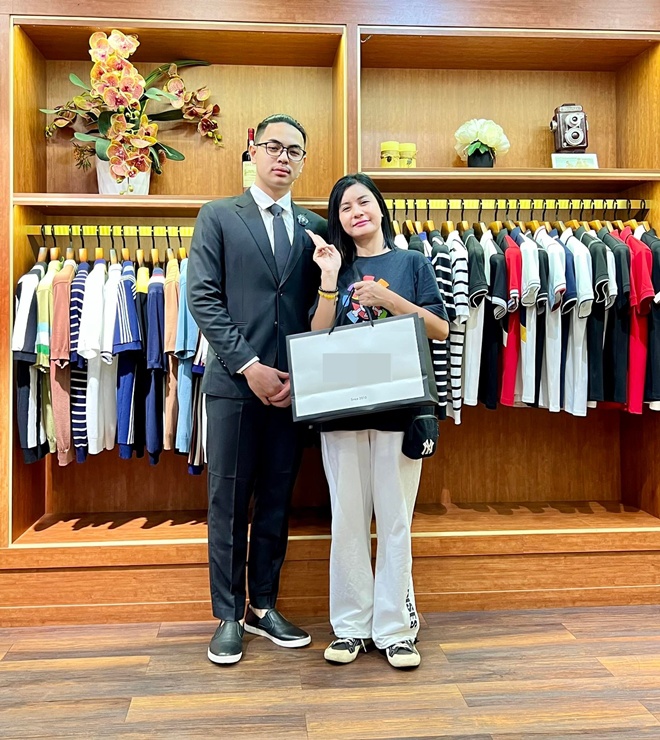 "Then my mother was alone in paradise. Tears flowed down everyone," the actress said about her situation after two incomplete loves.
You are reading the article
Cat Phuong made a sad comment when netizens advised to remove Kieu Minh Tuan's tattoo

at
Blogtuan.info
– Source:
Eva.vn
– Read the original article
here