Chuyên đề
Eating Northwest specialties, Hanoi woman died
Returning to her hometown of Ninh Binh, a Hanoi woman went to Hoa Binh to buy termites to make roasted termites to eat. After 5 days, the patient suffered from abdominal pain, went out, dropped blood pressure, and died later…
Although the doctors were dedicated to the treatment and using the highest techniques, patient Ng.TT (60 years old, Hanoi) still did not survive.
It is worth noting that the patient became infected with the fungus Aspergillus fumigatus after eating termites – a local "specialty" dish.
According to family members, the patient returned to his hometown of Ninh Binh and went to Hoa Binh to buy live termites to make roasted termites. If he didn't finish eating, he would put leftovers and live termites in the refrigerator next to the food. quickly available (spring rolls, spring rolls…).
After 5 days, the patient appeared to have abdominal pain, defecation, low blood pressure, was treated in the direction of septic shock at the provincial hospital but his condition did not improve. Patients with severe shock, respiratory failure, have to maintain a very high dose of vasopressor, mechanical ventilation but the lungs are constricted, the ventilator cannot push air into the lungs to ventilate.
Directly treating the patient, Dr. Nguyen Ba Cuong – Intensive Care Center, Bach Mai Hospital said: The patient was transferred to Bach Mai Hospital on May 30 in a very severe state of respiratory failure. lungs can no longer guarantee ventilation function even with maximum ventilator support.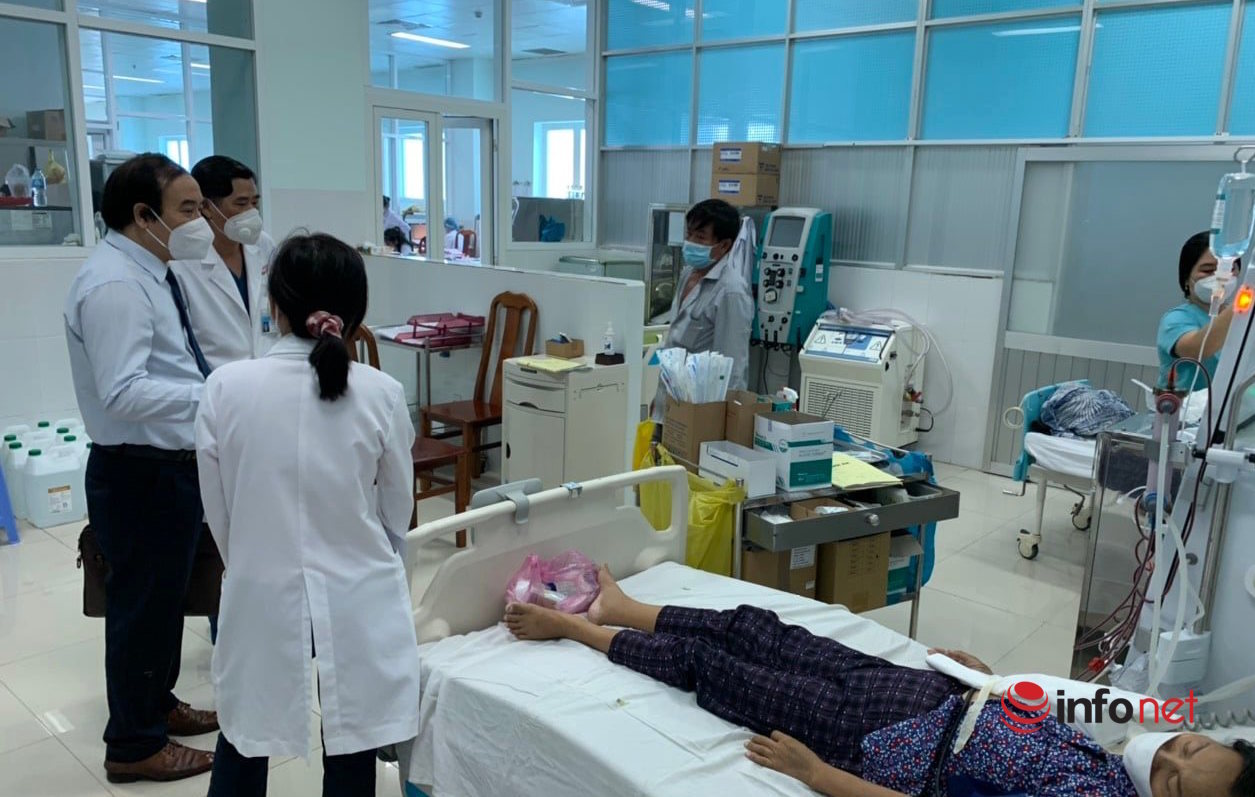 Bach Mai Hospital's Emergency Department is always packed with patients (illustration)
Before this situation, the patient was admitted to ECMO and continued with active resuscitation measures using antibiotics, antifungals, dialysis, vasopressors…
On May 30, the patient underwent bronchoscopy with multiple pseudomembranous plaques in the lower lobes of the lungs on both sides. With experience in treating many complicated cases, doctors immediately thought of fungi.
And on June 1, bronchoscopy showed pseudomembranous growth on the entire airway mucosa, creating clumps of warts and interlaced pseudomembranous membranes like spider webs that completely filled the tracheobronchial lumen.
On June 2, endoscopy showed that the pseudomembranous tissues adhered to the airway wall gradually peeled off. All airway specimens showed filamentous fungi staining, Aspergillus fumigatus culture results, and Aspergillus fumigatus pseudomembranous pathology images concentrated in clusters.
On June 4, despite being diligently treated by doctors and nurses, the patient's condition did not improve and the patient died after 6 days of intensive treatment.
Aspergillus fumigatus is an opportunistic fungus parasitic on many animals, insects and in the environment, when the body is immunocompromised (such as severe illness …) the fungus has the opportunity to grow and cause disease with symptoms. very severe (especially respiratory) with very high mortality.
Through this case, doctors recommend people not to eat foods made from insects and should not be preserved with other foods.
N. Huyen
You are reading the article
Eating Northwest specialties, Hanoi woman died

at
Blogtuan.info
– Source:
infonet.vietnamnet.vn
– Read the original article
here