Business
Full happiness when in hand "nothing"
Former billionaire Chuck Feeney is famous as one of the most successful businessmen as well as giving the most money to charity. This businessman gave away almost all of his assets to fulfill his desire to "give while still alive".
Strange billionaire ever
Chuck Feeney comes from a working-class family in New Jersey, United States. He is an Irish-American grandson. Feeney is also known as one of the co-founders of duty free shopping empire, Duty Free Shoppers. Despite his wealth, he doesn't own a car, rents a small apartment, rides an economy-class plane, and only owns a pair of shoes. He even stayed at his daughter's apartment while in New York.
"I have visited many billionaire houses but the Feeney house is very different from the rest. Small, functional and very simple. You could mistake this place for a freshman dormitory." Steven Bertoni, reporter for Forbes shared in 2018.
From the outside, no one would realize that this was once the CEO of a famous corporation, because he lived like an ordinary person. He has never worn designer clothes, worn old glasses, taken an economy class plane…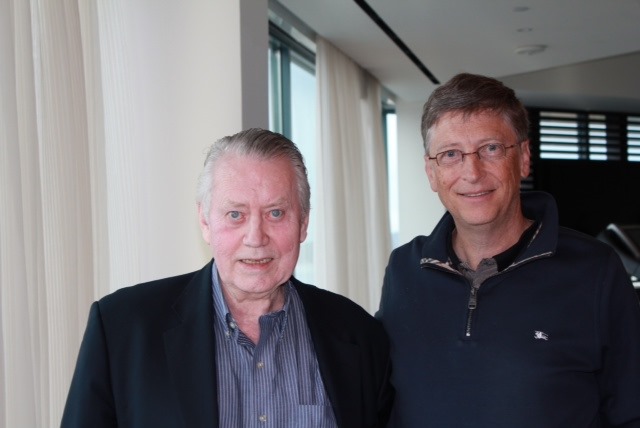 The man who amassed a fortune selling luxury goods to tourists, founded General Atlantic, lived in an apartment in San Francisco that resembled a freshman dorm room. On the walls of the house are inkjet photos of friends and family. On the table was a small Lucite sign that read: "Congratulations to Chuck Feeney…"
This frugal lifestyle was passed on to the next generation. Since the 5 children were young, billionaire Feeney taught them how to make money and use it wisely. He believes that such a strict education will help children understand the value of labor and money.
Billionaire Feeney has asked his son to work as a waitress, and his daughter to work as a hotel waiter or cashier during summer vacations. His children completely agree with this way of upbringing, and are even proud to have such a father.
"Mr" longs to have a day to give everything
Charles Feeney is now 91 years old. Over the years, he has collected billions of dollars. It took decades, but Chuck Feeney, the former billionaire co-founder of retail giant Duty Free Shoppers, has finally donated all of his money to charity. Although currently almost "empty hand", he revealed that he is happier than ever.
At the age of 89, he ran out of money and achieved his goal of "striving for zero… giving it all". Feeney has always been tight-lipped about her charity work. His work only "came to light" when journalist Conor O'Cleary wrote his biography with the goal of promoting the act of "giving while alive" with other wealthy people.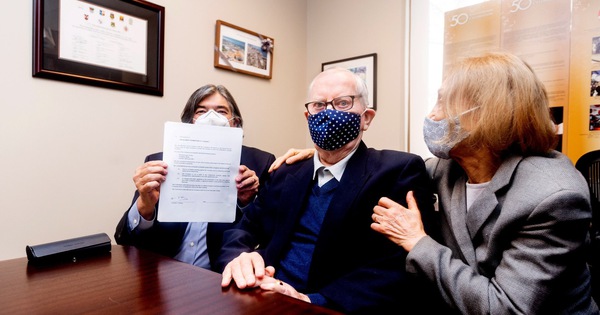 Over the past four decades, Feeney has donated more than $8 billion to charities, universities and foundations worldwide through its foundation, Atlantic Philanthropies. In 2012, he was estimated to have set aside about $2 million for his later retirement.
In other words, billionaire Feeney gave away 99% of his fortune. For those great and silent contributions, Forbes named him the James Bond of Charity.
As a philanthropist, billionaire Chuck Feeney pioneered the idea of ​​giving while he was still alive. His point was: "You can't take it with you – why not give it all away, control where it goes, and see the results with your own eyes?".
His $8 billion has been given to various places. Feeney has spent $3.7 billion on education, including nearly $1 billion on her alma mater. More than $870 million he spent on human rights and social change, and $76 million on grassroots campaigns to support the passage of Obamacare.
He has given more than $700 million in gifts to healthcare, ranging from a $270 million grant to improve public health care in Vietnam. In addition, he sent a gift of $176 million to the Global Brain Health Institute, a partnership between Trinity College Dublin and the University of California, San Francisco.
One of Feeney's funds was used to build a technology campus on New York City's Roosevelt Island.
People who have nothing in their hands are respected by billionaires
Feeney's selflessness has amazed the world's billionaires. All praised him as a beautiful role model. Bill Gates has said that Feeney is the inspiration behind both the $30 billion Bill & Melinda Gates Foundation and also the Giving While Living Pledge, which has attracted more than 90 of the world's richest people to donate their fortunes to the foundation. charity.
"We've learned a lot. We're going to do a few different things, but I'm very pleased. I feel very happy to have completed this on my watch," Feeney told Forbes. "I want to thank everyone who has joined us on this journey. And to those who are wondering about Giving While Living: Try it, you'll love it."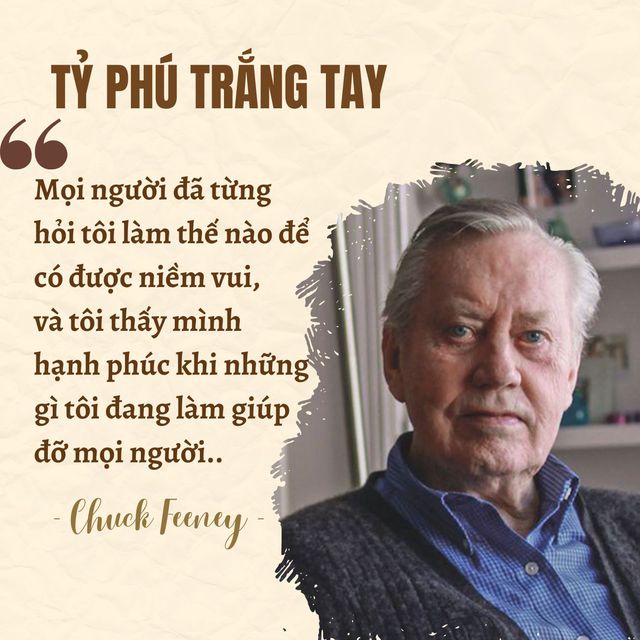 His generosity and intrepid investments influenced Bill Gates and Warren Buffett when they launched The Giving Pledge in 2010 – an aggressive campaign to convince the world's richest people to give. at least half of his estate prior to his death. Warren Buffett said: "Chuck was the inspiration for The Giving Pledge. He was a role model for all of us."
The Atlantic Charity's Zero Is the Hero report summed up Feeney's decades of unwavering dedication. While it contains hundreds of numbers, statistics, and data points, Feeney summarizes it all in a few sentences. "I see little reason to delay giving when it can spread positive values. Moreover, it is more fun to give while we are alive than to give when we are dead."
On September 14, 2020, Feeney completed her 4-decade mission and signed documents to shut down the Atlantic Charities. The ceremony took place on Zoom with the organizers. Bill Gates personally sent his best wishes to the "former billionaire".
At its peak, The Atlantic Charities had more than 300 employees and ten global offices across seven time zones. As Feeney told me in 2019: "Our dedication is based on opportunity, not a long-term business plan".
Although his philanthropy is no longer in business, its influence still reverberates around the world thanks to large bets on health, science, education and social action.
Currently, Mr. Feeney is still enjoying a "normal" life and is happy with what he has. Although he does not have a fortune of billions of dollars, he is still the person who makes the richest billionaires look up. The things that Feeney does become an inspiration for many people about a way of life that knows how to love and share.
Synthetic
https://cafef.vn/ty-phu-dau-tien-san-sang-quyen-gop-99-tai-san-khi-con-song-tan-huong-cuoc-doi-binh-di-sau- Khi-cho-di-8-ty-usd-hanh-phuc-vien-man-khi-trong-tay-khong-co-gi-20220606112702618.chn
You are reading the article
Full happiness when in hand "nothing"

at
Blogtuan.info
– Source:
cafebiz.vn
– Read the original article
here