The French Bulldog originated in England, was bred by the French for many generations with the Terrier breed. This is a loyal dog, easy to raise, friendly with children, less shedding and not barking much, so it is sought after by many people.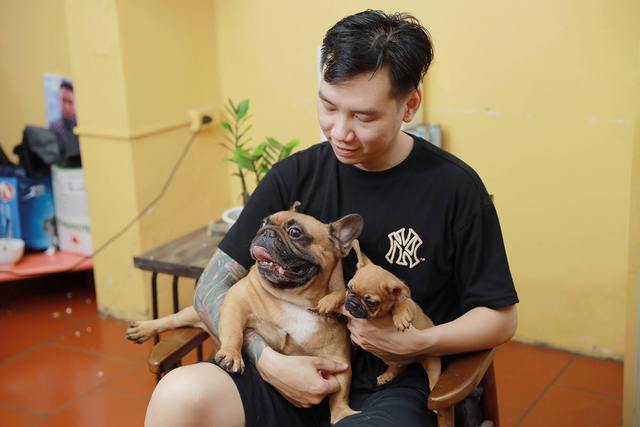 Trung started playing dogs about 10 years ago, but to specialize in French Bulldogs, it has only been about 3-4 years. It all started when he saw a photo of a dog of this breed and was immediately attracted to its large round eyes. Mr. Trung then tried to find a way to buy a dog from abroad to Vietnam.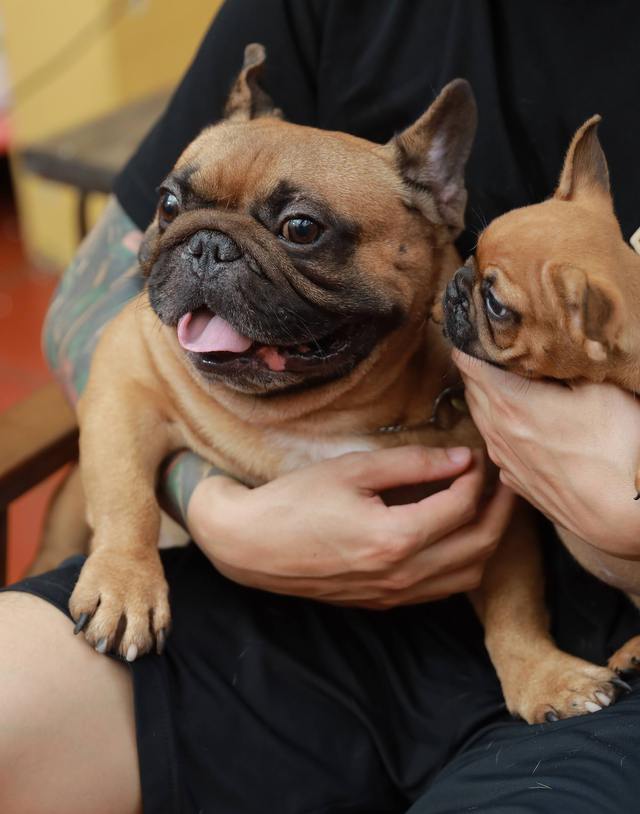 CR7 (left) is the first Bull dog that Trung bought, from faraway Ukraine for nearly 200 million without shipping costs. This is the most famous dog in the Bull dog community in Vietnam today, due to its unique coat color and "outstanding" facial beauty compared to other dogs of the same breed.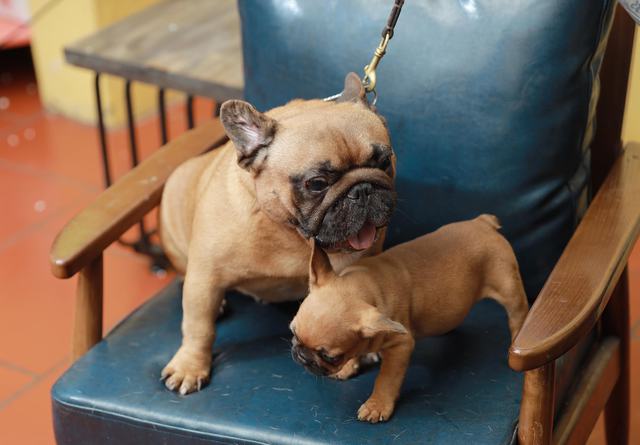 "CR7 is my pride. On its face there is a one-bridge wrinkle, also known as a very rare crease in the Bull line in general and the French Bull in particular. Many people, when they see CR7 beautiful, want to ask for it. Breed or buy its breed. Thanks to it, people often call themselves Trung CR7 to identify the master-servant bond as well as the popularity of this dog friend."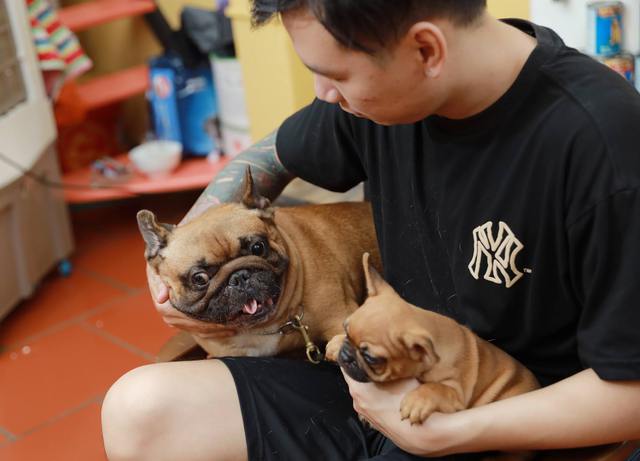 According to Mr. Trung, importing dogs from abroad to Vietnam is quite complicated and expensive, with a cost of about 1,000-2,000 euros per dog depending on weight or transportation conditions. The required procedure for imported dogs is to have 4-5 types of documents such as proof of origin and quarantine. In particular, the quarantine must be carried out at the customs at both the import and export terminals.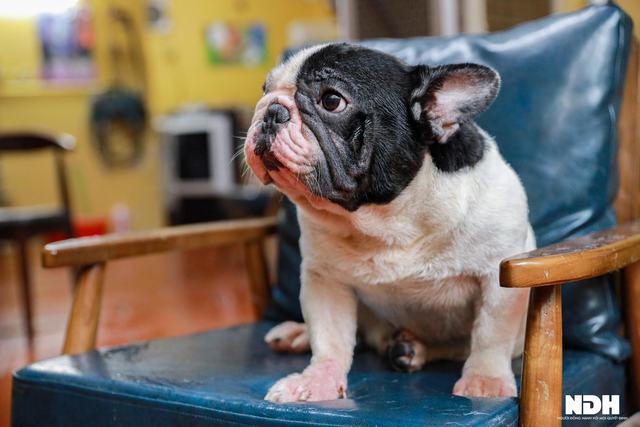 Even though he ran out of money, he still wanted to invest in his hobby. After buying CR7 for a while, he continued to buy another M10, also from Ukraine at the same price. This dog has been in Trung's hands since he was 10 months old and has been taken care of by the new owner who has hired a Russian expert to take care of him for the purpose of participating in a beautiful dog contest.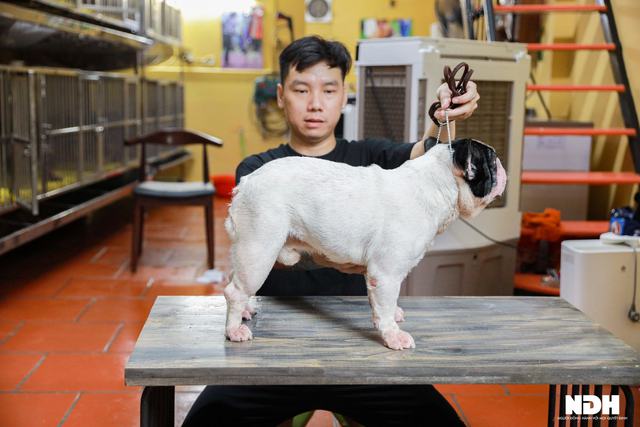 "The excellent M10 won the top prize in the beautiful dog contest in Russia. If the CR7 has a rare type of facial wrinkles, the M10 embodies the best in a Bull dog. It has a length from Its legs are shoulder to shoulder equal from shoulder to tail, forming a clear square. Its neck is long enough, its head is in proportion to its chest, so it looks very muscular. And now, the M10 is also in its prime age. of dogs".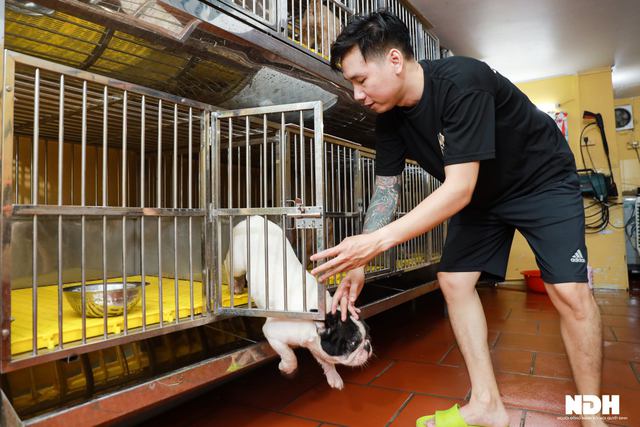 Playing pet dogs for a long time, but every time Trung buys a dog, he is very nervous and worried. The reason is because Bulldogs live in Russia and Ukraine, both of which have a cold climate, when returning to Vietnam, it is easy to get heat shock if bought in the hot summer. Normally, when the dog leaves the door of the old owner's house, Mr. Trung has to transfer all the money, so in the process of transporting it to the hands, the dogs can die at the airport if not. heat tolerant.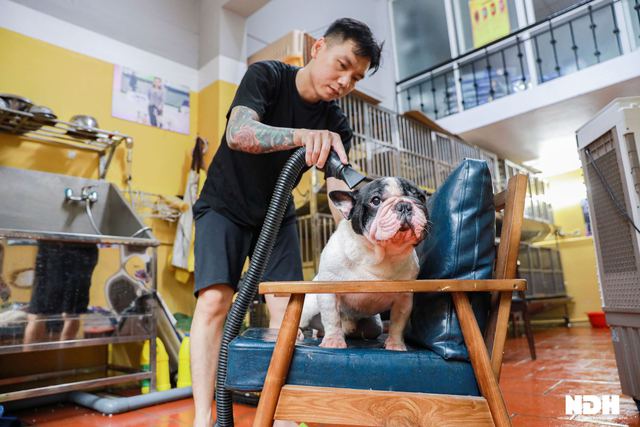 Likewise, when raising Bull dogs, players must ensure that the barn is always cool, but definitely do not abuse the air conditioner, because it is easier for them to adapt to the poorer environment. Trung often uses a cool fan, if the day is too hot, he can blow more ice for a certain period of time.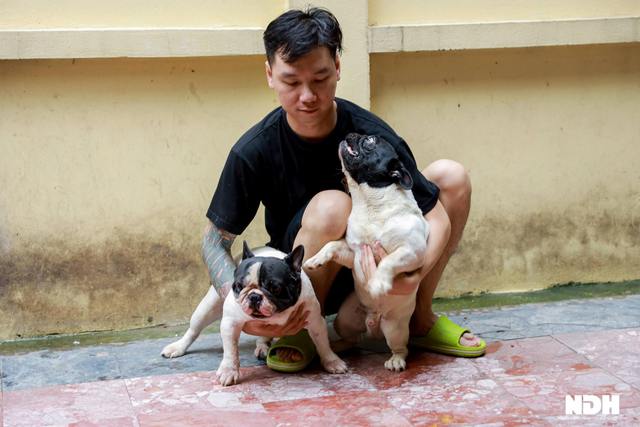 Another is the issue of dog food. Thanks to working in the field of F&B, Trung can easily measure the amount of food and nutrition for his dogs. Trung said that a 10kg dog can consume about 300-400g of food per day. Many people can feed their dogs into two meals, but for Mr. Trung, in order to practice the habit of eating all the food to avoid waste, he only feeds the dogs one meal at 12 noon and then rests and plays. joke, sleep for the rest of the day. For dogs under 6 months, Mr. Trung does not feed seafood or eat too salty food.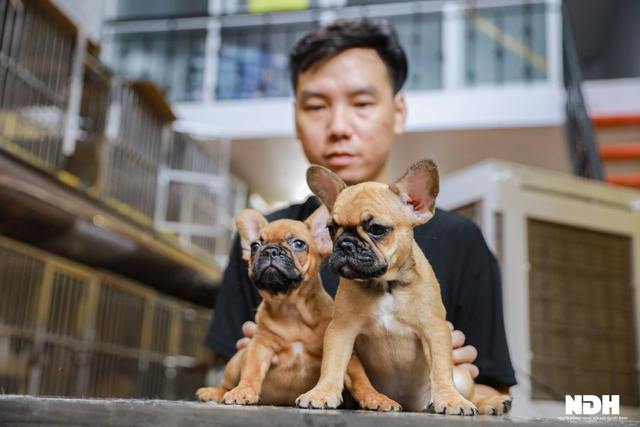 As mentioned above, Trung's two "stars", CR7 and M10, have been asked by many people to breed. Currently, Trung has a total of nearly 20 French Bulldogs living in Hanoi and surrounding satellite camps to generate a fairly stable source of income. Normally, Mr. Trung sells dog breeds for 20-50 million VND/child. In addition, he also opened a service "pet dog hotel", taking care of dogs if anyone has a need to send them to travel, short-term business. Currently, the income from the pet farm also gives him several tens of millions of dong per month.
Although he earned a small amount of money, Trung did not put too much emphasis on business issues. The important thing is that he wants to build a whole French Bull community in Vietnam, where people have new relationships and share the joy in life.
You are reading the article
Hanoi chef invests billions in raising expensive French Bulldogs

at
Blogtuan.info
– Source:
Kenh14.Vn
– Read the original article
here