Sức Khỏe
How should field crab soup eat to avoid affecting health?
Field crab soup is the top priority dish on the menu on hot summer days. The cool taste of this soup helps to cool down and stimulate the taste buds of family members.
1. Nutritional value of field crab soup
Field crab is a very familiar food of Vietnamese people, especially rural people. Field crabs live mainly in rice fields, also in lakes and ponds. Crab soup is cool, nutritious, easy to eat, very rich in calcium and nutrients.
In 100g of crab, it provides 87 Kcal, 12.3g protid, 3.3g lipid, 2g glucid. The amount of vitamins and mineral salts, especially calcium in field crabs is very high: in 100g of crabs, there are 5,040mg of calcium, 430mg of phosphorus, 4.7mg of iron, 2.1mg of vitamin PP…
The quality of protid in field crab is also good, through analysis, it was found that there are 8/10 essential amino acids including lysine, methionine, valine, leucin, isoleucien, phenylalanine, threonine and tryptophane.
In addition to the nutritional value, according to the book Hai Thuong Lan Ong, field crab is called a field crab: "The field crab has a sweet and cold taste, is less toxic, or gives birth to wind, has the effect of connecting tendons to bones, curing heat, except for toxic sores and blood clots".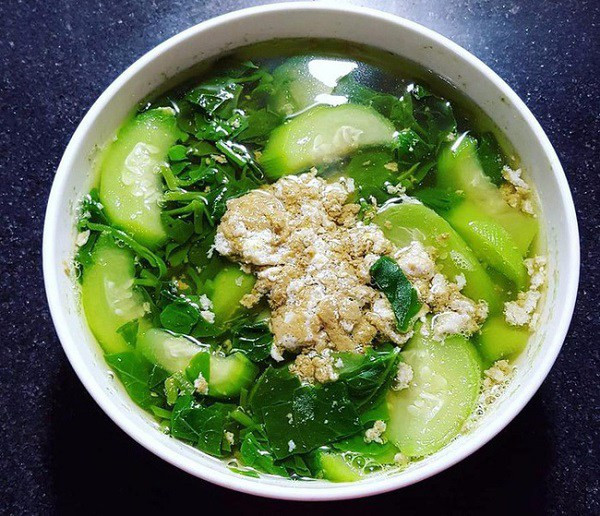 Field crab can be processed with a variety of vegetables and tubers such as: crab cooked with jute vegetables, spinach, amaranth, water spinach and taro, melon, gourd, squash… Crab cooked with currant is also pounded and filtered to obtain water. like cooking soup, but do not cook with vegetables but use a sour substance such as star fruit, tamarind, crocodile… Crab can be combined with rice or eaten with vermicelli, with thinly sliced ​​molded cakes…
Regarding the nutritional value of field crab soup, in addition to the nutrients found in field crabs, cooked vegetables also provide nutrients and vitamins for the body. Crab soup has many nutrients that are protein, calcium, iron, and helps to replenish water and electrolytes for the body when the weather is hot.
If you cook a bowl of soup with crab and gourd, ingredients include: 55g field crab meat, 70g spinach, 100g melon, 5g vegetable oil, 1g salt, the nutritional value provided is 120Kcal, 9.1g protid, lipid 7.0g, glucid 5.1g, fiber 2.3g, vitamin A 116µg, beta-carotene 1504µg, vitamin C 58mg, calcium 218.7mg, iron 2.7mg, sodium 668.4mg, potassium 558.9mg, zinc 0 ,4mg.
2. Note when eating crabs
– Absolutely do not process dead crabs because dead crabs contain histidine substances that cause allergies, hives, itching, hangovers, headaches, dizziness, poisoning (abdominal pain, vomiting, diarrhea and stomach upset). some other bad health problems…).
– Absolutely do not eat crab salad or drink raw crab juice. In the past, wrestlers before entering the match often drank a bowl of condensed crab water to increase their strength, strength and endurance. Martial artists who suffered from pain and blood stasis also told each other to drink a few bowls of raw crab juice to treat injuries and heal quickly. This can have adverse health consequences. It is true that there are many nutrients in the water of field crabs, but raw crab water and crab salad are both raw dishes that can contain many dangerous pathogens that cause food poisoning, especially lung fluke disease (Paragonimus ringeri). .
Although fascioliasis is parasitic in the lungs and lays eggs in the bronchi, it is still an infectious disease of the gastrointestinal tract. Eggs from the patient's lungs are excreted in the sputum, enter the water and form larvae inside. This larva comes out of the egg shell to find some snail species to parasitize, then the shell looks for crabs and freshwater shrimp parasites in the form of the above-mentioned fluke cysts, because undercooked cooking will spread the disease.
Thus, eating crab salad and drinking raw crab juice is a very convenient way of transmitting lung fluke disease if some of the field crabs we eat salad or pound the water have cysts.
3. How should field crab soup be combined with salted eggplant?
Since ancient times, crab soup is often eaten with salted eggplant. Salted eggplant as a condiment makes the meal more attractive.
Each eggplant weighs about 8g, if a meal of up to 7 eggs, the weight is equivalent to about 55g. About the nutritional value of 55g salted eggplant, they provide 7Kcal, 0.7g protein, 1.1g glucide, 0.9g beta-carotene 22µg fiber, 8.3mg calcium, 0.44mg iron, 406mg sodium.
Salty foods such as melons, tomatoes, onions, salted palanquins… increase the risk of stomach cancer due to the presence of nitrosamines. However, if you eat foods with nitrosamines every day for a long time, there is a high risk of cancer. And if you sometimes eat eggplant with crab soup to increase the delicious appeal, there will be nothing to worry about.
When eating salted eggplant in particular and salted dishes in general, note that it should only be eaten when the eggplant is fully cooked, do not eat salted eggplant. Green and pungent pickled tomatoes will have a higher nitrite content than cooked salted tomatoes because in the first few days due to the microbial reduction process, the nitrates in the tomatoes will become nitrite. However, nitrite gradually decreases and will disappear completely when tomatoes are sour. Therefore, if you eat salted coffee, you should not eat much and when salted, you should not be too salty to limit the amount of salt you eat.
Although delicious and attractive, you should only eat 4-5 salted tomatoes in a meal. Moreover, salted eggplant is a salty dish that contains a lot of salt. Normal healthy people should not eat too much salt, especially, people with chronic diseases, high blood pressure should limit eating salted coffee.
Crab soup with salted eggplant is a common and popular dish of Vietnamese people, delicious in summer and high in nutritional value. Eating crabs adds calcium and healthy protein.
Although, crab soup is a delicious, attractive and nutritious dish in the summer, but only eat 3-4 meals a week, in addition, it is recommended to use other dishes to make the meal more diverse and nutritious. provide a variety of nutrients to the body.
MSc.BS Nguyen Van Tien (Nutrition Communication Education Center, National Institute of Nutrition)
You are reading the article
How should field crab soup eat to avoid affecting health?

at
Blogtuan.info
– Source:
vietnamnet.vn
– Read the original article
here