Climate Protection Ministerial Conference, Energy and Environment Taking place in the last two days, May 26-27, in Berlin (Germany), the G7 ministers discussed how to deal with the climate crisisenvironmental pollution and biodiversity protection.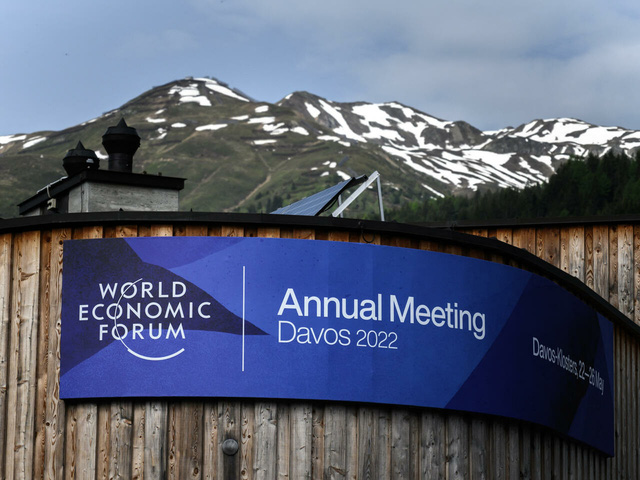 Discussions at WEF 2022 underscore the urgency for governments and businesses globally to accelerate energy transition. AFP photo
In the areas of climate protection and energy, a range of topics such as G7 joint action to implement the Paris Agreement on Climate Change and the Glasgow Climate Compact; climate finance; how to accelerate the energy transition and expand renewable energy; decarbonization in the fields of electricity, transport, industry and construction; green and sustainable hydrogen development; International cooperation outside the G7 was also discussed.
More than ever, the G7 must accelerate the global energy transition and protect the climate at the same time, while rapidly expanding renewable energy, decarbonizing consumer sectors, and increasing efficiency. energy. Climate protection and renewable energy expansion are issues of energy sovereignty, and therefore also national, European and international energy security issues.
But also at this time, countries stand at a crossroads, is it increasing the use of fossil fuels for economic development or reducing them to protect the environment? This question is not up to the present time.
Should coal power plants be closed?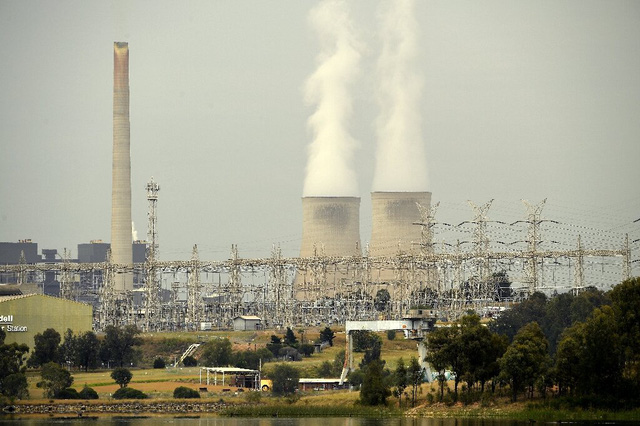 Australia's largest coal-fired power plant has been ordered to shut down. Photo: Reuters
In late May, environmental activists called on Australian authorities to quickly close coal-fired power plants and mines to meet the new government's more ambitious carbon-reduction target. and urges increased investments in renewable energy for affected communities in the country.
Reliance on coal-fired power plants has made Australia one of the world's largest per capita carbon emitters. Under the Paris Agreement on climate change, Australia has committed to reducing emissions by 28% by 2030 compared with 2005 levels. New Australian Prime Minister Anthony Albanese has set a more ambitious target, raising the cut. down to 43%, although commitments have not yet been made to limit the exploitation of new coal mines or eliminate fossil fuel projects.
However, the executive director of the Australian NGO Climate Analytics, Bill Hare, said the plan did not meet the Paris Agreement's goal of limiting the Earth's temperature rise to 1. .5 degrees Celsius. According to him, by 2030, Australia needs to reduce emissions by 60% compared to 2005 levels. Meanwhile, Mr. Joe Fontaine, lecturer in environmental science at Murdoch University in the city City of Perth, says ending coal-fired electricity will play an important role in meeting the new climate targets of the government led by the Labor Party.
Analysis by the Climate Action Tracker research coalition shows that Australia's current climate policies are still ineffective, with continued support for new coal and gas projects. New coal mining projects and increased capacity to produce liquefied natural gas will increase Australia's emissions by 8-10% by 2030.
Mr. Hare said that coal-fired power generation capacity is likely to decrease rapidly in line with the Labor Party's policy, with higher targets on renewable energy. However, Australia's ruling party does not have a clear goal of phasing out coal-based electricity.
Environmentalists say Australia's coal-fired power plants are mostly old and near the end of their useful life, so closing them early would be one of the easiest routes to reducing emissions. carbon. According to activists, to accelerate the phasing out of coal-fired electricity, state and federal governments need to work together to support, train and expedite the implementation of a transition plan to affected communities. affected by factory closures. In addition, the construction of new renewable energy plants to replace fossil fuel plants also plays an important role in ensuring energy supply and stabilizing energy prices.
Fossil fuels still make up the bulk of Australia's energy consumption, with coal accounting for around 40 per cent, oil (34%) and gas (22 per cent), according to government figures. Labor has set a target that renewable energy will meet around 80 per cent of Australia's electricity needs by 2030. Australian National University's Institute of Climate, Energy and Disaster Solutions director Mark Howden says that the new government will likely need market resources to help reduce emissions in the coal and gas sectors.
Governments, investors and businesses around the world are facing growing pressure to end investment in coal to support climate change goals. Mr. Howden said that Australia's new government is likely to tighten environmental laws, thereby making it difficult to exploit fossil fuels. The question now is whether this measure will be fast enough to help Australia meet its emissions reduction target.
Is technology the answer?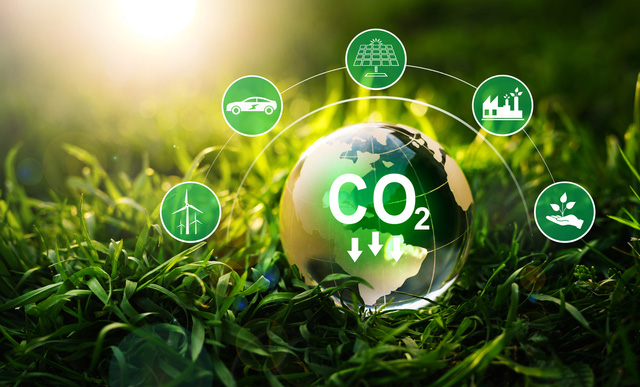 The "Coalition of Pioneers" is an initiative to use technology for a greener and sustainable energy transition. Photo: CNN
During the World Economic Forum just held in Davos (Switzerland), US President's Special Envoy for Climate John Kerry said countries and businesses have joined a group called " First Movers Coalition" (First Movers Coalition). The number of members of this group has skyrocketed from the original 35 companies to 55 today, and among the large new entrants are FedEx and Ford. According to Mr. Kerry, the alliance is promoting investment in completely new technologies to be able to bring to the market.
The US special envoy said the alliance also includes countries such as Britain, Denmark, Italy, India, Japan, Norway, Singapore and Sweden. Mr. Kerry emphasized that government policies can accelerate transitions in areas such as green production, carbon capture and storage.
Meanwhile, Microsoft founder, billionaire Bill Gates said that currently "green" products are very expensive, so for these products to become more popular and widely used, it is necessary to open production, such as solar, wind and lithium-ion batteries.
Google CFO Ruth Porat said the company has committed to investing $200 million in carbon dioxide removal plans, making it the main contributor to the $900 million fund and is expected to make a contribution. of other companies over the next decade.
Swedish Finance Minister Mikael Damberg announced that the Nordic country wants to be the first in the world to phase out fossil fuels, noting that the pilot project is a steel producer using hydrogen energy.
The world strives for "Green Transformation"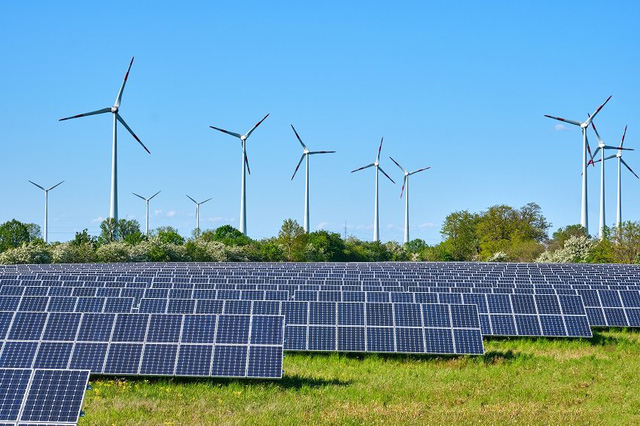 Renewable energy is one of the top priorities of countries today. AFP photo
The European Commission (EC) is planning to accelerate the green transition of the European Union (EU) and reduce dependence on fossil fuels – which mainly comes from Russia's supply through the allow a number of renewable energy projects to be licensed for one year.
Under the plan, the EC will propose a number of regulations that will require countries to designate certain land or sea locations suitable for the exploitation of renewable energy, with the aim that the environmental impact of projects to these areas are very low. These sites must avoid protected areas or bird migration routes, preferring areas with already developed infrastructure such as roads, railways, industrial parks and surrounding public lands.
The draft stipulates that the licensing process for new renewable energy projects at these locations should not exceed one year, but can be extended by three months in some special cases. This time period has been much shortened compared to the current regulations on licensing projects for 2 years.
Meanwhile, in Oceania, from next July, all operations of Woolworths – Australia's largest supermarket chain in the state of South Australia will go carbon neutral as a pilot process to reach 100 % of stores of this supermarket chain using clean energy by 2025.
Woolworths CEO Brad Banducci announced the above information. According to him, the state of South Australia is leading the transition to renewable energy in Australia and the combination of solar, wind and battery power. The transition to Green energy at 87 Woolworths stores was made possible thanks to the Port Augusta Renewable Energy Park – the largest wind and solar project in the Southern Hemisphere with 50 wind turbines and 250,000 solar panels. The project produces about 900 MW of renewable energy per year, enough to power about 180,000 homes.
It is expected that, after the transition in July, Woolworths is ready to gradually replace existing traditional energy contracts across the country and this will help convert about 1% of Australia's total energy into Green energy. .
In Asia, India plans to cut power output of at least 81 coal-fired power plants over the next four years, thereby reducing coal consumption by 34.7 billion tons and cutting carbon emissions by 60.2 million tons. atmosphere. This plan helps India step by step make the transition to environmentally friendly electricity generation at a reasonable cost.
The plan, drawn up by India's federal energy ministry, has been sent to top officials, the energy sector and the federal government. The purpose of this plan is to maximize "Green" electricity output and save production costs, but does not involve the closure of old and expensive coal power plants. Statistics show that India currently has 173 coal power generation facilities.
Obviously, cutting down on fossil fuels is hard to come by in the short term for any country. However, technology can be a transition bridge so that countries can still use fuels to develop their economies and still not miss the goal of environmental protection.
You are reading the article
Increase the use of fossil energy or Protect the environment

at
Blogtuan.info
– Source:
Soha.vn
– Read the original article
here