Life Style
Xã Hội
Mourning the funeral of two mothers and children who died in the case of a truck carrying soil that crushed the car
Regarding the accident between a dump truck carrying soil that overturned, on top of a car, causing 4 casualties, a 20-year-old young man, Ha Van Th, sitting in the passenger seat was lucky to escape.
In the clip recording the moment of rescuing a victim trapped in a 4-seater car, a lot of people stood around the scene, looking for ways to help.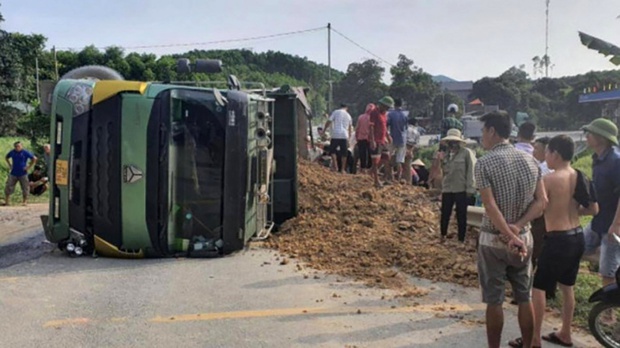 The scene where the truck carrying soil crushed the car
Sharing in Dan Viet newspaper, Ha Van Th said, on the afternoon of June 4, Pham Van T (born in 1991, Th's neighbor) took guests to his hometown for medical examination in Hanoi. Then, Th asked Mr. T to go home with the car.
When arriving in the territory of Yen Thuy district, Hoa Binh province, the truck carrying land in the opposite direction sped rapidly, encroaching on the lane and crushing the car.
Th said on Vietnamnet, I do not know the two guests in the back seat. Therefore, do not talk at all, but just sit and watch the phone while the car rolls.
"The time of the accident was about 15:30, I was watching the phone at the moment when I heard Mr T (driver) honking his horn. I reflexively looked up, in a split second the truck rushed over and overturned on top of my car," Th recounted the terrifying moment.
When she was crushed by the truck, she reflexively grabbed her head with both hands and then sat down. After a while, I woke up and found it all dark, my whole body was crushed and I couldn't move.
At this time, I calmed down and called "Brother T, Mr. T", but he did not respond. I kept calling the two ladies, but still no movement. Because I can't move, I don't know how everyone in the car is.
I tried to scream "help, help" but because the ground was covered, people outside couldn't hear the sound.
At this time, I can still hear the voices of people outside saying that no one is alive, keep the scene and wait for the police to arrive. I tried to call and call for help, but no one heard," Th said.
At that time, my hand was cut, but I still managed to hold the phone. I tried to use my finger to call T's friend (also a driver) saying he had an accident, he told me to try to get up, he was running behind. Then I called home to notify my relatives of the accident so that everyone could come to the rescue.
"I was saved because a young man at that time approached the car door. I heard people talking, I tried to call for help, he heard my voice and informed everyone to dig the ground, brought the excavator to pull me out. It took about 1 hour from the time the accident to the time I was rescued. At that time, my body was numb. No one found out that I would have a hard time living, "Th recalls. According to Th, when I was taken out, I found out that everyone in the car was dead. I was taken to the emergency room by people.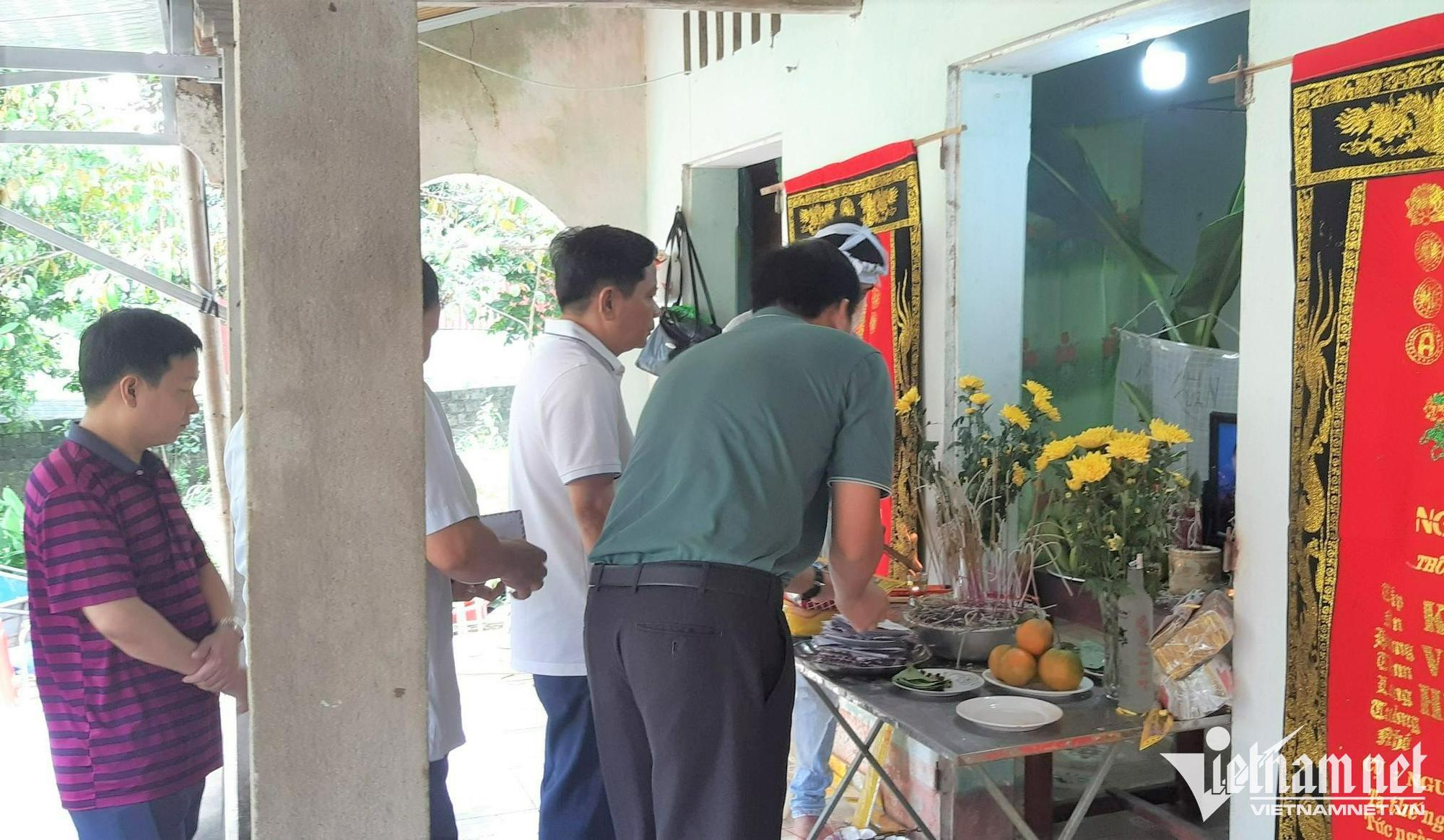 Neighbors come to offer condolences
The shack at the level 4 house in Dien Ly village (Dien Lu commune, Ba Thuoc district, Thanh Hoa) of Mr. Tao Van Cuong's family is full of incense. Inside the house are two coffins of mother and daughter.
Sitting blankly in front of the death table of his wife and daughter, Mr. Cuong seemed to have no life left. The family was inherently difficult, his wife, Mrs. Nguyen Thi H, had a congenital heart disease, and her daughter, Cao Thi H (SN 1985), got married and moved to the South to work as a hired worker. Now, her mother's condition is getting worse and worse, her daughter took her mother to Hanoi for medical examination, but had an accident.
Cuong and his wife gave birth to 3 children. The family is poor, so the wife and children of the first and youngest son are still living with their parents.
H is the second daughter. After finishing high school, H married a man from Nam Dinh and then moved to the South to work as a hired hand.
"Due to the lack of conditions, and raising two children (one in 3rd grade, one in kindergarten), for many years, H has not returned to her hometown. Recently, her mother's heart disease has gotten worse and worse. Daughter takes advantage of this. put aside all work to take her mother to the doctor. Who would have thought that after the examination, on the way back, the mother and daughter would leave forever," said Mr. Cuong in tears.
About 10km from Mr. Cuong's family is the house of victim Pham Van T (SN 1991, the driver died). Currently, his family is also taking care of his afterlife.
Information from the family, T is married and has 3 children. The third child was born about 4 months old. He worked as a service driver for a few years, did not expect such a tragic accident.
Information on Traffic newspaper, driver Nguyen Van Doanh testified at the investigation agency that, before the accident, the truck he was driving lost control, leading to inability to control, causing the accident. tragic accident.
Synthetic
You are reading the article
Mourning the funeral of two mothers and children who died in the case of a truck carrying soil that crushed the car

at
Blogtuan.info
– Source:
Kenh14.Vn
– Read the original article
here