Many people often say "nothing hurts like labor". But the mother when giving birth to a baby not only has to suffer a moment of physical pain when "giving birth" but also has to face many risks, even life-threatening. Many Vietnamese beauties have shared their memories of having to face their "door of death" when giving birth.
Runner-up Diem Chau suffered from uterine atony after giving birth
In November 2021, runner-up Diem Chau gave birth by caesarean section to two Western-born daughters, Clara and Jolie, with weights of 2.7 and 3.1 kg, respectively. To receive two children, Diem Chau underwent artificial insemination, pregnant and facing the "door of death" at birth.
Diem Chau did artificial insemination and became pregnant with twins quite smoothly.
During her pregnancy, Diem Chau's health was completely healthy. Thanks to that, she still actively "plows", livestream sales, prepares her health and finances to welcome the two babies born smoothly. Diem Chau gave birth by caesarean section at 38 weeks because the doctor said that the twin pregnancy needed caesarean section to ensure safety. Due to the active cesarean section, the mother of 4 still livestreamed sales at the last minute, right before being pushed into the operating room.
A healthy pregnancy is like that, but when giving birth, Diem Chau has to face the door of death when the uterus cannot contract. "I was given an epidural for a cesarean section. When my baby was born, I was fine. Having skin-to-skin contact with my children, I am very happy, happy to see that my children are so beautiful. But when the doctor finished the incision, my uterus could not contract, lost 2.5 liters of blood, had bleeding, and almost lost the uterus. The doctor had to anesthetize, operate on me again, at this time my health deteriorated. Also, I have a rare blood type, so I have to wait for blood. Fortunately, thanks to a good doctor, my uterus is still there." Diem Chau said.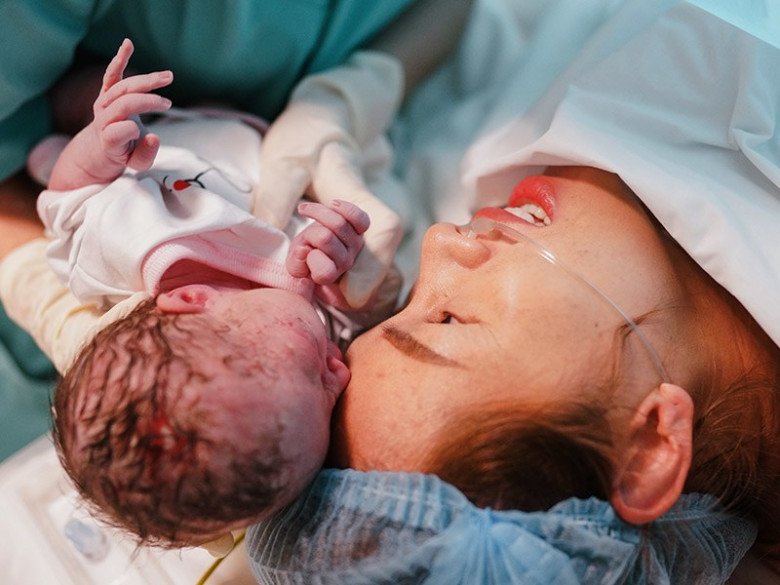 When she gave birth, Diem Chau had to face the door of death.
After giving birth, the mother of four had to stay in the intensive care unit for two nights. Due to complications during surgery, the doctor said she had to stay for about 20 days before being discharged. However, she was discharged on schedule, only staying five days. She said that when she returned home, she was "healthy like a buffalo" and still taking care of her children normally.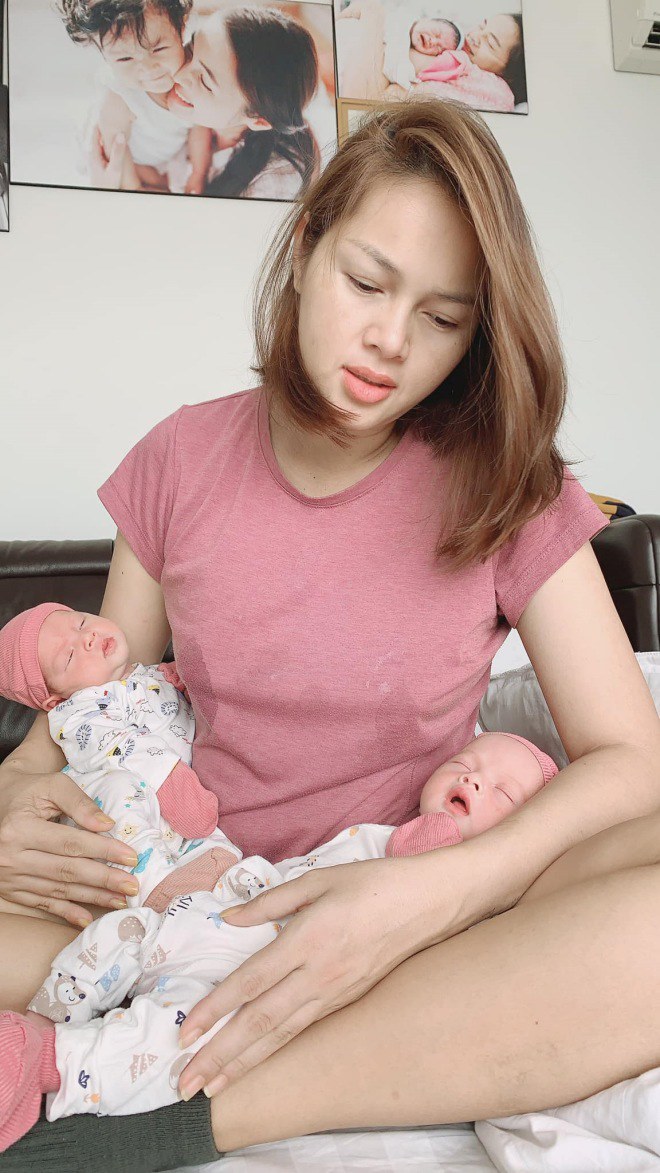 Despite having complications after giving birth, Diem Chau still tries hard to take care of her baby.
Actress Nha Phuong is bleeding
Nha Phuong gave birth to her daughter Destiny nearly 3 years ago, but at that time, she completely kept both pregnancy and labor a secret because she didn't want to make a fuss. It was not until her daughter was 2 years old that Truong Giang's wife gradually revealed about that special period with the desire to exchange and share experiences with other mothers. And it was also at this time that people knew that Nha Phuong had experienced many difficulties during pregnancy and even had a "death of birth" when giving birth.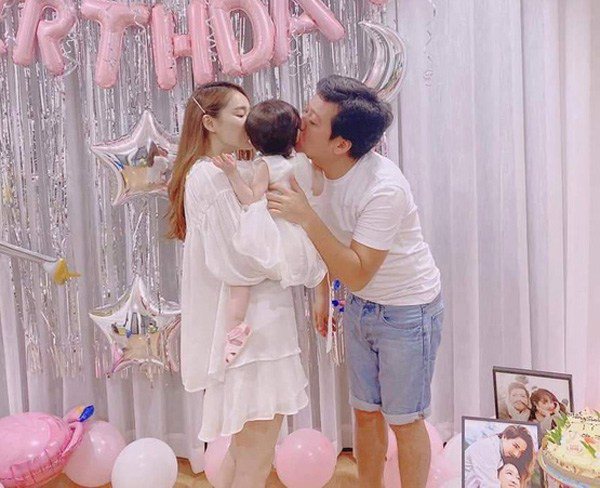 When her daughter was 2 years old, Nha Phuong began to share her pregnancy and birth journey again.
She shared: "The journey from pregnancy to when Ny was born has made Bi experience so many emotions. From a fragile and weak girl, thanks to Ny, Bi became a strong and courageous mother. dull.
Bi had experienced all kinds of pain when giving birth to Ny, from labor pain to engorgement, uterine contractions, and even had to go through a life-death due to bleeding, but what was it when she saw an angel? small next door".
This revelation of Nha Phuong surprised many people. Seeing her return to work quite soon after giving birth, few people expected that in addition to labor pain and blocked milk, Truong Giang's wife also had postpartum hemorrhage – a rather dangerous complication. Fortunately, in the end, both mother and daughter are safe and healthy. It's all just a challenge on the actress's journey through childbirth, bringing baby Destiny to this world. Just like she said, although she was very scared when she was bleeding, all sacrifices were worth it when her daughter was born.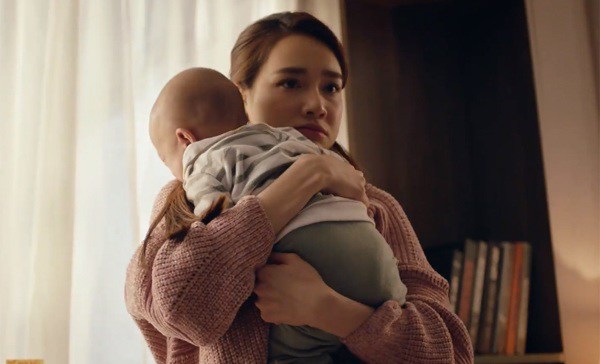 She surprised many people when she revealed that each of the deadliest births was due to postpartum haemorrhage.
After all of her daughters were successfully born, Nha Phuong continued to enter the stage of raising children with many pressures. "It is a time of depression when the child is sick with a cough, has difficulty breathing because of a lot of phlegm, is a time of stress because he is lazy to eat, does not gain weight, and is tired of having to receive too many opinions from relatives and friends about How to take care of children… At that time, Bi was always confused with questions, not knowing what was right and wrong, and unsure if she had made the right choices to become a good mother. she confided.
Fortunately, during that difficult pregnancy and childbirth journey, Nha Phuong always had Truong Giang with her. She said it was her husband's concern and encouragement that helped her become stronger and overcome barriers in the first time as a mother.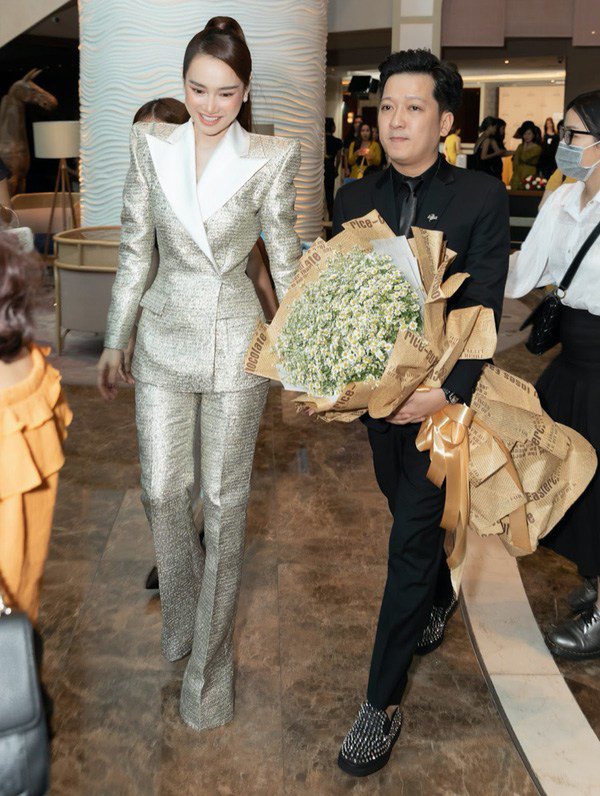 Her husband's care and attention helped Nha Phuong overcome a difficult time as a mother for the first time.
Actress Thu Quynh suffered an arrhythmia on the operating table
Thu Quynh once shared about her difficult labor process in a TV program. The actress said that before giving birth, she had a bad premonition. Entering the operating room, maybe because she was too nervous or reacted to the drug, Thu Quynh suffered an arrhythmia.
"The machines in the room rattled. Doctors and nurses ran in the room, and I heard: 'Mother oxygen, baby oxygen'. At that time, Be had not come out of her mother's womb. I was worried when I went out, what should I do if Be didn't cry? Thu Quynh recounted.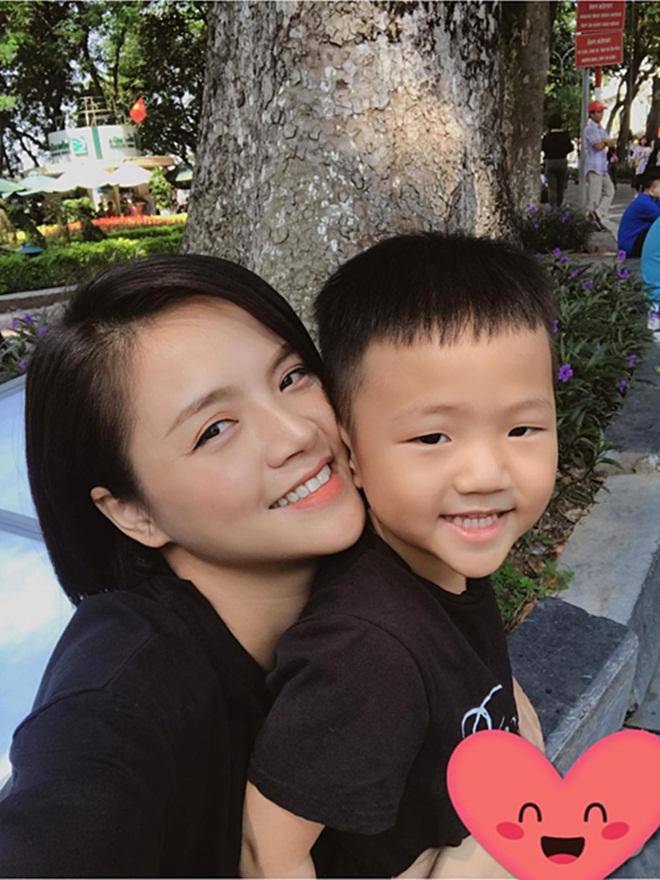 Thu Quynh was very worried when she gave birth to her first son.
When the child burst into tears, the 27-year-old mother was overwhelmed with all emotions. However, happiness was not complete when the doctor announced that mother and daughter Thu Quynh had to be transferred to the hospital urgently because baby Be had asphyxiated.
"My heart tightened. In a room with 6 beds, the babies are all with their mothers. Only I lay idle that day. I have to tell Be's dad to come with him, I just need him to be safe. It was the only time in my life when I felt so hopeless." Thu Quynh choked.
In the end, the baby had to be hospitalized for 25 days, and the mother was both the patient and the family member taking care of the child. Because Chi Nhan's ex-husband was busy opening a new film camera at that time, Thu Quynh had absolutely no husband beside her. Fortunately, thanks to her grandmother taking care of everything, she was able to overcome it.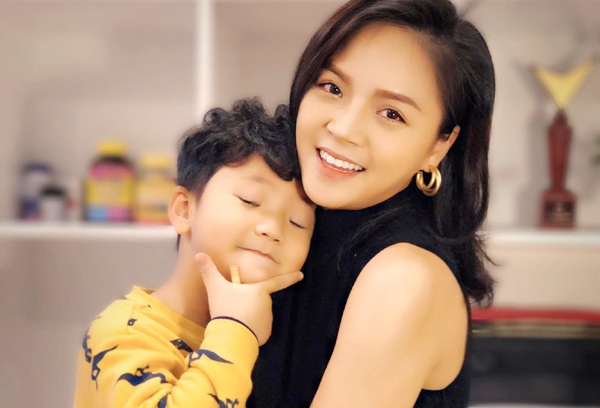 Singer Thai Ngoc Bich broke her preterm membranes and was in danger of giving birth
Singer Thai Ngoc Bich – wife Phan Dinh Tung gave birth to a second son in early 2021. During this "birth", she said that she felt the sentence "the door of birth is the door of death".
Specifically, 3 weeks before the due date, Ngoc Bich discovered that her water had broken and was immediately taken to the hospital. Initially, the doctor could still hear the fetal heart and Ngoc Bich felt the pain through contractions. But 10 minutes later, she had a bad feeling so she asked her husband to call a doctor. The doctor just checked, blurted out: "Oh my God!" and notice "Fetal cardiac arrest, umbilical cord prolapse". From then on, the whole hospital became chaotic.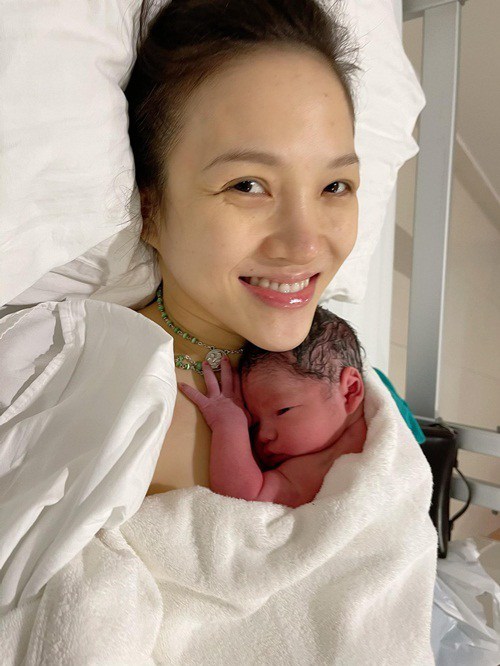 Ngoc Bich was in a dangerous situation when she gave birth to her second child.
Phan Dinh Tung's wife recounted: "The nurse quickly transferred me to the operating room and the hospital played a loudspeaker asking all medical staff to pause non-essential work to focus on supporting my surgery. Wherever my stretcher pushes, people step aside and the elevator is pre-wired to clear the way. I was in pain, in tears, and in my heart I kept saying: "Please God, save my child". I was scared, trying to get rid of the two words "dead" but it still stuck in my mind.
By the time I was sedated, I passed out and when I woke up, red Noah was brought closer to my mother. The doctor recounted that the team went through 30 minutes of intense work. When the baby was brought out and burst into tears, everyone breathed a sigh of relief. I was also happy to tears when I saw my baby. Even through the storm, the moment you hold the baby in your heart, all the pain disappears."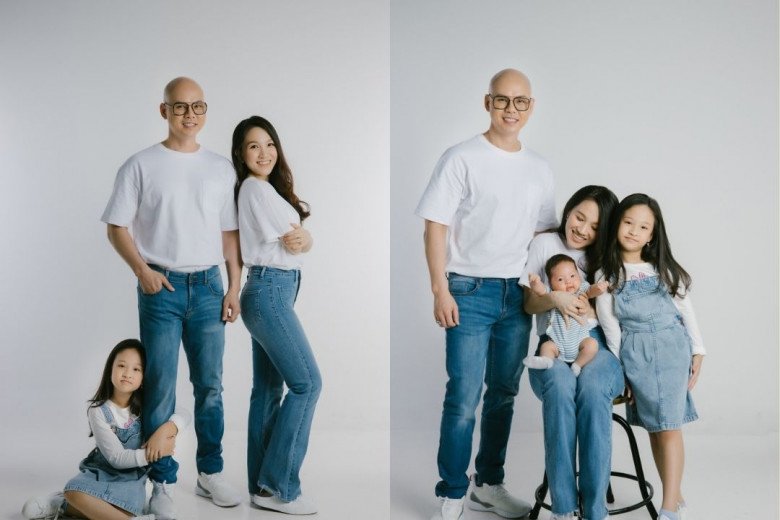 The symptoms in the case of Thai Ngoc Bich were considered by the doctor to be extremely dangerous. If emergency medical care is delayed or not detected early, it can be life-threatening. The doctor emphasized that in any circumstances, if the water breaks, it must be taken to the hospital as soon as possible. Ngoc Bich feels very lucky because Phan Dinh Tung handled it very flexibly and the distance from home to the hospital was not without problems.
You are reading the article
Nha Phuong has a hemorrhage, Thu Quynh has a heart rhythm disorder

at
Blogtuan.info
– Source:
Eva.vn
– Read the original article
here