Thế Giới
North Korea Launches Ballistic Missiles
North Korea fired 8 ballistic missile short range in waters off the country's east coast on June 5, a day after South Korea and the United States concluded their first-ever joint military exercise involving a US aircraft carrier.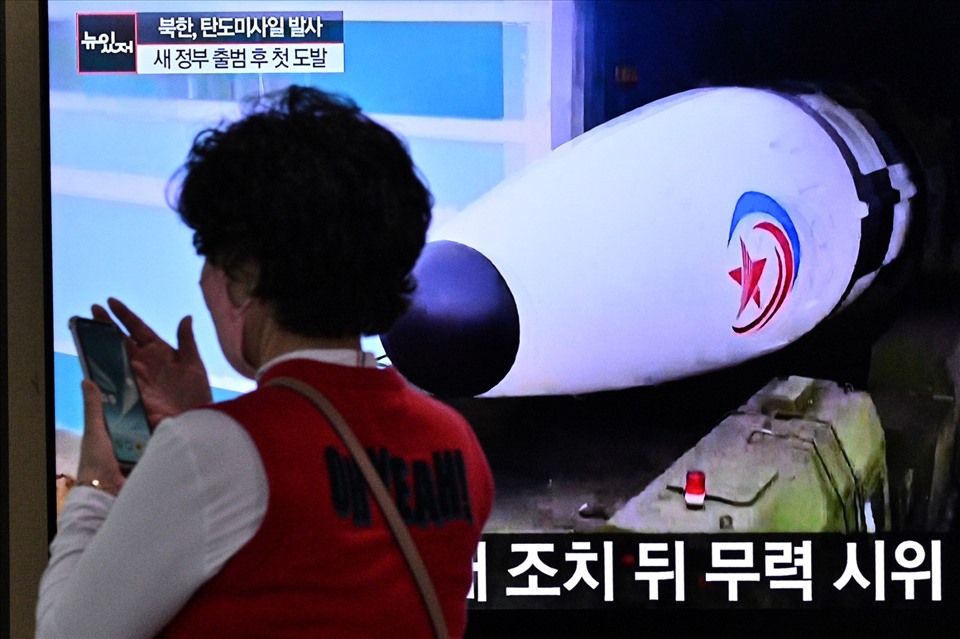 Unprecedented
South Korea's Joint Chiefs of Staff said the missile was fired from the Sunan area of ​​the North Korean capital, Pyongyang. Japan's Kyodo news agency, citing a government source, also confirmed that North Korea had launched multiple rockets and landed fire outside Japan's exclusive economic zone.
Japanese Defense Minister Nobuo Kishi confirmed that North Korea had launched multiple missiles and at least one had an altered trajectory. This shows that North Korean missiles can maneuver to evade missile defense systems.
This appears to be the largest single weapon test ever by North Korea, said Michael Duitsman, an expert at the US-based James Martin Center for Non-Proliferation Studies (CNS). Tien. The large number of missiles also hints at a military maneuver or show of force rather than a test of new technology.
Ankit Panda, a senior fellow at the US-based Carnegie Foundation for International Peace, said the launch of eight rockets was "unprecedented".
The latest 35-minute rocket launch also comes as North Korea is responding to its first major COVID-19 outbreak since the start of the pandemic, with more than 4 million "fever" patients. On June 5, more than 73,000 people in North Korea were identified with fever symptoms, according to North Korean state media.
Notable moment
North Korea's missile launch also followed a visit to Seoul by the US's main official in charge of North Korean affairs – Special Representative Sung Kim. Before leaving South Korea on June 4, Mr. Sung Kim met with his South Korean and Japanese counterparts, Kim Gunn and Takehiro Funakoshi on June 3 to prepare for "anything unexpected" amid signs of North Korea's aggression. preparing for the first nuclear test since 2017.
Special envoy Sung Kim emphasized that during the visit, Washington made it clear to Pyongyang that it was open to diplomacy. He also noted that the US is ready to discuss issues of concern to North Korea, such as sanctions.
Last week, the US called for more UN sanctions on North Korea over its ballistic missile launches, but China and Russia vetoed it. It was the first public split over North Korea in the United Nations Security Council since the start of sanctions against North Korea in 2006, when the country had its first nuclear test.
In recent weeks, North Korea has fired a series of missiles, including its largest intercontinental ballistic missile (ICBM). North Korea's most recent missile test was on May 25. Pyongyang fired three missiles after US President Joe Biden wrapped up his Asia tour.
South Korea's Joint Chiefs of Staff reported that on June 4, ships from South Korea and the United States ended three days of exercises in international waters off the Japanese island of Okinawa. The exercise includes air defense, anti-ship, anti-submarine and maritime interception operations.
The exercise of the US and its allies in Asia involved the USS Ronald Reagan – a 100,000-ton nuclear-powered aircraft carrier. On the US side, in addition to the aircraft carrier USS Ronald Reagan participating in the exercise, there are also guided missile cruisers USS Antietam, destroyer USS Benfold equipped with Aegis missiles and tanker USNS Big Horn. Meanwhile, South Korea sent the 14,500-ton amphibious assault ship Marado, the 7,600-ton destroyer Sejong the Great and the 4,400-ton destroyer Munmu the Great, among others, to participate in the drills.
It is the allies' first joint military exercise since South Korean President Yoon Suk-yeol took office last month and the first bilateral exercise between the two countries to involve an aircraft carrier. flying since November 2017.
South Korean President Yoon Suk-yeol, who took office on May 10, agreed with President Joe Biden on increasing bilateral military exercises to deter North Korea.
You are reading the article
North Korea Launches Ballistic Missiles
at Blogtuan.info – Source: laodong.vn – Read the original article here