Guest in the program Chat with mom with milk episode 133 is female singer Thanh Ngoc. Born in 1983, Thanh Ngoc used to be a member of the famous group Mat Ngoc. In 2004, Thanh Ngoc separated from the group for solo activities and had certain achievements in music with many hits such as Bitter coffee and rain, Two people one turn…
Thanh Ngoc is a popular female singer loved by many generations of 8X and 9X.
In 2011, Thanh Ngoc married her husband who is a doctor. Eight years after the wedding, the singer and her husband welcomed their first son. Not only had to wait a long time with many difficulties, to be able to give birth successfully, Thanh Ngoc also spent 9 months of "suffering" pregnancy. Participating in this program is the rare time the female singer born in 1983 shared the whole journey pregnantgave birth to her tearful child.
3 successful IVF pregnancies, 9 months in a nursing bed
Thanh Ngoc said that she has been married since 2011 but it was not until 2019 that she gave birth to her first child – baby Un. In the first 2 years, she and her husband "plan" to enjoy a married life. But when it comes to planning to have children, there is no "good news". When it came time to go to the doctor, the doctor said that Thanh Ngoc's ovarian reserve was too low, it was difficult to conceive.
After learning that she had fertility problems, Thanh Ngoc first sought out Northern and Oriental medicine to improve the situation. She persistently takes medicine every day, even when traveling or staying at the hotel, she also brings a pot of medicine to drink. In return for Thanh Ngoc's efforts, she actually had a successful natural pregnancy. Unfortunately, that joy was "short, but it was short-lived", only 2 days after discovering that she was pregnant, Thanh Ngoc had bleeding, went to the doctor to receive the conclusion that she had miscarried.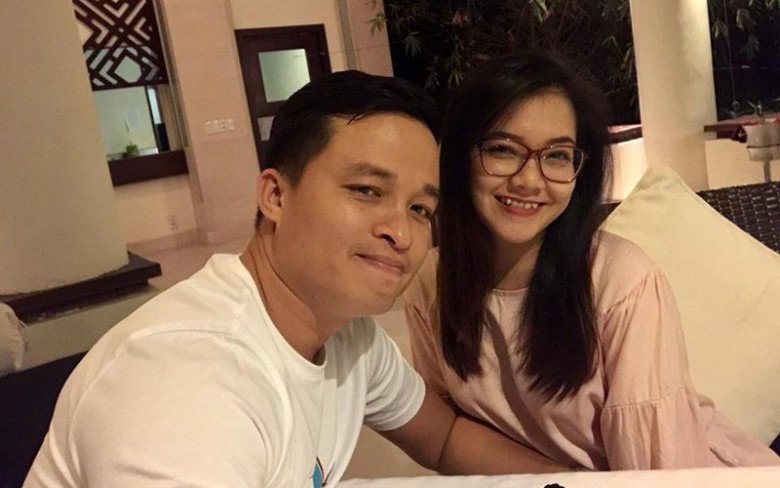 Thanh Ngoc and his wife had difficulties and had to be treated for 8 years to get pregnant successfully.
After using Eastern medicine with no results, Thanh Ngoc and her husband switched to Western medicine and began the arduous journey of "finding children". The singer said: "In total, I stimulated 7 eggs, 3 times in vitro fertilization. There was a time when I was pregnant, but then I had no luck with the baby. Baby Un is the last embryo. When testing the stick to 2 lines, my wife and I were both happy and worried. Then, throughout my pregnancy, there was not a time when I wasn't worried."
After a successful pregnancy, the doctor warned Thanh Ngoc that her body was weak, the cervix was weak, the placenta showed signs of dissection, so she needed to limit travel to keep the pregnancy. That warning plus anxiety after previous bad luck made Thanh Ngoc absolutely careful during 9 months of pregnancy. She said that she mostly just lies in bed, except when going to the toilet. Despite morning sickness and frequent vomiting, she could only lean over in bed and vomit. Hair washing and cleaning are all done by her husband. Every time Thanh Ngoc goes to the antenatal clinic, her husband will carry her completely from the time she gets out of the car to the time she enters the clinic and then leaves.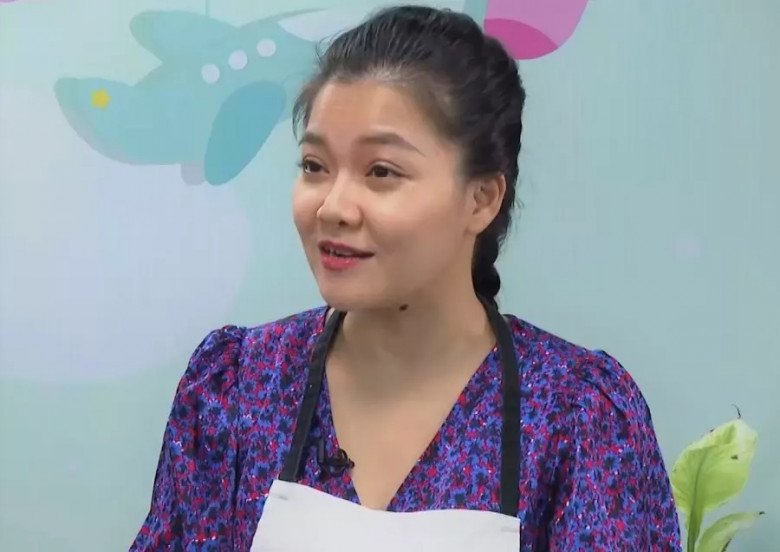 When she was pregnant with Un, Thanh Ngoc almost stayed in one place, until her legs atrophied.
Lying in one place for 9 months made Thanh Ngoc's legs atrophied and weak. Not only that, but the spirit of the female singer also dropped completely because she was a vivacious and dynamic person, now she has to be motionless on the spot. What helps Thanh Ngoc support herself throughout that journey is the light of hope as she grows up day by day, along with the care and encouragement from her husband as well as friends and relatives.
Premature birth at 31 weeks, the baby was born in an incubator for more than 1 month
As Thanh Ngoc shared, her journey to becoming a mother has not been an easy step, from conception, pregnancy to giving birth. The day Un was born, after a happy moment, the singer and her husband continued to fight with new difficulties.
"I have too many problems, so I have to go to the doctor once a week. My cervix is ​​weak. At 23 weeks pregnant, I had to stay in the hospital for a month and a half to put the cervical support ring and keep the baby. .
By week 31, my cervix has fully dilated although a few days before, I went to the doctor, I still have not seen any change. I had a hard time giving birth because the baby was so small. The baby was born with only 1.6 kg. The doctor put the baby on my body. Before I had time to hug and caress her, she was taken to another children's hospital for health care." Thanh Ngoc recalls the date of birth.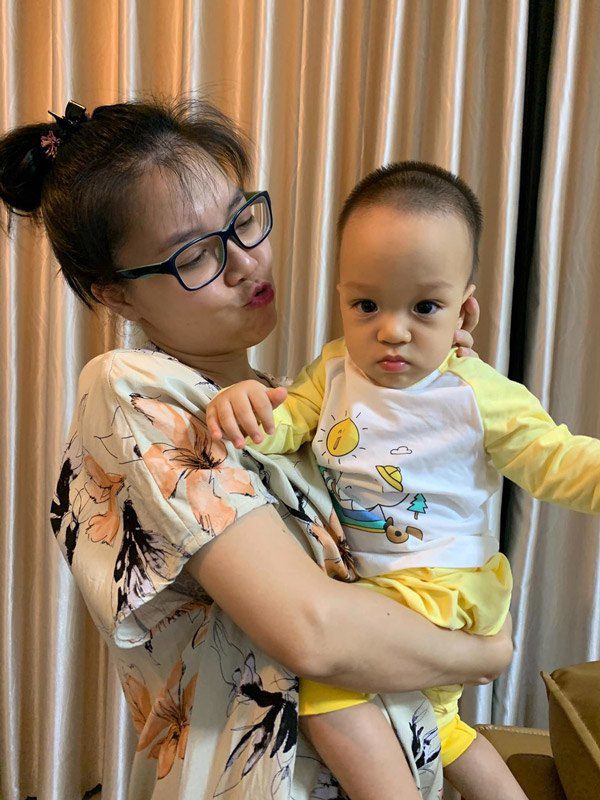 Thanh Ngoc's son was born prematurely, so at first, she and her husband also had a hard time.
Because Thanh Ngoc and her child have to stay in two different hospitals, Thanh Ngoc's husband is very hard-working, having to run back and forth to take care of his wife and give milk to the child. After 1 week, the baby was transferred to another hospital to care for another 5 weeks. During that time, Thanh Ngoc and his wife went to the hospital to incubate their children 3 times a week.
In particular, because her baby's mouth is too small, the singer has to wait for her baby to be 3 months old before she can breastfeed normally. Being a mother for the first time encountered so many difficulties, Thanh Ngoc had times when she felt like she wanted to fall, only looking at her children to continue trying. When baby Un was discharged home, Thanh Ngoc and his wife burst into happiness. Both try to learn from experience, find the best way to take care of their children.
However, after giving birth, the singer still faced psychological problems. She revealed: "The doctor diagnosed me with an anxiety disorder. Lately I've been feeling more worried, but my mind is not very stable right now. I tend to fantasize a lot, I'm too perfectionist, so I embrace everything. , ended up getting stressed. I don't trust anyone to leave my child in their care."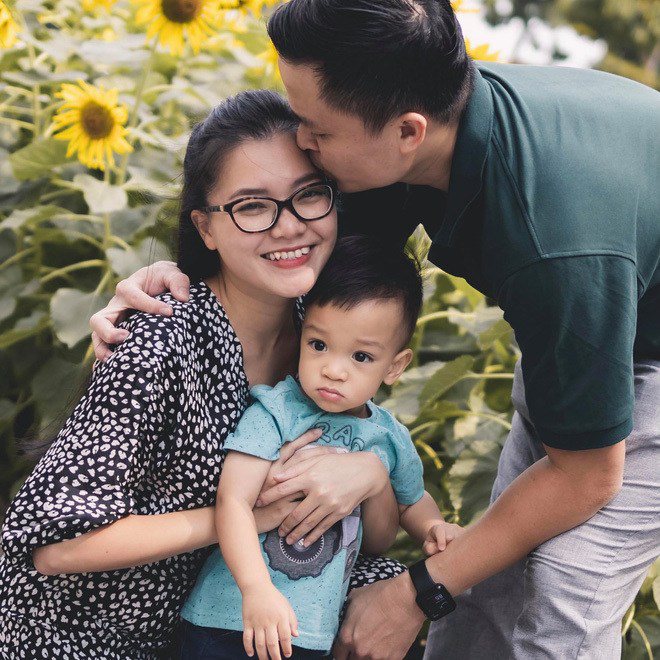 After a arduous and difficult journey, Thanh Ngoc and her husband finally enjoyed the happiness of being parents.
However, the doctors did not give Thanh Ngoc a treatment plan. This surprised the two female MCs. Psychologist Dr. To Nhi A wholeheartedly proposes solutions in the hope that singer Thanh Ngoc can open up more and rebalance her mother's life to fully enjoy family happiness.
At the end of the program, Thanh Ngoc especially thanked her family and husband. She also did not forget to send wishes to infertile mothers who are looking for children to come soon to pick sweet fruits.
You are reading the article
Thanh Ngoc struggled for 8 years to have a baby, pregnant and lying down until her legs atrophied, where she has to carry her husband

at
Blogtuan.info
– Source:
Eva.vn
– Read the original article
here