Tech
The creator of the "revolution" for Google
Born on 12/7/1972, the guy from Tamil Nadu, immediately became famous worldwide, but it was a worthy result for his persistent efforts, before conquering the "peak".
Not born at the "finish line"
Unlike many flashy tech CEOs, Sundar Pichai was born into a basic family in Madurai, Tamil Nadu and was raised in Ashok Nagar, Chennai. Sundar has a mother, Lakshmi Pichai, a stenographer, and a father, Ragunatha Pichai, an electrical engineer at General Electric. Through stories about technology and difficulties at the company, Mr. Ragunatha has contributed to ignite the passion for technology for young Sundar.
Sundar's potential was discovered quite early, right at the age of 12, when the Pichai family bought their first desk phone. The boy with a great memory, was able to memorize all the numbers he dialed. Of course, he didn't know then how useful this ability would be in the future. No one would have thought that a boy from a small village would make the world mention his name in the future.
Sundar graduated in Mechanical Engineering from IIT Kharagpur, before moving to the US and completing a Master's degree in materials science and engineering at Stanford University, and then an MBA at the Wharton School, University of Pennsylvania, where he received both two prestigious awards for the best students are Siebel Scholar and Palmer Scholar.
Tireless efforts
With an impressive academic record and natural abilities, it was not difficult for Sundar to find a position at McKinsey, in charge of product and engineering management. But it all started, when Google contacted to interview the Indian-born boy in 2004…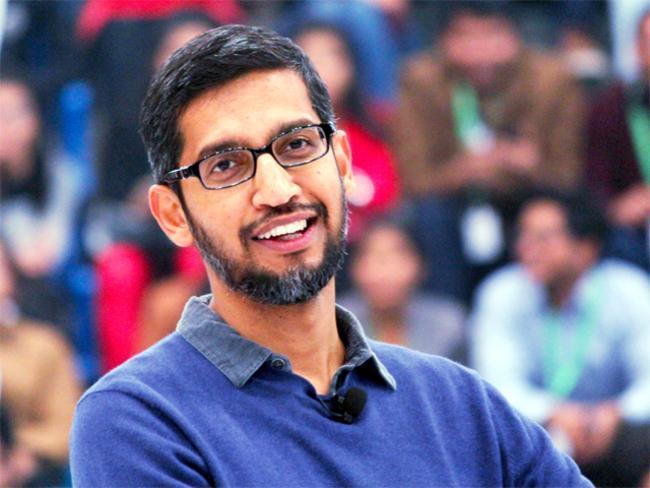 Google CEO Sundar Pichai. (Photo: TimesOfIndia)
At Google, Sundar quickly proved his ability, becoming the leader of the tech giant's innovation efforts including projects like Google Chrome, Chrome OS, and Google Drive. In 2013, he became the leader of the Android OS team, the operating system that powers more than a quarter of smartphones in the US and more than 80% in the world. In addition, Pichai was also a contributor to Google's acquisition of start-up Nest for $3.2 billion.
With loyalty, dedication and a shared vision with co-founders Larry Page and Sergey Brin, when you want Google to become a company that applies complex technology to solve everyday problems many people face, no was surprised when Pichai received the absolute support of the "superior", including the incumbent CEO at that time, Eric Schmidt, to become an advisory member of the Board of Directors.
Sundar's trust and influence was so great that he was gradually assigned by Page to manage most of the company's core areas such as search, maps, Google+, commerce, advertising, infrastructure and environment. workplace… as an indicator, the "chosen person" is ready for the new ladder.
Leaders – Leaders
"Hard work, dedication, don't give up", is Pichai's motto to help him overcome challenges to become a "rider" on a giant. He believes that everyone can achieve success if they keep a positive, goal-focused attitude.
Pichai has a universal vision, "We want to create a world of information accessible to everyone". To him, coming together is very important to tackle challenges and should focus not only on oneself, but on the success of others as well.
With a modest and poise temperament, we rarely see the Google CEO involved in speech scandals or political issues. Even so, he shows that he is a tough guy who does not compromise with behaviors that affect the company. In August 2017, Pichai fired an employee when he wrote a 10-page letter criticizing Google's diversity policy for ignoring biological differences between male and female employees.
During the period 2016-2018, Pichai fired 48 employees, of which 13 were senior managers or held important positions in the company's apparatus for being involved in sexual harassment in the workplace. At the same time, updating company policy, requiring all senior leaders to commit to building a safe working environment, encouraging employees to use internal tools to report "anonymously" to with inappropriate behaviour.
Balanced life
Despite being the CEO of the world's leading technology company, Pichai still maintains a "healthy" life, balancing work and family life with other personal interests.
Sundar Pichai is happy with a small family including his wife and 2 children, 1 boy and 1 girl. Football and cricket are his two favorite sports. Pichai is also an avid fan of FC Barcelona and idolizes Sachin Tendulkar, a former Indian cricketer. During his school days, he was also a very good cricketer and regularly participated in high school tournaments in the area.
Having achieved much success and becoming a dollar billionaire, Pichai has always kept his "foot on the ground", friendly and always willing to help people. He still regularly interacts with students at IIT-Kharagpur via Skype, or visits and talks face-to-face with students at the schools where he lives. As someone who cares about the future and social values, Pichai announced a $1 billion donation to an initiative to foster next-generation "seeds" and launch a non-profit project, with Google employees contributing to the future. donate 1 million hours of volunteering.
You are reading the article
The creator of the "revolution" for Google

at
Blogtuan.info
– Source:
genk.vn
– Read the original article
here