Thị trường
There is still a lot of room to "cool down" the price of gasoline
In the face of the "hot rise" of gasoline prices over the past time, which directly threatens life and production and business activities, experts say that there is still plenty of room to "cool down" prices…
Accordingly, after 14 times of adjusting gasoline prices since the beginning of the year with 6 consecutive price increases in the past 2 months, the price of E5RON92 gasoline is currently at 30,235 VND/liter; The price of RON95 gasoline increased to a record of 31,578 VND/liter. Along with gasoline prices, prices of common oils also "climbed" gradually from 20,901 VND/kg for fuel oil to 26,394 VND/liter for diesel.
Facing this "hot rise", the inter-Ministry of Industry, Trade and Finance explained that recently, the world petroleum market has continuously fluctuated in price, influenced by the European countries' agreement to increase oil prices. embargo on petroleum products from Russia. Meanwhile, US crude oil inventories remained low; China's increased demand for petroleum… are factors that have had a significant impact on domestic gasoline prices.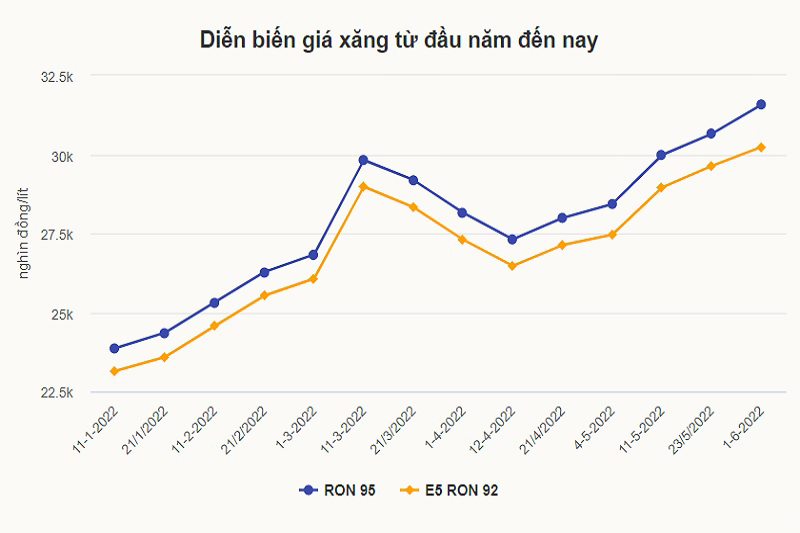 Gasoline prices have continued to escalate in recent times
In fact, the fact that the price of gasoline has exceeded the historical peak, not only has a great impact on stimulating domestic consumption demand when goods, services, transportation costs increase, etc., but also affects the actual inflation rate. .
And with the risk of threatening the target of controlling inflation below 4%, experts said that the Government should be more proactive to consider and propose to reduce some other taxes and fees. The State may have to accept to reduce revenue sources and regulate State revenues to the economy, but in return, it will help people and businesses have more sources to cope with new difficulties.
Previously, information to the press, Dr. Nguyen Dinh Anh – economic expert also said that the management of gasoline prices, the most important is input costs and the issue of inflation control. Currently, there is still room to control gasoline prices, but there is a trade-off between reducing budget revenue and controlling the increase in gasoline prices.
According to this expert, currently, each liter of gasoline reaching consumers has to "carry" 38-40% of taxes and fees and is made up of the CIF price of imported finished petroleum products, special consumption tax (10%) with RON95 gasoline, E5 RON92 biofuel is 8%), import tax 10%, value added tax 10%, environmental protection tax 1,900 – 2,000 VND. In addition, the standard profit, standard cost, transportation cost… accounted for 5-8%.
Mr. Anh said that budget revenue accounts for 30-50% of the retail price of petrol per liter of gasoline, which is a huge space for the authorities to control petrol prices. For example, a liter of gasoline is 30,000 VND, the operating space is about 10,000 – 15,000 VND, not only 2,000 VND, 50% reduction of environmental protection tax on gasoline from the beginning of April to the end of this year.
Only the reduction of taxes and fees needs to be considered, the trade-off between one side is to collect the state budget and the other is to reduce the price of petrol and oil to serve the goals of the economic development and recovery program.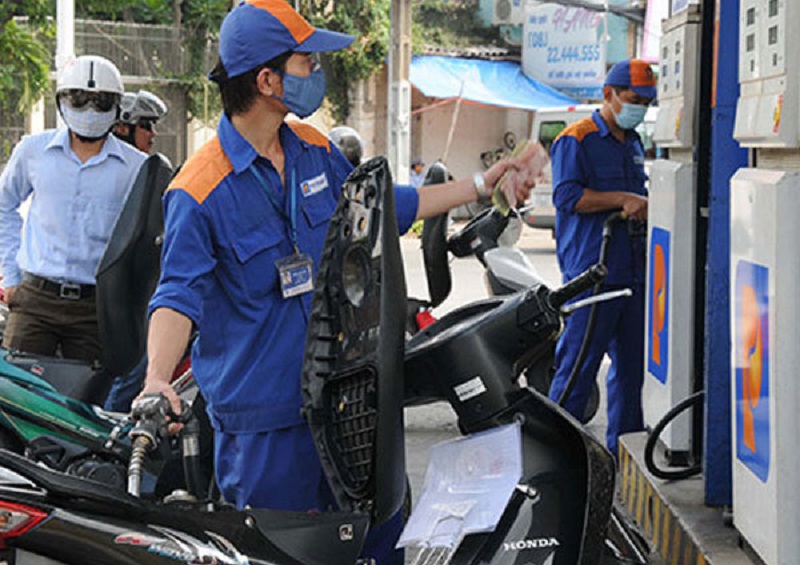 Experts say that the Government needs to be more proactive to consider and propose to reduce some other taxes and fees – Illustration
Sharing the same view, Assoc.Prof.Dr Dinh Trong Thinh – Senior Lecturer at the Academy of Finance also said that there is still room to reduce petrol prices. However, other tools must be calculated to harmonize, because of the sharp increase in world gasoline prices.
According to Mr. Thinh, taxes and fees account for a very high proportion in the price structure of petroleum products. In which, taxes and fees account for 42-43% of the cost structure of gasoline, and this rate for oil products is 24-30%. Therefore, in addition to the effective and flexible use of the price stabilization fund, the environmental protection tax has been reduced by 50%, it is necessary to consider reducing taxes and fees such as import-export taxes and excise taxes.
"The problem of reducing gasoline prices in the short term is too difficult, but in the long run, it is necessary to adjust and reduce the special consumption tax for petroleum products. The state will have to study very carefully and come up with appropriate solutions, both to restrain the increase in gasoline prices and to ensure a source of revenue for the state budget, "said Thinh.
Besides the stated views, in fact, many experts also said that petroleum accounts for about 5.8% of production value and 8.2% of the economy's intermediate costs; Particularly for the transportation industry, petroleum accounts for 56.1% of production value and accounts for about 71% of total intermediary costs. Therefore, together with the reduction of 50% of the environmental protection tax, it is necessary to recalculate the excise tax on gasoline, in the direction of reducing excise tax or abolishing this tax on gasoline.
Regarding the space to reduce gasoline prices, Delegate Hoang Van Cuong – Delegation of Ho Chi Minh City. Hanoi, Member of the Finance and Budget Committee of the National Assembly, Vice Rector of the National Economics University, also said that it is clear that if imported raw materials are high, the cost will increase, so we only have one The way is to cut back on revenue such as taxes and fees. When gasoline prices continue to increase, there is room for us to continue to reduce taxes. Although, right now, the reduction of taxes and the policies of exemption, delay, and reduction of contributions will affect the budget revenue, but we accept the impact on the budget revenue.
According to Mr. Cuong, there are two points to pay attention to, special consumption tax is a tax to regulate behavior so that people choose whether to continue to consume a lot or choose something else. In the context where we have the ability to choose, the excise tax would work well. For example, between the consumption of biofuel and other gasoline, the excise tax is different, so we have to take into account that the excise tax can be adjusted because gasoline is not a luxury item anymore. However, it is necessary to calculate how to still regulate consumer behavior to choose from.
"Environmental protection tax is generally calculated on petrol and oil, which may be a factor for us to adjust so that each reduction in input factors will reduce the selling price," emphasized Mr. Cuong.
According to DDDN
You are reading the article
There is still a lot of room to "cool down" the price of gasoline

at
Blogtuan.info
– Source:
infonet.vietnamnet.vn
– Read the original article
here