Cư dân mạng
World
4 'horror' specialties that only precious guests can eat in the highlands of Nghe An
1. Spring tadpoles
February (lunar calendar) is the time when tadpoles proliferate. Each one is as big as a round fat finger. To catch tadpoles, people have to go to the stream in the evening and turn over each stone to shovel.
Tadpoles brought back are cleaned of intestines with a thin cork stick. The tadpoles are mixed with lemongrass, chili, mac Khen (forest pepper), salted fish sauce and pounded broken rice. When the stages are finished, all are put on the cork tube to be sealed and put on the charcoal stove to make lam.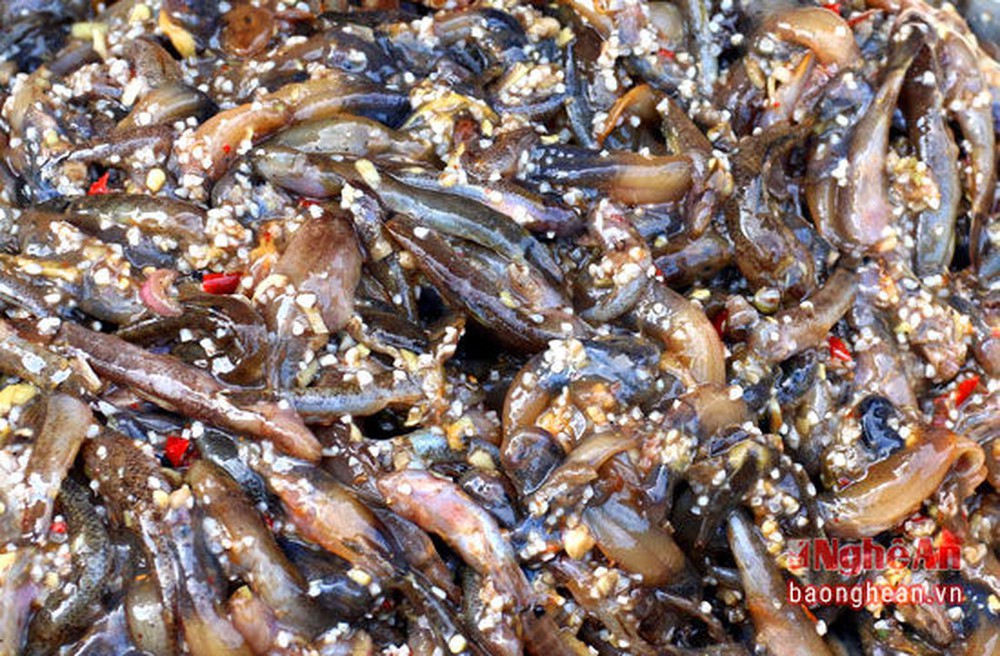 Tadpoles are cleaned and sophisticatedly seasoned to make lam. Photo: Dao Tho.
Ripe tadpoles have a very pleasant aroma. The taste of lemongrass, mac Khen mixed in the aroma of sticky rice, the smell of charcoal of the pink fire makes people want to swoop right into the tray.
Because tadpoles reproduce and multiply in a certain stage, hunting for sale is also very difficult. The current selling price in highland markets is 150,000 VND/kg but must be booked in advance.
2. Forest mouse
February (lunar calendar) is the time to meet the seeds. Rats only eat forest fruits, so they are very delicious.
This is also the time when wild rats "get the price", sometimes up to 100,000 VND / head. Unlike field mice, forest mice are quite large, with children reaching a weight of 300 – 500 grams. Because they eat leaves, forest fruits, upland maize, etc., they are considered as clean food by local people.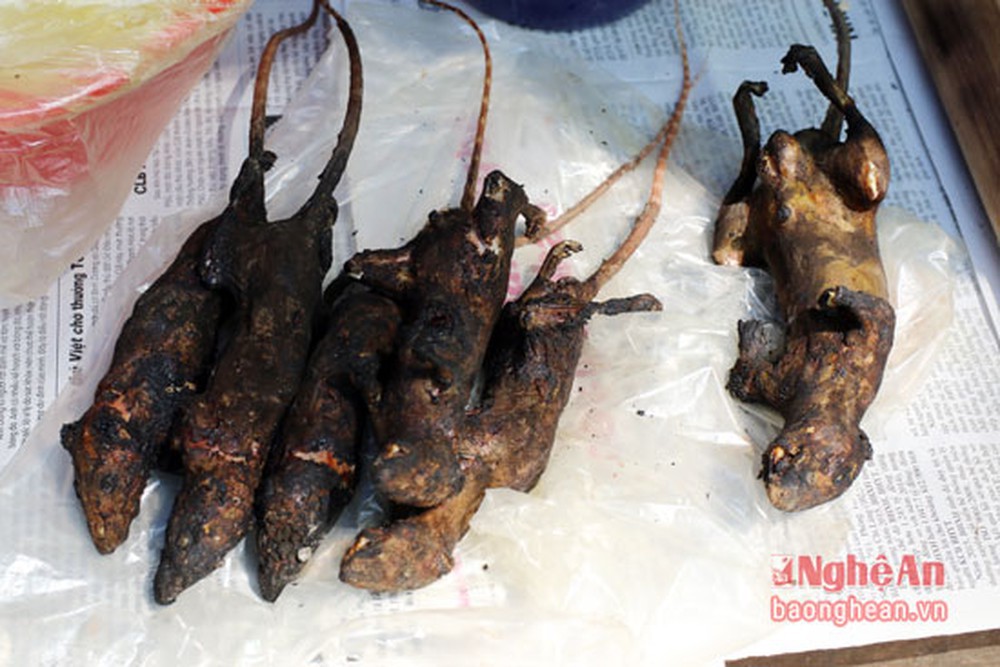 Wild mouse. Photo: Dao Tho.
Wild rats hunted, people used straw or dried thatch to turn yellow and then cut open the abdomen to remove all the organs, cut off the head, tail, and legs. Then wash it, pat it dry and put it on the stove to dry.
In the kitchens of the Kho Mu, Thai or H'mong people in Ky Son, there are a few wild rats that are "sprung up" to the room when a guest comes to play. The concept of the highlanders is that only noble guests can bring wild rat meat out for entertainment.
Wild rat can do many dishes such as stir-fried with lemongrass and chili, grilled, cooked … but the delicious dish favored by the Kho Mu and Thai people is still nam Nhoc. This is a rat meat soup cooked with eggplant, leaves of wild vegetables, highland spices, cooked until smooth.
3. Water
Titus living in the stream has a rather scary shape. But if you have tasted this dish, you will feel very interesting. In the highlands of Nghe An, people call them "need me".
The same family as centipedes but smaller, if bitten by them, there will be a temporary numbing pain.
This season, tilapia is being sold for 150,000 VND/kg but it is also very rare. The processing is very simple, just wash and dry roast with sour bamboo shoots. Tit water has a crispy, fleshy and very fatty taste.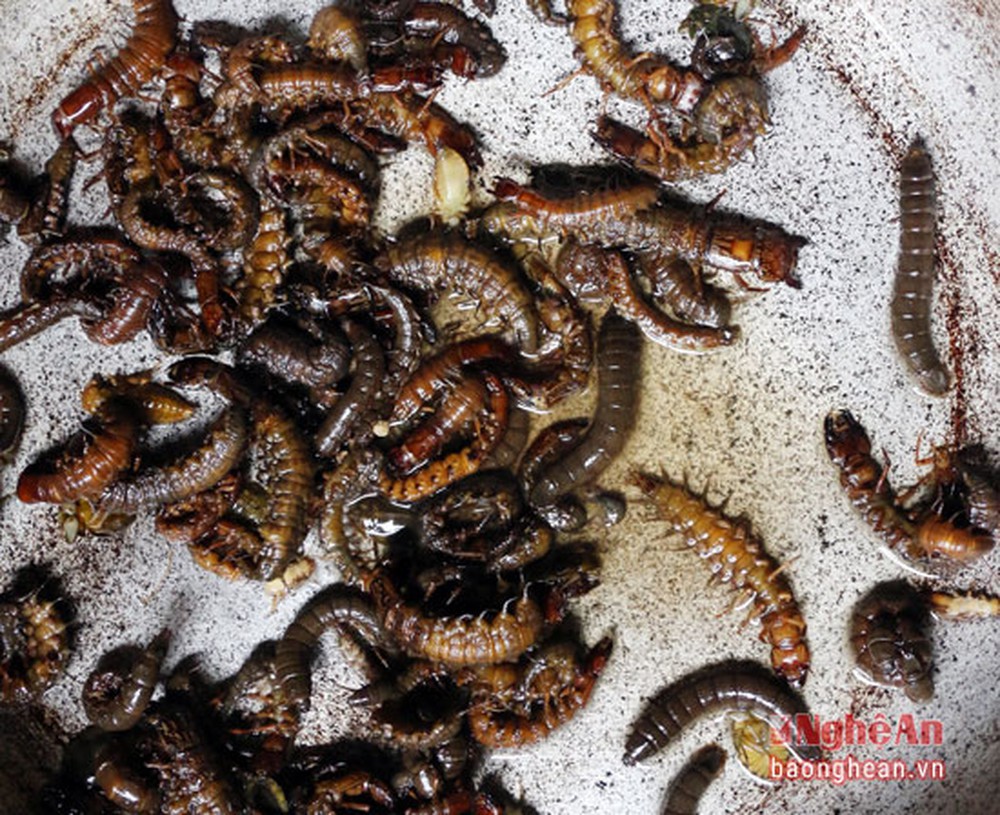 Water splash. Photo: Dao Tho.
4. Cicadas
Cicadas usually appear at the beginning of March (lunar calendar). The time to hunt cicadas usually takes place at night, because this is the easiest time to catch them when the cicadas lie dormant in the lonely forests of Tuong Duong.
The hunter only needs to hold a large stone and hit the trees with lots of ticks to make the ticks fall. The night was dark, so hundreds of cicadas looked for a place with light to rush in. The bright flashlights are now fully effective.
Ticks are processed by roasting or chopping to make spring rolls. After processing, cicadas have a fragrant aroma, when eaten, they feel greasy and crispy.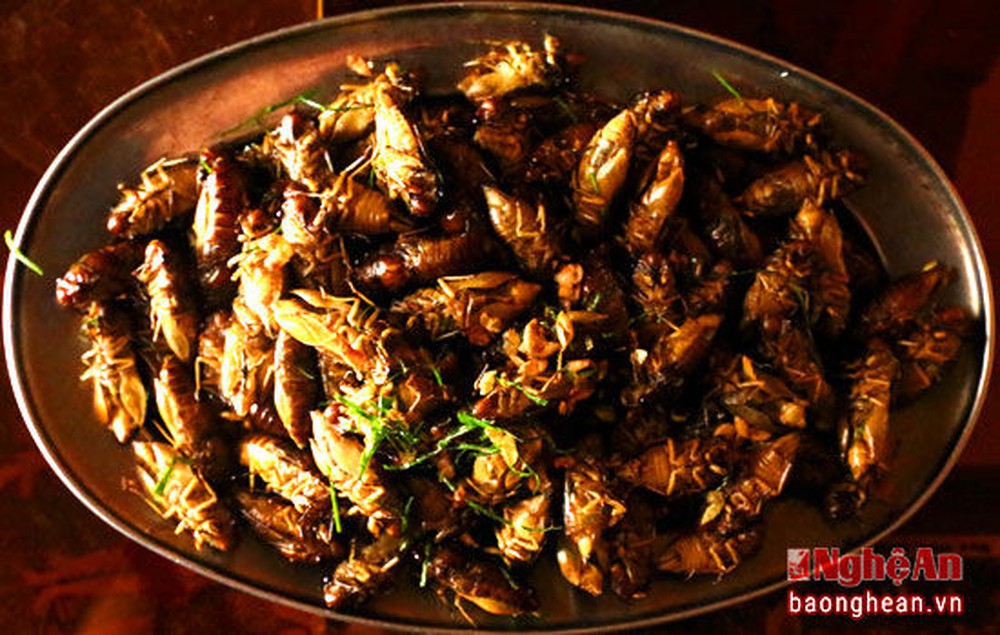 Cicadas are processed into many dishes, of which the most popular is stir-fry. Photo: Dao Tho.
At the beginning of the season, new greasy molting ticks are the most popular. This type is both delicious, nutritious and clean, so the price is sometimes as high as 150,000 VND/kg.
You are reading the article
4 'horror' specialties that only precious guests can eat in the highlands of Nghe An

at
Blogtuan.info
– Source:
Soha.vn
– Read the original article
here