Business
Build billions of dollars in just 1 year thanks to the field that is like a "gold mine" of the new era
Jay Walker has founded many successful startups, serving millions of customers in a variety of industries to date. At the same time, he also has hundreds of unique patents to his name.
In particular, he is also considered as the "fastest earner in the world" when he jumped to the billionaire rankings within just 1 year. At the beginning of 2000, his net worth reached $ 1.8 billion thanks to the success of Priceline.com – a website specializing in providing information on discounts.
After that, the dot-com bubble caused the company's shares to plummet, causing his fortune to "evaporate" and be pushed off the billionaire rankings. However, the name Jay Walker left a deep impression in the American business world at that time.
Currently, he is president of Walker Digital, a private research and development laboratory focused on using digital networks to create new business systems. Walker has also been the manager of TEDMED since 2011 and Synapse Group, Inc.

Jay Walker has been a TEDMED manager since 2011.
Walker Digital has been behind the creation of many solutions to business challenges. The company is mainly dedicated to the creation of innovative applications that work with large-scale networks such as the internet and mobile phones.
According to Moneyinc, this is the secret to helping him earn billions of dollars in just a short time.
1) Start a business while still young
Born on November 5, 1955 in Yonkers, New York, Walker always displayed his entrepreneurial spirit even at a young age. He "started" for the first time by selling jelly, seeds and candles on his doorstep from a young age. After that, he started cycling to deliver newspapers in all kinds of weather for a distance of 4 miles (about 6.4 km).
However, his previous dream career was just becoming an administrative assistant, working for a wealthy individual. That's why he majored in Industrial Relations at Cornell University to acquire skills that attract talented people. He also learned computer programming, directional control, how to fly single-engine aircraft, and the rudimentary provisions of contract and commercial law.
2) Perceive the impact of information
While still in college, Walker understood the power of information. He briefly dropped out of school to issue a weekly newspaper in Ithaca without collecting any money. At times, Walker's newspaper could print up to 25,000 copies.
However, Walker's activities made his competitors "uncomfortable" and they tried to force him out of business. Only then did Walker go back to school.
3) Quickly join the Billionaires Club by finding the right "gold mine"
As one of the leading lights of the dot-com boom, Jay was the one who took the best opportunity to step into the Internet – the "gold mine" of the new era.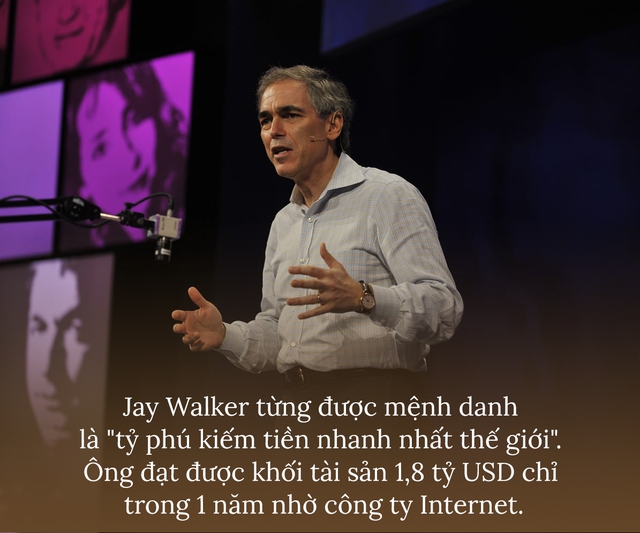 The Internet has brought unique marketing methods that commercial companies want to spread to buyers. On the other hand, consumers will take advantage of the internet to determine how much they are willing to pay for particular products. Their offer will be accepted or rejected depending on the business and each product.
Example: An app that allows travelers to recommend cheap airline tickets. If the airline has a spare seat, maybe they will accept this.
In 1999, Priceline.com started selling cheap airline tickets like that and later expanded into selling groceries and gasoline. Thanks to that, after only 1 year, he has earned $ 1.8 billion net worth (on paper). After that, he sold all his shares to Hong Kong (Chinese) investors.
4) He also makes money from "collection" of International Patents
In 1994, his most famous business venture was launched into the public eye as Walker Digitals. They have created many applications that provide business solutions, solving countless problems for businesses. It is for that reason that he is called the "Edison of the New Age".
Instead of creating products from scratch, they buy business ideas and software patents from companies that auction properties. Walker wants to "collect" as much as possible to power his startups. By the late 1990s, he had about 240 patents pending.
This business model arose by accident, when Walker came across an article about banking systems that used public-key cryptography to securely transfer large sums of money. The support algorithm was developed by a company belonging to the three mathematicians who invented it. This is when Walker realized that patent law not only protects products but also their concepts, ideas, and applications.
Walker Digitals also contributes to game technology with Perfect Pay Baccarat, an application that increases security and accuracy, while minimizing variance in the game.
According to a 2016 PBS Newshour filing, "Walker is listed on more than 500 issued and pending patents in the United States and internationally. But enforcement of that intellectual property right has led some to attribute it to calling him a 'patent fraudster'."
One of the most popular "intellectual property rights enforcement" moves Walker has ever taken was to sue Facebook for patent infringement in 2010. Walker Digitals Company alleges that Facebook has appropriated a patent An invention that helps computer users establish anonymous communications.
In addition, Walker is also known as the patron of TED, a mass media organization that publishes content from person-to-person conferences, allowing free viewing online, with the slogan "ideas worth spreading" " (rough translation: Ideas have value when they are spread).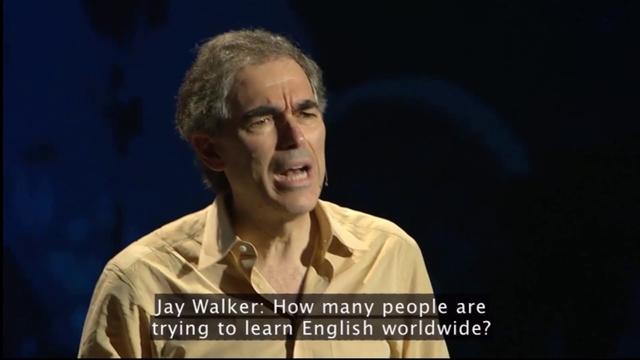 Jay Walker is a key contributor to TED.
He is a frequent speaker and contributor to conferences at TED. His speeches often revolved around a number of topics such as the human imagination and "English mania".
https://cafef.vn/ty-phu-kiem-tien-nhanh-nhat-the-gioi-gay-dung-ca-ty-usd-chi-trong-1-nam-nho-linh-vuc-duoc- vi-nh-mo-vang-cua-ky-nguyen-moi-2022060700321923.chn
You are reading the article
Build billions of dollars in just 1 year thanks to the field that is like a "gold mine" of the new era

at
Blogtuan.info
– Source:
cafebiz.vn
– Read the original article
here