Tech
Last night, Apple officially declared war on an entire industry
Apple's Worldwide Developers Conference (WWDC) kicked off last night. Like previous years, this is the event that allows the world's most valuable company to unveil some of its new hardware products, and discuss and share with developers around the globe how to use the software. software to build Apple's hardware ecosystem. Or more simply, is how Apple wants to "change the world with software".
Last year, the company used cross-functional updates and showed how to use technical means to allow people in epidemic areas to stay connected and collaborate more closely.
And this year, Apple's ambition is clearly not simply serving remote office work. In addition to introducing a new iOS update, along with the release of its self-developed M2 chip, as well as the new 13-inch MacBook Air and MacBook Pro equipped with the M2 chip, Apple is also talking about CarPlay.
Short, simple, and only lasts for 3 minutes. But this is Apple's declaration of war on the entire auto industry.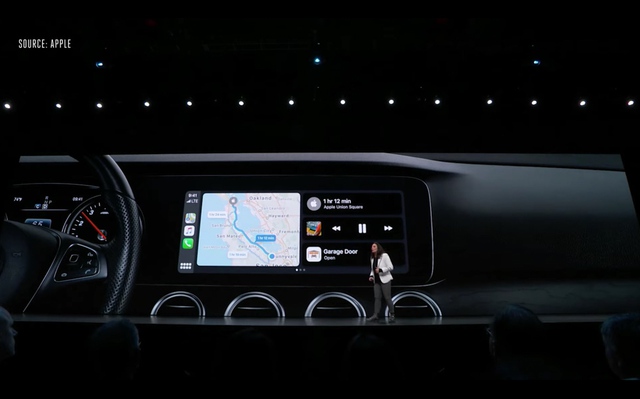 There is an implicit convention when Apple holds a conference. That is, once the market share of a certain business is shown, it essentially represents the core of Apple's business.
At WWDC last night, Apple's CarPlay system in cars, which was rarely seen in previous years, was suddenly revealed and shown off by Apple.
Apple says 98% of cars in the US can use CarPlay, and 79% of consumers in the US say they will only buy cars that support CarPlay.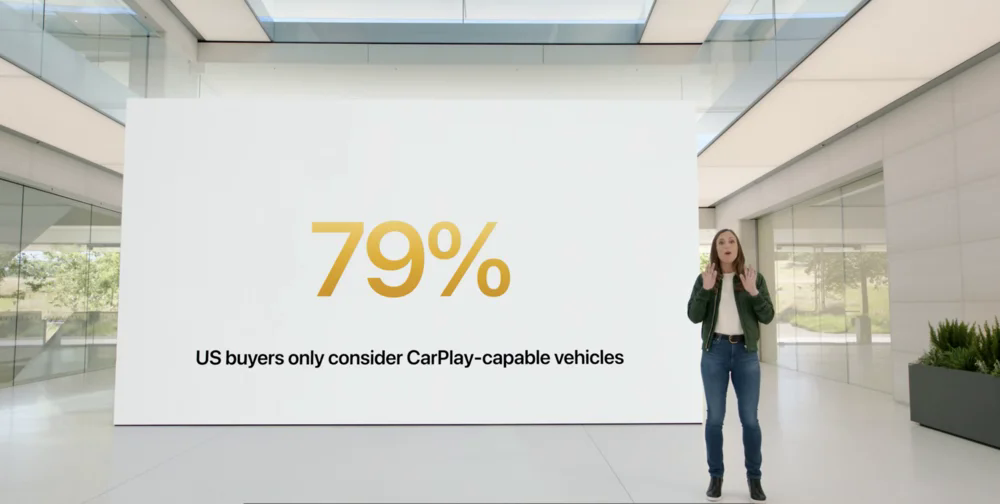 This is indeed quite a formidable market share.
Previously, CarPlay could only perform navigation and entertainment functions, and users could not control any of the vehicle's functions in CarPlay. Basically, CarPlay's display ratio and interaction method are relatively rigid.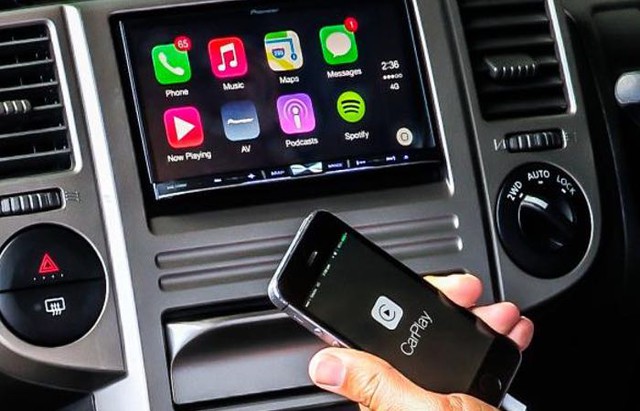 Therefore, as smart cars gradually become popular, many aspiring manufacturers start to build their own smart car systems.
In recent years, there have been rumors about Apple building cars. In fact, the majority of people's expectations for Apple's car manufacturing are to expect Apple to be able to deliver the powerful product performance and design aesthetics that have been the company's forte in products. digital products, into a whole new realm.
But apparently, Apple has no intention of announcing its own car-building plans yet. Instead, the company introduced a new, more comprehensive set of CarPlay that can take care of most of the car's electronic functions and control all the screens in the car.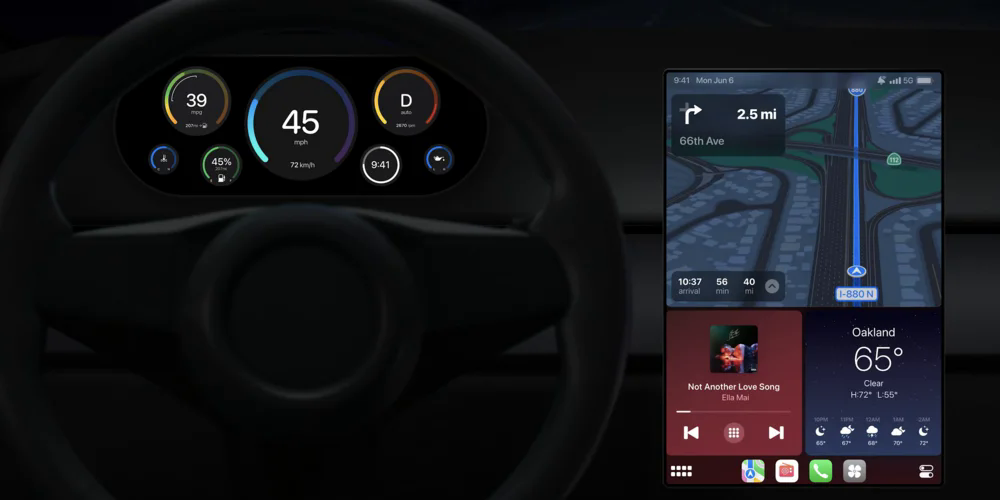 In the demo video, Apple showed how CarPlay will adapt to all current car aspect ratios, while setting the standard for smart car UX and user interface design for the entire world. automobile industry.
Apple even shows a human-vehicle interaction diagram that isn't used by any other car company currently on the market.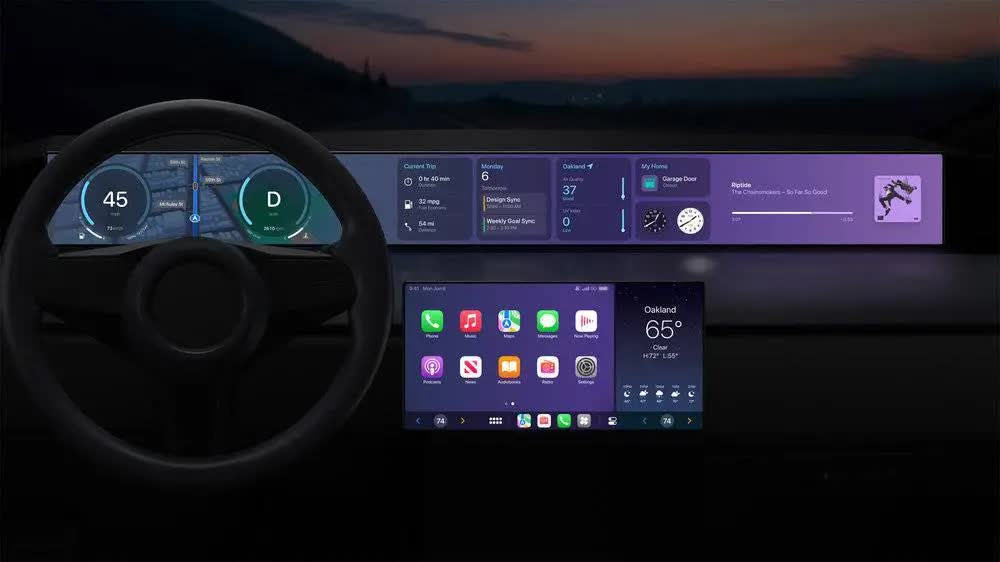 In the above design, all parameters from the vehicle's instrumentation such as speedometer, rpm, thermometer, fuel level or battery level can be displayed. Users can even customize the air conditioning, activate seat heating, filter the air and link to Apple's smart home technologies directly from the CarPlay interface.
Car controls and most apps are placed closer to the driver's side, while entertainment and convenience features are geared towards the occupants. On the dashboard, users can even choose the design style of CarPlay's dashboard without being limited by the car brand, from classic or modern to even out-of-the-ordinary. Apparently the company has worked to allow CarPlay to become compatible with all types of vehicle interior design as well as each vehicle owner's aesthetic.
This is equivalent to Apple just standing up and telling all the car companies: You guys have been making smart car engines for the past few years and have fun with the car's controls. in the past few years. But it's time we teach you how to really interact with a car.
At the end of the CarPlay rollout, Apple rolled out a collection of partner logos, which included most of the major international brands.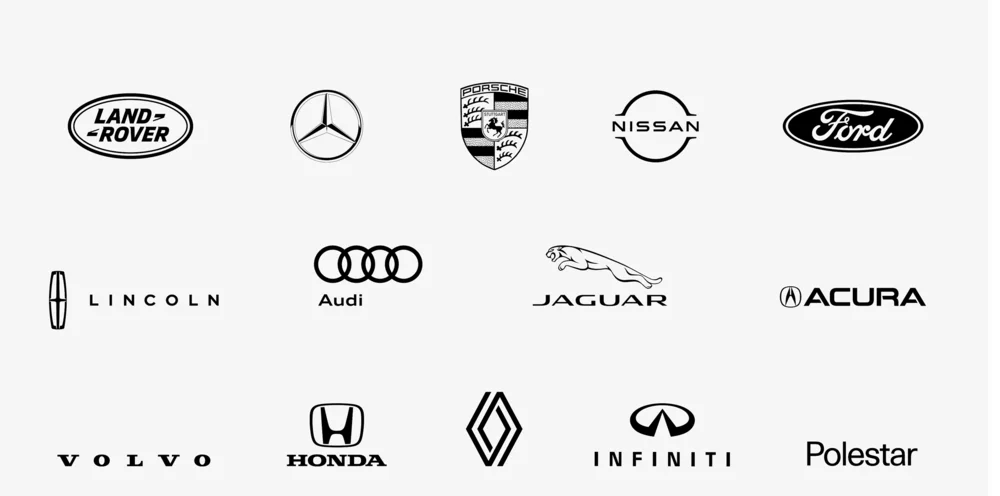 This time, Apple does not directly declare war on the industry giants as Intel has done in the chip field. Instead, the company forced the car manufacturers to make a choice, and had little choice but to accept a newer, more complete CarPlay system with versatile interoperability. than.
If in the past, for Apple, CarPlay was just a revenue vehicle sold to authorized manufacturers, worth billions of dollars and with a certain market share, then in the near future, Apple will clearly more involved in the field of smart cars. This allowed Apple to not only multiply revenue, but also allow it to gain a foothold in this hot and promising field, and control the direction of the entire industry.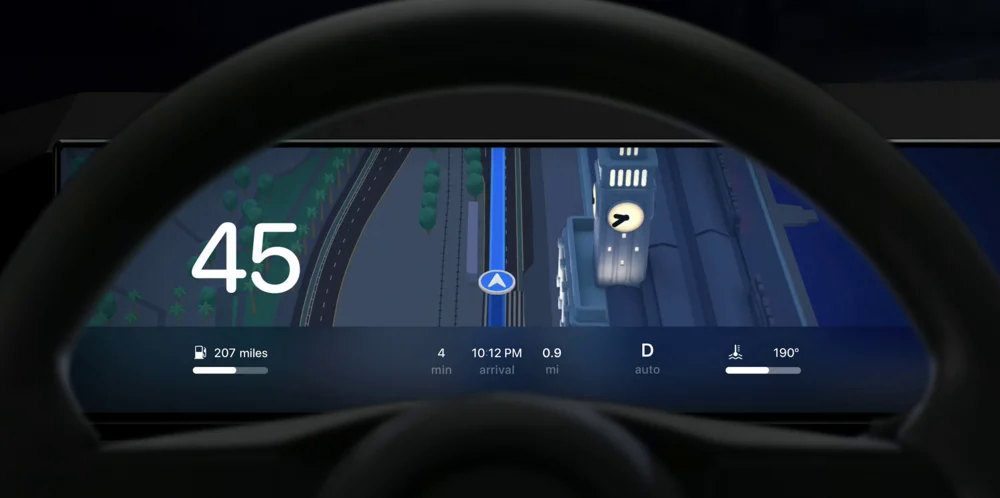 Of course, in some markets like China, the percentage of cars that support CarPlay is not particularly high. Most of the domestic manufacturers here want to differentiate themselves by developing their own so-called in-car intelligent systems. This promises to lead to a very competitive market. But looking at the way that Apple has created its position over the years through the iOS operating system, it is clear that it will be difficult to deal with a software giant like Apple, especially when it has focused on a Detail goal.
Of course, whether it's self-research and development, keeping the brand intact, or giving Apple's soul directly, companies will have to quickly make their own choices.
But obviously, with the new CarPlay, any car can be turned into an Apple Car without Apple making any components. The company's ambitions and capabilities are now worthy of the vigilance of all automakers.
Refer iFeng
You are reading the article
Last night, Apple officially declared war on an entire industry

at
Blogtuan.info
– Source:
genk.vn
– Read the original article
here